Manifest Technology Blog -- Site: | Articles | Galleries | Resources | DVI Tech | About | Site Map |
Articles: | PC Video | Web Media | DVD & CD | Portable Media | Digital Imaging | Wireless Media | Home Media | Tech & Society |
PC Video: | PC Video Articles | Video Software Gallery | Video Editing Resources |

---
Roxio Media Products for Discs, DVD, and Music (4/2008)
Easy DVD Copy 4 Premier
Roxio MyDVD 10 Premier
RecordNow Music Lab 10 Premier
by Douglas Dixon
Easy Media Creator 10
Easy DVD Copy 4 Premier
MyDVD 10 Premier
RecordNow Music Lab 10 / Premier
Application Components from EMC 10: DVD Copy, MyDVD, Music Lab
After releasing Roxio Easy Media Creator 10 September 2007, Roxio has shipped three subsets of the full EMC suite for specific applications: Disc copying (Easy DVD Copy), DVD authoring (MyDVD), and music creation (RecordNow Music Lab). These are designed to "enable consumers to make the most of their digital libraries," so that users can "easily turn photos, videos and music into impressive digital media creations that can be shared on CD, DVD or enjoyed on a variety of portable devices."
See Roxio press release:
These are true subsets of the full suite. EMC 10 has some 12 major applications plus 18 additional utilities/assistants. Each of these new products includes selected applications and tools, plus a common core with the Roxio Central control panel / launcher and disc tools.
The pricing is designed to entice you to just go ahead and get the whole suite:
Easy Media Creator 10 - $99
Easy DVD Copy 4 Premier - $49
MyDVD 10 Premier - $69
RecordNow Music Lab 10 - $29
RecordNow Music Lab 10 Premier - $49
These new products are summarized below, along with a breakdown of the included applications and utilities (Application Components from EMC 10).
See the previous article for a summary of EMC 10 (and comparison to Nero 8 Ultra Edition)
And see the EMC 10 summary for information on features and a walkthrough of the individual applications
For more on video editing and DVD authoring tools:
---
For more on Roxio and EMC 10
---
Roxio DVD Copy 4 Premier is focused on DVD copy and video conversion.
Copy non-encrypted DVDs, shrink dual-layer DVDs to fit on single-layer discs while excluding unwanted content to optimize video quality. Convert popular audio and video formats for playback on portable devices. Also copy TiVo shows, and copy unprotected videos from the iPod to hard disk..
Copy and backup DVDs
Plus CDs (audio, data and video), data Blu-ray and HD DVD discs
Copy and shrink DVDs: 9 GB to 4.7 GB discs, with selectable movies, extras, languages
Copy Movies to DVD: from multiple sources, with menu templates
including home movies, DivX, TiVo, Internet downloads
Convert DVDs to Portable Devices:
iPod, PSP, cell phone devices; DivX, Windows Media, MPEG playback
Key Components: Video Copy & Convert, Disc Image Loader, Label Creator, Audio/Video Converter Vista Gadget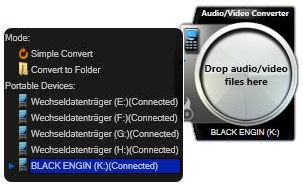 Vista A/V Converter Gadget
---
Roxio MyDVD 10 Premier is designed to make it easy to quickly turn photos and home movies into polished video or DVD productions.
It features MyDVD for creating movie or slideshow discs, VideoWave for video movie creation, and PhotoSuite for photo editing and sharing -- along with associated tools, especially for automated production and enhancement, and sharing to portable devices.
Import, manage, edit and enjoy home videos and photos.
Author professional-looking DVDs.
DVD production with MyDVD: Movies and slideshows, widescreen
DVD playback with CinePlayer
Movie production & video editing with VideoWave
Photo editing and projects with PhotoSuite
Media tools: Media Import, Media Manager, Video Copy & Convert
Not EMC Music applications
Key Components: MyDVD, VideoWave, PhotoSuite, CinePlayer
MyDVD
---
Roxio RecordNow Music Lab 10 / Premier is designed to, rip, convert, transfer and enjoy music on your computer, and share on disc and portable devices.
Collect music from sources including CD, DVD, LP, tape, Internet, and iPod. Capture audio playing on a computer, including Internet radio and streaming music. Transfer tracks from multiple drives concurrently, capture and clean-up analog tracks from LPs and tapes. Organize and automatically tag tracks with artist or title information. Batch convert music files to digital formats. Automatically create playlists based on your preferred songs.
Rip music from CDs, DVDs or copy music from iPod, internet radio, LPs and tapes
Convert tracks to MP3, AAC or other preferred formats
Organize, search and browse music collections
Add tag information for selected tracks with audio fingerprinting
Create auto mixes of similar songs based on one or more seed songs
Burn to music CD
Copy music to iPhone, iPod, PSP, portable players
Not EMC Burning & Copying applications
Not EMC Photo and Video applications
Premier adds:
Create DVD Music Discs with up to 50 hours of music
Smart navigation by title, artist, album
Professionally designed high quality menu themes for music DVDs - or make your own
CinePlayer for playback
Play back your disc image files as if they were physical CDs with Disc Image Loader
Key Components: Easy Audio Capture, LP & Tape Assistant, Sound Editor, Audio Converter, Music Disc Creator, DVD Music Assistant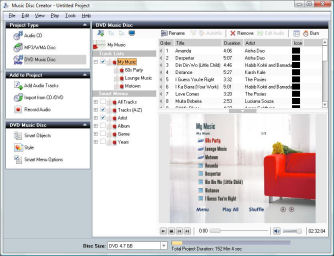 Music Disc Creator
---
(As documented by Roxio)
See Summary: Roxio Easy Media Creator 10 for information on features and a walkthrough of the individual applications
Easy DVD Copy 4
Premier

Roxio MyDVD 10
Premier

RecordNow
Music Lab 10

Control Panel
Roxio Central

Roxio Central

Roxio Central

Media

Media Manager
Media Import
VideoWave
CineMagic
MyDVD
MyDVD Express
Plug & Burn
PhotoSuite
Slideshow Assistant
Photo Assistants
Express Labeler

Media Manager

Player

CinePlayer

Cineplayer

Music

Music Disc Creator
DVD Music Assistant
Multi-CD Ripper
Audio Tag Editor
LP & Tape Assistant
Sound Editor
Audio Converter
AutoMix
Easy Audio Capture

Disc
Video Copy & Convert
Disc Image Loader
Label Creator
Audio/Video Converter
Vista Gadget

Video Copy & Convert
Disc Image Loader
Label Creator

Disc Gallery


Disc Image Loader
Label Creator

Themes
DVD and DivX
Menu Themes

DVD Menu Themes

Photo Projects Themes

DVD Music Disc Themes