Manifest Technology Blog -- Site: | Articles | Galleries | Resources | DVI Tech | About | Site Map |
Articles: | PC Video | Web Media | DVD & CD | Portable Media | Digital Imaging | Wireless Media | Home Media | Tech & Society |
PC Video: | PC Video Articles | Video Software Gallery | Video Editing Resources |

---
Getting Started with Video Editing
with Adobe Premiere Elements (12/2004)
by Douglas Dixon
Getting Started
Adobe Gets Elementary
Still the Premiere
Import and Capture
Editing
Effects
Export and DVD
Elementary
References
While DV camcorders and more powerful computers have made editing video more accessible to a wider audience, just getting started with video also can be confusing because of the wide range of choices among today's video editing software products. You could start with one of the entry-level consumer tools at under $100, and have fun making short productions using the built-in wizards and templates. But what if you then want to get more involved video editing, whether because you are training students, or want to edit your own corporate presentations or music videos? Wouldn't it would make more sense to start out at the beginning with a deeper tool that could grow with you, instead of having to break some old habits and learn new techniques when you start over?
Adobe Premiere Elements
This explains Adobe's approach with the new Adobe Premiere Elements (www.adobe.com/products/premiereel), released in September 2004 in the same entry-level price range ($99 MSRP). This is not just a stripped-down version of the full-up Premiere Pro (at $699). Instead, like Photoshop Elements, this is actually a significantly enhanced version of the professional product, adding templates, intelligent defaults, just-in-time how-to instructions, and built-in DVD authoring that allow you to get started easily, and still have the power of the Premiere engine humming under the hood when you're ready to shift into high gear.
If you're interested in dabbling with video editing to see what it's like, and have fun making short productions, then you can happily get started with the free tools bundled with your system: iMovie on the Mac and Windows Movie Maker on PCs. Or you can do a bit more with widely-distributed Windows consumer products like Pinnacle Studio, Roxio VideoWave, Sony Vegas Movie Studio, and Ulead VideoStudio (at under $100).
These tools typically help simplify the editing process by providing a storyboard interface, so you just need to arrange thumbnails of clips and then they provide the basics for adding a music track, plus titles, plus basic transitions and effects. The result is a friendly, but ultimately constrained, sandbox. These applications are great for easy and occasional quick assembling of clips, but they are something of a detour if you have aspirations to do more with your editing,
But getting started with professional tools is not necessarily appetizing either, both because of their intimidating complexity to new users, and the significantly higher cost for applications like Apple Final Cut Pro ($999), Adobe Premiere Pro, Avid Express DV, Pinnacle Edition, Sony Vegas, or Ulead MediaStudio Pro (around $500 - $700). Apple attacked this gap with Final Cut Pro Express, stripped down for DV editing at $299, and Avid even offers Avid Free DV as a free download, providing an introduction to the Avid interface, but limited to two streams.
Which brings us to Adobe's different approach for its Photoshop Elements and Premiere Elements products (also available bundled together for $149). These applications start with the same high-powered engine and same base workflow of the professional products, remove some ludicrously complex high-end features not required by normal humans, and then enhance the interface by tuning it to assist new (and casual) users.
The result is not a crippled or dumbed-down street version of the original world-class race car, but instead is a luxury vehicle for the masses that both provides convenient transportation, with more power under the hood available when you need to open it up. The added interface elements provide quick and natural access for providing basic, common functions, and yet the real application is still right there as you grow and do more.
For example, the underlying Premiere Pro engine "conforms" imported audio clips if needed to the project's audio sample rate, which means audio can be processed and previewed at high quality and in real time. Under the hood, Premiere makes processed copies of any such clips in the background while you work, which can be confusing when your newly imported audio is still being processed.
As soon as you fire up Premiere Elements you can see how Adobe has tweaked the interface and user experience throughout the application to make it more accessible.
The initial Welcome screen still prompts you to open an existing project or start a new project, but now also offers the option to just immediately start capturing video clips. To help you get started, it also offers step-by-step tutorials using a pre-built project. Behind the scenes, Premiere Elements also makes intelligent default decisions for you, so there is no confusing prompt as in Premiere Pro to choose the project preset (i.e., DV - NTSC is assumed for American systems). You can still define custom DV presets (but not Video for Windows as in Premiere Pro).
Once you open the project, you can see that the Premiere Elements windows have been redesigned in a similar way. The main window now has a task bar with larger icons for key functions: Open and Save projects, Add Media to projects, and Undo / Redo. This ability to experiment with a safety cushion is a key feature brought out in Premiere Elements: you can always experiment your way into a mess, and then Undo your way back to safety again. And Elements also includes the History palette from Premiere Pro for even more control for stepping through recent operations.
Adobe also added buttons for the main steps in the editing process: Capture, Edit, Effects, Titles, DVD, and Export. Behind the scenes, these actually use the same Window / Workspace function that was already a part of Premiere Pro to open and arrange the necessary windows for that step. But they now also update the new How To palette to display immediately-accessible instructions on how to perform common functions.
Meanwhile, the rest of the interface is real Premiere Pro, with all the menus and most of the same functions. Some names have been changed to help new users (Import becomes Add Media, the window fly-out menus use a more visible More button), and high-end professional functions were simplified (one project open at a time, stereo audio without surround sound, no separate Audio Mixer with automation).
The Source and Reference Monitor windows from Premiere Pro also have been greatly simplified into a single window that automatically switches between clips and the timeline. This simplification also omits the Insert/Overlay and Lift/Extract editing style and the cool video scopes. However, the Monitor does still show the powerful split-screen views when editing adjacent clips to help make exact frame-accurate edits.
So let's get started with editing by capturing some material from DV tape over a FireWire (1394) connection. Click the Capture button in the task bar to display the Capture window. Premiere Elements also displays information on capture steps in the How To palette, which is fully accessible even though the Capture window appears on top of the default layout of the screen.
Capture window
The Capture window is clean and straightforward, with large video display, VCR controls underneath to position the tape, and information displays above, including a field to edit the clip file name. The window clearly displays the current tape state: ejected, paused, capturing, and updates the capture duration and remaining time in the available space on hard disk. However, it does omit the logging and batch capture options in Premiere Pro, and the Project Manger to trim and package projects and their media.
The depth of Premiere Pro also shows through in details like the time code display area, where you can click and drag in the field to move naturally through the tape, or type a time code value to shuttle the tape to a new position. The VCR controls also include buttons to scan for the next or previous scene, based on reading the time/date code stored on the tape. Single-letter key press controls are also available to edit efficiently from the keyboard.
To start capturing, position the tape at the starting point and click the big Capture button. Premiere Elements then does all the right things by default: capturing the video, detecting scene breaks, splitting it into separate files for each scene, and importing the clips into the project. You can click to stop recording, or just wait for the end of the tape (but there's no option to set the capture duration).
You also can import other media files into the Media window in a profusion of formats, including AVI, Windows Media, QuickTime, and MPEG video. Besides DV format for NTSC and PAL, Premiere Elements also supports a variety of other standard and widescreen aspect ratio formats including D1/DV and anamorphic film.
During capture, Premiere Elements automatically lays out the clips on the Timeline, where they are immediately ready to edit after you finish capturing. You also can drag clips from the Media window, or use the Icon view to organize clips as a storyboard and then insert them in the timeline. Premiere Elements also includes a new Slideshow function that lays out still images with the default transition, and even matches audio beat markers in the timeline (this works with video clips as well).
Editing in the Timeline window with Premiere Elements is a drag and drop breeze, again leveraging the abilities of Pro. The default behavior is to ripple edit, what Adobe calls "gapless editing" -- as you add and delete clips, trim and move them, Premiere Elements slides the adjacent clips to automatically fill gaps. Of course, you still can use the Ctrl key as a keyboard modifier to change this behavior, with helpful tips displayed in the status area under the window to remind you what action will be performed.
Premiere Pro's floating toolbar has been simplified down to three tools, which are included at the top of the Timeline window along with the time code and zoom controls. Use the Select tool to adjust and trim clips, the Razor tool to split clips, and the Time Stretch tool to change speed and duration.
To trim clips, just drag one end of the clip; a split-screen view of the adjacent frames is also displayed in the Monitor window. As in Premiere Pro the cursor changes shape to indicate the current editing operation. However, trimming can be confusing for new users: it can be tricky to select the right element, especially when the Timeline is zoomed out, as the cursor flips between the beginning and end of short clips, or if you accidentally select the horizontal line to adjust audio volume without even understanding what it is used for (but that's where Undo comes in).
Premiere Elements includes other editing convenience features from Pro, such as the subtle snapping behavior when you drag clips and the playhead, and the corresponding visual indicator when you have elements aligned on the same or different tracks. Premiere Elements does support having only one project open at a time (no nested timelines), but provides up to 99 video and audio tracks to work with.
As you build up clips and tracks on the Timeline, you then can apply video and audio transitions and effects. While this has the potential to get complicated for new users, Premiere Elements provides the full Pro effects interface: Use the Effects palette to drag transitions and effects onto clips in the Timeline, and the Effect Controls palette to adjust the effect's parameters, including adding keyframes. As another convenience feature, you don't need to search through the folders in the Effects palette to find a specific effect, you can just type part of its name (i.e., "blur") and then immediately see a list of only the matching effects.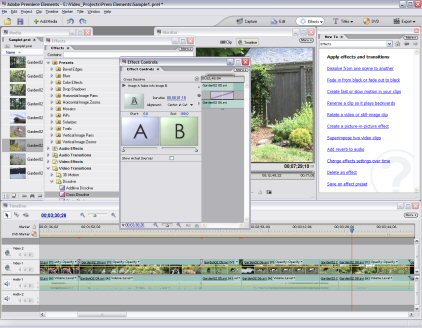 Editing Effects
To start working with transitions and effects, click the Effects button in the task bar to re-layout the workspace with the Effects palette. To add a transition, drag it from the Video Transitions folder in the Effects palette to the boundary between two clips. The cursor changes to indicate if the transition is to be applied across both clips, or to just the end of one of the clips (i.e., for an easy fade out).
One problem for new users is that since Premiere no longer uses the A-B editing display style, you cannot easily see how clips may or may not overlap (there is a subtle maker on the corner of the clip to indicate when it has not been trimmed). Premiere Elements displays a warning dialog if there is "insufficient media" at the end of the clip for the transition, and then automatically repeats frames if needed.
Similarly, apply effects by dragging them to the target clip. Premiere Elements includes a Presets folder with filters and effects such as blurs, colorizing, picture in picture, and image pans, including pre-designed animation of motion through the frame. Or you can display the Effect Controls palette to customize effects, including the built-in Motion, Opacity, and Volume, by adjusting each parameter and setting keyframes. Premiere Elements also inherits the Pro option of adjusting effect keyframes directly in the Timeline.
As you apply and preview effects, the Premiere Pro engine is humming underneath so you can preview your edits in real time without rendering, and take advantage of multithreading and hyperthreading processors. Premiere Elements also includes a set of "GPU Transitions" including page curls and rolls that are optimized for supported graphics chips. And you can preview your edits live on a TV attached to your DV camcorder.
For creating titles and credits as slides or overlays, Premiere Elements includes the professional Title Designer from Pro for designing static, crawling, and scrolling overlays with text (and graphics). Or use the pre-built templates, and more than 30 included Adobe fonts.
Title Designer
Without a lot of fuss, you've now edited a video production using Adobe Premiere -- capture, timeline editing, transitions and effects, titles and overlays. With some intelligent defaults, helpful presets, and How To guidance, you've learned real video editing techniques that can carry you on a lot further in the future.
You then can export your production directly to DV tape over FireWire, or to a video file on hard disk in MPEG, QuickTime, and Windows Media formats. Again, Premiere Elements provides presets for common formats, and Advanced options including much of the gory format-specific parameters from Pro's Adobe Media Encoder.
For export to DVD disc, Premiere Elements adds a significantly enhanced DVD Layout tool. Click the DVD button to create a DVD from your project, either as a straight video, or complete with scene menus. You can automatically create chapter points for each clip (or at time intervals), or place explicit DVD chapter markers in the timeline. Premiere Elements then generates a Main menu to play the movie or display the scene index, and the Scenes menus with thumbnails of each chapter point. You can change the template design for the menus (and create your own templates with Adobe Encore DVD and Photoshop).
DVD Templates
Once the menus are generated, you can preview your DVD, edit each chapter point to specify whether it appears on the main or scene menu, and change the frame that is used as the button thumbnail image on the menu.
Finally, burn your project to disc (or to a folder on hard disk), with the option to use NTSC or PAL television format. Premiere Elements will automatically compress your video to the highest quality that will fit on a DVD, or you can specify a general quality setting.
So there you go: you're up to speed creating and sharing video productions with the advantages of a professional tool, but without the intimidating complexity (or significantly higher price). With the Premiere Pro engine underneath, you get the advantages of both the processing power (especially with highly responsive skipping and stepping through the timeline) and the well-designed interface (including keyboard shortcuts, pop-up informative tooltips, and split-screen Monitor editing display).
Of course, the entry-level consumer tools are still your best choice if you're primarily interested in quick and casual hit-and-run editing, where you want to jump in every now and then and do some simple editing fast and easy.
In comparison, Premiere Elements is designed for those who want to start easy and then grow. It's not so much stripped down and constrained in order to simplify editing, as it is augmented with helpful defaults, common presets, and handy how-to instructions. You can do mainline editing operations without much fuss, and then always open the hood for access to more advanced options.
To put it another way, this isn't video editing on a tricycle, this is more like training wheels on a racing bike that you can retract as you get up to full speed. And, if you really take to the sport, you can always aspire to move up someday to the majors with Premiere Pro.
Adobe - Premiere Elements
www.adobe.com/products/premiereel