Manifest Technology Blog -- Site: | Articles | Galleries | Resources | DVI Tech | About | Site Map |
Articles: | PC Video | Web Media | DVD & CD | Portable Media | Digital Imaging | Wireless Media | Home Media | Tech & Society |
PC Video: | PC Video Articles | Video Software Gallery | Video Editing Resources |

---
Pinnacle Studio MovieBox Plus
/ Studio 10.5 (3/2007)
by Douglas Dixon
Studio MovieBox Plus
Studio Plus Titanium Edition
Capture
Edit
Make Movie
In the Studio
Pinnacle Studio Products: Software, Hardware, Effects
References

See also: Pinnacle PCTV HD Pro Stick
Pinnacle is back! Not that it was ever really gone, but there was something of a hiatus after Avid acquired Pinnacle in early 2005 and then figured out how to integrate Pinnacle's professional broadcast products with Avid's product line (Liquid Edition is now Avid Liquid). And now Pinnacle is refocused as the consumer brand, particularly with a strong presence at retail (www.pinnaclesys.com).
There's the flagship Pinnacle Studio home video editing software, plus Studio bundled with video capture hardware. And the affordable Dazzle hardware for easy video archiving, editing, and TV viewing. Plus the PCTV line to watch, record and time-shift TV on a PC. Pinnacle also has added a Mobile Media line for place-shifting -- managing and moving videos, photos and music to portable devices, including the Apple iPod, Sony PSP, and DivX devices.
The Pinnacle Studio software is available stand-alone, or bundled with video capture hardware -- both PCI boards and external USB break-out boxes. The Studio MovieBox is the USB version -- a palm-sized external device with analog and digital connectors, easy to connect to a desktop or laptop PC, especially for analog capture.
Pinnacle Studio Moviebox
The MovieBox has inputs for composite video (RCA connector), S-Video, and stereo audio (2 RCA) for NTSC, PAL, and SECAM. There's also a FireWire in/out connector for hooking up a DV camcorder, and the USB connector to the PC.
Studio MovieBox Plus then is the enhanced bundle. This adds video and audio output connectors on the back side of the box, especially to connect to a TV for real-time preview of your edits. It also upgrades the software to support HDV editing with Studio Plus Titanium Edition.
Moviebox with mic and green screen
Then for studio and videocast productions, Pinnacle also adds a professional hand-held microphone with a small table stand for narration and interviews, plus a 10 by 12 foot green-screen cloth to use as a chroma-key backdrop for compositing overlay effects. Pinnacle even includes USB and FireWire cables.
Which brings us to the Studio software itself. Pinnacle Studio 10 was released in October 2005, and updated up through version 10.6 in September 2006. The updates included enhanced support for MPEG-4, presets for export to portable devices including the Sony PlayStation Portable (PSP) and Apple video iPod, added support for HD editing and recent digital capture devices, and enhanced stability.
Pinnacle Studio Plus
If you've worked with previous versions of Studio you should still find it familiar, with a three-tab Capture, Edit, Make Movie workflow to help guide novice users through the editing process. The interface is designed to run full-screen, with the Album of clips at the top left of the screen, the Player window at the top right, and tab-specific controls along the bottom.
Click the Capture tab to record video clips -- digital video directly from a DV camcorder, analog from the Studio MovieBox, or from other Windows capture devices. Studio has extensive options to select the capture device and format, for example to create DV files for further editing, or more compressed MPEG-2 files to save space if you're going direct to DVD or a portable device.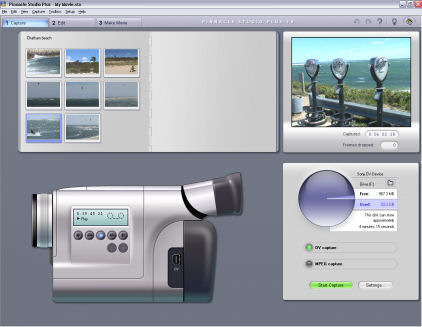 Capture tab
The Diskometer on the bottom right of the screen graphically displays the available free space on the disk and the capture format. Click Settings to change the input device or change the capture format settings.
For DV camcorders, Studio displays a virtual Camcorder Controller, so you can control and play the camcorder by clicking your mouse.
For analog recording, the Diskometer expands with two fly-out panels to adjust the video colors and audio levels, even dynamically during capture.
Then click Start Capture to begin capturing. You can choose to capture for a specific length of time, and whether to automatically create an edited SmartMovie after capture. As Studio captures your video, it splits it into clips based on the selected scene detection option, and adds them to the Album at the top of the screen.
Once you've captured your clips, move on to the Edit tab to assemble your movie. The Album at the top of the screen now has additional tabs to access other editing elements: videos, transitions, title text, photos and frame grabs, DVD menus, sound effects, and music.
The Player is expanded with controls to preview and play back the currently-selected element, whether from the Album or the edited movie below.
You then edit your movie in the Movie Window across the bottom of the screen, assembling video and audio clips, and applying transitions and effects. You can select the default Storyboard view for quickly organizing clips; the Timeline view to synchronize parallel tracks of video, audio, text overlays, sound effects, and music; or the Text view to review the clips in your production with start and stop times.
Edit Storyboard: Trim
To build your movie, just drag and drop clips to the Storyboard. Then to adjust a specific clip, double-click to display the Modify Clip Properties Toolbox. Use the tabs along the left side to trim the ends of the clip, add a title (with motion), edit a disc menu, grab a frame of video, create an automatic SmartMovie, add a picture-in-picture or chroma-key overlay (using the included green screen cloth), or add an effect.
The SmartMovie feature is a great way to get started with a collection of clips. It creates a music video or slideshow based on a general style (i.e., fast-paced, elegant, moody). You can use your own music, or Studio includes SmartSound to automatically generate soundtracks based on a specified style and variation. Studio then takes snippets of your clips and edits them together to fit the beat of the music. You can enjoy the result as-is, or edit it further if you desire.
To jazz up your production, you can add transitions from the tab in the Album, or double-click a clip in the timeline to add video effects -- which also can be keyframed to change over time.
Edit Timeline: Audio
Finally, step on the third Make Movie tab. Here you can export your production to DVD disc, to a video file, or back to tape. Studio supports writing to AVI, Windows Media, Real Media, MPEG-1, MPEG-2, MPEG-4, DivX, and iPod- or PSP-compatible formats.
Make MPEG
You also can burn to disc in DVD, VCD, or S-VCD format. You actually create the menus under the Edit tab -- there's no separate DVD authoring module. Menus just work much like titles, and you then set chapter markers in the Menu track along the top of the timeline.
Studio provides a friendly and accessible interface for quick storyboard editing, especially for novice and occasional users. But you also can switch to the timeline view and drill down deeper to add moving transitions, moving titles, dynamic effects, video overlays, and other enhancements. Studio Plus Titanium Edition steps up to support HD editing and add keyframeable real-time effects. And the Studio MovieBox Plus bundle includes the USB hardware for analog capture and preview, plus a mic and green-screen. That should be enough to get anyone started with video editing, and keep them busy for quite a while!
To check out Pinnacle Studio, you can download the trial version from the Pinnacle website, which is a restricted version of the software good for 30 days after installation.
---
Pinnacle offers Studio as both stand-alone software and bundled with video hardware (www.pinnaclesys.com).
Studio Software
Pinnacle Studio Plus
The basic Pinnacle Studio version 10.5 software is focused on basic home video editing, especially in DV format, with the Capture / Edit / Share workflow used across the product line ($69, or $49 with limited-time mail-in rebate).
The Studio Plus Titanium Edition then adds support for HD formats, with HDV editing and HD pan-and-zoom, plus keyframeable real-time effects with preview and professional TV style effects ($99 / $69).
The Studio MediaSuite Titanium Edition then bundles additional software for a media editing and burning suite, including Jasc Paint Shop Photo Album Standard Edition for photo editing, Steinberg WaveLab Lite for audio editing, plus additional Pinnacle CD/DVD burning & copying applications ($129 / $99).
Studio Hardware
Pinnacle Studio MovieBox
The hardware bundles include Pinnacle Studio software with a hardware capture device complete with analog and digital inputs. The Studio Plus packages include the Titanium Edition for HDV input and output, Pinnacle RTFX volume I, plus a microphone and green screen.
Studio MovieBox and MovieBox Plus ($99, $149) are external USB-based devices, while Studio MovieBoard and MovieBoard Plus ($79, $149) are internal PCI boards.
Studio Effects
Pinnacle also offers add-on premium volumes with additional transitions, effects, and content styles. Studio installs sample versions of these in the Transitions tab and the plug-in tab under the Video Toolbox.
- Hollywood FX is a collection of some 400 advanced transitions, with 25 themes of 16 transitions each ($99 per volume). It also includes the HFX Creator tool to edit your own transitions.
- RTFX is a collection of over 20 advanced video effect plug-ins. ($99).
- Premium Pack is a collection of more than 25 sets of professionally-designed DVD menus, video titles and dynamic sound effects ($49).
---
Pinnacle
www.pinnaclesys.com

Originally published in Camcorder & Computer Video magazine, 23, 1, February 2007.