Manifest Technology Blog -- Site: | Articles | Galleries | Resources | DVI Tech | About | Site Map |
Articles: | PC Video | Web Media | DVD & CD | Portable Media | Digital Imaging | Wireless Media | Home Media | Tech & Society |
PC Video: | PC Video Articles | Video Software Gallery | Video Editing Resources |

---
Summary: Pinnacle Studio 12 (7/2008)
HD Video Editing and New Montage Themes
by Douglas Dixon
Pinnacle Studio 12 - Versions
New in Pinnacle Studio 12 - Montage themes
Pinnacle Studio 12 Workflow - Capture, Edit, Make Movie
System Requirements

Find related Pinnacle articles in the Manifest Tech Blog
Pinnacle Studio 12 was released in June 2008, providing simplified video editing and DVD creation for entry-level users, with versions for editing high-definition video and bundled with additional pro-style tools and a green-screen backdrop for chroma key overlays (www.pinnaclesys.com).
The previous Studio 11, released last year, lead the way with solid support for the new high-def video formats, with responsive editing of AVCHD and HDV video, and burning to HD DVD disc format. Studio 12 extends the HD support with burning to Blu-ray disc, in AVCHD format with menus, and BD-MV with motion menus.
Studio 12 also includes a variety of welcome productivity enhancements for editing, adds support for more cameras and formats (including Dolby AC3), and performance improvements.
But the big news is the new Montage feature, which creates professionally-designed multi-source composites. Choose a themed template -- Openings, Segues, Endings -- and drag and drop video clips and photos. Studio inserts Hollywood style multi-layered effects with picture-in-picture overlays, animated graphics, titles and audio. Fun and easy.
Pinnacle Studio family:
www.pinnaclesys.com/PublicSite/us/Products/Consumer+Products/Home+Video/Studio+Family/
---
Studio 21 is available in three editions, the base Studio application, the Plus version for advanced HD editing, and the Ultimate version with additional professional tools:
Pinnacle Studio version 12, $49
Simplified video editing for entry level users
Built-in DVD authoring and burning
Share to YouTube and private websites
Instant DVD Recorder for direct transfer from tape to DVD
Pinnacle Studio Plus version 12, $99
Advanced editing, effects and authoring
Complete HD workflow
- Native HDV and AVCHD editing, Blu-ray and HD DVD disc burning
Pinnacle Studio Ultimate version 12, $129
Combines Pinnacle Studio Plus with professional caliber tools
- Boris Graffiti - Title & graphic animation - 3D
- Magic Bullet Looks - Pro film styles
- proDAD VitaScene - Lighting, glows & more effects and transitions
Plus Green Sheet backdrop sheet for Chroma Key effects (approx. 5.95 x 5.58 ft)

Pinnacle Studio 12 Editor
Album (top left): Store clips, access editing elements
Player (top right): Preview selected clip
Movie Window (bottom): Arrange clips, apply transitions and effects

Find Pinnacle Studio 11 on Amazon.com
---
Montage Themes
Multi-source compositing (drag-and-drop), multi-layered effects
Themed templates with Openings, Segues, Endings
Enhanced HD Support
Burn to BD media, AVCHD with menus, BD-MV with motion menus
AVCHD 1920 import/edit/export support
TOD file support
Editing Enhancements
Marker tools for timeline
Markers per asset, annotation, search
New Title and DVD menu templates
User requests: Direct Crop control
New Asset Reference tools, Direct page access in album
Master Volume Control, Peak Indicators for all tracks, Timeline VU Meter
Accurate Audio decibels control, New Audio Keyframe control
Make Movie audio alert, Auto Shutdown after Make Movie
Pause Export if drive space is consumed
Enhanced Performance
Faster rendering: AVCHD /H.264 encoding up to 44% faster
MPEG-2 1/4 res low quality rendering
Effect Performance: Timewarp/speed effects real-time in SD, close to real-time in HD
Additional Formats
Native Transport steam support
New cameras: JVC full HD (GZ-HD7) TOD file import, (Canon HV20 - full 1080i HDV)
Additional import formats for pictures: GIF, PSD (PhotoShop)
AC3 (Dolby) audio import
Additional export formats: WAV, MP3, 3GP, Flash Video, YouTube upload
Vista Certified
---
Interface has three numbered editing modes:
Capture - Import clips from analog or digital devices
Edit - View, organize, and edit your movie
Make Movie - Save and share your production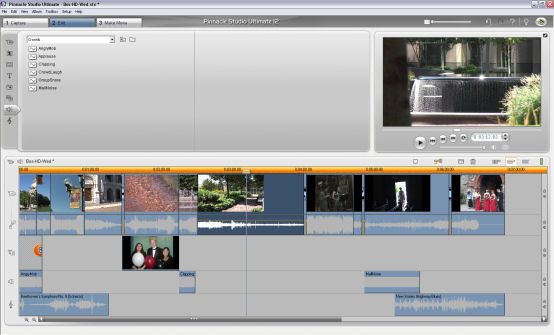 Pinnacle Studio 12: Timeline
Capture mode
Capture video from analog or digital sources
Capture from DV, HDV and Digital8 camcorders or VCRs
(Requires FireWire port)
Capture from analog camcorders or VCRs (NTSC / PAL / SECAM)
(Requires DirectShow compatible graphic board or TV tuner board
with analog (Composite or S-Video) inputs)
Import from AVCHD camcorders (requires USB 2.0)
Edit mode
View, organize, and edit your movie
HDV & AVCHD native editing
Real-Time effects with preview
Assisted movie creation with SmartMovie
Video and audio restoration tools
Pan & Zoom for animation of still pictures
PIP and Chromakey effects (Plus)
Keyframeable effects (Plus)
Powerful Film looks and FXs (Ultimate bundle)
Advanced Sound Cleaning (Ultimate bundle)
Precision Pan & Zoom (Ken Burns) (Ultimate bundle)
Interface
Album: Store clips, access editing elements (left)
Videos, Transitions, Titles, Photos, Menus, Sound Effects, Music
Player: Preview selected clips (Album) or movie (right)
Movie Window: Arrange clips, apply transitions and effects (bottom)
Scalable interface - adjust to monitor
Real-time multi-track editing
Import
DVD from disc or disc image (file): select titles
Media from attached device: video and photo files
Browse folders and files: thumbnails, details
Segment clips into sceens
Video: AVCHD, DV, HDV, AVI, MPEG-1, MPEG-2, MOD,
DivX, MPEG-4, 3GP (MPEG-4), WMV, Non-encrypted DVD titles
Audio: WAV, MP3
NEW - WMA, Dolby AC3
Graphic: BMP, JPG, PCX, TGA, TIF, WMF
NEW - GIF, PSD
Edit in Movie Window
Storyboard, Timeline, and Text views
Timeline tracks: Video, Audio, Overlay (titles and videos), Sound Effect, Music
Add clips, effects from Album
Videos, Music - clips, Photos - stills and frame grabs
Sound Effects - built-in collection
Transitions - 2D, flying, fun, etc
Key frame-able 2D/3D effects and transitions
Titles - with backgrounds, roll / crawl motion
Menus - for DVD, with chapters, scene index, motion, customization
Scorefitter music generator
Generate soundtrack to match length of movie
NEW - Pinnacle Montage
Theme based editing; Themed templates with Openings, Segues, Endings
Templates designed by professional producers and artists
Multi-source compositing: mix video clips, photos, and music, drag and drop
Create Hollywood style multi-layered effects
with picture-in-picture, animated graphics, titles and Hi-Fi audio
Preview clips or edited movie in Movie Window
With Full-screen playback option

Pinnacle Studio 12: Montage
Make Movie mode
Save and share your production
Create Disc
Burn to Video CD (VCD) or S-VCD with CD burner
NEW - Burn to Blu-ray BD disc: AVCHD with menus, BD-MV with motion menus
Burn AVCHD files to standard DVD discs to play on Blu-ray players
Burn to DVD and HD DVD disc with DVD burner (supports dual layer)
Burn HD DVD on standard discs
Create File
Save file as DV, HDV, AVI, DivX, RealVideo 8, Windows Media 9, MPEG-1, MPEG-2, MPEG-4
NEW - Save file as Flash, 3GP
Save audio as WAV, MP3
Save file with Dolby Digital 2 channel audio and 5.1 channel (NEW - built-in)
Save file in Apple iPod and Sony PSP compatible (MPEG-4) formats
NEW - Save for DivX players and 3GP mobile phones
Create Tape
Output to DV, HDV or Digital8 tape (FireWire to camcorder)
Output to analog videotape (DirectShow device)
Upload to Web
Upload to Yahoo! Video (public) - NEW one-click
or Pinnacle StudioOnline (private) - upload videos at HD, wide-screen resolutions

Pinnacle Studio 12: Make Movie mode, Burn to DVD / Blu-ray
---
Windows XP SP2 (SP3), Windows Vista (SP1)
Intel Pentium or AMD Athlon 1.8 GHz (2.4 GHz or higher recommended)
Intel Pentium HT or AMD Athlon 2.4 GHz or 1.6 GHz Dual core for Vista
Intel Core 2 Duo 2.4 GHz or higher for 1440x1080 AVCHD editing
Intel Core 2 Quad 2.66 GHz or higher for 1920x1080 AVCHD editing
1 GB system memory recommended
2 GB required for AVCHD, recommended for HD and/or Windows Vista
DirectX 9 or 10 compatible graphics card with 64 MB (128 MB or higher recommended), 128 MB required for Plug-ins (for Magic Bullet Looks: Pixelshader 2 required, Intel GMA integrated graphics not supported; for VitaScene with HD: 512MB recommended)
- 128 MB required on Windows Vista (256 MB or higher recommended)
- 256 MB required for HD and AVCHD
DirectX 9 or higher compatible sound card
---