Manifest Technology Blog -- Site: | Articles | Galleries | Resources | DVI Tech | About | Site Map |
Articles: | PC Video | Web Media | DVD & CD | Portable Media | Digital Imaging | Wireless Media | Home Media | Tech & Society |
PC Video: | PC Video Articles | Video Software Gallery | Video Editing Resources |

---
Pinnacle PCTV HD Pro Stick (3/2007)
by Douglas Dixon
See also: Pinnacle Studio MovieBox Plus
For TV on your PC, the Pinnacle PCTV line has been updated to now support HDTV. Yes, you can watch over-the-air HDTV on your computer with the new Pinnacle PCTV HD Pro Stick (www.pinnaclesys.com).
This is not a PCI board or a big external device, it's just a small stick (around 1 1/4 x 2 3/4 inches), with a USB connector at one end and a TV antenna input (F-connector) at the other. There's also an A/V adaptor cable with inputs for composite video (RCA), S-Video, and stereo audio (3.5mm headphone plug).
PCTV HD Pro Stick with adaptor cable
The product includes all the other parts you might need, with a telescopic antenna to set up near a window, and a USB extender cable to reach from your computer.
The PCTV HD Pro Stick uses the Pinnacle MediaCenter software to set up the available analog and digital channels, connect to the included remote control, and then watch and record TV and listen to Internet radio. And it includes Pinnacle Studio QuickStart to edit your captured video and recordings.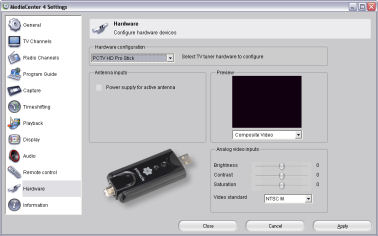 Pinnacle MediaCenter
However, you do need some significant horsepower to handle the stress of displaying full-rate high-def TV -- Pinnacle recommends a Pentium D or Pentium Dual Core or equivalent AMD Athlon 64 processor. The install process does profile your system to check whether it's up to handling HDTV, correctly reporting that a 2.5 GHz Pentium 4 test system was underpowered -- It could just barely keep the video playing with the process running flat out, and with no audio.
PCTV Player
The full line of PCTV products include:
- PCTV Pro USB, a USB 2.0 breakout box for watching analog television (NTSC) and recording analog video ($99). It records to MPEG-1, MPEG-2, MPEG-4, and DivX format, including direct to iPod and PSP formats.
- PCTV MCE Companion, a PCI card that works with Windows Media Center Edition ($99). It supports analog TV and FM radio, and records in DVR-MS (MPEG-2) format.
- PCTV HD Pro Stick, a small USB antenna connector that works like PCTV Pro USB, but also receives digital / ATSC TV ($149). It supports SD, ED, and HD -- standard, extended, and high-def TV. And it can be used with Media Center Edition.
- PCTV PCI and PCTV Pro PCI, both PCI cards that support analog TV and FM radio ($59 and $79). The Pro version records to MPEG-2 and MPEG-4 (as well as MPEG-1 and DivX), and includes conversion to portable devices and DVD and CD burning.
And in November 2006, Pinnacle announced Pinnacle PCTV To Go, a wireless system for TV viewing on a PC over a network anywhere in the world ($249). It is designed to plug into an existing entertainment system and allow DVR-like control from a PC. It supports DVD-like MPEG-2 while viewing television in home, or MPEG-4 while viewing remotely.
---
Pinnacle
www.pinnaclesys.com

Originally published in Camcorder & Computer Video magazine, 23, 1, February 2007.