Manifest Technology Blog -- Site: | Articles | Galleries | Resources | DVI Tech | About | Site Map |
Articles: | PC Video | Web Media | DVD & CD | Portable Media | Digital Imaging | Wireless Media | Home Media | Tech & Society |
PC Video: | PC Video Articles | Video Software Gallery | Video Editing Resources |

---
Mass-Market Digital Video and DVD (3/2003)
(Microsoft Movie Maker 2,
Sony Screenblast Movie Studio,
Topics Instant DVD Maker)
by Douglas Dixon
Microsoft Movie Maker 2 - AutoMovie - Windows Media Editing
Sony Screenblast Movie Studio
Topics Entertainment Instant DVD Maker
Mass Market Video - References
Messing around with digital media on your computer is getting mighty easy these days. First it was digital audio, to build and enjoy your own custom music collections, and then digital photography, to store and organize photos so you could edit and share them. Not only has the equipment dropped dramatically in price, but the necessary connections and software are now built in to the basic computer platforms, and available out of the box on the Macintosh and under Windows XP.
We've gotten used to these kinds of improvements, and we've seen more coming with the next steps in digital media: video editing and DVD authoring. But these still required new hardware, such as DV / FireWire boards and DVD burners, and a new learning curve to deal with the complexities of video formats and DVD features.
Even so, it was something of a surprise during the recent holiday season to see both video and DVD take the next leap to become mass-market consumer products. While 2002 saw a wonderful profusion of low-cost video editing and DVD authoring tools from established developers, three products introduced at the end of the year demonstrate their evolution to mass-market acceptance:

- Microsoft's Movie Maker 2 for Windows XP is not just a full-featured consumer video editor. It also suggests a new mode for accessing and working with video, in which you save all your video clips on your hard disk to organize and edit, much like you do with digital photos.
- Sony's Screenblast Movie Studio also breaks away from the traditional video editing process by using Sony's film expertise to bring movie making fun to home movies. With this product, Sony assumes that digital camcorders and video capture are a solved problem for consumers, so that all that Sony needs to provide is the software.
- Topics Entertainment, a mass-market software and audio distributor, introduced two new products, Instant Video CD Maker and Instant DVD Maker, through their mass-market distribution channels. This really is amazing progress -- DVD authoring in a box is now an impulse buy in the checkout lane at Wal-Mart!
In this article, we'll look at these three products as examples of how computer digital video and DVD are breaking out from the traditional focus on technical features and functions to a more mass-market approach to become part of the consumer lifestyle.
As Microsoft beefed up the video and audio capabilities of the Windows platform in recent years, it has focused on the Windows Media format and platform, including media players and Web servers. While Apple has developed convenient and impressive built-in consumer tools including iMovie and iDVD, the standard Windows platform has been limited to the basic Windows Movie Maker video editor.
Introduced with Windows Millennium, Movie Maker was originally focused only on creating web video in Windows Media format, and did not support full-quality DV editing or a full suite of video editing tools. The Movie Maker for XP 1.2.1 update in August 2002 added support for higher-resolution DV editing.
Windows Movie Maker 2 for Windows XP, released in a beta version in November 2002, then goes several giant steps further as a full-featured tool for consumers (www.microsoft.com/windowsxp/moviemaker). It is available as a free download for Windows XP users.
First, Movie Maker 2 adds a full assortment of editing tools, including nearly 30 video effects, 60 video transitions, and over 40 titles and credits, with real-time preview of transitions and effects. It supports video capture from analog and DV devices, editing in a storyboard or timeline mode, and exporting in a variety of video and Web formats.
The interface also has been dramatically changed, with a side Task menu to step through the editing process -- Capture Video, Edit Movie, and Finish Movie. Movie Maker then provides new Capture and Save wizards to assist with the tricky parts, and a wide assortment of pre-defined Capture and Publishing profiles for input and output formats, from DV to high-res Windows Media to Web to PocketPC resolutions. It also provides directly-accessible Movie Making Tips for common operations.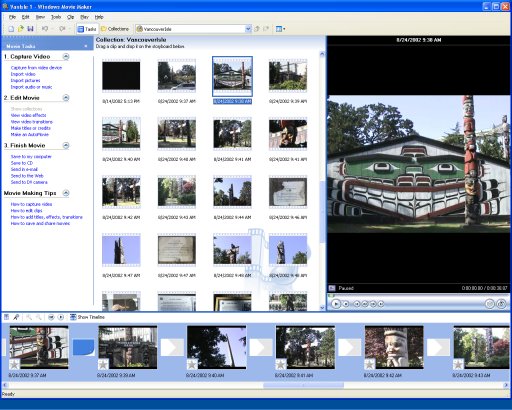 Most importantly for DV camcorder users, Movie Maker 2 provides complete support for DV-AVI format (DV data in AVI files). You can capture directly from digital camcorders to DV format, edit and save DV-AVI files, and export directly back to DV cameras. You also can capture to DV and export in other formats, or capture in Windows Media format but then export to DV, especially to transfer your productions to a DVD authoring tool (Movie Maker does not export directly to MPEG).
To help organize your video, Movie Maker 2 can perform clip detection after it captures your video, either using the recording time information with DV input, or by analyzing the video frames for scene changes. You then can organize your clips in the Collections menu for convenient drag and drop editing, along with the Video Effects and Transitions. You also can import and manage digital photos, audio narrations, and WMA and MP3 audio clips.
To further simplify editing, Movie Maker 2 adds a new AutoMovie function. Similar to the concept introduced in Muvee autoProducer (www.muvee.com), AutoMovie analyzes the video and audio content of your movie, and automatically edits your movie down to a highlight video, complete with titles, transitions, and effects.
AutoMovie works by first analyzing the motion and lighting to find the best-looking sections representative of the scenes in your source video. It then cuts the video to the selected style, such as highlight, music video (quick edits), old movie (aged effect) or sports highlights. For the audio, you can choose to blend the original soundtrack with an optional background audio track, or even to totally replace the original sound to make a music video.
In one of my tests, for example, Movie Maker cut a 25 minute vacation tape down to a snappy highlights movie of only 3 minutes and 15 seconds. The selected scenes were quite representative of the various locations where we shot the tape, and of good quality (not shaky or out of focus). It even seemed to pick out the segments where the camera lingered on a sign so you could read the text.
If you are happy with the AutoMovie result, you can simply export the movie and be done with it. Or, much like Roxio VideoWave Movie Creator (www.roxio.com), you can switch between automated and more hands-on editing modes. Movie Maker 2 places the result of the AutoMovie analysis in the storyboard, complete with trimmed clips and transitions, so you then have the ability to edit and tweak it further. Even if you plan to do some extensive editing, this can be a great time-saver in getting started with trimming down your material.
Movie Maker 2 takes advantage of Microsoft's latest video compression advances in Windows Media 9 to offer high-quality compression profiles at 1.5 and 2.1 megabits per second. Microsoft's concept is that you can capture virtually lossless full-resolution 720 x 480 video at 2 Mbps, which requires around 15 megabytes per minute. This compares to typical MPEG-2 compression rates at around 4 to 6 Mbps, or DV format at 30 Mbps, or around 180 MB/min. While 60 minutes of video in DV format will overflow a 10 GB disk drive, with these kinds of Windows Media formats you can fit over twelve hours of video in the same 10 GB.
This kind of compression permits a totally new approach to dealing with video. The problem with video has always been that it just takes up too much space, so you need to spend considerable effort juggling disk space and pre-planning which clips you are going to capture and edit. This naturally inhibits your creativity and fun, and tends to limit most weekend editors to only taking on short clips.
Microsoft's model with Movie Maker 2 is to follow the example of digital photography, where virtually lossless JPEG compression permits us to store all our photos in albums on disk, so they are readily accessible at all times. In the same way, the combination of advanced video compression, clip detection, and automated movie creation can make our video libraries much more accessible by allowing us to save and organize hours of video on disk.
Currently, high-end tools are designed to edit in relatively uncompressed formats like DV, and use timecode-based batch capture to re-import clips from tape when needed. Editing in compressed formats like MPEG has always been discouraged, both because it is tricky to edit individual frames in a compressed sequence, and because re-compressing material that has already been significantly compressed can cause visible artifacts. But for simple edits such as trimming the ends of a clip, and for final edits such as transitions and titles, working with compressed material can make great sense.
Editing compressed video is becoming more common, with devices that capture directly in MPEG format, as part of assembling clips in DVD authoring tools, and in stand-alone video editors that are designed to work with formats such as MPEG and Windows Media. We can expect this trend to continue, which will make working with large collections of digital video much more manageable. Movie Maker 2 demonstrates how this new model can make video editing much more approachable for the mass market.
One indication of how far digital media has come from its professional and enthusiast days is the arrival of mass-market products on retail shelves this past holiday season. For example, Sony Screenblast (www.screenblast.com) has expanded its product offerings from the Screenblast Web site to add two retail software suites in October 2002, the Screenblast Movie Studio for video (SRP $69) and Screenblast Music Studio for audio ($69).
Sony developed the Screenblast Web site to promote the use of digital media to create, enhance, and share video and audio productions (preferably shot with Sony camcorders, edited on Sony PCs, and played on Sony consumer electronics products). From the Screenblast site, Sony offers a variety of individual video, image, and audio editing tools for prices ranging from $29 to $69 for downloads. These include the Screenblast VideoFactory video editor ($69), Image Editor for photos ($39), SoundForge audio editor ($69), ACID for audio loops and effects ($69), and the SIREN Jukebox multimedia library ($29). The entire set of tools also is available for $159, and free trial versions are available on the Web site.
As you may have noticed from the names, several of these applications are derived from Sonic Foundry (www.sonicfoundry.com) products. Sony has enhanced the Screenblast products and suites with integrated tutorials, enhanced user interfaces for easy import and export, web integration for posting clips on a personal Web page at Screenblast.com, and large collections of sample clips.
The Screenblast Music Studio suite includes Screenblast ACID Deluxe and SIREN Jukebox, and the Screenblast Movie Studio suite is based on the Screenblast VideoFactory video editor. VideoFactory offers extensive editing capabilities including DV capture, hundreds of effects and transitions, RealMedia and Windows Media support, and unlimited undo/redo. It also adds one-click publishing to the Screenblast Web site and burning to data and video CD.
But Sony's real emphasis is on making video editing creative and fun. The integrated tutorials can get you going quickly, and the CD includes a wide assortment of video clips, illustrations, borders, and titles. In addition, Sony is bringing its Hollywood connections to consumer editing through ideas and clips from Sony Pictures. The Screenblast site includes an "Extras" section, with movie-making tips from directors and fun themes and movie clips, including action scenes from "Iron Eagle," sports from "Jerry Maguire" and "The Natural," and even shore footage from "Dawson's Creek."
What is so interesting about the new Screenblast retail products is what it reveals about Sony's view of the consumer market. The Screenblast products such as VideoFactory assume both a relatively computer- and video-literate user, and that the users already have the appropriate equipment, including a digital video camcorder, relatively recent PC, and a FireWire interface. The Screenblast experience also is dependent on users having a broadband Internet connection, both for downloading fun clips and for uploading and sharing clips on the Screenblast Web site. Sony is deliberately providing tools with a broad array of features and options, using the tutorial to help get users started, and then providing stair-steps to advanced uses.
Another approach to mass-market digital media comes from Topics Entertainment (www.topics-ent.com), which publishes over 200 educational software and spoken word audio products. Its titles in language, education and reference software include names such as Rand McNally, The Audubon Society, World Book Encyclopedia, and National Geographic, and its products are available at major retailers including Barnes & Noble, Best Buy, Circuit City, Sam's Club, Staples, Target, and Wal-Mart.
In October 2002, Topics entered the digital video market with two DVD authoring packages, Instant DVD Maker ($59.99 MSRP) and Instant Video CD Maker ($49.99). The Video CD product supports digital capture (not analog), and export to CD, VCD, and SVCD (not DVD).

These products include seven digital video applications developed by Honest Technology (www.honestech.com), organized as the DVD Plus 2.0 suite. Each of these tools is independent, and can be used stand-alone, or to process files created by the other tools as part of the capture - compress - edit - author workflow.
In mini-screen mode, the DVD Plus control panel offers one-click access to the authoring tools, and a scrolling photo and video album. In full-screen mode, it morphs into the Digital Album tool, which you can use to access the Photo Editor tool. These provide basic capabilities for reviewing clips and enhancing photos.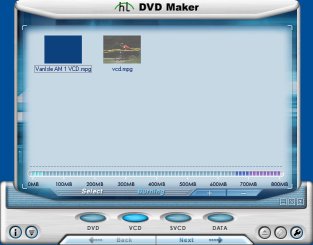 For DVD authoring, the suite includes separate tools for capture, compression, editing, and burning: Digital Video Recorder, MPEG Encoder, MPEG Editor, and VCD / DVD Maker. These offer nice presets for standard formats (VCD, SVCD, DVD), as well as the ability to work end-to-end in the appropriate MPEG format. The suite also includes a Video Surveillance security tool.
While the DVD Plus interface is mostly pleasantly designed, these tools are not overly consumer-friendly. The manual and help files are thin and choppy, and the controls are an inconsistent mix of large and small, icons and text. More importantly, this is not automated authoring, so you need to manually step through the authoring process, and understand and keep track of which formats you should be using along the process.
For the appropriate user, however, these tools do provide a nice workflow, direct control over each stage of the process, and very helpful information displays about file types and formats. You can try out demo versions of the individual tools from the Honest Technology web site.
These three new products from the past holiday season mark the beginnings of a transition of digital media from enthusiast tools to mass-market fun.
With Screenblast, Sony is moving video editing from utility to entertainment, to something fun to do every day instead of only for special events. With Instant DVD Maker, Topics Entertainment is bringing Video CD and DVD authoring to the broad retail market. And with Movie Maker 2, Microsoft is positing video editing like photo editing as a base Windows feature that permits you to have all your material at hand to access and share whenever you want.
Just as digital photography has taken off as a better way to make photography a more fun and interesting experience, and digital audio makes your music more personal and enjoyable, digital video is going mainstream. Attention shoppers: DVD burning special in aisle 3!
Microsoft - Movie Maker 2
www.microsoft.com/windowsxp/moviemaker
Topics Entertainment - Instant DVD Maker
www.topics-ent.com
Honest Technology
www.honestech.com
Sony - Screenblast Movie Studio
www.screenblast.com
Sonic Foundry
www.sonicfoundry.com
Muvee autoProducer
www.muvee.com
Roxio VideoWave Movie Creator
www.roxio.com