Manifest Technology Blog -- Site: | Articles | Galleries | Resources | DVI Tech | About | Site Map |
Articles: | PC Video | Web Media | DVD & CD | Portable Media | Digital Imaging | Wireless Media | Home Media | Tech & Society |
PC Video: | PC Video Articles | Video Software Gallery | Video Editing Resources |

---
Trends in Audio Accessories (10/2007)
Surround sound, Noise reduction, Bluetooth
by Douglas Dixon
Surround Sound Hardware: Creative Sound Blaster X-Fi
Noise Canceling Headphones: JVC HA-NC250 & Panasonic RP-HC500
Sony Bluetooth / Wireless Headphones
Sony Bluetooth Transmit / Receive: Phone - MP3 Player - PC - Hi-fi
We're entranced by video -- sucked in to TV shows and movies and now short clips on YouTube -- but we're also seeing a flowing of music and audio -- with MP3 players and mobile phones and libraries of albums on our computers.
So here's some trends in audio accessories for your holiday consideration:
High-performance surround-sound boards to deliver blow-out entertainment and gaming, with build-in sound mixing and enhancement. Just what you needed to turn your PC into a high-def entertainment center.
Noise-canceling headphones to isolate your ears from outside sounds with the padded earpieces, and then apply active noise cancellation technology to eliminate extraneous background noise.
Bluetooth headphones (including noise canceling) top enjoy your music wirelessly.
Bluetooth transmitter/receivers to share your music between portable devices, computers, and even hi-fi systems.
Below are some representative product lines that demonstrate these trends.
See my Portable Audio Accessories Gallery for details and comparisons on audio accessories.
Whether you create your own surround-sound audio, or you want to play games and DVDs, you need a PC audio board that can deliver a full 3D surround environment. For example, the Creative Sound Blaster X-Fi product line (www.soundblaster.com/products/x-fi) features the X-Fi audio processor, with over 51 million transistors for 10,000 MIPS performance (24 times more powerful than its predecessor Sound Blaster Audigy 2 ZS).
Creative Sound Blaster X-Fi - Xtreme Audio / Platinum Fatal1ty Champion
The X-Fi is configured for one of three modes: Gaming, Entertainment for music and DVDs, and Audio Creation.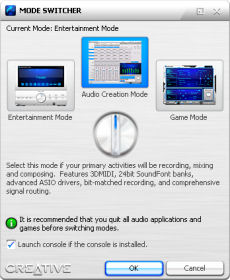 The X-Fi console software includes controls for mapping the surround sound to the speakers, including a studio-style hardware mixer, with ASIO routing, volume control, bus assignment, and stereo balancing -- plus eight hardware effects, including reverb for vocals and distortion and flanger for guitar.
Other technical features include the X-Fi 24-bit Crystalizer to enhance the sound for music and movies -- converting the audio to 24-bit/96kHz quality, then analyzing and selectively enhancing portions of the audio stream that were restricted/damaged during the compression stages to 16-bit and then to MP3.
And X-Fi CMSS-3D remixes stereo audio into virtual surround sound for headphones and multichannel speakers, extracting elements like voice to the center channel and ambience to the surrounding channels.
The Creative Media Toolbox and MediaSource software includes tools for organizing and playing music, updating ID tags, converting files, and even a Karaoke player. There's also a 3DMIDI Player to position MIDI instruments in a three-dimensional space.
The X-Fi products raqnge from the Creative Sound Blaster X-Fi Xtreme Audio board ($69) to the Sound Blaster X-Fi XtremeGamer / Fatal1ty gaming series with hardware-accelerated game audio and X-RAM storage ($99 to $199).
And the Sound Blaster X-Fi Elite Pro including a separate break-out I/O module with audio connectors and control knobs ($299).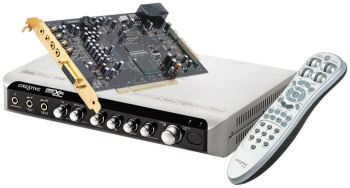 Also see the Turtle Beach Ear Force AK-R8 Surround Headphones on my Manifest Tech Blog for a 5.1 surround-sound experience from headphones.
---
One developing technology trend in headphones is the inclusion of noise canceling technology, both in full headphones for best sound isolation when traveling, and even in smaller earbuds. (See more below in the Sony Bluetooth line.)
For example, JVC announced a new top-end model in its headphone line, the JVC HA-NC250 noise canceling headphones ($199, www.jvc.com).
The circuitry includes feedback technology to monitor the noise cancellation process and eliminate up to 85 percent of extraneous background noise. To further isolate the listener by blocking outside sounds, each earpiece has double housing structure with an extra sound insulation layer.
The headphones are light at 5.3 ounces, and fold flat for travel. They also can be used with cancellation switched off. They are powered by a single AAA battery, rated at about 50 hours.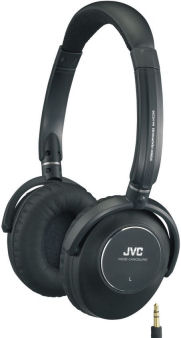 JVC HA-NC250 / Panasonic RP-HC500 noise canceling headphones
Similarly, the Panasonic RP-HC500 noise canceling headphones are rated to reduce outside noise by 1/12 (22dB) at 200 Hz ($199, www.panasonic.com).
They also fold flat for travel with a detachable cord and plug adaptor for airplanes, and are rated to run about 40 hours on an AAA alkaline battery.
Also see the Headphones posts on my Manifest Tech Blog for other headsets and earphones with noise reduction.
---
The extension of Bluetooth with the Advanced Audio Distribution Profile (A2DP) has brought CD quality stereo over wireless connections, allowing a single headset to serve for both talking on a mobile phone and listening to stereo music, and permitting other uses like transmitting music from a PC or portable player to wireless speakers (see next section).
For example, Sony has developed an extensive line of Bluetooth audio accessories (www.sonystyle.com).
The Sony DR-BT50 stereo Bluetooth headphones supports the Bluetooth AVRCP remote control profile, providing play control with a button on the outside of the left ear cup that controls play, stop, pause, fast-forward and rewind (around $230).
The Sony DR-BT21G stereo Bluetooth headset has a sleeker behind-the-neck style, with the same built-in remote control (around $130).
Also see Sony Wireless Bluetooth Headsets on my Manifest Tech Blog
Or to share the music, the SRS-BTM30 Bluetooth wireless stereo speaker receives music transmitted from stereo Bluetooth-enabled cell phones or PCs -- as well as other sources connected to a Bluetooth transmitter ($150). It has a built-in remote control, can be powered or run on batteries on the go, and has an analog input jack for connecting directly to other devices.
Also see Sony Travel / Wireless Speakers on my Manifest Tech Blog
In a different approach to wireless, the Sony MDR-RF970RK noise reduction headphones use a 900MHz RF wireless system (not Bluetooth) to allow roaming up to 150 feet ($99). It uses Ni-MH rechargeable or AAA batteries, and uses induction charging with no direct contact ---- just place the headphones on the stand.
---
The advantage of Bluetooth is not only that it is being built in to so many devices, but that you also can use standard peripherals to add wireless capability to existing components. There's music locked up in your phone and MP3 player, so share it though Bluetooth through your PC speakers or even your hi-fi system. Or broadcast from your MP3 player or PC media library to listen on your phone headset.
For example, use the Sony TMR-BT10 transmitter module to allow virtually any digital music player to send stereo audio to a Bluetooth-equipped headset, speaker system or car stereo ($80).
Similarly, the Sony Ericsson MBR-100 Bluetooth Music Receiver allows you to play music on your phone, and hear it though your hi-fi system ($79, www.sonyericsson.com).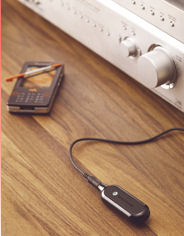 Or share with the Sony HWS-BTA2W Bluetooth dual-use transmitter/receiver ($80). As a transmitter, you can stream stereo audio from devices with standard stereo mini plugs, such as cell phones with adapters, MP3 players, PCs, and home stereo systems. As a receiver, you can convert almost any speaker system into a stereo Bluetooth speaker from the line out jack.
---
Portions originally published in Camcorder & Computer Video magazine, 23, 5, October 2007.