Manifest Technology Blog -- Site: | Articles | Galleries | Resources | DVI Tech | About | Site Map |
Articles: | PC Video | Web Media | DVD & CD | Portable Media | Digital Imaging | Wireless Media | Home Media | Tech & Society |
PC Video: | PC Video Articles | Video Software Gallery | Video Editing Resources |

---
Summary: Apple Final Cut Studio (7/2009)
by Douglas Dixon
Final Cut Studio Summary
Final Cut Pro 7
Motion 4 - Soundtrack Pro 3 - Color 1.5 - Compressor 3.5
DVD Studio Pro 4
Apple has announced and released an updated Final Cut Studio, with new versions of Final Cut Pro 7, Motion 4, Soundtrack Pro 3, Color 1.5, and Compressor 3.5 (www.apple.com/finalcutstudio). The price has dropped by $300 to $999, and the upgrade is $299. (There's no version number on this edition of Final Cut Studio, although the last update in 2007 was version 2.)
One major focus of the new Final Cut Studio is web-based output and sharing. Final Cut Pro adds Easy Export to continue working on projects while encoding in background, and Compressor 3.5 can share to YouTube and MobileMe, or export for iPhone, iPod, Apple TV, and mobile phones (www.apple.com/finalcutpro).
Final Cut Pro also has new iChat Theater support for real time Web review and approval of timelines or individual clips with iChat users, even if they don't have FCP.
Apple remains unenthused about delivery on old-fashioned optical disc -- DVD Studio Pro 4 still is not updated, and is still only for authoring standard-def DVDs. But you can export HD material from FCP/Compressor to Blu-ray disc, albeit with simple menus and chapters.
FCP also adds three new Apple ProRes codecs for more efficient editing of complex formats: ProRes 422 Proxy for offline and mobile editing, ProRes 422 LT for general purpose broadcast quality editing, and ProRes 4444 for high-quality editing.
Apple states that there are more than 100 new features in the new Final Cut Studio, with deeper support for HD / high-quality formats, and tighter integration within the suite.
PR 7/09 - www.apple.com/pr/library/2009/07/23fcs.html
See Jan Ozer's First Look Review: Apple Final Cut Pro 7 (registration required for full access)
http://digitalcontentproducer.com/desktoppost/depth/final_cut_pro_7_723

Find Apple Final Cut Studio 2 (old) on Amazon.com
---
---
Final Cut Pro 7 - Apple's Emmy Award-winning editing software
Apple ProRes codecs: Edit at HD quality with SD file sizes
Variable bit rate (VBR) encoding to minimize file sizes for storage efficiency
Optimizes decoding for multistream, real-time editing
Original ProRes 422 and ProRes 422 (HQ)
New ProRes 422 Proxy for offline and mobile editing at low bandwidth
New ProRes 422 LT, for general purpose editing, broadcast quality
New ProRes 4444 for editing and visual effects at highest quality
Broad Format Support: Edit natively in almost any format
Tape and file-based media, SD, HD, and 2K
Open format timeline: Mix and match formats and frame rates
New native AVC-Intra support for the latest high quality Panasonic cameras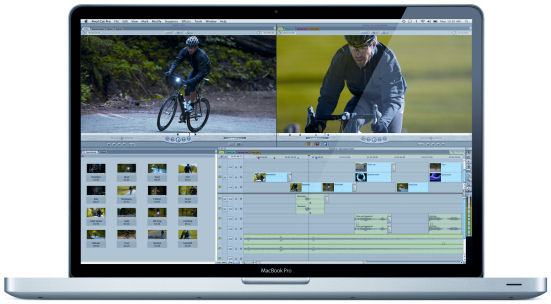 New collaboration tools: Web review and approval
New iChat Theater support for real time collaboration
Share Final Cut timelines or individual source clips with iChat users anywhere
Even if they don't have Final Cut Pro
New Easy Export for one step output to a variety of formats
Continue working on projects while encoding in background
Export to YouTube, MobileMe, iPhone, iPod, Apple TV, DVD, Blu-ray
Integration with other Final Cut Studio applications,
Final Cut Server for asset sharing and automated review and approval
Comprehensive professional editing tools
Precision editing and trimming, Real-time multicam editing
Fully customizable interface, Audio sweetening
New interface improvements, including enhanced markers and tabs
Real-time effects and transitions
More than 150 filters and effects, multistream vide
New speed tools to easily change clip speed with ease
New alpha transitions to create dramatic effects using moving mattes
Enhanced tools such as 3D shadows, reflections and depth of field
SmoothCam stabilize shaky shots while preserving standard camera moves
Open, extensible architecture
Open standards like QuickTime and FxPlug for interoperability with third-party tools
Open, standards-based XML interchange format
Digital cinema workflows
Deeper integration with Color, for digital intermediate workflows
Film, high-res cameras like the RED ONE
Improved relinking with Cinema Tools 4.5
---
Motion 4 - Animation tool for 2D & 3D motion graphics and visual effects

Video editors can quickly create everything from basic titles
to animated credit rolls to stunning motion graphics and 3D compositions
New customizable point and spot lights to cast realistic shadows
Turn any shape, video plane or paint stroke into a reflective surface
Adjust the depth of field within a 3D canvas
Selectively highlight single object, use multiple objects for racking focus effect
---
Soundtrack Pro 3 - Audio editing, mixing, enhancement

New multitrack audio tools to streamline audio post production
New Voice Level Match extracts volume from vocal content of a clip
Applies to another without altering any other audio content
Enhanced File Editor includes new tools to make sophisticated edits
and fine tune volume adjustments by targeting specific frequencies
New Advanced Time Stretch stretches and compresses audio with precision
Use 3 Apple algorithms or other third party plug-ins
---
Color 1.5 - Professional grading application / finishing tool
Greater range of sequences and effects from Final Cut Pro
Better Final Cut Pro integration
Integrated workflow allows editors to complete projects entirely within Final Cut Studio
New full color resolution - 4K support works natively with files from cameras such as the RED ONE
and outputs directly to ProRes for HD or DPX for film
Expanded support for new high quality formats for grading with maximum color information
including AVC-Intra, XDCAM 422, ProRes 4444
---
Compressor 3.5 - Encode and deliver in multiple formats
Easy set up and customize export options
Automatically detect QuickTime settings and create an Easy Export template or a mini "droplet" on desktop to automate specific Compressor actions.
Customizable sharing options to YouTube and MobileMe,
or export for iPhone, iPod, Apple TV, mobile phones
HD menu templates and encoding presets to create Blu-ray discs
---
Drag and drop tools, on screen editing, real time previews