Manifest Technology Blog -- Site: | Articles | Galleries | Resources | DVI Tech | About | Site Map |
Articles: | PC Video | Web Media | DVD & CD | Portable Media | Digital Imaging | Wireless Media | Home Media | Tech & Society |
PC Video: | PC Video Articles | Video Software Gallery | Video Editing Resources |

---
Summary: Adobe Photoshop Elements 6 (11/2007)
Enhancements and Visual Tour
by Douglas Dixon
Features and Enhancements
Visual Tour -- Interface and Features
A summary of the new Adobe Photoshop Elements 6 --
Key new features and enhancements, and a visual tour of the interface and functions.
(See also Summary - Premiere Elements 4)
Adobe describes Photoshop Elements 6 as the No. 1 selling consumer photo-editing software, combining power and simplicity for consumers to find, view and easily infuse creativity and personality into their photos. This upgrade is designed to help consumers at all experience levels achieve outstanding results and provide interactive options for sharing unique creations via print and Web.
Photoshop Elements 6 was released in September 2007, with new emphasis on a cleaner interface for quick and fun editing, including a shared Organizer with Premiere Elements 4, new Guided Editing assistance, new and enhanced tools for quick editing, Photomerge for the best elements of group shots, and a new Sharing Center for phsical and electronic sharing of your projects.

Adobe product site - www.adobe.com/products/photoshopelwin
The pricing is unchanged: Photoshop Elements 6 is $99 list ($79 street);
or $149 list ($135 street) bundled with Premiere Elements 4.
Photoshop Elements for the Macintosh is expected early 2008.
Find related Adobe articles in the Manifest Tech Blog

Find Adobe Photoshop Elements 6 on Amazon.com
Find the Adobe Photoshop Elements 6 & Premiere Elements 4 bundle on Amazon
---
Key new features and enhancements in Photoshop Elements 6.
Easy and Intuitive Interface
Easy import, tagging and retrieval
New Streamlined interface - clean, uncluttered editing screens
New tabs provide simple access to program capabilities
Faster photo viewing and organization - library of thousands of photos
New dedicated Project Bin
Access to all open photos, photo book pages, and saved Albums
New Smart Albums you can view all photos in group: camera, date, rating
Tight integration with Adobe Premiere Elements
Shared Organizer, with common database across both applications
New Guided Editing mode walks through steps of improving a photo
Three edit modes, geared toward different experience levels - beginner to expert
New Quick Selection Tool single click select-and-adjust task - Refine Edge
Brush selection, use sliders blend perfectly with background - Enhanced
Enhanced editing tools / photo cleanup

Photoshop Elements 6 interface - Organizer tab - Organize and annotate
- Optional folder list (left)
- Resizable thumbnails (center) with optional photo information
- Tasks panel (right) with Albums, Keyword Tags, Properties
Creative Effects
New and enhanced compositing
New Photomerge Group Shot - creates single cohesive group shot
Combine best facial expressions and body language from series of shots
New Photomerge Faces - smooth image-blending technology
Combine the eyes, noses, and other features from different faces
Enhanced Photomerge Panorama - horizontal or vertical panoramas
Automatically stitch together multiple photos
Easy and Fun Sharing
New Sharing Center - e-mail, online galleries, burn to CD
Enhanced Online interactive galleries based on Adobe Flash
Animated slideshows, e-mail and printed creations
New assisted photo creations - scrapbook pages, cards and CD/DVD labels
Enhanced photo book creation
Faster Performance
100% faster photo import than Photoshop Elements 5
30% to 70% faster search than Photoshop Elements 5
---
A visual tour of Photoshop Elements 6 interface elements and associated features.
Welcome Screen
Optional hub for major tasks
Organize, Edit, Create, Share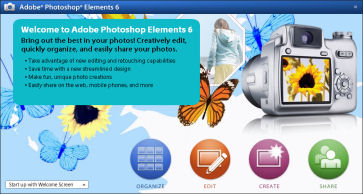 Adobe Photoshop Downloader
Runs at startup to monitor insertion of cameras or card readers
Uploads to Premiere Elements Organizer
Creates folders, renames, optionally deletes from camera memory
Can automatically fix red eye on import
Organizer
Find, organize, view, and share photos, make quick fixes
Manage photos, video and audio clips, PDF files
View and resize thumbnails
View and tag images in full-screen, compare side by side
Automatically organizes by date
Sort and categorize by star ratings, stacking, assigning keyword tags
people, places, events
Search by attributes - find photos containing faces
Albums - group related photos - drag to add
Smart Albums on Search criteria
Tabs: Organize, Fix, Create, Share
Fix - Automated correction for entire photo
Auto Smart Fix, Color, Levels, Contrast, Sharpen, Red Eye Fix, Crop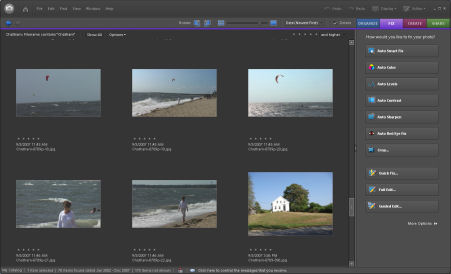 Editor
Refine photos with guided or advanced editing
Create printed and electronic projects
Tabs: Edit, Create, Share
Edit - Full, Quick, Guided
Create, Share - same
Create adds Artwork content and backgrounds
Quick Edit - Auto fixes plus manual slider controls for adjusting entire photo
General Fixes: Smart Fix, Red Eye Fix
Lighting: Levels, Contrast
Color
Sharpen

Editor - Quick Edit
Guided Edit - Step-by-step assistance to perform common tasks
Basic Photo Edits - Crop, Rotate, Sharpen
Lighting and Exposure
Color Correction - Skin tone
Guided Activities (touch up)
Photomerge

Editor - Guided Edit
Full Edit - Complete toolset and controls
Adjust specific areas of a photo, darkroom tools
Remove unwanted elements, brush away flaws, enhance with artistic filters and effects
Tool bar, Effects, Layers

Editor - Full Edit -Toolbar on left, Effects and Layers on right
Create - Physical and electronic projects
From Organizer or Editor
Photo Book (order online), Photo Calendar, Photo Collage
Online Gallery
Slide Show - Can Sent to Premiere Elements to customize
+ More:
Order Prints, Order Kodak Greeting Cards, PhotoStamps
Greeting Card
CD / DVD Jacket, Label
VCD / DVD with Menu
Flipbook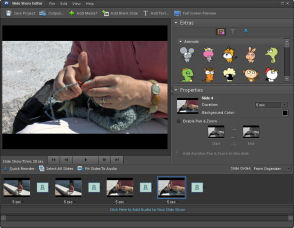 Organizer - Create - Slide Show
Layout on bottom, with transitions, audio
Extras and Properties on right
Share - Personal and online
From Organizer or Editor
Online Gallery - Animated Web gallery, template themes
E-mail Attachments - Templates for backgrounds and captions
Photo Mail
Order Prints
CD/DVD
+ More:
PDF Slide Show
E-mail to Mobile Phone
Share with Kodak Easyshare Gallery, Send to SmugMug Gallery
Send to CEMA Digital Photo Frame
Share Video with Photoshop Showcase

Organizer - Share