Manifest Technology Blog -- Site: | Articles | Galleries | Resources | DVI Tech | About | Site Map |
Articles: | PC Video | Web Media | DVD & CD | Portable Media | Digital Imaging | Wireless Media | Home Media | Tech & Society |
PC Video: | PC Video Articles | Video Software Gallery | Video Editing Resources |

---
Using Adobe Premiere Pro 2.0 (6/2006)
by Douglas Dixon
Premiere Pro 2.0
HD Editing
Multi-Cam Editing
DVD Creation
Production Studio
References

See also Adobe Production Studio

See also Using Adobe Encore DVD 2.0
Earlier this year Adobe unveiled the latest version of its video editing suite -- now called the Adobe Production Studio (www.adobe.com/productionstudio). Built around new versions of Premiere Pro for video editing and After Effects for motion graphics and visual effects, the suite also includes new versions of Encore DVD for DVD authoring and Audition for professional audio mixing and editing.
Adobe Premiere Pro 2.0
This new collection is all about full support for the broad range of video formats, from SD and DV to HDV and HD, with even better integration among the Adobe tool set, plus the bonus of a significantly improved interface.
Since the core of our work is in the Premiere Pro editor, let's highlight some of the most exciting features in the editing process,.
The first thing you notice when getting started with Adobe Premiere Pro 2.0 (www.adobe.com/products/premiere) is the new common interface design for all the Adobe video applications, based on the consumer versions of Photoshop Elements and Premiere Elements. Instead of having you constantly fiddling with overlapping windows and floating palettes, the interface uses interlocking panels that move together and resize proportionally as you adjust their size, so there's no wasted space or partially overlapping windows. It's even easier to rearrange the layout with the new "drop zone" feature -- you can drag and drop individual windows to either be positioned as a new panel, or be nested as a tab with a group of windows in an existing panel.
Otherwise, the Premiere Pro interface should feel familiar and comfortable, with the same general windows and controls that you are already used to -- the Project windows to organize your assets, the Source and Program windows to view and edit your clips and sequences, the Timeline window for editing, and additional windows to access tools including Effects, Effect Controls, Audio Mixer, Info properties, and History.
Premiere Pro: Interface
You still can use Window > Workspace to restore the screen layout to default positions for different kinds of tasks, or to save your own favorite layouts. And you can still drag out a tab or a window as a separate floating palette (i.e., to place on a second monitor) -- just hold down Ctrl as you drag.
The big improvement for editing in Premiere Pro is scalable support for the full range of major video formats, from standard definition to high-def, including DV, SD, HDV, HDCAM, D5 HD, and Windows Media Video, up to 2k and 4k resolutions (4096 x 4096). Premiere Pro now supports native HDV capture and editing for lower-cost HD camcorders, with no format conversion or quality loss. And for higher quality, Premiere Pro provides native pro HD-SDI support out of the box through the AJA Video Xena HS real-time encoding card.
The capture and importing process in Premiere Pro also works as before. Use File > Capture to bring up the Capture window to log and capture from tape. And use File > Import (or just double-click in the Project window) to import clips and a wide variety of common formats. Then preview and trim in the Source window, and then assemble your production as sequences on the Timeline.
Import dialog - file formats
This means you can mix formats on the same timeline, for example combining DV and HDV footage at 480, 720, 1080 lines, and then edit and preview directly in Premiere Pro -- with real-time preview as possible based on the performance of your system.
For high quality results, Premiere Pro now uses full 32-bit internal color processing, and can increase performance with GPU-accelerated rendering on new graphics cards.
Beyond all this HD editing, however, the coolest new feature in Premiere Pro is the Multi-Cam Monitor tool for cutting together multi-camera shoots with up to four cameras. What makes this so effective is the way that it naturally uses the existing facilities in Premiere Pro to help you synchronize the shots, cut them together, and then continue editing the shoot.
First, stack up to four tracks from the multi-cam shoot in a Timeline. Use all the usual tools to lay out and preview the clips, including the Toggle Track Output (eye) icon to view each individual track. If needed, use the new Synchronize Clips dialog to help automatically synchronize the clips, by timecode or by markers that you have inserted, for example at a hand clap.
Assemble Tracks
To use this multi-track timeline as a multi-cam source in Premiere Pro, you can take advantage of the ability to create nested timelines (called Sequences). Create a new master Sequence in the Project window, and drag the multi-track sequence into it, now nested and displayed as just one collapsed clip. Now here's the magic: right-click and select Multi-Camera > Enable to tell Premiere Pro to treat this sequence as a multi-cam source.
To then cut between the multiple camera clips, click the flyout menu in the Program monitor to display the Multi-Camera Monitor view. Premiere then displays the new Multi-Camera window, showing the up to four sources on the left, with the currently-selected track outlined and displayed as the output on the right. To then edit the shoot, start playback to view the multiple tracks playing in parallel, and then dynamically switch between the views by clicking on the sources (or pressing the numeric keys).
Multi-Cam Editing
After you finish recording, the track in the Timeline shows cuts at each edit point, just like any other editing. You can continue reviewing and refining the edit using the Multi-Camera Monitor, changing the cut points and source camera. And you can precisely edit the shoot directly in the Timeline, using the standard tools to adjust edit points (roll, ripple, slip, slide), and even using the right-click menu to change the multi-cam source track.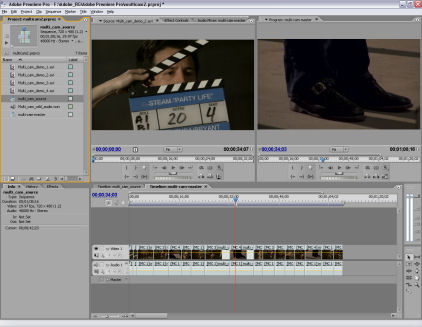 Multi-track Sequence
When you've finished editing your production, Premiere Pro now supports full DVD creation support right from the timeline. As first used in Premiere Elements, you can create either an auto-play DVD with no menus, or a DVD with chapter menus for your clips, based on customized template designs.
For an auto-play DVD, you can place DVD markers in the Timeline for chapter points, or use Auto-Generate to insert markers at edit points, or at regular time intervals, or evenly along the length of the sequence. Then use Window > DVD Layout to Preview and then Burn the DVD. Actually, you can burn directly to Disc, or to a Folder on hard disk to play with a software player, or to an ISO Image file to burn copies later (i.e., with Encore DVD).
Burn DVD
For a menued DVD, use the DVD Layout window to choose a template graphical design. Adobe provides a pair of menus for each design, for the main menu and any scene menus, or you can create your own -- these are just Photoshop PSD files with special layer names, as used in Encore DVD.
DVD Templates
You then can customize the selected template by clicking in the DVD Layout window to reposition the elements and edit the text. Finally, preview and burn your disc.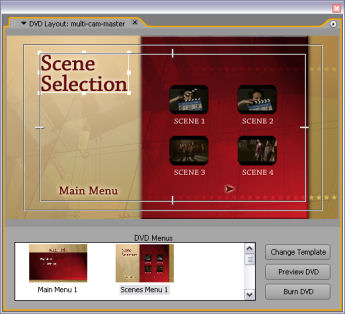 DVD Layout

Besides creating a DVD with a scene menu to jump to each chapter point, Premiere Pro also provides the ability to create a disc with multiple movies, each with its own scene menu and chapter points. To do this, change the DVD Markers in the Timeline to mark the start of each separate movie with a Main Menu marker, and the end as a Stop marker. You can do this in the Effect Controls window as you work in the DVD Layout window, or directly in the Timeline.

Of course, there's a lot more that's new and interesting in Premiere Pro 2.0, but the idea here has been to highlight some of the more visible and exciting new features, and show you how they integrate into the applications that you may already be familiar with.

Adobe has worked hard to bring its video applications together with a new look, common interface design, and cross-application integration for moving quickly and naturally between the different tools for different kinds of media. The applications are more powerful, more responsive, more flexible, and more mature. Which also makes them more fun to use.

So check them out for yourself -- the Adobe website offers tryout versions of Premiere Pro 2.0, Encore DVD 2.0, and other applications that you can download and experiment with for 30 days. Also check the site for updates, tutorials, support forums, downloads, and other free resources.

Production Studio Versions

The Standard edition of Production Studio at $1,199 (estimated street price) includes Premiere Pro 2.0 and After Effects 7.0 Standard for video editing and effects, plus the latest version of Photoshop CS2. The Studio also includes the Adobe Bridge media organizer and viewer (which is shipped with each individual application), and the Adobe Dynamic Link function to use After Effects compositions directly in Premiere Pro and Encore DVD (available only as part of the Studio).

While you can do a lot with Premiere's built-in audio editing and enhanced DVD authoring capabilities, you can also step up to the Premium edition at $1,699, with full After Effects 7.0 Professional, plus Audition 2.0 and Encore DVD 2.0 for more advanced work, plus Illustrator CS2.

Adobe also offers a new Video Bundle, with the full Production Studio plus Macromedia Flash Professional 8, for $2,099.

Adobe - Production Studio
www.adobe.com/productionstudio

Adobe - Premiere Pro 2.0
www.adobe.com/products/premiere

Originally published in Camcorder & Computer Video magazine, 22, 5, June 2006.