Manifest Technology Blog -- Site: | Articles | Galleries | Resources | DVI Tech | About | Site Map |
Articles: | PC Video | Web Media | DVD & CD | Portable Media | Digital Imaging | Wireless Media | Home Media | Tech & Society |
PC Video: | PC Video Articles | Video Software Gallery | Video Editing Resources |

---
Summary: Adobe Premiere Elements 7 (9/2008)
Enhancements and Visual Tour
by Douglas Dixon
New Features Summary
Visual Tour - Interface and Functions
Organize Tab: Acquire, organize media
Edit Tab: Assemble, edit, enhance media
Disc Menus Tab: Create interactive menus for DVD / Blu-ray discs
Share Tab: Export / Upload
A summary of the new Adobe Premiere Elements 7 --
Key new features and enhancements, with a visual tour of the interface and functions.
Adobe describes Premiere Elements as the #1 selling consumer video-editing software. Version 7 adds support for high-def AVCHD video, impressive automated assists, and online sharing and storage through Photoshop.com.

The pricing is unchanged:
Premiere Elements 7 is $99 list; or $149 bundled with Photoshop Elements 7.
Photoshop.com Plus membership is $49 a year
Basic membership is free, does not require purchase of any Adobe product

Adobe product site - www.adobe.com/products/premiereel
Photoshop.com - www.adobe.com/products/psprelements/membership
New Features
Import and edit high-def AVCHD video
Automatically create polished movies in minutes with InstantMovie
Automatically analyze clips and apply Smart Tags
Organize and preview clips with the new clip Tagging window
Composite green-screen video overlays with Videomerge
Add SmartSound soundtracks adjusted to movie and music tempo
Online viewing, sharing, backup, updates through Photoshop.com
Photoshop.com - Stay connected with your favorite people and memories
Share interactive photo albums and videos online
Access photos and movies online from any web-enabled computer using online Organizer
Automatic backup to online storage: Basic 5 2 GB, Plus 20 GB (storage numbers updated by Adobe 9/2)
Regular inspiration updates (Plus): Download new creative project elements on regular basis
Tutorials, themes, templates, seasonal artwork, photo frames, fonts, sound effects, music, overlays
Photoshop.com Mobile: Upload, view, and share photos on the go
View online photos on mobile phone. Upload directly to online Organizer,
then automatically sync to desktop Organizer. Runs on Windows Mobile smartphones
http://mobile.photoshop.com
See earlier article on Adobe Premiere Elements 4 & Photoshop Elements 6
Find related Adobe articles in the Manifest Tech Blog

Find Adobe Premiere Elements 4 on Amazon.com
Find the Adobe Photoshop Elements 6 & Premiere Elements 4 bundle on Amazon
---
Make Great-Looking Movies in Minutes
Create polished movies in minutes with InstantMovie: Automatically assembled from a collection of video clips, using creative techniques from Hollywood directors. Selects and trims clips using Smart Tags and user ratings, adds music, titles, effects, and transitions based on themes including birthday, wedding, music video, extreme sports. Advanced users then can further edit the result, if desired.
Enhance cinematic slide show created in Adobe Photoshop Elements with Pan and Zoom slideshow theme in InstantMovie
Import and edit high-def AVCHD video: From the latest AVCHD camcorders
Quickly Find Best Clips
Automatically analyze clips and apply Smart Tags: Split scenes and identify the most interesting, highest-quality clips, with features including Audio, Blur, Brightness, Contrast, Faces, Motion, Static, Shake, Quality.
Organize and preview clips with the new clip preview and tagging window: Apply tags and star ratings. Use Organizer (similar to Photoshop Elements) to browse and preview, tag and categorize, organize into albums. Create Smart Albums that automatically collect media based on defined criteria.
See more metadata for video files: Including duration, video format, resolution, frame rate
Powerful Effects and Sound
Composite video overlays with Videomerge: Cleanly extract moving subject from solid color (green-screen) backgrounds and overlay into a new background setting
Add SmartSound soundtracks: Automatically adjust to match the length of movie; Automatically detects music tempo and syncs the beginning and end of each scene to beats
Minimum System Requirements include
1.8GHz processor with SSE2 support; 3GHz processor required for HDV or Blu-ray; dual-core processor required for AVCHD
Microsoft Windows XP with Service Pack 2, Windows Media Center, or Windows Vista
For Windows XP: 512MB of RAM (2GB required for HDV, AVCHD, or Blu-ray)
For Windows Vista: 1GB of RAM (2GB required for HDV, AVCHD, or Blu-ray)
4.5GB of available hard-disk space
Color monitor with 16-bit color video card
1,024x768 monitor resolution at 96dpi or less
Microsoft DirectX 9 or 10 compatible sound and display driver
DVD-ROM drive (compatible DVD burner required to burn DVDs; compatible Blu-ray burner required to burn Blu-ray Discs)
DV/i.LINK/FireWire/IEEE 1394 interface to connect a Digital 8 DV or HDV camcorder, or USB2 interface to connect a DVvia-USB compatible DV camcorder (other video devices supported via Media Downloader)
QuickTime 7 software
---
A visual tour of Premiere Elements 4 interface elements and associated features.
Interface Design
Intuitive interface, clean, easy-to-use workspace
Darker appearance, Color-coded tabs, Images pop out from gray background
Edit > Preferences > User Interface - Brightness
Organizer for media management shared with Photoshop Elements
Common database accessible from either application
Visually tag video clips and photos to categorize by people, places, or events.
View, search, sort assets in a variety of ways - file name, tag, date, time
Supports dual-core or multiple processor systems,
Advanced multi-threading technology, and Hyper-threading Technology
on latest Intel Pentium processors running Microsoft Windows XP or Vista
Interface Elements
Monitor panel
Tasks panel - Color-coded tabs: Organize, Edit, Disc Menus, Share
My Project panel - Sceneline / Timeline
Floating panels, hidden by default:
- Info panel - Information about selected item
- History panel - Undo list
- Events panel - Errors / messages
- Audio Meters, Audio Mixer
Drag and drop to move / resize / dock (hold down Ctrl)
Use Window > Show Docking Headers to see names of panels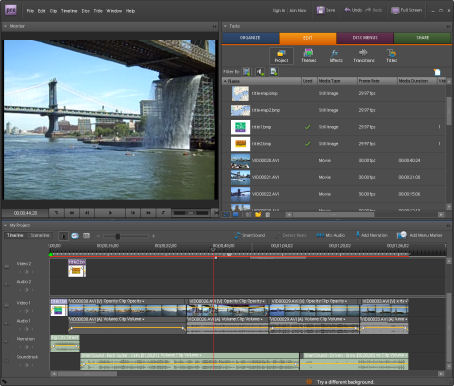 Premiere Elements 7 interface - Edit - Timeline
- Monitor panel (top left)
- Tasks panel (top right) - Edit workspace, Project view
- My Project panel (bottom) - Timeline with multiple tracks of video and audio
Tasks panel - Tabs
Organize tab (blue) - Organizer
Edit (orange) - Edit clips into movie
Disc Menus (purple) - Create interactive DVD / Blu-ray disc menus
Share (green) - Export / upload movie
Monitor panel - Edit and preview
Preview and edit clips, apply effects, create titles, position overlay images and text
Trim and split clips, drop filters and effects on a frame,
Create picture-in-picture effects, type titles and text on screen
Shows Text tools when editing titles
Becomes Disc Layout panel for Disc Menus workspace
My Project panel - Sceneline / Timeline
Sceneline (storyboard) - Arrange clips, apply titles, transitions, effects
Drag and drop, copy and paste thumbnails of clips
Timeline - Trim, layer, ands synchronize multiple tracks of media
View starting and ending point of each event to synchronize multiple events
Up to 99 audio and video tracks
Smartsound soundtrack, Detect Beats, Mix Audio, Add Narration, Add Menu Marker
---
Organize Tab: Acquire, organize media
Browse, search, preview clips (shared with Photoshop Elements)

Organize tab - Organize - Sceneline
- Monitor panel (top left)
- Tasks panel (top right) - Organize tab showing project clips
- My Project panel (bottom) - Sceneline with thumbnails of clips
Get Media view - Acquire from hard disk, camcorders, Internet
DV Camcorder, HDV Camcorder
AVCHD or other hard drive / memory camcorder
DVD (Camcorder or disc)
Digital Still Cameras
Mobile Phone and Players
Webcam or WDM video device
PC Files and Folders
NEW - InstantMovie - Automatically assemble movie from a collection of video clips
Using creative techniques from Hollywood directors
Selects and trims clips using Smart Tags and user ratings
Adds music, titles, effects, and transitions based on themes including birthday, wedding, music video, extreme sports
Advanced users then can further edit the result, if desired
Use Enhance Pan and Zoom slideshow theme for cinematic slide show imported from Adobe Photoshop Elements
NEW - Tagging window - Tag and categorize
Apply tags and star ratings, organize into albums
Create Smart Albums that automatically collect media based on defined criteria.
NEW - Smart Tagging - Split scenes and identify the most interesting, highest-quality clips
Scene detection - automatically split footage into individual scenes
Audio, Blur, Bright/Dark, High/Low Contrast, Shaky, Quality
Faces (single / multiple, closeup / long), Motion (pan / tilt / zoom, direction)
|
Tagging window: Albums, Keyword Tags, Smart Tags, Star Ratings
Import / Export Formats include:
ASF (import only), AVI, AVCHD, SWF (import), Blu-ray Disc (export only), DV, DVD, Dolby Digital Stereo,
H.264, HDV, JPEG, PNG (import only), PSD (import only), MOD and TOD (JVC Everio, import only),
MPEG-1, MPEG-2, MP3, WAV, QuickTime, Windows Media, WMA (import only)
Via QuickTime: 3GP, 3GP2, MOV, MPEG-4
---
Edit Tab: Assemble, edit, enhance media
Edit and preview directly in large Monitor window
Easily trim and split clips, drop filters and effects on the frame
create fun picture-in-picture effects, type titles and text directly on the screen
Assemble production on Sceneline (storyboard) or Timeline
Browse and apply elements by visual thumbnails, drag and drop to apply to video
Customize with slider controls
Select and click Edit Effects / Transitions to edit - Properties

Edit tab - Effects - Timeline
- Monitor panel (top left)
- Tasks panel (top right) - Edit tab showing Effects
- My Project panel (bottom) - Multi-track Timeline with video and audio clips
Project - Review project media
Themes - Apply automated movie themes
Add professional touches to clips: title, effects, transitions
Event-based - including Wedding and Birthday
Style-based - including Comic Book and Music Video
Effects - Apply effects and presets
Adjust, Blur & Sharpen, Distort, Image Enhancement, Keying, Stylize, etc.
Video Stabilizer - Restore shaky footage
Videomerge - Cleanly extract moving subject from solid color (green-screen) backgrounds
overlay into a new background setting
Transitions - Apply transitions
Dissolve, Wipe, Slide, etc.
Titles - Apply preformatted titles with Adobe fonts
Frame, scrolling credits, lower third
Customize with shadows, glows, effects
Animate to bounce, spin, zoom, scroll
Audio Elements
Buttons in My Project panel, to apply in Sceneline / Timeline
SmartSound - Add soundtrack
Automatically adjust to match the length of movie
Automatically detects music tempo and syncs the beginning and end of each scene to beats
Detect Beats - Create slide shows and movies that move to the music
Automatically detects tempo of musical soundtrack
Syncs beginning and end of each scene with the beats
Mix Audio - Easy audio mixing and refinement
Audio Mixer window works like a mixing board in a recording studio
Adjust relative volumes with sliders: dialog, background music, sound effects
Add Narration - Record voice narration track
---
Disc Menus Tab: Create interactive menus for DVD / Blu-ray discs
Preformatted menu templates for different themes: Main menu, Scene menu

Disc Menus tab - Scene menu - Design DVD
- Monitor panel (top left) - Main menu template, edit to customize
- Tasks panel (top right) - Templates for main and scene menus
---

Share Menus tab - Sharing options
QuickShare - Save preset options
Disc - Burn DVD disc, and HD to Blu-ray disc
Online - Direct upload to video sharing websites
Photoshop.com, YouTube, FTP to other websites
Presets for Adobe Flash video
Personal Computer - Export for viewing on PCs
Adobe Flash Video
MPEG
DV AVI
Windows Media
QuickTime
Mobile Phones and Players - Export for mobile devices
Apple iPod and iPhone - i.e., H.264 640x480
Audio Podcast - H.264 / MP3
Creative Zen - WMV 320x240
Microsoft Zune - WMV 320x240
Pocket PC - WMV 240x176
Smartphone - WMV 224x128 landscape, 176x144 portrait
Sony PSP - H.264 320x240
Mobile Phone - 3GP - MPEG4 176x144, 320x240, 352x288 H.263
Tape - Record to DV or HDV camcorder