Manifest Technology Blog -- Site: | Articles | Galleries | Resources | DVI Tech | About | Site Map |
Articles: | PC Video | Web Media | DVD & CD | Portable Media | Digital Imaging | Wireless Media | Home Media | Tech & Society |
PC Video: | PC Video Articles | Video Software Gallery | Video Editing Resources |

---
Easier Editing: Adobe Premiere Elements 3.0
and Photoshop Elements 5.0 (12/2006)
by Douglas Dixon
Evolving Elements
Timeline to Sceneline
Direct Editing in the Monitor Window
Import and Capture
Stop-Motion Capture
Exporting to Portable Devices
DVD Burning
Integration with Photoshop Elements
Getting Started
References

See also: Summary: Adobe Photoshop Elements 5.0
More power! But also easier to use. More formats and more devices! And yet drag-and-drop simplicity. It's a tough challenge for the developers of consumer-oriented video editing software. We want to import from any camcorder, edit with ease and sophistication, share to any portable device, and burn nice-looking DVDs -- and not have to spend any time fussing and learning about the software.
The result of this demand has been two types of video editing products for the $49 - $99 consumer market: consumer-only editors like Pinnacle Studio, Roxio VideoWave, and Ulead VideoStudio; and consumer-focused derivatives of professional tools like Adobe Premiere Elements and Sony Vegas Movie Studio. The siblings of the pro tools offer a better growth path to more sophistication as you gain experience, but can be more confusing because of their higher-end legacy. Yet while the consumer-only applications are designed for getting started quickly, they can become limiting as you get more experienced.
The latest evolution in this trend is Adobe Premiere Elements 3.0, announced in September 2006 (www.adobe.com/products/premiereel). In this release, Premiere Elements still keeps much of the underlying power of Adobe's professional Premiere Pro product, but further simplifies the editing experience by adopting more features from traditional consumer-only editing, including Sceneline (storyboard) layout and direct editing in the Monitor window.
Adobe has been working hard to evolve Premiere Elements as the consumer version of its flagship Premiere Pro editing tool by simplifying the editing experience. The resulting innovations have even flowed back into its higher-end products. For example, after the previous release of Premiere Elements 2.0 and Photoshop Elements 4.0 in September 2005, Adobe's pro tools now use the paneled interface design which automatically adjusts neighboring windows as you resize the display, and Premiere Pro now includes built-in DVD export with menu templates and customization.
The new versions, Premiere Elements 3.0 and Photoshop Elements 5.0, became available in October 2006 for US $99.99 each, or bundled together for $149.99.
Let's take a quick preview of some of the new innovations in the new Premiere Elements.
The most obvious new feature in Adobe Premiere Elements 3.0 is the addition of a storyboard editing mode to compliment the traditional timeline editing from pro tools. The Timeline editing view provides up to 99 parallel tracks so you can precisely adjust the timing of video and audio, text and video overlays, background audio and narration, transitions and effects.
Timeline editing
The new Sceneline View lets you focus on assembling your story by laying out a sequence of clips, much as we are used to with photo editors and for slideshows. As with other consumer-focused editors, you can drag and drop to add clips from the Media panel, rearrange clip thumbnails in the Sceneline, add transitions between clips from the Transitions and Effects panel, and apply effects directly to clips. As you click on different elements in the Sceneline, the Properties panel changes to display the associated options for further adjustments.
The previous version of Premiere Elements simplified the interface with a single consolidated Properties palette (instead of multiple dedicated option palettes) and by adding dedicated buttons like Split Clip for common actions. Premiere Elements 3.0 takes this further by really focusing on direct editing in the Monitor preview window. For example, click the Add Text button to create and edit titles, apply and adjust effects, and Shift-drag to the Monitor to overlay and adjust picture-in-picture videos.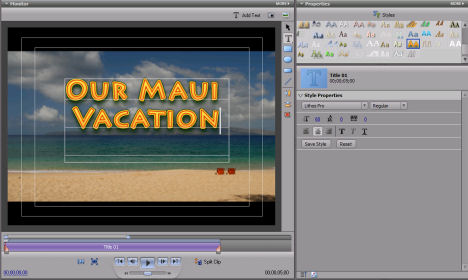 Titles
But the major innovation is to add a "mini-timeline" display under the Monitor window that automatically adjusts to show the context of the selected clip within the full production. Using this hybrid from the traditional timeline, you than can trim, split, and adjust clips directly in the Monitor window.
Monitor window with "mini-timeline"
Adobe also added a voice recording function -- click the Add Narration button and use the Voice Narration recorder to capture a separate narration track as you play the clip.
The last version of Premiere Elements also stepped up to support import from the wide array of consumer camera devices that have become available, including disc and memory-based camcorders, and also provided native editing support for the MPEG-2 and MPEG-4 formats used in these devices.
Premiere Elements 3.0 now can import video, audio, and still images from virtually any media device, including DV and DVD camcorders, web, digital still and mobile phone cameras, unprotected DVDs, MPEG-4 video recorders, and Windows Media Center. It also moves into the high-def world with support for capturing and editing HDV footage in its native compressed format.
Perhaps the most unexpected feature in the new Premiere Elements 3.0 is the new Stop Motion video capture mode. Popular in Japan and for education, the idea is to step through a video sequence and extract representative frames in order to create a stop-motion look.
To aid in this process, Premiere Elements displays an Onion Skinning effect to overlay a transparent version of each previous frame, so you can see the progression of the animation as you build it. Or use the Time Lapse option to automatically create a time-lapse animation from frames at regular intervals.
Thanks to its legacy from Premiere Pro, Premiere Elements already provides extensive support for exporting to common video formats including DV and now HDV for camcorders, Windows Media and QuickTime for desktop playback and Web sharing, as well as MPEG-2 and MPEG-4.
Premiere Elements 3.0 provides a broad set of export presets for most devices, plus the option of advanced settings for custom control of the compression settings. These now include MPEG-4 presets for portable devices including the Apple video iPod, Sony PSP (PlayStation Portable), and mobile phones (3GP). Premiere Elements even can download clips to edit directly from selected mobile phones.
But perhaps the most interesting new export option is a result of Adobe's recent acquisition of Macromedia -- export to Flash Video (.FLV), which is becoming a very popular Web format due to the ubiquitous Flash player -- and especially for social networking and video sharing sites.
Premiere Elements already has featured an extensive Create DVD option, with template designs for easy menu creation, plus the ability to design and customize in the DVD Layout panel. Drag in a new menu background (including motion video), background audio, change button design and position, plus titles and additional text. You can set DVD markers for chapter points, or create them automatically from clip editing points. You also can adjust the poster frame used for button thumbnails (and video buttons).
The new Sceneline view in Premiere Elements 3.0 now provides a quick two-step option for transferring video direct from camcorder to DVD. First use Capture Video to transfer the video from your camera, automatically find the scene breaks where you starting shooting new segments, and arrange the clips on the Sceneline. Then click Export / To DVD to burn a quick disc directly from the Sceneline. Of course, since the clips from the tape can be saved as a Premiere Elements project, you then also have the option to do at least a little tweaking -- perhaps removing a few unwanted segments and adding a simple title slide -- before burning more copies to share.
DVD menus
Premiere Elements does support both traditional TV (4:3) or widescreen (16:9) aspect ratios, and both the NTSC or PAL TV standards for the U.S. and worldwide. And it can automatically convert audio to industry-standard Dolby Digital stereo, keeping full quality but reducing the size to make more room on your discs.
Adobe has focused Premiere Elements 3.0 on making editing easy. It is designed for absolute beginners, and to scale up for serious hobbyists (before the option of moving on to Premiere Pro).
In comparison, Adobe Photoshop Elements 5.0 is targeted to serious hobbyists, people who are beyond beginners and are proud of their photos (www.adobe.com/products/photoshopelwin).
Used together, Premiere Elements and Photoshop Elements offer interesting possibilities for integration between the applications. You can use the Freeze Frame option in Premiere Elements to automatically hold a frame for a period of time (splitting its clip to insert the still segment), and optionally transfer the still to Photoshop Elements to enhance. Similarly, you can create automated slide shows in Photoshop Elements with nice effects and then transfer them to Premiere Elements to further enhance and then burn or export.
Adobe Premiere Elements 3.0 takes a big step to really span the best of both worlds -- from straightforward storyboard-based editing for beginners with the Storyline view and Monitor window, to the underlying strength for enthusiasts with Timeline editing and Properties options inherited from the industrial-strength Premiere Pro.
Adobe describes Premiere Elements and Photoshop Elements as the "No. 1 selling consumer video and photo editing software in the US," and you can see why with this attention to blending both ease of use and sophisticated power. These products also have the Adobe legacy of solid reliability and performance, and provide the comfort that you can experiment and even recover from mistakes with multiple Undos, Auto Save, and the History panel to jump back multiple steps in time.
Even better, you can try them out for yourself. Adobe offers free download trial versions that run for a full 30 days, or you can order a free DVD by mail.
---
Adobe Premiere Elements 3.0
www.adobe.com/products/premiereel

Adobe Photoshop Elements 5.0
www.adobe.com/products/photoshopelwin

Originally published in Camcorder & Computer Video magazine, 22, 8, Dec. 2006.