Manifest Technology Blog -- Site: | Articles | Galleries | Resources | DVI Tech | About | Site Map |
Articles: | PC Video | Web Media | DVD & CD | Portable Media | Digital Imaging | Wireless Media | Home Media | Tech & Society |
PC Video: | PC Video Articles | Video Software Gallery | Video Editing Resources |

---
Adobe Audition 3 -
Professional Audio Editing and Mixing (4/2008)
by Douglas Dixon
Editing Audio with Video
Audition and Soundbooth
Adobe Audition 3
Waveform Editing
Spectral Editing
Making Music
References

See also: Summary: Adobe Audition 3 - Audition vs. Soundbooth, New Features, Features Summary
We live in a video age -- we watch video, shoot video, edit video, and post videos online. Yet if you're working on a video production, professional or just for fun, you know that audio is a key element of the mix. Music is an important part of our lives, especially with the popularity of MP3 players. And in watching video, the audio quality is even more important than the video -- we happily watch really low-res YouTube videos with blocky compression artifacts, but can't stand it when the audio breaks up and cuts in and out.
Even more, when editing a video production, the audio is a key element of establishing mood (with background music and sound effects), and in pulling us in to the action (with clear dialog and crisp sound).
And this is true even if you're just making a quick home movie. Adding a soundtrack under the titles and on the DVD menu makes your production much more enjoyable. Or a little more work to add some background audio will go a long way, with fun sound effects or musical emphasis. You may not be a Hollywood movie maker, but your audiences are used to that level of production, and adding audio highlights and emphasis can go a long way to making even your amateur productions more interesting.
You can edit and enhance audio within your video editing software (like Adobe Premiere Pro or Adobe Premiere Elements for consumers), but for more sophisticated cleaning and filtering, and to mix soundtracks, you need to move to a dedicated audio tool like Adobe Soundbooth or Adobe Audition. Adobe has recently upgraded Audition to version 3, so we'll walk through it here to show the range of capabilities you can use to create and enhance your audio.
While the focus here is on the Adobe suites of professional and consumer software, Sony Creative Software has a similar product line, with Sony Vegas Pro, Sound Forge and ACID Pro for professional editing, and entry-level Home Studio versions of these applications for consumers (www.sonycreativesoftware.com).
The first place to get started with enhancing your audio is in your video editing tool. Even consumer tools like Adobe Premiere Elements allow you to assemble audio clips, add fade transitions, change timing (speed up or slow down), and apply audio filters and effects such as delay, noise removal, pitch shift, and reverb (www.adobe.com/products/premiereel).
Beyond enhancing a single track, you also can add multiple overlay audio tracks in your video editor (e.g., narration and soundtrack), and mix the volume across all the tracks. You even can unlink the audio from a video clip in order to process it separately, for example if it is out of sync.
All this is great if you have clean audio with your video to begin with, and you have a library of music and sound effects ready to mix into your production. But if the audio tracks need more work -- for example to remove a background rumble or someone with a persistent cough -- or if you need to create additional soundtrack or background music, then it's time to move on to a dedicated audio tool.
Adobe Audition is a high-end audio editing tool, designed as a all-in-one toolset for professional audio production -- to record audio, mix multiple tracks, edit and enhance individual clips, and master the final production (www.adobe.com/products/audition). That can sound a bit intimidating to people who are not audio pros, although Audition is rather straightforward to use with the familiar Adobe interface, and has nice presets for its filters and effects that help you get started as you work on a problem track.
A little history: Audition was originally released as part of the Adobe Video Collection suite in May 2004, after Adobe acquired the former Cool Edit Pro application from Syntrillium Software in May 2003. However, as Audition evolved as a tool for audio professionals it outgrew the needs of the video and creative professionals that were the focus of the Adobe Creative Suite 3 (www.adobe.com/products/creativesuite). As a result, Adobe replaced Audition in the CS3 suite (released in mid-2007), with a new audio tool, Adobe Soundbooth CS3, which provided task-based tools for everyday audio editing and cleanup, sound design, and music creation (www.adobe.com/products/soundbooth).
Meanwhile, Adobe Audition continued as an independent application, and the new Adobe Audition 3 was released at the end of 2007 as Adobe's flagship stand-alone tool for professional audio production.
To distinguish the two applications:
- Adobe Soundbooth is part of the Adobe Creative Suite 3 family. It provides a subset of Audition's features, designed for the needs of video editors and creative professionals who are not audio professionals.
Soundbooth is not a multi-track mixing tool -- It is focused on single-clip editing, with task-based tools for audio cleaning. It also includes the AutoComposer for automatically generating scores in selected styles to match existing clips. Soundbooth is available both for Windows and Intel-based Macs.
- Adobe Audition is a stand-alone full audio toolset for professional audio production. It's designed to take audio professionals through the full workflow of recording, mixing, editing, and mastering audio. It includes waveform editing of single clips, multi-track mixing, looping, MIDI, with extensive effects and tools for audio restoration and enhancement. Audition is available only for Windows.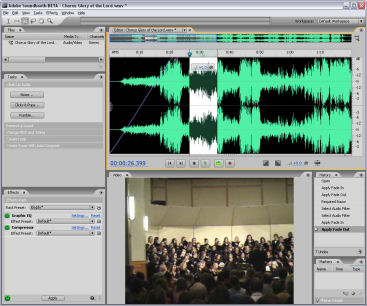 Soundbooth: Wave editing & effects
For creating music, Audition does not have the AutoComposer automatic score generation feature in Soundbooth (like SmartSound Sonicfire, www.smartsound.com). Instead it has extensive capabilities for creating loop-based music, and for mixing recorded audio with loops and now MIDI music.
For more on Adobe Creative Suite 3
- See Adobe Creative Suite 3: Summary for an overview of the CS3 applications, suites, and pricing
- See Adobe CS3 Production Suite: Summary for more on the CS3 video and audio tools
For previous versions of Adobe Audition
- See Adobe Production Studio: First Look for Audition 2.0
- See Audio Tools for Video Editors on Audition 1.0
For Soundbooth CS3
- See Adobe Soundbooth: Audio for Video

Find Adobe Audition 3 on Amazon.com
[ Top ]
---
Adobe Audition 3 is not a huge re-write or re-design of the product. Instead, it picks up a couple of the enhancements in Soundbooth, and provides a broad range of significant enhancements across the application, both to individual features, and in enhanced performance and more efficient workflow.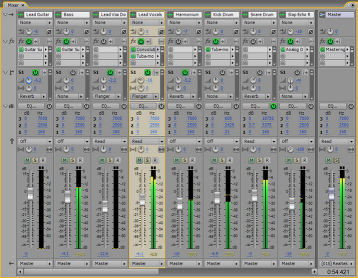 Audition: Multitrack mixing
In particular, Audition 3 provides faster editing with direct on-clip drag-and-drop editing as in Soundbooth. The amazing Frequency space / Spectral editing view also now supports the Photoshop-like spectral editing Effects Paintbrush and Spot Healing Brush.
It adds new effects including Convolution Reverb, Analog Delay, Mastering tool, and Tube-modeled Compressor, along with iZotope time stretching. Plus there's improved noise reduction and phase correction tools.
In addition, Audition now includes MIDI recording and mixing, with a piano roll editor for MIDI tracks, using industry-standard VSTi virtual instruments.
Audition 3 is available for Windows XP and Vista for $349, or for a $99 upgrade from all past versions of Adobe Audition and Adobe Production Studio.
Audition starts up by default in the Multitask View, the multi-track mixing mode where you can arrange many layers of tracks with recorded clips, loops, and now MIDI music. But Audition is also a full-fledged editor for individual tracks -- you can record new clips (and even multiple inputs, with live monitoring), import clip files, or double-click on a track to switch to the Edit View to work on individual waveforms.
Multitrack view
In the Waveform edit mode you can play though the clip, zoom in (even to see and edit the individual samples), and quickly cut and paste sections.
Waveform editing
Audition 3 also adds several convenience features for faster editing. The direct waveform editing tools appear as floating on-clip controls, so you can adjust the volume for the selected portion of a waveform and add fades with on-clip click-and-drag handles. Similarly, the clever Top/Tail view zooms into the beginning and the end of a loop or clip to help you quickly add precise fades, while keeping the whole file in view in the scrolling center region.
Beyond straightforward editing, Audition includes more than 50 audio effects, including analysis and restoration tools to correct and enhance difficult clips. It also supports third-party VST and DirectX plug-ins. You can apply the effects individually, using presets and previews to check the results, or use the Mastering Rack to apply and preview multiple effects simultaneously.
For example, you can restore recordings from old vinyl records, remove hisses and hums, and fix clipped audio and phase problems. Other cool features include pitch correction to correct off-pitch performances, and vocal/instrumental extraction to create a cappella or karaoke-ready tracks.
Audition 3 has new audio healing and selection tools to edit or remove specific sounds or certain frequencies, Adaptive Noise Reduction to find and remove unwanted noise that changes over time, and Automatic Phase Correction to align the channels of a stereo waveform. There's also a new suite of analog-modeled filter and distortion guitar effects, to use with guitars or other instruments.
Plus, Audition 3 includes iZotope time stretching to speed up or slow down a clip, altering tempo without changing the pitch, or changing pitch without tempo distortion.
Editing waveforms is fun, and somewhat intuitive, but it gets messy when there are multiple sources mixed up together in the single waveform -- multiple instruments and vocals, much less background noise from the venue, or hum from the air conditioners, or other unfortunate glitches like somebody coughing in the audience or the ring of a cell phone. When you have a real-world recording, or a mixed production, you can no longer isolate a particular element or sample to edit -- Or can you?
This is the beauty of Audition's amazing Spectral Frequency Display view, which allows you to analyze your clips by visualizing the frequency over time (or pan or phase), so you can distinguish voices, instruments, and transients. Even better, if you can see it, you can edit it -- you actually can apply your familiar Photoshop editing experience to working on audio.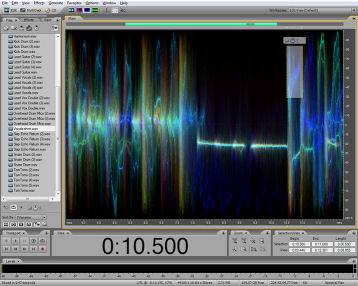 Spectral frequency view
Use the new lasso tool to make free-form selections in frequency space to isolate specific sounds, then use the new Effects Paintbrush to apply effects to the selection, or apply the new Spot Healing Brush to smooth over a region and automatically repair clicks, pops, and other noises. You can even import and export the Spectral Bitmap to actually edit audio in Adobe Photoshop.
Multitrack Mixing & MIDI
Once you've cleaned up your individual audio clips, you can use Audition's Multitrack View to combine them into the final mix.
Audition also supports loop-based soundtrack creation, so you can arrange, extend, and mix loops that automatically match the global session tempo and key. The product includes a library of some 5,000 uncompressed, 32-bit, royalty-free loops, plus 20 royalty-free music beds, at 15- and 30-second lengths.
Mixing Loops
As in the waveform view, Audition 3 includes helpful interface enhancements for faster editing, including mixing by dragging clips, ripple delete, and grouping to trim and delete, split, add fades across multiple tracks. There's also a new batch feature to apply specific formats, locations, and filename templates to a group of files.
The big addition in Audition is MIDI editing, with the MIDI piano roll editor and support for industry-standard VSTi virtual instruments. You can control and read from attached MIDI devices including synthesizers and keyboards, and edit note, velocity, and controller values in the piano roll editor.
MIDI piano roll editor
While Audition is not designed as a full-up MIDI sequencer, it provides enough support to now record, edit, and mix MIDI into your productions.
MIDI mixing
As you can see, there's a lot to Audition. Audio professionals can dive in and harness the power, but Audition also can be useful for less audio-centric video editors who need to work more deeply with their audio. For example, while Soundbooth provides nice task-based tools for audio cleanup, Audition offers a broader range of more powerful tools, with both quick-to-use presets and extensive custom parameters. And if you need custom royalty-free soundtracks for your production, while Soundbooth's AutoComposer automatic score generation tool is a quick solution, Audition gives you much more creative freedom to mix loop-based tracks, for example with drum emphasis to sync to an imported video clip.
Audition 3 also includes support for surround sound, more than 20 file formats, high-quality sample rate conversions (for CD, video, and DVD), and extensive mastering tools for the final mixdown. Plus, Adobe has enhanced the performance of Audition 3, especially to take advantage of new multi-core processors, so the optimized mixing engine supports more tracks and effects and increased complexity on the same machine.
Audition is designed as a complete toolset for professional audio production -- to record, mix, edit, and master -- but it also is accessible to video editing types who want to dig deeper and be more creative with their audio. And, it's tightly integrated with the Adobe CS3 suite to fit well into existing workflows. The upgrade to version 3 adds both useful new capabilities and more intuitive editing controls. Use it to clean up old tape and vinyl tracks, sweeten live recordings and voice-overs, design your own music mixes ... and much more.
You can try out Adobe Audition (and Soundbooth) by downloading free trial versions from the Adobe website.
Adobe Audition 3
www.adobe.com/products/audition
Adobe Soundbooth CS3
www.adobe.com/products/soundbooth
Adobe Creative Suite 3
www.adobe.com/products/creativesuite
Adobe Premiere Pro
www.adobe.com/products/premiere
Adobe Premiere Elements
www.adobe.com/products/premiereel
Sony Creative Software
www.sonycreativesoftware.com
SmartSound Sonicfire
www.smartsound.com
[ Top ]
Portions originally published in Camcorder & Computer Video magazine, 24, 2, April 2008.