Manifest Technology Blog -- Site: | Articles | Galleries | Resources | DVI Tech | About | Site Map |
Articles: | PC Video | Web Media | DVD & CD | Portable Media | Digital Imaging | Wireless Media | Home Media | Tech & Society |
PC Video: | PC Video Articles | Video Software Gallery | Video Editing Resources |

---
Summary: Adobe Audition 3 -
Professional Audio Production (1/2008)
by Douglas Dixon
Adobe Audition vs Adobe Soundbooth CS3
New Features
Features Summary

See also full article: Adobe Audition 3 - Professional Audio Editing and Mixing
A summary of new enhancements and key features in Adobe Audition 3, released at the end of 2007 as Adobe's flagship stand-alone tool for professional audio production (www.adobe.com/products/audition). Audition was originally released as part of the Adobe Video Collection suite in May 2004, after Adobe acquired the former Cool Edit Pro application from Syntrillium Software in May 2003.


Adobe Audition 3 and Adobe Soundbooth CS3
However, as Audition evolved as a tool for audio professionals it outgrew the needs of the video and creative professionals that were the focus of the Adobe Creative Suite 3 (www.adobe.com/products/creativesuite). As a result, Adobe replaced Audition in the CS3 suite (released in mid-2007), with a new audio tool, Adobe Soundbooth, which provided task-based tools for everyday audio editing and cleanup, sound design, and music creation (www.adobe.com/products/soundbooth)..
Meanwhile, Adobe Audition continued as an independent high-end audio editing tool, as a all-in-one toolset for professional audio production -- record, mix, edit, and master.
Adobe Audition 3 is not a huge re-write or re-design of the product. Instead, it picks up some of the enhancements in Soundbooth, and provides a broad range of significant enhancements, both to individual features, and in enhanced performance and more efficient workflow.
In particular, Audition 3 provides faster editing with direct on-clip drag-and-drop editing as in Soundbooth. The amazing Frequency space / Spectral editing view now supports the Photoshop-like Effects Paintbrush and Spot Healing Brush.
It adds new effects including Convolution Reverb, Analog Delay, Mastering tool, and Tube-modeled Compressor, along with iZotope time stretching. Plus improved noise reduction and phase correction tools.
In addition, Audition now includes MIDI recording and mixing, with a piano roll editor for MIDI tracks, using industry-standard VSTi virtual instruments.
Audition is available for Windows XP and Vista for $349, or for a $99 upgrade from all past versions of Adobe Audition and Adobe Production Studio.
Multitrack mixing
For more on Adobe Creative Suite 3
- See Adobe Creative Suite 3: Summary for an overview of the CS3 applications, suites, and pricing
- See Adobe CS3 Production Suite: Summary for more on the CS3 video and audio tools
For previous versions of Adobe Audition
- See Adobe Production Studio: First Look for Audition 2.0
- See Audio Tools for Video Editors on Audition 1.0

For Soundbooth CS3
- See Adobe Soundbooth: Audio for Video

Find Adobe Audition 3 on Amazon.com

Find Adobe Creative Suite 3 Production Premium on Amazon.com
---
Adobe Audition is a stand-alone full audio toolset for professional audio production. It's designed to take audio professionals through the full workflow of recording, mixing, editing, and mastering audio. It includes waveform editing of single clips, multi-track mixing, looping, MIDI, with extensive effects and tools for audio restoration and enhancement. Audition is available only for Windows (www.adobe.com/products/audition).
Adobe Soundbooth is part of the Adobe Creative Suite 3 family, and provides a subset of Audition's features, designed for the needs of video editors and creative professionals who are not audio professionals. It is focused on single-clip editing, with task-based tools for audio cleaning. It also includes the AutoComposer for automatically generating scores in selected styles to match existing clips. Soundbooth is available both for Windows and Intel-based Macs (www.adobe.com/products/soundbooth).
See www.adobe.com/products/audition/compare
Adobe Soundbooth - Task-based audio enhancements for video editors
Designed for video editors, creative professionals (not audio pros)
Single-asset editing with on-clip controls (not mixing, not looping, no MIDI)
Cue-point support for Adobe Flash
AutoComposer for quickly customizing Soundbooth Scores
Windows XP / Vista -- and Intel based Mac with Mac OS X
Bundled with Adobe Creative Suite 3, or $199 stand-alone
Adobe Audition - Toolset for professional audio production
Designed for audiocentric professionals
(e.g., sound designers, recording and mastering engineers, musicians)
Tool-based interface
Multitrack mixing
Music looping (but not AutoComposer / Soundbooth Scores)
MIDI track and VSTi virtual instruments
Recordable parameter automation
Batch processing and scripting
Audio CD burning and extraction
Windows XP / Vista only (not Mac)
Standalone $349 (not bundled), $99 upgrade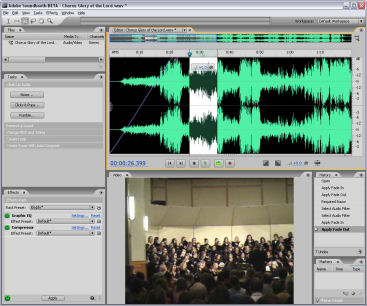 Soundbooth: Wave editing & effects
[ Top ]
---
Improved Multitrack editing
Group clips for editing: Trim and delete, split, add fades across multiple tracks
Mix by dragging clips and controlling automatic crossfades with on-clip handles
Ripple delete on one or more tracks
Mix down multitrack files into a single file for use as a new single track.
Batch save all audio files, apply specific formats, locations, filename templates
Direct waveform editing tools - On-clip controls
Add fades with on-clip click-and-drag handles
Adjust volume with knob for selected portion of waveform
Top/Tail view
New view zooms into beginning and the end of loop or audio file
Quickly add precise fades while keeping the whole file in view
Enhanced Frequency space / Spectral editing
new Selection tools in the Spectral Pan and Spectral Phase displays
new Effects Paintbrush - Apply effects to selection
Free-form selection in frequency space
new Spot Healing Brush - Smooth over region
Automatically repair clicks, pops, other noises
Marquee Selection Tool in Spectral Phase and Spectral Pan displays
Edit just highlighted area, or edit everything outside the area
Spectral Bitmap import/export - Edit audio in Adobe Photoshop
MIDI piano roll editor
MIDI Editing / VSTi virtual instrument support
Add industry-standard VSTi virtual instruments
Record and edit MIDI in the piano roll editor
Add a MIDI host track to mix, choose instrument, record new audio in Sequencer
Edit note, velocity, and controller values in the piano roll editor.
Control and read from attached devices, including external MIDI synthesizers, keyboards
New effects - Convolution Reverb
More than 50 audio effects, can stack multiple effects
New Convolution Reverb, Analog Delay, Mastering tool, Tube-modeled Compressor
Radius time stretching from iZotope
Speed up or slow down
Alter tempo without changing pitch, or pitch without tempo distortion
Guitar Suite effects
Analog-modeled guitar effects, use with guitars or other instruments
Simple Compressor, Adjustment Filter, Distortion, Box Modeling modules
Shape by applying one effect, or stack many together
Noise reduction and phase correction tools
new Adaptive Noise Reduction removes noise that changes over time
Automatic Phase Correction applies optimal delay for aligning channels of stereo waveform
Graphic Panner corrects frequency-dependent phase differences between channels
Enhanced performance - Takes advantage of new, multi-core processors
Optimized mixing engine supports more tracks and effects on the same machine
Mixes with more options and increased complexity
[ Top ]
---
Compete audio toolset:
Record, mix, arrange, and edit audio in one comprehensive, easy-to-use application.
Produce high-resolution 24- or 32-bit files with sample rates up to 192kHz for HD- and DVD-quality audio.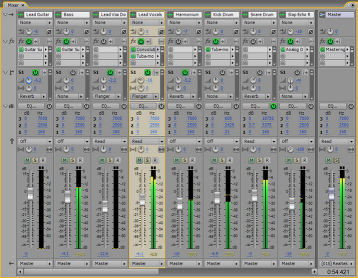 Multitrack mixing
---
Record and Mix, Apply Effects
Complete professional toolset for recording, tracking and mixing high quality audio
Views
Multitrack View with unlimited stereo tracks - Record, edit, and mix
Wave Editing view - Record and edit individual audio files
Recording
Improved recording performance - direct to final working file, save immediately
Up to 80 live inputs - simultaneously in multitrack session.
Real-time input monitoring - effects applied to input track
Quick punch - fix recording errors by punching in corrections on-the-fly as rerecord
Toggle record button to punch in new take only where want to replace old one
Editing
Improved multitrack editing and mixing - New automatic crossfade creation,
clip fade handles, and automation lane editing improvements
On-track fast editing -Automatic cross-fade and click and drag fade handles
Smooth splined envelopes - Adjust volume, pan, effects for clips in a multitrack mix
Alter curves and create gradual transitions; rescale all envelope points
Group and edit clips together - Including trims and fades in Multitrack View
Batch processing - convert multiple audio files, format, location, filename template
Effects
Manipulate clips - with digital signal processing (DSP) tools,
Mastering and analysis tools, audio restoration features
More than 50 audio effects and DSP tools - echo, flange, reverb
Automation
Recordable parameter automation - Move volume, pan, and effects controls as you listen
Changes appear as editable envelopes in timeline
Hardware controller automation - Adjust mix and effects parameters using external control devices, record all changes in real time
Improved I/O meter display - level meters for master track, multiple input and output devices
Routing
Effects Rack - Automate and route in Multitrack view
Effects chain on all channels, buses, and master - hear results before mixing down
Routing flexibility - Audio mixing sends and inserts
Create sends to duplicate signals routed to different effects
Add send to create a separate mix for headphones during a recording session
Plug-in delay compensation - Add filters and effects to tracks and buses throughout signal chain without knocking tracks out of sync
Standards
ASIO, VST, DirectX, ReWire support - industry formats and standards
MIDI timecode support - (SMPTE/MTC) master or slave
synchronize audio playback with MTC computers, video decks, hardware devices
VST Plug-In Manager - Enable and disable VST plug-ins
Export
Surround Encoder - transform any multitrack mix into a 5.1 surround sound experience
Export as interleaved file that can be used in Adobe Premiere Pro
Mix down entire session - Selected clips, or range into a new file for use as single track
Response
Realtime response - Modify volume, pan, effects controls as listen, record changes to mix
Low-latency mixing engine - Work with ASIO high-performance audio devices
Mix tracks on the fly, hear changes as you record / mix
Multicore processor support - optimized mixing engine
Multitrack view
---
Create and Arrange
Creative sound production and arranging
Multi-Track
Loop-based soundtrack creation - Included loops and ready-to-use music
Construct high-quality music beds for songs or movie soundtracks
Loops automatically match global session tempo and key
Approximately 5,000 uncompressed, 32-bit, royalty-free loops included
VSTi virtual instrument support
Record and edit MIDI - piano roll editor
Playlist window - Play in any order, loop specified times
Try different versions of an arrangement before commit to edits.
Royalty-free music beds - Includes 20 ready-to-play, 15- and 30-second lengths
CD extraction - Digitally extract tracks from audio CDs
Effects
New effects - include Convolution Reverb, Analog Delay, and Guitar Suite
New Guitar Suite effects - analog-modeled guitar effects
iZotope Radius time stretch engine - Fit clip timing without pitch changes
or adjust pitch without tempo changes
Add effects to bus, track, or master channel
Arrange
Automatic beat detection - Find and mark beats, create loops
Sync to video in Surround Encoder - Keyframe surround sound multitrack mix
View video as scrub, keyframe, and edit surround sound
Export as interleaved file for use in Adobe Premiere Pro
Export
Custom script recording - Automate repetitive tasks, apply as batch process
XML session format - import and export sessions as XML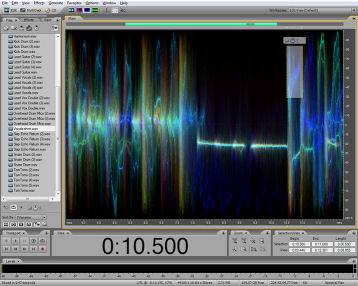 Spectral frequency view
---
Edit and Master
Full set of editing, restoration, and mastering tools
Wave Edit
Integrated wave-editing view - with Mastering Rack
Mastering Rack - Apply and preview multiple effects simultaneously in Edit view
Top and tail views - Zoom into selected areas
Quickly edit beginning or ending of audio file
Analysis
Audio analysis tools - Frequency, Phase, Spectral Frequency Display.
Spectral Pan and Phase displays - Visualize pan, phase, and frequency over time
Spectral Frequency Display - Visually isolate and select sounds in frequency and time
Isolate specific sounds and increase visibility of lower frequencies (logarithmic)
Clean up, modify, or apply effects to selected sound (lasso tool)
Edit in spectral / frequency space - new Effects Paintbrush and Spot Healing Brush.
Restoration
More than 50 DSP tools - Mastering and analysis tools, Audio restoration
Supports third party VST and DirectX plug-ins.
Audio restoration tools - including frequency space editing
Restore recordings from old vinyl, remove hisses and hums,
fix clipped audio and phase problems, recover previously unusable recordings
Adaptive Noise Reduction - Removes unwanted noise that changes over time
New audio healing and selection tools - remove or edit specific sounds or certain frequencies
Automatic Phase Correction - Optimal delay to align channels of stereo waveform
Analog-modeled Multiband Compressor - Control dynamics, adjust loudness
Pitch correction - Correct off-pitch performances, automatic or manual
Vocal/instrumental extraction - Based on pan position or phase
Create a cappella or karaoke-ready tracks
Mastering
Audio editing for video - Import and export video files, AVI, MPEG, DV, WMV
Transfer between Adobe After Effects and Adobe Premiere Pro
Mastering tools - Graphic and Parametric equalizers,
punch with Dynamics Processor, Hard Limiter, Multiband Compressor.
Mastering effect - Sweeten sound, Reverb to Gains
High-quality sample rate conversions - customizable dither settings
44.1kHz, 48kHz, 96kHz for CD, video, DVD
Support more than 20 file formats - Windows PCM (WAV), AIFF, MP3, WMA
Import and export Ogg Vorbis (OGG)
Burn directly to gapless audio CDs - Create reference masters of compositions
[ Top ]