Manifest Technology Blog -- Site: | Articles | Galleries | Resources | DVI Tech | About | Site Map |
Articles: | PC Video | Web Media | DVD & CD | Portable Media | Digital Imaging | Wireless Media | Home Media | Tech & Society |
DVD & CD: | DVD & CD Articles | DVD Software Gallery | High-Def DVD Gallery | DVD Authoring Resources |

---
Desktop Digital Media Trends 2007
with Roxio Easy Media Creator 9 (1/2007)
by Douglas Dixon
Desktop Digital Media: Capture, create, convert, consume
Roxio Easy Media Creator
Media Management and Sharing Trends: UPnP
Media Playback Trends: CinePlayer
Capture Trends: Media Import
Format Conversion Trends: Disc Copier
Audio Editing and Sharing Trends: Edit, Capture, Create
Photo Editing and Sharing Trends: PhotoSuite
Video Editing Trends: VideoWave
DVD Authoring Trends: MyDVD
Customization and Automation
References
Today's computers, software applications, and digital media equipment make it easier than ever to create and share your digital video productions. Earlier trends like the growth of the DV video format and DVDs enabled real TV-quality editing on personal computers, and the growth of the Web and broadband Internet access opened up new ways of sharing productions.
As we enter 2007, trends that began developing last year are coming to fruition. Sites like YouTube and Google Video have exploded interest in informal short-form video, and low-res video thrives on portable devices from pocket MP3 players to cell phones. At the other extreme, in the living room, the home theatre high-def experience is coming into reach with affordable wide-screen displays, HDV camcorders, and next-gen DVDs. And new networking technologies allow even broader sharing, both between devices on the home network, and peer-to-peer across the Internet.
Meanwhile, even more professional technology is flowing down to consumers, from HD editing, to scene detection, to automated movie making, to advanced DVD menus and navigation.
The newest poster child for these developing trends and technologies is the latest Roxio Easy Media Creator suite, version 9. EMC 9 handles all different types of digital media (video, audio, photos, data) through the end-to-end workflow, from capture to editing to sharing. The EMC suite provides a nicely integrated collection with both strong individual tools, and a variety of utilities for doing simple things quickly and efficiently.
Whatever your tool set, working with digital media on the desktop with today's tools does span a ridiculously wide range of tasks, features, and formats.
Roxio describes the process for EMC 9 as "capture, create, convert and consume" -- the broad scope of assembling digital media assets, editing and enhancing, re-formatting for different delivery devices, and then playback and sharing.
The digital media assets also span the three basic media types: audio and music, images and photo slideshows, and video clips -- plus data (file and disc copying and backup). And these are imported and exported in a wild assortment of formats: captured from / to tape, imported and burned on CD / DVD discs, stored on hard disk in various compressed digital formats, as well as reduced-sized versions for portable players.
Roxio Easy Media Creator addresses this range as a suite of strong applications, augmented by quick utilities and assistants for simple dedicated tasks. This trend toward suites has been developing in recent years, as single applications bulk up to perform more functions, and companies combine individual applications into full-solution collections.
EMC is built from several lines of software acquired by Sonic Solutions over the years, including the venerable Roxio Easy CD Creator for CD/DVD burning, Sonic's disc backup tools, Sonic MyDVD and CinePlayer for disc authoring and playback, and MGI's suite of media editing tools including VideoWave and PhotoSuite.
In the most recent versions, Sonic has been working to more tightly integrate the different components into the suite (especially MyDVD), and to fill out the utilities and assistants for common tasks. Roxio Easy Media Creator 9 was released in September 2006 for US $99.99 suggested retail price ($79.99 with rebate). It includes over 100 new features, especially with Windows Vista support, enhanced audio DVD creation, more sophisticated DVD designs, portable device support, and Blu-ray disc burning and copying (www.roxio.com/enu/products/creator/suite).
EMC starts up with a Roxio Home screen that provides a task-oriented list of activities you can perform, based on the basic media type (Data, Backup, Copy, Audio, Photo, Video). The Home tab also provides an Applications list, with the main applications and associated utilities. (These also can be run directly from the Windows Start menu.) For quick tasks, many of the tabs offer "Easy" operations that can be performed directly in the Home window, without needing to launch a separate tool (i.e., Easy Audio Capture, Easy Archive, Copy Disc, burn Data Disc).
Roxio Home
One big trend with digital media is simply the proliferation of content, all those different files from different sources splattered across your hard disks. Much as photo viewer applications like Apple's iPhoto are becoming more common to browse your photos by date and themes, there's a need for even more general media management tools to get all your files organized.
Easy Media Creator 9 provides the Media Manager application to organize, browse, and search your media collections -- organizing all your assets in a unified view to provide quick file viewing and playback. Beyond viewing, Media Manager also serves as a work center for importing additional media, and running other EMC tools to process, convert, and share the files.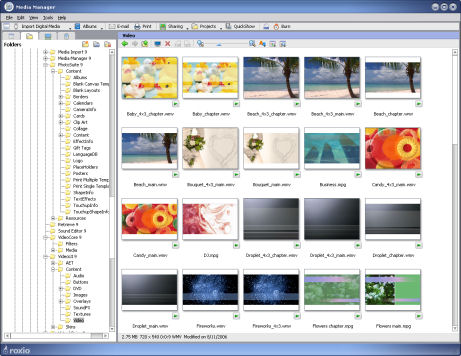 Media Manager
But sharing now means more than just making files. It also includes targeting specific portable devices, including Apple iPods, the Sony PlayStation Portable (PSP), and mobile phones. For example, the EMC Media Manager has a Split View for copying groups of files, including to a mobile phone connected by Bluetooth or USB.
And sharing also means across networks, using two mechanisms built into EMC. MediaSpace shares and plays your content across home networks using the UPnP protocol (Universal Plug and Play, www.upnp.org), supported on PCs by servers like Windows Media Connect (www.microsoft.com/windows/windowsmedia/devices/wmconnect) and on set-top devices like DVD players and dedicated media servers.
In addition, the LiveShare feature shares your Media Manager files over the Internet to other EMC users using a direct peer-to-peer connection.
Media playback is also evolving as PCs with high-res screens and surround-sound audio become quite interesting for viewing DVDs and recorded videos.
Dedicated DVD players like CinePlayer in Easy Media Creator 9 can provide a great DVD viewing experience, with the ability to selectively display DVD features. CinePlayer also supports Sonic's InterActual technology for running DVD-ROM activities and games from movie discs (player.interactual.com).
But the newer trend is "lean-back" interfaces for viewing media on a PC from a distance, i.e., sitting on the couch with the family. For example, EMC includes the Media Experience interface, with simple menus designed to be accessed from the keyboard or even a PC remote control. You can listen to music, view photo slideshows, watch movies, and play DVDs, all on the full-screen PC display.
Once you can organize and view your media, you'll want to capture more to use in your own productions. But there are so many formats, and so many different kinds of devices. And many devices capture multiple formats -- videos on cameras and photos on camcorders. So the trend in digital media software is to support more and more devices, and especially new portable devices like cell phones.
Easy Media Creator 9 provides a dedicated Roxio Media Import tool for managing acquiring photos, audio, and video. Images can be imported from cameras and scanners. Audio can be ripped from CDs and DVDs or recorded from analog input like a microphone or line-in from a player. Video can be transferred from a camcorder, extracted from a DVD, or captured from an analog source via a TV or capture card. The software will find the available devices on your system and guide you through the import process, including choosing the appropriate media file format for your needs.
One nice trend for importing content is the ability to extract content from finished DVDs (personal discs, not protected commercial releases). This means that older DVDs are no longer locked up -- you can go back and re-use content from your discs.
Besides importing and re-using material from discs, another major trend for re-using DVDs is disc copying tools that allow you to extract portions from discs to directly export to a new DVD -- or quickly create a DVD from a compilation of video files -- or extract and convert to a variety of file formats.
The Disc Copier tool in Easy Media Creator 9 provides one-stop shopping for disc extraction and conversion. You can select specific clips and tracks from a DVD and then extract them to a new DVD.
Disc Copier
Or you can create a compilation of movie files from hard disk and burn them directly to DVD, or convert the compilation as a movie to a variety of video file formats, from 3GP / MPEG-4 for cell phones, to H-264/AVC for iPod, to MPEG-2 for DVD, to Windows Media Video (WMV) HD for high-def playback.
The key trends for audio are more automated help for extracting and cleaning up clips (including creating ringtones for cell phones), and more customized ways for creating music playlists (including DVD music discs).
Easy Media Creator 9 includes a core audio editing tool, Sound Editor, with tools for importing, editing, enhancing, and exporting waveform audio. But the real fun is in the ten additional utilities for common functions. For working with CDs, there are assistants for quickly extracting songs in various formats and then creating your own music CDs, including the Xingtone tool for creating ringtones and sending them to your mobile phone.
But the real challenge is for audio that has been capturing from other sources, not just from CDs already nicely already organized into individual songs. For this, EMC has Easy Audio Capture to grab audio input from your sound card (i.e. from an external analog tape player). Plus, it can capture the audio being played by your sound card -- for example, to record streaming Internet audio. To make the process even easier, EMC 9 has a small desktop "widget" mode you can leave running on your desktop, and then click to start recording -- including a preroll of buffered audio from before you clicked. Plus, you can mute other system sounds while recording, and automatically stop after a period of silence for unattended recording.
But what about collections of songs that you want to transfer from records or tapes? For this, EMC has an even more specialized tool, the LP & Tape Assistant. This is designed to capture your material, split it into tracks, clean up the sound to reduce noise.
However, you still have the problem of identifying the tracks -- the digital music files need the "metadata" ID information stored in the files to identify the song title, artist, album, genre, and other information when you browse your media. When you rip an entire CD, the software can look up this information online and download the CD info. But what about assorted individual music files? For this, EMC offers the new Tag Editor, which uses a "fingerprint" of the music to look it up in the online Gracenote MusicID song recognition service, and then embed the information directly in the file. There's also a new Rename Audio Files utility that will rename your music files based on the embedded tag information, and move files to a new location.
Once you've collected your music, the fun comes in creating personal playlists and sharing them. You can play music on your PC, transfer to portable devices, and burn an audio CD. But an audio CD only can hold some 10 to 20 songs in its uncompressed format, while you can store hundreds of songs on the same disc with today's compressed formats like MP3, Windows Media Audio (WMA), and MPEG-4 /AAC. EMC calls this a Jukebox Disc, which then can be played on computers, or on some audio and DVD players that support common compressed formats (look for the appropriate logo on the front panel).
Even better, you can burn a music collection to DVD -- that's large enough to hold some 50 hours of music. The EMC Quick Music DVD tool also automatically builds navigation menus to list your music like in a PC player, with menus by categories like artist and album, plus song information and album artwork, and even a random-play shuffle mode.
Finally, for full customization there's the new Music Disc Creator. Create audio CDs, jukebox mix discs, or music DVDs, complete with DJ-style fades. For DVDs, customize the menu style and navigation. Then use the AutoMix playlist maker to search your library for tracks that are similar to theme song that you select.
Working with photos is also becoming easier with more automated tools for cleaning and enhancing. And photos are becoming more alive with two trends: making dynamic animated slideshows, and using photos in creative projects, especially for gifts.
For photo editing, Easy Media Creator 9 includes the core PhotoSuite application to edit and enhance photos, create projects and gifts, and share pictures on CD, DVD, email or via LiveShare.
EMC also includes assistants to import photos, fix and enhance groups of images, create multi-image panoramas, and e-mail or print the results. Then there's the Photo Projects Assistant, to create photo albums, calendars, cards, collages, gift tags, and posters.
But sharing photos can be much more dramatic with the Slideshow Assistant. Create widescreen slideshows with transitions, pan & zoom motion, multi-image photo collages, and background soundtrack. Then share as a video movie file, or burn to disc to play back on a set-top DVD player.
Slideshow Assistant
The major trends in video editing pull in different directions: the addition of more functionality from professional tools, and assists to simplify and automate the editing process.
For example, the flagship VideoWave video editor in Easy Media Creator 9 has been bulked up with a 32 track editing timeline (including audio, effects, overlays, and text) in addition to the storyboard interface, plus multi-trim editing, and timeline chapter markers used in creating DVDs. At the same time, it has added automated video color correction and noise removal.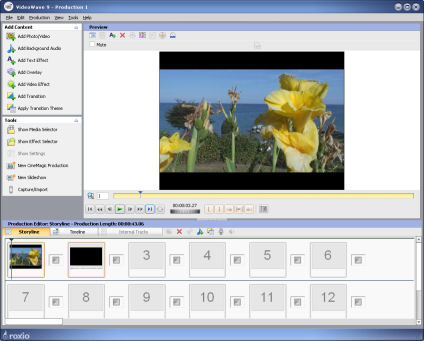 VideoWave
Plus, even today's consumer video editing applications now support editing high definition video, in formats such as HDV (www.hdv-info.org), MPEG (www.mpegif.org), and Windows Media Video formats (www.microsoft.com/windows/windowsmedia). Some video editors can work with the native compressed data directly, and others convert to an intermediate format for editing.
At the same time, EMC offers an easier automated approach to assembling videos with CineMagic. Just feed it your raw video, and it will scan through looking for good-quality scenes, and then automatically edit it down to a nice summary video production, complete with background audio and photo slide shows. You can customize the theme, and help pre-select scenes of interest (including or excluding scenes that are dark, fuzzy, have fast action, or contain people). As with other EMC components, you can export your project to VideoWave for further editing.
Finally, DVD authoring has come to the masses, with the ability to share movies, photo slideshows, music, and data across computers and set-top players. The trends with DVD are familiar: automated support for common operations, customization with more professional features, and support for an even broader range of formats.
To quickly transfer material to DVD with a minimum of fuss, use Quick DVD / MyDVD Express to assemble a group of clips and automatically generate index menus. But today's DVD players also support additional formats (like MP3 and WMA audio), so you can also use Disc Copier to create discs with video files, including DivX DVDs. Or to just transfer a tape directly to disc, use Plug and Burn to transfer DV tapes from a camcorder directly to a DVD.
And now there's the new high-def disc formats, offering an exciting increase in capacity for sharing videos, much as DVDs were so much bigger than CDs for storing music files. For example, EMC has added Quick Blu-ray Disc, which takes advantage of Blu-ray's larger capacity and broader format support to transfer hours of standard or high-definition video to a Blu-ray BDAV disc (www.blu-raydisc.com). Blu-ray is 25 GB for single-layer and 50 GB for dual-layer, so single Blu-ray disc can hold up to 12,500 music tracks, 50,000 photos, or 4 hours of raw HD video.
Then for more customized DVD authoring, you can turn to the flagship MyDVD tool, which is designed to support the full process of assembling movies and slideshows, designing menus styles, and customizing the navigational flow. Import and edit video clips, add effects, transitions, and overlays, and set chapter points. Design menus by choosing menu and button styles from the gallery, and then have full control over customizing the menu background and elements, including audio, text styles, and button highlights.
MyDVD 9

MyDVD 9 also adds animated video transitions between menus, and advanced button linking, so you can have a button play from a different starting point or return to a different video or menu after playing.

Easy Media Creator also includes a set of data burning and backup tools now with Blu-ray Disc support, including Creator Classic burning, Drag-to-Disc packet writing, Easy Archive, and Backup MyPC. And it has tools for working with discs in different formats, including DVD volumes and disc images on hard disk. Finally, the DVDInfo Pro utility displays detailed information about drive capabilities and disc media properties, as well as running error and performance tests.

There's a real ying and yang aspect for consumers in today's digital media desktop -- opposing yet complementary forces that are being harmonized in software applications like Roxio Easy Media Creator 9 that are impressively usable, functional, and inexpensive.

We are seeing both demand for high-resolution full-length movies in the living room, and for low-res short-form clips on portable devices. And while the next wave of technology and customization is being passed down from professional tools, at the same time the software is getting better at making at least simple things easier with automated assistants.

Whether you're a novice just getting started, or an enthusiast who want room to grow for more customization, Easy Media Creator can do the job for you.

Roxio - Easy Media Creator 9
www.roxio.com/enu/products/creator/suite

Sonic - InterActual Player
player.interactual.com

Universal Plug and Play (UPnP)
www.upnp.org

Microsoft Windows Media Connect - UPnP server
www.microsoft.com/windows/windowsmedia/devices/wmconnect

HDV Information
www.hdv-info.org

MPEG Industry Forum - MPEG-4 - AVC / H.264
www.mpegif.org

Microsoft - Windows Media Video (WMV)
www.microsoft.com/windows/windowsmedia

Blu-ray Disc (BD)
www.blu-raydisc.com

HD DVD
www.hddvdprg.com

Originally published in Camcorder & Computer Video magazine, Buyer's Guide 2007.