Manifest Technology Blog -- Site: | Articles | Galleries | Resources | DVI Tech | About | Site Map |
Articles: | PC Video | Web Media | DVD & CD | Portable Media | Digital Imaging | Wireless Media | Home Media | Tech & Society |
DVD & CD: | DVD & CD Articles | DVD Software Gallery | High-Def DVD Gallery | DVD Authoring Resources |

---
Video and DVD Formats: Copying and Converting
with InterVideo DVD Copy 5 Platinum (12/2006)
by Douglas Dixon
InterVideo DVD Copy
Copying DVDs: R/RW, +/-
Editable DVDs: VR Format
Squeezing DVDs: Single- and Dual-Layer
Copying to Video CD: VCD & SVCD
Extracting DVDs
DVDs on Disc and Disk
Merging DVDs
Extract to Audio
Extract Files
Copy to Go
File to DVD
Copy Later
Copy Down
References
So many video formats -- discs and files, video and audio, set-top and PC and portable, high-res HDV to TV-quality MPEG to tiny portable screens. How can you make sense of them all, figure out the right format for a particular purpose, and then get your clips converted properly? For discs there's DVD -- R and RW, dash and plus, single and double layer, and even VR. And for files there's Windows Media Video (WMV), the MPEG-1 and -2 standards, and now MPEG-4, plus AVC and 3GPP versions. Arrg!
One way to deal with all this is to use one of the latest consumer editing tools like Adobe Premiere Elements 3 (www.adobe.com/products/premiereel) that can import clips in all the common video formats (or extracted from DVD), edit them together, and then export the resulting movie in many formats (including to DVD).
See: Easier Editing: Adobe Premiere Elements 3.0 and Photoshop Elements 5.0
But sometimes you don't want to edit video and discs, you just want to assemble, copy, and convert them. This calls for a dedicated tool like the new InterVideo DVD Copy 5 for Windows, which can grab video from discs and/or files, convert among a zillion formats, and deliver the results by burning discs or creating new movie files (www.intervideo.com).
InterVideo DVD Copy 5 was released in July 2006 in two versions, Gold for basic DVD copying for US $49.95, and Platinum for $79.95 ($39.95 and $49.95 download specials) -- as described here -- with audio ripping and conversion, conversion of DVD VR formats, scheduled copy tasks, and Copy to Go support for portable devices.
The DVD Copy interface organizes its support for all these different copy and conversion tasks and all the various media formats with four main buttons:
- Copy DVD - Extract and copy from a DVD, to DVD, other discs, or files
- Merge DVD - Extract and merge contents from multiple DVDs
- File to DVD - Combine multiple files into a single DVD or movie
- Copy to Go - Convert and transfer directly to portable devices
The corresponding task screens then have three basic steps:
- Select the Source - Disc drive or file on hard disk
- Select the Target - Drive or disk directory
- Select the Format - Disc or media file, with associated video and audio compression
For each copy task, DVD Copy offers presets for straightforward operations, options for common format conversions, plus the ability to customize specific format details.
The more straightforward task with DVDs is to make copies. In InterVideo DVD Copy, use the first Copy DVD button both for straightforward 1:1 copies, and for more interesting options for extracting portions of a disc.
Copy DVD
You start by inserting your source disc in your DVD drive -- a standard DVD Video disc that plays in a set-top DVD player.
The first question is whether the source disc is a commercial disc with copy protection -- in which case you cannot use DVD Copy (or similar applications) to copy it. These consumer copying tools are for unprotected discs, whether recordable discs burned on a DVD drive, or pre-recorded discs (read-only ROM) manufactured ("replicated") without the CSS copy protection. This ability to copy and extract from burned discs is especially useful for home video DVDs that you want to share with friends or extract segments from to re-use.
Next, you'll need to insert your target disc, and think about its recordable disc type (R/RW). As with CD recordable media, you may want to burn a permanent copy on write-once recordable media (R), or a possibly temporary copy using erasable re-writable (RW) media for a disc you plan to re-use later on.
And does your burner support the dash and/or plus recordable DVD formats? Most of today's burners support all four such possible formats -- called DVD-/+R/RW (DVD-R, DVD+R, DVD-RW, and DVD+RW) -- much like CD burners are described as CD-R/RW (CD-R and CD-RW). There's also another format, DVD-RAM, which is accessible more like a hard disk, and also is used for DVD camcorders and computer backup.
Plus, there's one more wrinkle in copying DVDs. If the DVD was created on a set-top DVD recorder, then it is probably is actually in VR (Video Recording) format -- with the contents organized to allow a set-top recorder to add (and delete) additional clips. VR discs have a simple main menu to access the individually-recorded clips (the DVD-VR is simpler than the DVD+VR format).
Most set-top DVD players and PC player software can play these formats, and some DVD authoring tools can burn in these formats so you can burn and then re-edit a disc on either the PC or a set-top recorder. However, DVD Copy can transcode VR discs into true full DVD Video format, for the highest compatibility with players.
Then check the source disc size (4.7 GB single-layer or 8.5 GB dual-layer). Look on the disc label, or check its size in Windows Explorer. Is it a single-layer disc, with up to 4.7 GB of data (as typically created on a home burner), or is it a dual-layer disc, with up to 8.5 GB (i.e., a commercial manufactured disc, or burned on new dual-layer burners)?
If your target disc is the same size as the source, you're all set for a straightforward 1:1 disc copy, to burn duplicates of your source disc.
If your source disc is bigger then the destination media -- i.e., you have a 8.5 GB dual-layer original disc but only a single-layer drive and media, then DVD Copy provides several choices. You can copy each layer to its own 4.7 GB single-layer disc, which may work for some discs, but may be a problem when the main movie is split across the two layers.
You also can have DVD Copy re-compress the DVD video to "Fit to One Disc" -- squeezing the video down to the available size on the smaller disc. This will be lower quality, but does get the whole contents on a single disc, which may be fine for a test copy or for playback on a small portable device.
(DVD Copy also supports the slightly larger 4.85 GB disc size developed in Korea, with an extra 150 MB of capacity).
To really squeeze you productions, you can also copy and convert to Video CD format to play back on a 650 MB CD. The original Video CD (VCD) format is popular in Asia as an inexpensive way to distribute short-form videos, using lower-resolution MPEG-1 format. Super Video CD (SVCD) uses MPEG-2 closer to DVD quality. Most set-top DVD players (as well as PC software) can play VCDs, but fewer support SVCD.
Besides compressing more aggressively, another method for squeezing a large DVD onto a smaller disc is to extract only a portion of the material. For example, you may only be interested in a couple highlight segments from your one-hour recording of a game. Or, for a more professionally authored disc, you may be interested only in the main presentation, and not the extras or alternate languages.
For this reason, InterVideo DVD Copy provides the ability to select the copy mode -- to copy the Entire Disc, or just the Main Movie, or to Customize by extracting specific chapters, audio language tracks, and subtitle tracks.
After you select your source and destination formats, you then can have DVD Copy extract, convert, and re-compress the original DVD, and burn the result to optical disc. But you don't always want the copy on a physical disc -- it can also be convenient to have it on hard disk. DVD Copy therefore can copy back and forth between physical discs, a Folder on hard disk, or a Disc Image file.
A DVD Folder contains all the files that you would see on the physical disc (i.e., the contents of the VIDEO_TS folder on a DVD). You then can play the disc's contents directly from hard disk using PC player software (like InterVideo WinDVD) to preview and check it.
A Disc Image file is a single large file with a packed version of the disc's contents. These are particularly convenient for storing a copy of a disc so that you can burn multiple copies when needed. DVD Copy also includes a Virtual Drive tool that can mount a disc image as a virtual disk under Windows, which is handy for checking and extracting its contents, and also for simultaneously mounting a group of discs, i.e. for a multi-CD game.
Once you have this ability to extract selected contents from a DVD and then re-compress them as needed to fit a target disc size, the natural next step is to combine the contents from multiple DVDs. DVD Copy does this with the Merge DVD option.
Merge DVD
Specify a temporary storage location on hard disk, and then specify different segments to extract from multiple sources -- discs, folders, or images -- DVD, VR, or VCD -- entire disc, main move, or custom. DVD Copy accumulates all of them, and then burns then to a single compilation disc (and format).
DVD Copy also can extract just the audio tracks from DVDs. You can burn the result to Audio CD, or save to audio file formats including WAV (Windows raw Wave), compressed MP3, and compressed WMA (Windows Media Audio).
And why go to all this effort to crack open a disc and then only create more discs? It's also handy to be able to extract segments from DVDs as video files on hard disk, so they can be re-used in a video editor or to include in a different DVD.
The InterVideo DVD Copy option for Copy DVD then offers not only all the different target DVD formats, but also a variety of common and new video file formats. You can choose presets for common formats, or again customize with specific compression options.
- Use WMV-HD to extract in Windows Media Video format, including High Definition resolutions. With the arrival of high-definition video in (high-end) consumer camcorders, DVD Copy can import high-def files up to 1920x1080 resolution, and can import video from Sony HDV camcorders.
- Use MPEG-2 to extract video in its native DVD-compatible format, using the MPEG-2 standard also widely used for digital television. Or select MPEG-1 to extract in the older standard used for VCD or older players.
- Use MP4, H-264, or DivX (AVI) to extract in newer MPEG-4 formats. These offer better quality / smaller compressed size, and are used in portable devices (see Copy to Go below).
- Use DivX to extract in DivX Media format, for enhanced playback on DivX-enabled DVD players -- including menus plus multiple audio and subtitle tracks.
- Use MP4 (MPEG-4) to create files for the Apple iPod, Sony PlayStation Portable (PSP), and Nintendo Gameboy.
- Use 3GPP (MPEG-4 for 3rd Generation mobile phones) for handsets from LG, Samsung, Nokia, Motorola, and others.
- Use H.264 (advanced MPEG-4) for better quality / compression for the Apple iPod and Sony PSP.
When copying to video files on hard disk, you can also choose whether to split the source DVD into separate files for each chapter, or merge them all into one large continuous movie.
Since portable devices are becoming so popular, InterVideo DVD Copy provides the dedicated Copy to Go option to format video files for specific portable media players, including the Apple iPod, Sony PlayStation Portable (PSP). It then can transfer directly from a physical DVD disc to a supported player.
And with all these options for copying between discs and to video files, InterVideo DVD Copy also offers the reverse direction: Use the File to DVD option to assemble a collection of video files into a movie, to then burn to disc (or save as video files).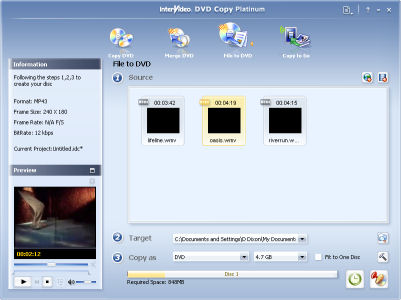 File to DVD
First, build a list of source files -- from hard disk, or even from the Internet (specify the URL and even login information). Trim the files as desired to select shorter segments.
You then can burn the merged clips as a playable DVD, or convert and save the video clips on hard disk in the desired format.
If you find yourself using DVD Copy a lot for similar tasks, you can save output format profiles with compression options, and save projects with lists of files to process.
Since copying, converting, re-compressing, burning of the contents of an entire DVD can take a while even on a fast machine, InterVideo DVD Copy now adds a CopyLater option to schedule batch conversion tasks to run while your machine is not busy.
CopyLater

Just load up a list of source files, each with a list of multiple target formats, and then schedule the time for the processing to begin. You can fire up the jobs late a night, and even shut down the machine when you are done.

The Intelligent Folder Monitoring option also can watch specific folders, i.e., for video downloads and recorded TV programs, and automatically convert files as they appear to the desired format.

The Platinum edition of InterVideo DVD Copy 5 is designed to help you get your videos from point A to format B with a minimum of fuss:

- Pick your source content: Extract from a physical disc (or merge from multiple discs), assemble from a list of files in various formats, or even download directly over the Internet

- Select your target destination: Burn to a new disc, or save files to hard disk

- Choose your target format: Disc (DVD, VCD, SVCD, DivX), file (video or audio, Windows Media or MPEG), of portable device (iPod, PSP, portable phone, or others).

DVD Copy has handy presets for the common sizes and formats, and the ability to customize from a list of resolutions and range of data rates. However, it does not provide access to the kind of full range of compression options like, for example, Adobe Premiere Elements (such as low resolutions for Windows Mobile and Pocket PC devices). And it does not support the common DV, Windows AVI, and Apple QuickTime video formats for PC-based editing.

Instead, DVD Copy offers the easiest path for extracting and copying discs and converting for popular playback devices -- with especially handy features including the ability to schedule batch conversions and burning, even from Internet sites.

Besides CopyLater, InterVideo also includes additional tools: Virtual Drive tool for mounting disc images, Disc Tool for direct copying (discs, folders, images) and erasing, and DiscLabel with LightScribe support.

Give it a try -- download the free trial versions from the InterVideo site -- the full version, which runs for 14 days, and can be activated by purchasing the product. The packaged product also includes a nice 140-page User's Guide as a real printed booklet.

InterVideo DVD Copy 5 Platinum
www.intervideo.com

Adobe Premiere Elements 3
www.adobe.com/products/premiereel

Originally published in Camcorder & Computer Video magazine, 22, 8, Dec. 2006.