Manifest Technology Blog -- Site: | Articles | Galleries | Resources | DVI Tech | About | Site Map |
Articles: | PC Video | Web Media | DVD & CD | Portable Media | Digital Imaging | Wireless Media | Home Media | Tech & Society |
DVD & CD: | DVD & CD Articles | DVD Software Gallery | High-Def DVD Gallery | DVD Authoring Resources |

---
DVD Copy Tools: Extracting and Merging DVDs
(10/2004)
by Douglas Dixon
Once you start working with DVDs, building up a collection and burning your own, you'll start to want to have an easy way to make copies of them. While cracking the encryption used for copy-protection discs is illegal in the U.S. under the Digital Millennium Copyright Act (DMCA), even for making personal backups, there are plenty of legitimate reasons for copying DVDs. You may want to make backups of your own discs, or burn multiple copies to share with others. You also can back up non-copy-protected discs or convert them to inexpensive Video CDs, for example, if you are going to take them along for a trip where they may be damaged.


Even better, today's new generation of DVD copying tools not only can copy entire discs, but also can extract only certain portions of the disc, and squeeze the contents further by re-compressing the video to fit on a smaller disc. In particular, this means you can extract only the main content from a disc (ignoring any extraneous material), and then back up a double-sized DVD onto a single-sided recordable disc, or squeeze a single-sided DVD onto a CD (albeit at lower quality).
A variety of new software applications have become available to provide quick and convenient disc copying for these kinds of purposes, especially as part of disc-burning suites from companies like Roxio (Easy Media Creator) and Ahead (Nero), and as stand-alone tools from Pinnacle (InstantCopy) and InterVideo (DVD Copy). We'll take a look at how to use these tools, and especially compare the ways they provide very different approaches for actually extracting selected portions of the DVD content.
This kind of copying of personal and non-protected material is very different than cracking the CSS (Content Scrambling System) encryption used to copy-protect DVD Video discs. There's been a lot of noise lately about 321 Studios and its DVD X Copy product, which actually included the ability to duplicate copy-protected DVDs (www.321studios.com). Of course, hacker tools also are readily available to crack CSS, but 321 Studios tried to establish the legal right to use its software, i.e., to make backup copies of this protected content, even in the face of the DMCA.
To help its case, the DVD X Copy products included options to watermark the copies to help identify inappropriate uses. But as of April 2004, 321 Studios lost a round in the courts, and begin shipping revised version of its products without the option to descramble protected content, and then descended into bankruptcy.
So, what kind of capabilities might we want in a DVD copying tool? First, it should read from and write to various kinds of video discs, including the varieties of DVD Video, and also preferably Video CD and Super Video CD formats as a less expensive option. And it would be nice to read and write from DVD folders on hard disk, and disc image files, so you can copy from or convert to local disc, even on a system without a burner.
Second, you need to be able to copy only certain portions of the disc, so you can reduce the size to fit it on a smaller disc (or just copy faster). These tools allow you to explore the structure of a DVD disc to identify the components to extract:
- Titles: The playable content of a DVD is divided into titles, major groups of similar material, such as the main movie in widescreen format with surround sound, and bonus material in standard definition and stereo audio. Depending on your authoring tool, discs that you create may have separate titles for each clip, or each group of related clips. The most obvious way to trim a disc, then, is to display the title structure of the disc so that you can select only certain titles. Some tools simplify this further by finding the main movie (the first, largest title), and providing the option to exclude all other titles.
- Chapters: Each continuous clip on a DVD then can be subdivided into chapters. This could allow you to further trim the individual clips to select only certain chapters to be copied.
- Audio and Subtitle Tracks: Commercial and professional DVDs also have multiple audio and subtitle tracks, for different languages, alternate audio formats, and other annotations. The tracks can be tagged with a language code, and therefore DVD copying tools can easily offer the option to include or exclude specific languages. Or, it would be better to select tracks based on the actual content of the audio and subtitle tracks used on the disc, or even in each individual title.
Ideally, DVD copying tools would provide a hierarchical view of the structure of the DVD to be copied, including titles, chapters, and tracks, so that you could include and exclude only the arbitrary sections that you want. And they would provide a mini-player interface so that you could preview the DVD contents to identify the elements that you want to keep. However, this does require examining the contents of the DVD, which can take time (depending on the level of detail), and also can result in a more complex user interface. For this reason, some of these tools provide simplified options for choosing sections of the disc.
While we are at it, it would also be helpful if these DVD copying tools could actually re-author existing discs by allowing you to conveniently extract and merge sections from multiple discs.
Finally, we need to select the destination format. This could be a variety of DVD or VCD, with the content transcoded (re-compressed) as appropriate. While you can try to trim the input material to fit the size of the destination, it's also helpful to be able to directly specify the compression parameter. Even better, the tool should offer to automatically fit the contents by compressing more aggressively, as needed. In addition, when extracting material from a disc, it also would be nice to be able to just save the clips as video and audio files so you could then edit them.
Not to be greedy, but while we are converting formats, it also would be helpful to be able to change aspect ratio (i.e., from widescreen) and convert between the NTSC and PAL television formats if you are copying material across the oceans.
Another useful option is to be able to remove restrictions on user operations. DVDs can be programmed to lock out viewer actions from the remote control, for example preventing skipping or even fast scanning through warnings, or viewing alternate tracks. Removing these restrictions can make it more convenient, for example, for a teacher to quickly access specific clips to demonstrate from a DVD.
As an example of a simple DVD copying tool, Roxio provides a straightforward Disc Copier tool with its latest digital media suite, Easy Media Creator 7 (www.roxio.com). Easy Media Creator 7, released in February 2004 for $99, includes the flagship VideoWave and Photosuite editors, the venerable Creator Classic, and a host of other tools for digital media creation, editing, and disc storage
Disc Copier starts up in Simple mode, displaying only the Source Drive and Destination Recorder for a disc to disc copy. Click Advanced to reveal the full interface. Now you can select an input DVD Folder or Disc Image on hard disk, and an output Disc Image, and set the recording speed and options.
Roxio Disc Copier
Select a drive with a DVD Video disc, and Disc Copier then quickly examines the disc, displays a summary thumbnail, and provides additional copy options. You can then display the DVD-Video Options dialog for nice visual summary of the disc with a thumbnail for each movie (title), and the ability to preview it in a player window.
DVD-Video Options
However, Disc Copier simplifies your copy options such that you can choose to copy only a single movie, or the entire contents. And for audio, you can copy only a single primary format, or all the formats. There are no options for copying subtitles, or setting compression options. Disc Copier does include a helpful Disc and Device Utility to display information about your discs and drives.
CyberLink PowerDVD Copy does not just copy discs, it also can extract selected portions, and even recompress the material to fit the size of the destination disc (www.gocyberlink.com).
CyberLink PowerDVD Copy
For example, you can extract the main movie from a double-layer disc, skipping the bonus material, and recompress it as needed to fit onto a single-layer recordable DVD. To further reduce the size, you can choose which alternate language audio and subtitle tracks to include.
Select Content
Similarly, Pinnacle includes the InstantCopy copying application as part of its InstantCD/DVD disc creation suite (www.pinnaclesys.com). InstantCD/DVD version 8, released in Fall 2003, is $49.99 and InstantCopy version 8 is available separately for $29.99.

Instant Copy also starts with a simple screen, listing the available drives for a direct copy. Click the Advanced button to add a tabbed panel at the bottom of the window to select from a few choices of copying options. Choose to copy just the Main Movie, or Automatic or Customized Resize. Choose the amount of compression, High Quality or High Speed. And select standard or widescreen aspect ratio (4:3 Letter Box or 16:9 Anamorphic).
Pinnacle InstantCopy 8 - Advanced
For selecting both Audio and Subtitle Streams, the Advanced DVD Copy Settings dialog actually has a list of all the possible languages defined in the DVD specification (Afrikaans to Vietnamese), and you can choose which to remove if found on the disc.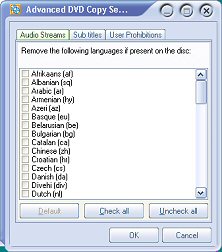 Audio and Subtitle Streams
The third tab list all available User Prohibitions, which you also can remove if used anywhere on the disc.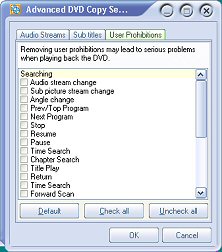 User Prohibitions
Once you set these global options and click Start to begin the copying, InstantCopy then prompts for more specific information. If you are copying to hard disk (as a disc image), it then prompts for the destination folder. And, if you selected Customized Resize, it displays the Select Title And Audio Stream dialog.
Select Title And Audio Stream
You then can select one title, one audio stream, and up to one subtitle stream to be copied. The dialog also includes a simple player, albeit with only controls to play and stop.
InterVideo has come at DVD copying from a different direction, providing much more control over the process, based on its expertise with the WinDVD player and other digital media editing tools (www.intervideo.com). DVD Copy 2, released in March 2004, is available in two versions: Gold for $49.95 and Platinum for $79.94, including multiple DVD merging & DivX CD creation.
DVD Copy starts with a more advanced interface, but structured with a three-step process. First, choose the Source disc or DVD volume. Second, select the Target destination. Third, specify the copy format and options, and then start burning. All the basic options are available on the main window, including the target formats (DVD, VCD, SVCD, DivX, and Multiple DVDs), and the titles (Entire Disc, Main Movie, or Customize). You can also use the drop-down menus to choose All or one audio stream (i.e., AC3 or DTS), None or one subtitle stream, and widescreen or standard Video aspect ratio, if available.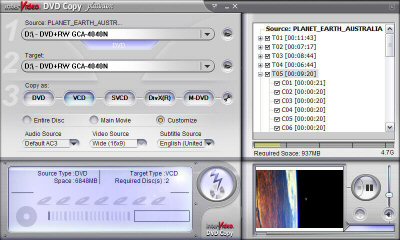 InterVideo DVD Copy 2
The fun begins when you choose Customize, or Multiple DVD, which open an extra side panel with more options. For Customize, DVD Copy displays a hierarchical list of all the titles and their chapters on the disc. You then can use the mini-player to preview them, and then select exactly which titles to copy, or even various chapters within a title. The Multiple DVD option allows you to similarly choose elements from multiple DVDs to include in the output disc.
DVD Copy also provides an Optional Settings dialog, where you can choose to fit to one DVD, and set the DivX compression profile. DVD Copy provides feedback on the size of the selected elements, and the number of output discs required to hold them, but does not offer finer control over compression quality.
As our final DVD copying tool, Ahead Software's Nero Recode 2 combines all of these detailed options into one powerful application suitable for more advanced users (www.nero.com). Recode 2 is part of the Nero 6 Ultra Edition suite, available for $99.99. Nero 6 was released in mid-2003, and subsequently updated in early 2004 with a version 6.3 PowerPack, including Recode 2 and enhanced video editing, DVD authoring, and backup.

Nero Recode 2 starts up with three friendly options: Copy Entire Disc, Remake A DVD, and Copy DVD To Nero Digital (extract to MPEG-4), but no Video CD options. You also can click More to reveal additional utilities, including Erase Disc and Disc Info.
The Remake A DVD option is not just for DVD copying, it is actually designed for assembling a compilation from multiple DVDs. With the main Recode 2 interface you can explicitly choose tracks and chapters, plus one or more associated streams, and also control the compression quality -- all on a per-title level.
Use the top of the main window to build a list of titles to include on your disc, much like you are used to from CD burning tools (Recode 2 even includes a DVD Data burning mode for copying files without making a playable DVD video disc).
Nero Recode 2
Click Import Titles to display the Import Title dialog to open a DVD disc or volume and review its contents, which Recode 2 pre-organizes as the Main Movie and Extras based on size and content.
Import Titles
Use the Video tab to preview the titles, including a handy slider to skip rapidly through the material. Also use the Audio, Subpicture (subtitle), and Info tabs to display information about the selected title. Then click Add Title to add one or more titles to your compilation. Recode 2 also shows the Menus in the dialog so you can set their compression quality (and also provides a handy way to further explore a DVD's contents).
One you have imported list of titles, you can further refine them in the main window, merging and deleting from the list. Adjust the Video Quality slider for each title. Also use the Audio and Subpicture tabs to select zero, one, or more streams to include (for the selected title, or a group of titles). Then click the Start/End Button to display a dialog to trim each title. The Set Start/End Frames dialog really does provide that level of control: you can trim by selecting chapter points, or play through the video, moving frame by frame to an exact point.
As you import material and change options, Recode 2 displays the current output disc size, or provides the option to fit to disc. It also provides a Profile dialog to pre-define preferences for selecting Audio and Subtitle tracks (by language, or format), and for optimizing the Video compression by using best quality for the Main Movie or Extras, and for the Menus. A separate Configuration dialog also offers control over application messages and warnings, and provides the option to remove prohibited User Operations.
In the final Burn Settings screen, you can set the target device or disc volume, set burn options, choose Advanced Analysis for more accurate compression, and can even set the priority so you can continue to work during the processing.
Then there are shareware hacker tools like IfoEdit and VobEdit that expose the gory details of every element of the internal DVD data structures (see www.mpucoder.com/derrow or www.videohelp.com).
IfoEdit
They provide options to cut and paste and edit a DVD's contents, including controlling the user operations and region codes.
VobEdit
While these are not exactly user friendly consumer tools, persistent users can find instructions for using them to extract and rebuild DVDs, in combination with other widely available free tools.
Meanwhile, professionals can use Trai Forrester's TFDVDEdit to precisely view and edit the DVD internal data structures using convenient drop-down menus (www.tfdvdedit.com, starts at $1295, Mac only).
TFDVDEdit 3
You can take an existing disc and add or remove content, fix or enhance links, provide alternate navigation paths through the content, and even edit DVD scripting commands to change the disc's behavior.
As you have seen, DVD copying can get fairly sophisticated, from just copying one disc to another, to selecting and editing individual clips and streams. These applications demonstrate a variety of trade-offs between simple interfaces for quick copy operations and more complex interfaces for deeper control over the elements being copied. But all provide a more accessible interface than shareware hacker tools such as IfoEdit and VobEdit, which dig down into the internal DVD data structures. And on today's systems, they can copy and recompress video at rates not much more than real time, i.e., process 30 minutes of material in less than an hour (depending on the selected compression format).
You may already have one of these tools as part of a suite, or you can explore the product information posted online, and download trial versions of some of them to try out for yourself. Unfortunately, however, swapping and burning discs on the Windows platform can still cause glitches and stalls, and I did find various interface oddities and rough edges with each of these applications. In general, they still could do a better job of helping you understand the best trade-offs in stripping down a disc to fit a smaller size target. And squeezing to a Video CD is not as appealing as you might think, when you lose the menus and chapter markers so you no longer can skip directly to material within the remaining video.
In addition, all this re-wiring of DVDs is still a bit dicey, because you're messing around with the internal structure of the disc. When you delete titles or chapters or streams, the software needs to fix up the links that reference them within the DVD so they don't jump off to nowhere. If you're not judicious in your trimming, too much hacking of this kind can damage the menu structure enough to make a disc essentially unplayable. Nero Recode 2 actually gives you several options to insert a placeholder element for the title: you can select a still image, a solid color, or have a slide show generated with still frames from the title to provide the gist of the deleted material.
But the good news is that it is now feasible to crack open a finished DVD to extract material that you want to re-use, whether to make a backup copy of some of the material to use in less controlled environments, or to assemble a compilation from several other of your DVDs. Just please don't take the opportunity to unfairly steal copyrighted material.
321 Studios - DVD X Copy
www.321studios.com
Ahead Software - Nero Recode 2
www.nero.com
CyberLink PowerDVD Copy
www.gocyberlink.com
InterVideo - DVD Copy 2
www.intervideo.com
Pinnacle Systems - InstantCopy
www.pinnaclesys.com
Roxio - DiscCopier - Easy Media Creator 7
www.roxio.com
IfoEdit / VobEdit
www.mpucoder.com/derrow
www.videohelp.com
Trai Forrester - TFDVDEdit
www.tfdvdedit.com