Manifest Technology Blog -- Site: | Articles | Galleries | Resources | DVI Tech | About | Site Map |
Articles: | PC Video | Web Media | DVD & CD | Portable Media | Digital Imaging | Wireless Media | Home Media | Tech & Society |
DVD & CD: | DVD & CD Articles | DVD Software Gallery | High-Def DVD Gallery | DVD Authoring Resources |

---
Using Adobe Encore DVD 2.0 (6/2006)
by Douglas Dixon
Encore DVD 2.0
Photo Slideshows
Chapter Playlists
Chapter Index Menus
Flowchart View
Production Studio
References

See also Adobe Production Studio

See also Using Adobe Premiere Pro 2.0
Earlier this year Adobe unveiled the latest version of its video editing suite -- now called the Adobe Production Studio (www.adobe.com/productionstudio). Built around new versions of Premiere Pro for video editing and After Effects for motion graphics and visual effects, the suite also includes new versions of Encore DVD for DVD authoring and Audition for professional audio mixing and editing.
Adobe Encore DVD 2.0
This new collection is all about full support for the broad range of video formats, from SD and DV to HDV and HD, with even better integration among the Adobe tool set, plus the bonus of a significantly improved interface.
Let's highlight some of the most exciting features in Encore DVD for authoring projects to disc.
Premiere Pro obviously gives you a lot of flexibility in turning your edited production into a DVD presentation. But to combine multiple productions, and to use much more customization, you also can turn to Adobe Encore DVD 2.0 (www.adobe.com/products/encore).
Encore DVD provides a base of straightforward drag-and-drop DVD authoring, plus Photoshop-like menu design and Premiere-like timeline editing. But its core strength is the Photoshop integration: all menus and buttons and even styles are just Photoshop PSD files, easy to use either as template designs, or customized for your own use.
Encore DVD has been significantly enhanced in this new version, starting with the new docked interface. The Timeline also is more flexible, with the ability to assemble multiple video and image clips on a timeline, along with multiple audio clips (so you don't have to pre-edit each movie separately in Premiere Pro). You also can automatically add chapter points at intervals along a timeline.
The next big addition is the ability to create a timed photo slideshow with soundtrack and transitions. Use the Slideshow window to arrange the images, add background audio, select transitions, and specify the timing (or manual advance). Then use the Properties and Character panels to customize each image, changing scaling to the screen size, adding a text subtitle, and even adding dynamic pan and zoom effects.
Slideshow editing
Under the curtains, Encore DVD also has added some interesting new functions to help with designing DVDs. Encore DVD already supported Playlists, which allowed you to reuse material on a disc by displaying it in a different order -- for example just the highlights of a series of clips. The limitation to playlists was that the DVD would jump to a specified chapter point, and then continue playing until the end of the entire clip in the timeline.
The new Chapter Playlists give you even more control -- you can now select to play only individual chapters from longer clips, so, for example, your sports DVD can have a menu button that jumps to a playlist that plays through each section of each clip that shows a particular person. Just edit the original clips once, mark the interesting chapter points, and then create multiple different playlists to re-use the material in different ways.
Chapter Playlists
Encore DVD also has had a smart approach to menu design, in which menu templates are just Photoshop files, and the special elements like buttons and even video thumbnails are identified simply by their PSD layer names. As a result, it's easy to modify Encore DVD menus and templates to customize your own design. This new version extends this idea to be able to automatically generate a collection of linked chapter index menus, as is done in consumer tools like Sonic MyDVD.
Chapter Index Menus
By using Scene menu templates with marked Chapter buttons, the new Menu > Create Chapter Index command will automatically generate one or more scene index menus, complete with video thumbnails for each chapter, along with linked Back, Next, and Main Menu buttons. Once the menus are built, you can even change the template design for them in one click.
Finally, the most impressive addition to Encore DVD is the new Flowchart view, which automatically lays out elements of your disc and its navigation in a schematic tree structure. This is not just a static view of your menu navigation -- the view dynamically updates around the selected element to reposition the neighboring linked nodes as you explore the design.
Even better, the flowchart is not just for viewing -- it is a full alternate editing environment in which you can edit links, and even add new nodes using drag and drop, or in the Properties panel.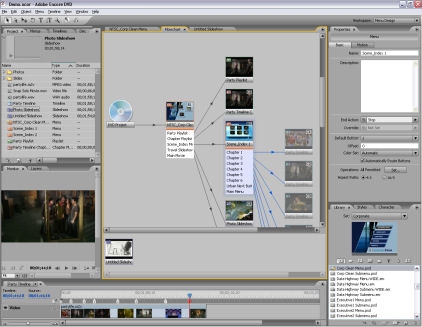 Flowchart view

Of course, there's a lot more that's new and interesting in Encore DVD 2.0, but the idea here has been to highlight some of the more visible and exciting new features, and show you how they integrate into the applications that you may already be familiar with.

Adobe has worked hard to bring its video applications together with a new look, common interface design, and cross-application integration for moving quickly and naturally between the different tools for different kinds of media. The applications are more powerful, more responsive, more flexible, and more mature. Which also makes them more fun to use.

So check them out for yourself -- the Adobe website offers tryout versions of Premiere Pro 2.0, Encore DVD 2.0, and other applications that you can download and experiment with for 30 days. Also check the site for updates, tutorials, support forums, downloads, and other free resources.

Adobe Production Studio

The Standard edition of Production Studio at $1,199 (estimated street price) includes Premiere Pro 2.0 and After Effects 7.0 Standard for video editing and effects, plus the latest version of Photoshop CS2. The Studio also includes the Adobe Bridge media organizer and viewer (which is shipped with each individual application), and the Adobe Dynamic Link function to use After Effects compositions directly in Premiere Pro and Encore DVD (available only as part of the Studio).

While you can do a lot with Premiere's built-in audio editing and enhanced DVD authoring capabilities, you can also step up to the Premium edition at $1,699, with full After Effects 7.0 Professional, plus Audition 2.0 and Encore DVD 2.0 for more advanced work, plus Illustrator CS2.

Adobe also offers a new Video Bundle, with the full Production Studio plus Macromedia Flash Professional 8, for $2,099.

Adobe - Production Studio
www.adobe.com/productionstudio

Adobe - Encore DVD 2.0
www.adobe.com/products/encore

Originally published in Camcorder & Computer Video magazine, 22, 5, June 2006.