Manifest Technology Blog -- Site: | Articles | Galleries | Resources | DVI Tech | About | Site Map |
Articles: | PC Video | Web Media | DVD & CD | Portable Media | Digital Imaging | Wireless Media | Home Media | Tech & Society |
DVD & CD: | DVD & CD Articles | DVD Software Gallery | High-Def DVD Gallery | DVD Authoring Resources |

---
Enhanced DVD Movie Watching:
CyberLink PowerDVD 8 (5/2008)
by Douglas Dixon
MoovieLive - Collect, Remix, Share
Play, Customize, Explore
PowerDVD 8 - Summary
Versions and Pricing
New Features
Supported Media Formats
References

See article on earlier version:
Enhancing Your DVD Movie Watching on the PC (CyberLink PowerDVD 6, InterVideo WinDVD 6)
CyberLink has released its latest version of its well-known DVD player, CyberLink PowerDVD 8, with support for the home theatre experience, adding Blu-ray Disc playback, including interactive menus, plus associated high-def video and audio formats (www.cyberlink.com/multi/products/main_1_ENU.html).
And CyberLink has just released an update to support the full Blu-ray Disc Profile 2 (BD-Live), with picture-in-picture display, networking, and advanced interactivity (www.cyberlink.com/multi/download/updates_1_ENU.html).
However, the DVD player market is getting rather mature, as these applications are already well-refined DVD and general-purpose media players (as with InterVideo WinDVD, www.intervideo.com). For example, PowerDVD supports scads of disc and file media formats (including playback via UPnP over a home network), provides multiple options for video and audio enhancement, and offers helpful options including power-saving playback for notebooks, frame capture, and bookmarking for favorite scenes.
So the next step for CyberLink was to go beyond playback features, and instead augment PowerDVD to enhance the overall movie experience by taking advantage of your computer's storage and Internet connectivity. After all, when you pop in an audio CD on your computer, it automatically looks up the album and artist information -- and the same kind of context about the movie on your DVD also would be interesting.
And in this age of social networking, it could be fun to track your movie collection and share your favorites with others. Even better, how about remixing segments of a movie to add your own creative spin -- and then sharing your reviews, collections, and remixes with others.
See below for the new PowerDVD 8 playback features and product versions, but the real focus for this new release is the movie information, sharing, and remixing features, built around CyberLink's new MoovieLive.com website (www.moovielive.com).
The MoovieLive site hosts four kinds of shared movie-watching materials -- Movie Information, Movie Remix, Movie Collection, and My Friends. The idea is that you can create and upload your personal film ratings and reviews, movie collections, and remixes from PowerDVD, and then share the experience by downloading the contributions from others. Once you sign in, you also can share with groups of your friends, and find others who share your interests.
These new features are accessed from three new buttons at the bottom of the PowerDVD window: Display Movie Info, Display Movie Collection, and Display Movie Remix.
- Movie Info is downloaded from the MoovieLive site, including release date, genre, brief tagline, and creative contributors. Unfortunately, at this time CyberLink has not linked the MoovieLive site to a movie database, so the information for each movie must be manually entered and uploaded by PowerDVD owners. So don't expect this information to fill in automatically for your own discs, at least until the population of MoovieLive users grows significantly.
Instead, you can enter this information yourself, and add your own Personal Notes, including rating , tags, and your review. Then you can save the movie information to your personal Movie Collection, and upload it to MoovieLive to share.
Movie Info
- Movie Collection then displays a list of DVDs that you have watched, with links to your ratings and other information. You also can add other movies that you're interested in from MoovieLive. Then click to display the movie information, and to update your star rating or review comments.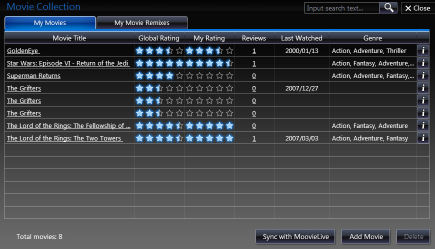 Movie Collection
- Movie Remix allows you to mash up scenes from a movie and then add your own creative animated graphics and subtitle text overlays, plus audio clips and voice-overs. To create a remix, PowerDVD displays a side panel to mark and reorder scenes from the movie, add effects, and then preview and save the results.
And, of course, you can upload and share your remixes on MoovieLive, and download remixes that others have posted -- though since the remix references the movie, you can only play them for DVDs that you own. You can edit the remixes, but unfortunately you can't merge elements from multiple remixes.
Remix
MoovieLive is a great idea -- enhancing the experience of watching a particular movie on a computer by taking advantage of the Internet to provide information, and then further enhancing your enjoyment of movies in general by using the computer's storage to organize your entire DVD collection. And the social networking aspect adds more fun from sharing favorites and creating remixes.
But this initial implementation in PowerDVD 8 is frustrating because CyberLink did not link the site into a pre-existing DVD database to automatically load movie information, so users are stuck typing in database fields for their movies, or relying on partial uploads from other users. Even worse, trying to search on the site returns multiple instances of each disc, each with different missing information, and without cover art. Linking with an existing site like the Internet Movie Database (www.IMDb.com) would also provide access to much deeper information about the movie, including cast, crew, plot, spoilers, reviews, and associated photos and videos. Great idea, fun to play with, but a disappointing first implementation.
CyberLink has done a nice job of refining the PowerDVD interface to make it very accessible for both quick playback and hands-on exploration of a disc.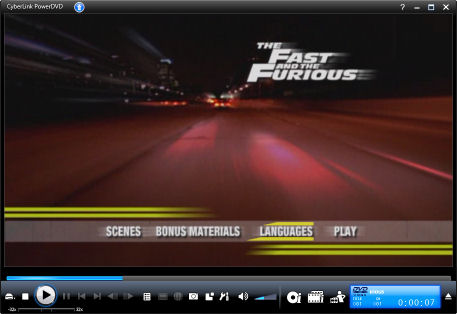 Main Controls
To just get in and watch a move, press the big Play button on the bottom control bar and get going. Click the Menu button to jump to the Root, Chapter, Audio, or other disc menus. Or double-click to run the player in full screen, with the pop-up control panel along the bottom.
To customize the presentation, use the More Functions dialog to enhance the video display (tweak it for your display and viewing conditions), set the audio playback for your speakers, and tweak the equalizer.
To dig in further, use the controls to scan though the video (up to 30x back or forward), and even single-step. Use the right-click pop-up menu to display subtitles, enable the Information overlay with details on the DVD video and audio formats, and to browse the disc's Title and Chapter organization to directly jump to any element on the disc.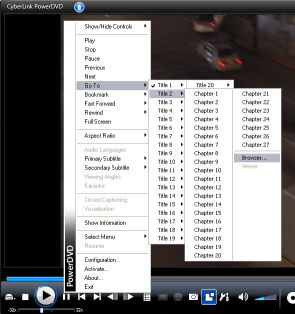 Right-click menu - Explore disc
Plus, there are lots more fun options including widescreen / dual-screen display setups, karaoke sing-along, importing subtitles from external files.
So you can use PowerDVD the way you want -- You can customize the playback of a movie on DVD and then sit back to enjoy it, explore the structure of a disc to see how it is organized (and to find hidden Easter eggs), or preview DVDs that you have authored and saved to hard disk.

See the CyberLink site for to download a free trial issue to try out.
[ Top ]
---
PowerDVD 8 - $49.95 online
PowerDVD 8 Deluxe - $69.95
PowerDVD 8 Ultra - $99.95
Comparison Chart - www.cyberlink.com/multi/products/compare_1_ENU.html
Deluxe adds:
MPEG-4 AVC (H.264) video playback, DVD-Audio, and CPRM and VCPS protected recorded media
UPnP networked media sharing
Advanced audio: Dolby Virtual Speaker and Dolby Headphone (2 channel expansion), Dolby Pro Logic IIx (2 -> 8 channel), Dolby Digital EX (7.1 channel), MLP, DTS 96/24, AAC.
Ultra adds:
Blu-ray disc playback, with interactive menus, plus the associated SMPTE VC-1 video format, plus AVCHD
Support for full Blu-ray 2.0 (BD-Live) next-generation disc features, including Picture-in-Picture, networking, interactive BD-J, bookmarks, advanced disc navigation
SPDIF audio mixing
New HD surround audio technologies: Dolby Digital Plus (5.1 channel), Dolby TrueHD (7.1 channel), DTS-HD (7.1 channel), built-in DTS-ES Matrix, Discrete, and DTS Neo 6 (2 -> 8 ch.)
Optimized performance for playing HD video using graphics cards featuring NVIDIA PureVideo, ATI Avivo, and Intel Clear Video technology
High-definition video standards and formats: Blu-ray Discs (BD-ROM and BD-RE recorded), SMPTE VC-1, AVCHD, MPEG-2 HD
Digital A/V connectors: HDMI and SPDIF mixing
TrueTheatre video and audio enhancement: Lighting and Stretch video processing, surround audio processing
HD Home Theater Audio: Dolby TrueHD, Dolby Digital Plus, DTS-HD Master Audio, 7.1-channel
Movie Collection: Collect information about movies, sync with MoovieLive online
Movie Remix: Create custom stories using DVD movies: rearrange scenes, add dialog and commentary, subtitles, on-screen effects
MoovieLive.com: Online community to share comments and remixes, publish reviews, find fans with similar likes
Optical Disc Formats:
- Blu-ray Discs - BDAV, BDMV - BD-Video Profile 1.1, Profile 2 (BD-Live), AVCHD
- DVD - DVD-Video, DVD-Audio, DVD-VR, DVD+VR - AVCHD
- CD - VCD, SVCD, Audio CD
Video Formats: .MPG, .MPEG, .AVI, .DAT, .WMV, .ASF, .VOB, .DVR-MS, .MOD, .TOD,
.M2TS, .MP4, .DV, .EVO, .DIV, .DivX, .MPV, .M1V, .TRP, .M2V, .AVC, .MOV, .RMX, .TIVO, .VRO
- HD Video: MPEG-4 AVC/H.264, MPEG-2 HD, SMPTE VC-1, WMV-HD
Audio Formats: .MP3, .M3U, .MP2, .M4A, .WAV, .WMA, .AOB, .AC3, .CDA, .MID, .RMI
[ Top ]
---
CyberLink PowerDVD 8 - Product Information
www.cyberlink.com/multi/products/main_1_ENU.html
May 1, 2008 - PowerDVD 8 - BD-Live update
www.cyberlink.com/multi/download/updates_1_ENU.html
Comparison Chart: PowerDVD 8 versions and PowerDVD 7
www.cyberlink.com/multi/products/compare_1_ENU.html
April 02, 2008 - Press release: CyberLink Launches PowerDVD 8, Introducing New Ways to Enjoy Movies
www.cyberlink.com/eng/press_room/view_1662.html
April 08, 2008 - Press release: CyberLink PowerDVD Ultra Supports Playback of BD-Live Content
www.cyberlink.com/eng/press_room/view_1664.html
[ Top ]