Manifest Technology Blog -- Site: | Articles | Galleries | Resources | DVI Tech | About | Site Map |
Resources: | PC Video | Web Media | CD & DVD | Wireless Media | Home Media | PC Technology |
PC Video: | PC Video Articles | Video Software Gallery | Video Editing Resources |
Video Resources: | Digital Video References | Video Terminology | Video Glossary | Video Software Gallery | Pro Software Gallery |

---

Digital Video Editing Software Gallery
-- Consumer Tools (see also Professional Tools)
Expanded Version -- with previous releases & screenshots
by Douglas Dixon
Expanded version, with previous releases and screenshots
Also see the faster-loading Summary version
Software applications for digital video editing, separated into consumer and professional tools. Each application includes a brief description, and information on the latest released version, with product descriptions and images are summarized from published information. (The Expanded versions include previous product releases and application screenshots.)
Contents
See also: DVD Authoring Software Gallery
---
Recent Updates -- 2011
10/2011 - Sony - Vegas Pro 11
9/2011 - Adobe - Premiere Elements 10
6/2011 - Sony - Vegas Movie Studio 11
6/2011 - Apple - Final Cut Pro X
5/2011 - Adobe - Premiere Pro CS 5.5
3/2011 - Avid - Studio
2/2011 - Avid - Pinnacle Studio HD 15
2/2011 - Corel - VideoStudio Pro X4
---
Updates -- 2010
10/2010 - Sony - Vegas Pro 10
10/2010 - Apple - iMovie '11 / iLife '11
9/2010 - Adobe - Premiere Elements 9 and Photoshop Elements 9
5/2010 - Adobe - Premiere Pro CS5
1/2010 - Corel - VideoStudio Pro X3 (VideoStudio Express 2010)
Updates -- 2009
9/2009 - Adobe - Premiere Elements 8 (and Photoshop Elements 8)
7/2009 - Apple - Final Cut Pro 7, Final Cut Studio [3]
6/2009 - Adobe - Premiere Pro CS4, version 4.1 upgrade
6/2009 - Sony - Vegas Pro 9
1/2009 - Apple - iMovie '09 / iLife '09
Updates -- 2008
10/2008 - Adobe - Premiere Pro CS4
9/2008 - Corel - VideoStudio Pro X2
9/2008 - Adobe - Premiere Elements 7
8/2008 - Sony - Vegas Movie Studio 9
6/2008 - Pinnacle - Studio 12
5/2008 - CyberLink - PowerDirector 7
3/2008 - Sorenson - Squeeze 5
Updates -- 2007
11/2007 - Apple - Final Cut Express 4
9/2007- Adobe - Premiere Elements 4
- Miraizon - Cinematize 2 Pro
- Sony - Vegas Pro 8
8/2007 - Apple - iLife '08 - iMovie '08
7/2007 - Adobe - Premiere Pro CS3
6/2007 - Apple - Final Cut Pro 6
5/2007 - Pinnacle - Studio 11
4/2007 - Ulead - VideoStudio 11
3/2007 - CyberLink - PowerDirector 6
2/2007 - Grass Valley [Canopus] ProCoder 3
2007 - Sony - Vegas Movie Studio 8
Updates -- 2006
12/2006 - muvee - autoProducer 6
11/2006 - Sorenson - Squeeze 4.5
10/2006 - Adobe - Premiere Elements 3.0
9/2006 - Sony Vegas+DVD Production Suite 7
- Pinnacle - Studio 10.5, HD DVD Authoring Pack
8/2006 - Sony Vegas Movie Studio+DVD Platinum Edition 7
4/2006 - Ulead - VideoStudio 10
3/2006 - Adobe - Premiere Pro 2.0
1/2006 - Apple - iLife '06 - iMovie HD 6
- muvee - autoProducer 5
Updates -- 2005
9/2005 - Adobe - Premiere Elements 2.0
- Pinnacle - Studio 10
- Sony - Vegas Movie Studio+DVD
- Ulead - MediaStudio Pro 8
4/2005 - Apple - Final Cut Pro 5
- Sony - Vegas 6, Vegas+DVD Production Suite
- Sorenson - Squeeze 4.1 Compression Suite
3/2005 - Ulead - Video Studio 9
1/2005 - Apple - iLife '05 - iMovie HD, Final Cut Express HD
Updates -- 2004
9/2004 - Adobe - Premiere Elements
- Sony Vegas Movie Studio+DVD
8/2004 - Sorenson Squeeze 4 Compression Suite
5/2004 - Adobe - Premiere Pro 1.5
- Ulead VideoStudio 8
4/2004 - Apple - Final Cut Pro HD
- Canopus - ProCoder 2.0
- Roxio VideoWave 7 Professional
- Sony Vegas 5 +DVD Production Suite
1/2004 - Apple - iLife 04 - iMovie 4
- Apple - Final Cut Express 2
- Pinnacle - Studio 9
Updates -- 2003
11/2003 - Avid - Express DV
- Canopus - ProCoder Express
- CyberLink - PowerDirector 3
8/2003 - CyberLink - PowerProducer 2, PowerDirector
- InterVideo - WinDVD Creator 2
- Discreet - cleaner XL SP 1
7/2003 - Adobe - Premiere Pro
- Discreet - cleaner XL Service Pack 1
- Sony - Screenblast Movie Studio
6/2003 - Pinnacle - Edition 7
5/2003 - Sony Pictures Digital to acquire Sonic Foundry products
4/2003 - Apple - Final Cut Pro 4
- Canopus - ProCoder 1.5
3/2003 - Ulead - MediaStudio Pro 7
- Discreet - cleaner XL
2/2003 - Apple - Final Cut Express
- Apple - iMovie 3
- Sonic Foundry - Vegas Video 4
- Ulead - VideoStudio 7
1/2003 - muvee Technologies - AutoProducer
- Sony - Screenblast Movie Studio
- Sorenson - Squeeze 3 Compression Suite

---
Consumer video editing tools, bundled by Apple and Microsoft
---
Apple Inc. - iMovie '11
---

<!xx-- #BeginLibraryItem "../Library/z_apple_imovie_addl.lbi" -->
15 Hollywood-style movie trailer templates - unique titles, graphics, cinematic soundtrack
Genres include adventure, romantic comedy, epic drama
Add sophisticated visual effects like flash and hold
Over 12 one-click effects - slow motion, instant replay, jump cuts
New audio editing - sound effects, voiceover, music - adjust audio levels
People Finder - analyze and mark scenes with faces
New themes to create TV-like professional news programs or sports highlights

---

Apple iMovie '09, Jan. 2009




Movies that aren't a production

Apple iMovie '09, Released Jan. 2009
iLife '09 suite included with new Macs, $79 upgrade, Family Pack (5) $99

Find Apple iLife '09 on Amazon.com

Major upgrades to iPhoto, iMovie, GarageBand, plus iDVD updated iWeb
PR 1/09 - www.apple.com/pr/library/2009/01/06ilife.html

iMovie '09: Powerful, yet easy-to-use new features to create a movie quickly, or
add refinements and special effects if you have more time
- Drag and drop on top of clip for advanced editing options,
including replace, insert, audio only, picture-in-picture or green screen
- Precision Editor: skim magnified filmstrip to precisely fine tune edits
- Analyzes video, video stabilization for camera shake
- New titles, transitions, cinematic effects, speed changes, animated travel maps

iPhoto '09: Browse and search by when shot (Events), Places taken (GPS location, map)
Fines faces, matching people; Publish to Flickr or Facebook (names sync both ways)
Themed slideshow for Mac, iPhone, iPod; Travel book with customized maps

GarageBand '09: 18 Basic Lessons in HD video synched to animated instruments and notation.
Artist Lessons how to play hit songs with finger positions and techniques
including: John Fogerty, Norah Jones, Sarah McLachlan, Sting -- sold separately at the new
New guitar amp and stomp-box effects, Magic Play along with a virtual band that you create

iWeb '09 for authoring custom websites: Integrated FTP publishing
Widgets: iSight video and photos, countdown timer, YouTube video, RSS feeds

---

Apple iMovie '08, Aug. 2007




Apple iMovie '08, Released Aug. 2007
iLife '08 suite $79, included with new Macs

Make movies in minutes

Find Apple iLife '08 on Amazon.com

Introduces new way to quickly make movies and share online
Import video from latest AVCHD, HDV and DV camcorders, digital cameras
SD and HD, tape-based and tapeless camcorders,
including Flash-memory, hard disk drives, and DVD cams
Video library displays all clips, stored on internal or external drives
Automatically groups video by Events, based on day shot
Preview clips "skiming" through dynamic filmstrip, forward/back, any speed
Make movie by dragging video into a project
Add soundtrack from iTunes, voiceover recording
Real-time video and audio enhancements and effects, real-time transitions
cinematic titles with in-place editing
Enjoy movies on iPod, iPhone or Apple TV, share on YouTube

---

Apple iMovie HD 6, Jan. 2006

iMovie HD 6 released Jan. 2006

iLife '05 suite - Bundled, $79
iPhoto 6, iMovie HD 6, iDVD 6, GarageBand 3, iWeb

New Apple-designed motion themes
Real-time Core Video effects
Cinematic titling - text effects
New audio enhancement tools and sound effects
Open multiple projects at once, Move clips among projects

---

Apple iMovie HD, Jan. 2005

iMovie HD released Jan. 2005

iLife '05 suite - Bundled, $79
iPhoto 5, iMovie HD, iDVD 5, GarageBand 2, iTunes 4.7

Instant Widescreen
HDV camcorders, Magic iMovie, MPEG-4 cameras

iMovie 4 released Jan. 2004

Consumer digital video editing software
Bundled with Macintosh systems,
iLife '04 suite $49, upgrade $19

Live video import directly from an iSight camera
Improved rendering and editing performance
Edit directly in the Timeline
Select multiple clips and edit multiple clips simultaneously
Sync key audio events to video frames with alignment
Display audio clips as graphical waveforms; live audio scrubbing
Transfer completed projects to iDVD while preserving chapter markers

---

Apple iMovie 3, Jan. 2003

iMovie 3 released Jan. 2003

Bundled with Macintosh systems,
iLife 04 suite $49, upgrade $19

Pro-quality special effects, motion to stills
Audio editing tools and sound effects
Pro-quality special video effects
Chapter markers for DVD navigation

Previous: Apple iMovie 2 released July 2000
<!xx-- #EndLibraryItem -->
---
Microsoft Corp. - Windows Live Movie Maker
---

<!xx-- #BeginLibraryItem "../Library/z_microsoft_moviemaker_addl.lbi" -->
Windows Live Movie Maker for Windows 7 and Vista

- AutoMovie adds a title, credits, transitions, and effects
- Customize with easy-to-use editing tools. Trim, titles, transitions, music, effects
- Create slide shows your photos and music, photos glide and zoom in
- Publish on YouTube, burn to DVD (requires Windows DVD Maker)

---

Windows Movie Maker / HD for Windows Vista

Windows Movie Maker and Movie Maker HD for Windows Vista

- Easy and intuitive new interface
- Import from digital video or still camera, Import from tape and burn directly to DVD
- Integrated with Windows Photo Gallery: Review, rate, tag; sort and filter, Instant Search
- Generate AutoMovie, complete with titles, credits, and transitions; Add custom effects and transitions
- Edit native MPEG-2, HDV; Render with hardware GPU support
- Preview in full-screen and full HD resolution
- Publish in HD to Windows Media HD; Burn to disc with Windows DVD Maker
www.microsoft.com/windows/windows-vista/features/dvd-maker.aspx

---

Windows Movie Maker 2 Windows XP, Jan. 2003

- AutoMovie feature automatically creates a fully edited 3 to 5 min. home movie,
including transitions and effects, from raw video footage in a matter of minutes
- More than 130 new kinds of video effects, titles and transitions
- Built-in CD burning, send e-mail, save to the Web
share on PocketPC, export to DV camera
- Windows Media 9 compression, Store 15 hours of video in 10 GB
<!xx-- #EndLibraryItem -->
---
Simplified video editing tools with consumer-friendly interfaces. Import from mobile phones, DV & MPEG camcorders, and new HDV & AVCHD high-def camcorders. Simple storyboard to multi-track timeline editing, with transitions, effects, animated titles and graphics, soundtracks. Range from around $80 to $150.
---
Adobe Systems - Premiere Elements 10
---


Pan and Zoom tool - Create customized pan and zoom motions - Automatically finds faces
AutoTone & Vibrance tool - Enhance footage color - Automatically boosts tone and vibrance without affecting skin tones
Three-Way Color Corrector - Independently subtle adjustments to colors in specific areas - highlights, shadows, midtones
SmartSound on Mac to add a musical soundtracks that automatically match movie length
64-bit version for Microsoft Windows 7 for faster processing
Additional how-tos appear when needed to explore creative possibilities
Import and upload to YouTube—Upload video clips to YouTube directly from the Organizer
Burn HD quality movies on standard DVDs - AVCHD discs, with menus, to play on Blu-ray players
Export in high-quality AVCHD format
Share movies to Facebook (in addition to YouTube, Photoshop.com)
Online Albums with animated templates, using Adobe Flash
---

Adobe Systems - Premiere Elements 9

---

Now fully available for Mac OS


with Organizer - Smart organization, sharing, instant movies, access backup, tutorials, artwork

Import from compact HD camcorders, including Flip camcorders and DSLR still cameras
Enhanced - Optimized SD and HD editing, including AVCHD - From Premiere Pro
Cartoon Fx look - Animated look, customize styles - NewBlue Cartoonr Plus
Fix audio problems - Reduce background noise, volume and clarity - NewBlue Cleaner
Enhanced - InstantMovie - New themes
Share videos and photos on Facebook - directly from Organizer - Automatically optimizes
Share as interactive Web DVD experience - with scene index and chapter menus - directly from Organizer
Enhanced - Share Online Albums with animated templates (Flash)
Enhanced - Relevant how-tos appear when you need them for creative inspiration

---

Adobe Premiere Elements 8 (Win), Sept. 2009

- Elements Organizer for photos -- and video
- Auto-Analyzer, Full-screen view, Sync media on multiple computers
- SmartFix, Smart Trim, SmartMix; Motion tracking
- Clip art library; New visual effects, movie themes, transitions
- Online Albums; Support for Windows 7

---

Adobe Premiere Elements 7, Oct. 2008

Adobe Premiere Elements 7, due Oct. 2008
$99; $149 bundle with Photoshop Elements 7
Photoshop.com Basic membership free, Plus membership $49 per year

- Automatically create polished movies in minutes with InstantMovie
- Import and edit high-def AVCHD video
- Automatically analyze clips and apply Smart Tags
- Organize and preview clips with the new clip preview and tagging window
- Composite green-screen video overlays with Videomerge
- Add SmartSound soundtracks adjusted to movie and music tempo

Photoshop.com: Stay connected with your favorite people and memories
www.adobe.com/products/psprelements/membership
- Share interactive photo albums and videos online
- Access photos and movies from any web-enabled computer using online Organizer
- Automatic backup to online storage: Basic 2 GB, Plus 20 GB
- Regular inspiration updates (Plus): Download new creative project elements on regular basis
- Photoshop.com Mobile: Upload, view, and share photos on the go with
View online photos on mobile phone. Upload directly to online Organizer,
then automatically sync to desktop Organizer. Runs on Windows Mobile smartphones
http://mobile.photoshop.com

---

Adobe Premiere Elements 4, Sept. 2007

- Updated interface: clean, easy-to-use
- Tight integration with Photoshop Elements
- Shared Organizer, common database accessible from either application
- Sort video clips and still photos
- Visual tagging to categorize by people, places, events
- Apply event- or style-based movie themes to make a polished movie
- Audio Mixer like a mixing board in a recording studio
- Edit to beat - Automatically detects tempo of musical soundtrack
- Syncs scenes with the beats for slideshows and movies
- Sharing Center: upload and share on disc, Web, mobile devices, Apple iPhone
- Export to Web sites in Adobe Flash Player compatible video
- Movies in high definition, including Blu-ray Disc

---

Adobe Premiere Elements 3, Oct. 2006

Adobe Premiere Elements 3.0, released Oct. 2006
$99; $149 bundle with Photoshop Elements 5.0

Bring your home videos to life

- Enhanced import video, audio, and still images from virtually any device:
DV and DVD camcorders, HDV devices, web, digital still and mobile phone cameras,
unprotected DVDs, MPEG-4 video recorders, and Windows Media Center
- Enhanced share on portable devices: Apple video iPod, Sony PSP, MPEG-4 format
- Enhanced DV to DVD in two steps: Capture to Sceneline, Export to DVD
- Capture and edit native HDV
- Still-frame animation: Time-lapse movies, claymations
- Sceneline View: Assemble thumbnails in storyboard (plus Timeline)
- Add voice-over narration while previewing
- Edit directly in Monitor window: Trim and split clips, drag and drop effects and transitions, enter title text

---

Adobe Premiere Elements 2, Sept. 2005

Adobe Premiere Elements 2.0, released Sept. 2005
$99; $149 bundle with Photoshop Elements 4.0

- Automatic USB/FireWire DV video transfer -- USB Video Class/USB 2.0 high speed transfer
- Media Downloader for easy transfer of all media
- Import DVD and MPEG-4 video; Transfer to portable players
- Adaptable DVD templates with full motion menus
- Flexible, self-adjusting workspace; Context-sensitive Properties panel
- Powerful time-variable effects and transitions, thumbnail preview; Preview on TV
- Project Archiver - consolidate and move
- Professional quality graphic titles and rolling credits; Dolby sound

---

Adobe Premiere Elements, Sept. 2004

Premiere Elements, released Sept. 2004, $99

- Automatically transfer footage from your DV camcorder to the timeline, in one easy step
- Context-sensitive How-Tos can guide you through every step of the editing process
- Real-time edits and effects
- Feel free to experiment with Auto Save and multiple undos and redos
- Enhance your videos with hundreds of professional-quality special effects,
100 professionally designed templates for titles and rolling credits,
more than 150 transitions, and 30 Adobe fonts designed for video
- Burn custom DVDs with integrated DVD burning with menus and automatic scene indexes
- Edit, output, and view videos in traditional TV-style (4:3) or widescreen movie (16:9) format
<!xx-- #EndLibraryItem -->
---
Adobe - Visual Communicator 3
---
<!xx-- #BeginLibraryItem "../Library/z_serious_magic_vis_comm_addl.lbi" -->
Students or educators create television-quality news broadcasts
Create video presentation, set to music, enhance with an library of newscast-style graphics, effects, titles
Enhanced keyer to replace solid green or blue background with image, video or graphic background
Produce live video content streamed using Adobe Flash technology; Narrate digital photo collections
New set-up wizards, drag-and-drop animated templates, interactive "Coach"
Preview up to three cameras at once while recording or presenting live
Use mini-switcher feature to create interview-style videos in real time
Full-screen teleprompter allows the presenter to read scripts from a distance

Serious Magic / Adobe Visual Communicator 2, from $189 (Web, Pro, Studio)

Make personal and business videos in minutes with a webcam or camcorder,
featuring TV-style 3D effects, titles, graphics, music and Hollywood green screen effects

Find Adobe Visual Communicator on Amazon.com
- Choose an overall look for your video based on the included graphical templates
- Add your text on the on-screen teleprompter
- Enhance with effects, titles and your own graphics, music and sounds
- Press "Record" and the words of your script or outline will begin scrolling upwards,
allowing you to read from the screen as the video progresses
- Publish to save, send or publish your video, view with Windows Media Player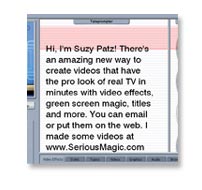 <!xx-- #EndLibraryItem -->
---
ArcSoft Inc. - ShowBiz
---
The easiest way to edit your home movies and create custom DVDs

ArcSoft ShowBiz DVD 2, $99
<!xx-- #BeginLibraryItem "../Library/z_arcsoft_showbiz_addl.lbi" -->
ArcSoft ShowBiz DVD, $99

Home or business movie making made simple

---
Avid - Studio
---

Powerful media management library for videos, photos, and audio
Built-in media editing tools - Edit assets in library or the timeline
Unlimited timeline tracks for advanced editing and compositing
Sophisticated movie editing tools, including markers and keyframes
Motion Titler for adding animated graphics and text
Audio tools for professional sound quality
5.1 surround sound import/export functionality
AVCHD burning; DVD and Blu-ray disc authoring and burning tools
5' x 6' green screen sheet for chroma-key effects
Class on Demand how-to training videos
Additional content including Red Giant plug-ins, Scorefitter
<!xx-- #EndLibraryItem -->
---
Corel - VideoStudio Pro X4
---

<!xx-- #BeginLibraryItem "../Library/z_ulead_videostudio_addl.lbi" -->
---

Corel VideoStudio Pro X4

Simple and powerful video editing
3-step interface - Load, organize and trim SD or HD
Start with professional templates, get creative with effects, music, titles, transitions
Accelerated for latest multi-core processors and GPUs
New Stop Motion Animation and Time-Lapse tools, export to 3D

New Features
- Stop Motion animation: Create animated movies with people, toys or objects
- Speed/Time-lapse effects: Accelerate footage to create unique time-lapse effects
- Advanced upscaling - Accelerated up-res from SD to near-HD
- Processor optimization: For 2nd generation Intel Core and AMD Fusion processors
- 3D export: Turn 2D video into a 3D movie, 3D glasses included (box product)

Enhanced Features
- Library and Timeline - Navigation panel to organize and find clips and effects;
Timeline with titles on any track, apply settings and filters to multiple clips
- Integrated HD authoring and burning: DVD and Blu-ray Disc
- Web sharing: Presets for YouTube, Vimeo, Facebook, Flickr, HD and SD
- Import/Export Movie Templates: Upload and share
- Smart Package: Smart Package bundles project and media files to work on another PC
- Corel Guide: Free in-product training videos; Downloadable updates

---

Corel VideoStudio Pro X3
Create

Video editing, media authoring, real-time effects, DVD and Blu-ray burning

New Express Edit mode, fine-tune with advanced editing tools
Start with new RevoStock professionally designed templates and content
Creative workflow with real-time previews, polished titles, smooth transitions,
new studio-quality effects (NewBlue FX filters, RotoSketch)
Faster editing and rendering with new GPU acceleration and multi-core Intel CPU support
Includes SmartSound Quicktracks for customizable, royalty-free audio tracks

Share

Enhanced suppord for editing and exporting HD formats
Share online enhanced for HD on YouTube, Facebook, Vimeo; download to iPod, PSP, more
Blu-ray disc authoring & burning with Hollywood-style DVD menus, DVD, AVCHD
New HD authoring to AVCHD DVD discs, new DVMV / BD-J advanced Blu-ray menus
---

Corel VideoStudio Pro X2

Corel VideoStudio Pro X2, released 9/08, $99, X2 $69 $59
Pro adds more tracks, MPEG-4, Dolby 5.1, WinDVD 8

Video editing & DVD authoring with high-definition support

Find Ulead VideoStudio Pro X2 on Amazon.com

Photo & Video Bundle $129.99 (was $149.99)
VideoStudio Pro X2 and Corel Paint Shop Pro Photo X2

- All-in-one video-editing software
Create high-quality HD and standard-definition movies, slide shows, DVDs
Edit video or photos quickly and easily using Movie Wizard
Take full control with hands-on creative tools
Paint, write or draw on your video with Painting Creator
Burn movies on DVD, high-definition AVCHD, and Blu-ray disc (Pro)
Upload directly to YouTube; Share on PSP, iPod or iPhone (Pro)
Watch movies on set-top players; or with included Corel WinDVD (Pro)

- New - Easier / More Intuitive Editing
Drag for automatic video transitions and audio crossfades
Resizable interface, Larger dialogs and controls, Clip trim dialog
- New - More Creative Options & Content
Painting Creator - Paint, draw, write freehand on videos while recording movements
Auto photo pan and zoom, NewBlue film effects
Creative content - New overlay objects, frames, Flash animations, HD menu templates
- New - More Sharing
Enhanced upload to YouTube - Streamlined, faster, WMV, H.264, FLV formats
Mobile device support - Import / output to Apple iPhone and iPod Touch
- New - Full HD Support and Performance
Capture & import from AVCHD, Blu-ray and JVC HD camcorders - BDMV
Burn AVCHD on standard DVD, Custom H.264 HD encoding
Enhanced smart proxy editing, Faster encoding & rendering, Enhanced Intel multi-core performance

---

Ulead VideoStudio 11

- Capture from tape camcorders (DV, HDV, AVCHD), with batch capture,
hard drive camcorders (MOD file format),
USB camcorder devices, mobile phones, set-top DVD recorders,
digital and analog TV tuners, VCRs and Webcams

- Multi-format timeline: Mix all supported formats on the timeline,
output to selected format
- Supports MPEG-2 HD, MPEG-4, H.264
- Edit HD in real time, on high-spec systems,
or with Smart Proxy video even on mid-range machine
- New Expanded Timeline for multiple overlay and audio tracks
- Overlay tracks for picture-in-picture and montage effects,
transparent mask or chroma key effects, New Preview window
- New Templates for animated Hollywood-style openings
- Video enhancement: Anti-Shake and Enhance Lighting filters
New Auto Color & Tone filters image & color correction, white balance conditions
New DeBlock filter for blocky compression artifacts
New DeSnow filter for analog video noise
- Multi-channel audio: Dolby Digital 5.1 surround sound
one-click 2-to-5.1 channel upsampling, surround mixer

- Built-in DVD authoring, direct DV-to-DVD Wizard
- New MPEG Optimizer to choose best compression settings when combining clips in multiple formats
- New Safely Pause rendering to free up PC resources
- New Export to portable devices: Microsoft Zune, Apple iPod, Sony PSP, YouTube, mobile phones

---

Ulead VideoStudio 10

Ulead VideoStudio 10, released April 2006; $69, Plus $99
- 3GPP Plug-in (Download) - 29.99
- Chroma-Key Cloth - blue - 14.99

- DVD Authoring: SmartScene menus, menu transitions, menu filters
Plus:
- Capture and edit HDV, Dolby Digital 5.1 surround sound
- Smart Proxy converts HD video to smaller proxy to edit in real-time on less-powerful computers
- MPEG-4 support for sharing on popular mobile devices: iPod, PSP
- WinDVD 7 playback software
- 9 video editing tracks, Ad Zapper, Overlay Distortion

---

Ulead VideoStudio 9

Ulead VideoStudio 9, due May 2005; $99, upgrade $49

- DV-to-DVD Wizard, enhanced MovieWizard
- Ripple editing, chroma keying, reverse playback, pan / zoom on video
- Audio filters, volume level, 2nd gen auto music maker
- Flash animation overlays, transition effects and video filters - Movie Screensaver
- Edit MPEG-4 from cameras / camcorders, 3GPP from mobile camera phones

Ulead VideoStudio 8, released May 2004; $99, upgrade $49

- Three-step MovieWizard, full-featured Video Editor with seven-step workflow
- Batch convert video, images, audio files format
- Widescreen video (16:9) support for a cinematic look
- Enhanced text tools, text animations and designs
- Enhanced overlay track with filters and effects
- Real-time Audio Mixer, Music Generator with SmartSound Technology
- Rubber band timeline

---

Ulead VideoStudio 7

Ulead VideoStudio 7 released February 2003; $99.95

Input: Batch capture
Windows Media Video, DivX, Sony MICROMV formats
DVD-VR, DVD video recorders
Edit: Real-time previews, MultiCut editing to extract video
Content-based scene detection, Audio transitions
Slow / fast playback speed control
Ulead COOL 3D 3.0 SE for 3D Graphics and Text
Share: CD or DVD, multiple videos per disc
Dual-layer DVD menus, Round-trip editing

Previous: Ulead VideoStudio 6 released January 2002; from $89
<!xx-- #EndLibraryItem -->
---
CyberLink Corp. - PowerDirector
---
<!xx-- #BeginLibraryItem "../Library/z_cyberlink_powerdirector_addl.lbi" -->
CyberLink PowerDirector 7, released May 2008, $89
Deluxe $69, Ultra $119 (AVCHD / Blu-ray)

- High-definition capture, edit, produce, with Dolby Digital 5.1 audio.
- Blu-ray Disc authoring, with menus (BDMV), direct to disc (BDAV)
- HD on DVD - AVCHD / Blu-ray content
- Advanced video editing - 6 overlay tracks, key frame controls and motion paths,
- 3D slideshows with soundtrack beat detection
- Enhanced Magic Tools.
- DirectorZone - web community to share customized templates
- Direct access to Flickr and Freesound - for photos and audio tracks

CyberLink PowerDirector 6, released March 2007, $89

- Support for high-definition video
- Support for widescreen 16:9 aspect ratio video content and menus
- Improved Magic editing Tools:
Magic Style - create finished movie from clips, alpha-blended and particle effects, PiP, style templates
Magic Fix - split-screen preview - video stabilize, photo focus, red eye
Magic Clean - improve audio, photos, video, White Balance, Backlight Correction
- All new DVD template designer for creating DVDs
- All new Slideshow Wizard for creating dynamic slideshows
- PiP designer for animating photos and objects on the screen with audio
- Video subtitle room permitting easy addition of subtitles to videos
- Improved transitions, titles and effects
- Web video publishing or storage through YouTube and MediaMax
- Write back to HDV Tape

CyberLink PowerDirector 5, starts at $89

CyberLink PowerDirector 4, starts at $69

PowerDirector 3 released Nov. 2003, starts at $79

- SVRT II, DV QuickScan, Fast Preview (up to 16x speed)
- InstantMPEG, Right-to-Disc Recording

PowerDirector Pro 2.55 - March 2003

- VOB file import, VRO (DVD-RAM) file import
- Dolby Digital / AC3 import, Sony MicroMV
- Output to QuickTime 6

PowerDirector Pro 2.5 - Aug. 2002
Standard $79 and Pro for DVD authoring $119

- Auto scene detection for DV video
- Support QuickTime, RealVideo and DivX
- Hot Key commands for all major video editing functions
- Direct entry of time codes for enhanced editing precision
- Re-sizable video player
- Transparent overlays for Picture-in-Picture

PowerDirector 2.0 - Feb. 2002
<!xx-- #EndLibraryItem -->
---
muvee Technologies - Reveal
---
muvee Reveal 8, $79
muvee Reveal, released June 2008, $79 / $59

Automatic video production, with DVD
<!xx-- #BeginLibraryItem "../Library/z_muvee_autoproducer_addl.lbi" -->
muvee Reveal, released June 2008, $79 / $59

- Successor to autoProducer, next generation of automatic video editing
- Style-based and music-driven Artistic Intelligence
- Choose from eight editing styles, add own music track, instantly create movie
- Preview immediately in full-screen HD, full-framerate, new 3D effects and transitions

muvee autoProducer 6, released Dec. 2006, $129

Automatic video production, with DVD

- more control: customizable styles, more production settings, captions and voiceovers
- direct import of video/pictures from a DV camcorder, camera or other devices
- muveeShare, collective saving and sharing of multiple muvees in various formats
for email, online sharing, high-definition output, direct burn to CD/DVD

muvee autoProducer 5, released Dec. 2005, $99

magicSpot - control pan/zoom motion that is applied to still pictures
'tweak muvee' - replace video segments or pictures just prior to saving, Auto or Manual
Save and burn multiple muvees to DVD from a single session, including original source files
Auto-rotation of photos
smartPick - select photo highlights from a series of similar-looking shots
MP4 and 3GPP (mobile phone) input video formats

muvee autoProducer 2, $59

muvee autoProducer DVD Edition, Nov. 2002, $49, $59
Save as DVD-ready and SVCD-ready MPEG-2 files

muvee autoProducer Cobalt released April 2002, $ 69
DV, AVI and MPEG-1 input video and MP3 and WAV music
Output MPEG-1 (VCD), ASF (video email), AVI (high-quality playback)
or DV (for recording back to the camcorder)

muvee autoProducer launched Oct. 2001
<!xx-- #EndLibraryItem -->
---
Avid - Pinnacle Studio HD 15
---

<!xx-- #BeginLibraryItem "../Library/z_pinnacle_studio_addl.lbi" -->
Top consumer video editing software, used by more than 12 million customers worldwide
Designed for entry-level video editing customers
HD video editing and sharing for everyone, Intuitive drag-and-drop interface
Easily create HD movies and share directly on YouTube, DVD, Web and more
Intuitive features, fast performance, massive content collection

New features:
- Archive/Restore: Back up all project data in single location, transfer projects between multiple PCs
- Intel Processor Optimization: Improved playback speed and performance
- Expanded format support: DivX Plus HD, YouTube HD, QuickTime HD, AVCHD Lite
- More included content - More than 1800 built-in effects, titles, transitions and other content

---

Pinnacle Studio 12

Pinnacle Studio 12
- Montage Themes: Multi-source compositing templates
- Editing Enhancements, User requests, Additional formats
- Enhanced Performance

Pinnacle Studio Plus 12
Advanced editing, effects and authoring
Complete HD workflow
- Native HDV and AVCHD editing, Blu-ray and HD DVD disc burning

Pinnacle Studio Ultimate 12
Combines Pinnacle Studio Plus with professional caliber tools
- Boris Graffiti - Title & graphic animation - 3D
- Magic Bullet Looks - Pro film styles
- proDAD VitaScene - Lighting, glows & more effects and transitions
Plus Green Sheet backdrop sheet for Chroma Key effects (approx. 5.95 x 5.58 ft)

Studio 12

---

Pinnacle Studio 11

Pinnacle Studio 11 - May 2007
Studio $49, Studio Plus (HD) $99, Studio Ultimate (Suite) $129

Pinnacle Studio version 11
- Simple video editing for entry level users; Vista compatible
- Scalable user interface integrates with widescreen monitors
- One-click Web publishing: Yahoo! Video for public viewing, Pinnacle StudioOnline.com for private sharing
- Scorefitter music generation tool create soundtrack to match the length and mood of a video

Pinnacle Studio Plus version 11
- Adds advanced editing, effects and authoring options.
- Complete HD workflow, native HDV and AVCHD editing, HD DVD disc burning

Pinnacle Studio Ultimate version 11
- Adds integrated professional audio and video tools
- BIAS Inc. SoundSoap - audio cleaning tools,
- ProDAD VitaScene filters and FX - dramatic lighting and 'film look' effects
- StageTools MovingPicture - precision Panning and Zooming
- Chroma Key green screen backdrop for easy-to-achieve professional results

Studio 11

---

Pinnacle Studio 10

Pinnacle Studio 10.5 - Consumer video editor with professional features and DVD-creation tools

HD DVD Authoring Pack, Nov. 2006, $49
Burn HD DVD format on standard DVD media discs, Play in new HD DVD players

Pinnacle Studio 10.5, updated Sept. 2006
Software from $69, bundled with capture hardware from $79
Studio $69
Studio Plus Titanium Edition $99
HD / HD Pan-and-Zoom, Keyframeable Real-time Effects with Preview
Professional TV Style Effects
Studio MediaSuite Titanium Edition, $99
Jasc Paint Shop Photo Album Standard Edition, Steinberg WaveLab Lite audio edit
CD/DVD burning & copying applications: InstantCopy, Disc, Write, Backup

- HD / HDV editing; support for all popular wide-screen displays
- Most recent digital capture devices, digital still cameras, hard drive / DVD camcorders
- Enhanced performance; stability that is similar to professional editing products
- Enhanced Pinnacle Studio Album navigation and browse tools
- DivX Pro 6 encoding for optimum performance and best resolution at the fastest rate
- More presets for export to MPEG-4; Apple iPod and Sony PSP
- RTFX Vol. 1 real-time effects plug-ins

Pinnacle Studio 10, released Sept. 2005
Studio $69.99, Studio Plus $99.99 w/ HD
Studio MediaSuite $129.99 w/ photo, audio and CD/DVD burning
Bundled with PCI/USB capture hardware from $79

Studio - for entry level storytellers
Built-in DVD authoring with motion menus and custom navigation
Video slideshows from digital photos with Pan and Zoom
SmartMovie II, develop home movies in minutes, choosing styles and genres
Pinnacle Media Manager organize videos, photos, audio and music files

Studio Plus - for advanced video enthusiasts
Full HD editing, HD slide shows from digital photos
Picture in picture (PIP), Chroma Key effects (green screen)
Keyframeable, real-time effects with preview

Studio 10

---

Pinnacle Studio 9

Pinnacle Studio 9 released Jan. 2004
Software $99, bundled with capture hardware $149+

SmartMovie automatic movie creator
Cinematic tools: Surround-sound, wide-screen
One-touch controls for improving old or damaged video
Audio & video enhance: auto color-correct; image stabilize; video clean, noise reduce

Pinnacle Studio 8 released Aug. 2002
Software $99, bundled with capture hardware $129

Adds integrated DVD/VCD/SVCD creation tools and real-time transcoding from DV to MPEG2

Create menus with looping background music, moving video backgrounds and moving video in the menu buttons
Create multiple linked and nested menus for complex interactivity

Studio 9
<!xx-- #EndLibraryItem -->
---
Roxio - VideoWave
---
<!xx-- #BeginLibraryItem "../Library/z_roxio_videowave_pe_addl.lbi" -->
Roxio VideoWave 8, released Oct. 2005, $49

- Automatically record from camcorder to DVD-in just two clicks
- Professional transitions, effects titles, navigation menus, and Dolby Digital Sound
- CineMagic - Automatically create video productions, with soundtracks and effects
- Create 16:9 video productions that can be viewed on a widescreen TV
- Capture from HDV camcorders, Edit High-Definition videos in real-time
- HD video formats DivXHD, MPEG-2 HD, Windows Media Center Edition HDTV Recordings

Roxio VideoWave 7 Professional, released April 2004, $79

- Timeline editing; 14 tracks, Video Overlay, Narration
- DVD Builder, full-featured authoring, edit on-disc
- Plug & Burn - DV to DVD, with Dolby Digital audio
- SmartScan preview scenes on DV
- Smart MPEG-2 rendering re-encodes only edited material
- Slide show StoryBoard; Motion Pictures - pan, zoom, motion path still photos
- Media Manager, unified Capture utility, Label Creator
- Dolby Digital audio, DivX

Roxio VideoWave 5 Power Edition released August 2002 (formerly MGI), $99

Complete video editing and DVD authoring solution

- Capture video from digital or analog sources, arrange scenes in the StoryLine, then insert transitions, titles and audio.
- Enhance your clips with stunning sepia, black and white, mosaic, or selenium filters.
- Develop professional picture-in-picture effects by overlaying video clips.
- Create interactive DVD menus, buttons and chapters and preview your projects before burning with full DVD simulation.
- Burn your projects to CD or DVD or share streaming video over the Web.
<!xx-- #EndLibraryItem -->
---
Sony - Vegas Movie Studio 11
---

<!xx-- #BeginLibraryItem "../Library/z_sony_vegas_studio_addl.lbi" -->Stereoscopic 3D import, editing, rendering: Import, view, share on YouTube 3D
Improved GPU-accelerated AVC rendering: ATI or NVIDIA graphics cards
Improved QuickTime AVC Decoding: For DSLR cameras
Added support for progressive 24p / 50p / 60p HD project formats
Titles and Text Plug-in: Text animations and effects
Audio Event Effects: More precise control
New Video Effects Plug-in SDK: For third-party developers
Workflow improvements
DVD Architect Studio 5.0: Burn to Blu-ray Disc
---

Sony - Vegas Movie Studio 10

---

Professional quality video editing & DVD authoring

Vegas Movie Studio HD Platinum 10 from $94
Production Suite from $124.95
Includes Sound Forge Audio Studio 10, NewBlueFX effects
(Vegas Movie Studio HD 9 from $44.95)
Includes DVD Architect Studio 5.0 software

Sony Home Studio applications
www.sonycreativesoftware.com/homestudio
- Imagination Studio Suite 2 - Digital video, music, and pictures - from $174.95
- Sound Forge Audio Studio 10 - Audio editing and production from $64.95
- ACID Music Studio 8 - Music creation and mixing from $64.95
- DVD Architect Studio 5.0 - DVD and Blu-ray - $39.95
- Photo Go - $19.95

Find Sony Vegas Movie Studio 10 and
Vegas Movie Studio 10 Suite on Amazon.com


---

Sony - Vegas Movie Studio 9


Vegas Movie Studio 9, released Aug. 2008
$69.95, Platinum Edition w/ HD editing $99.95, Pro Pack $129.95
w/ sound tools, more video effects and transitions
Includes DVD Architect Studio 4.5,
Cinescore Studio, w/ Home Studio Soundtrack Pack, Vol. 1
Video Editing & DVD Creation Made Easy

Find Sony Vegas Movie Studio 9 on Amazon.com

- New Features
Streamlined wizards: New Project and Make Movie
Cinescore Studio: Automated music soundtrack creation
Integrated upload to YouTube
Single-monitor full-screen preview
Support for MJPEG AVI video, FLAC and LPEC audio files

- Platinum Edition added features:
Improved native HDV support, playback performance
Enhanced AVCHD support and compatibility, AVC/MPEG-4 encoder
Burn menuless Blu-ray Disc from timeline

- Pro Pack added components:
Sound Forge Audio Studio 9 software: Audio editing and production
Pro Pack Cinescore Themes: Sampling of different genres and variations
1,001 Sound Effects: Over 25 categories, royalty-free
106 New Blue 3D Transitions, New Blue Cartoonr effects plug-in
Free 2 GB Sony Flash Drive (while supplies last)

---

Sony Vegas Movie Studio 8

Sony Vegas Movie Studio 8, released 2007
$79.95, Platinum Edition $119.95 w/ HD video, 5.1 audio, prof. effects
Includes DVD Architect Studio 4.5

Create movies and slideshows to share on DVD, online, and more

- New - Sony AVCHD import and edit, ATRAC support
Fullscreen preview to a secondary Windows display
Freehand envelope drawing on timeline, improved snapping
Insert MPEG-2 I-frames at markers
Gracenote MusicID CD album recognition
Improved native HDV, Multithreaded audio engine

- Vegas Movie Studio+DVD Platinum Edition 8 adds
5.1 surround and stereo AC-3 encoding
video - Red Eye Reduction (stills)
HDV, HDV capture
More video effects, transitions - NewBlue VideoFX MSP
Advanced color correction tools
Export directly to PSP, Render to Apple iPod format

---

Sony Vegas Movie Studio+DVD 7

Sony Vegas Movie Studio+DVD Platinum Edition 7
Entry-level tool for video-editing and DVD-creation

- Sony Vegas Movie Studio+DVD Platinum Edition 7, released Aug. 2006, $119
HD video editing and DVD creation, share on virtually every platform
HDV capture and editing
5.1 surround sound mixing and encoding
Export to PSP, iPod format
NewBlue VideoFX MSP, collection of 107 video effects and transitions
with DVD Architect Studio 4

- Sony DVD Architect Studio 4 standalone released Dec. 2006, $49

- Sony Vegas Movie Studio+DVD 6, released Sept. 2005
Vegas Movie Studio+DVD $89.95, Platinum Edition $129.95 w/ HD

- Vegas Movie Studio+DVD
Import and edit Sony DVD Handycam
DirectX audio plug-in, VST effects, ASIO driver, ACID loop properties
Enhanced video compositing (picture-in-picture, opacity envelopes, shadows)

- Vegas Movie Studio+DVD Platinum Edition
HDV capture and editing
3-wheel primary color correction
ACID XMC music creation software

---

Sony Vegas Movie Studio+DVD

Sony Vegas Movie Studio+DVD, released Sept. 2004; $99

- Add special effects, transitions, titles, and music to your home movies for Hollywood-style results
- Zoom, rotate, and pan across photos to create dynamic slideshows
- Make your own DVDs complete with multiple menus, buttons, and links
- Apply audio effects and envelopes at the track level
<!xx-- #EndLibraryItem -->