Manifest Technology Blog -- Site: | Articles | Galleries | Resources | DVI Tech | About | Site Map |
Articles: | PC Video | Web Media | DVD & CD | Portable Media | Digital Imaging | Wireless Media | Home Media | Tech & Society |
Wireless Media: | Wireless Media Articles | Mobile Communications Gallery | Wireless Resources |

---
Satellite Phones: (10/08)
Staying In Touch When Travelling In Remote Places
by Douglas Dixon
Satellite Carriers - Iridium, Thuraya, Inmarsat, Globalstar
Satellite Technology
Handsets
Service Plans
Data Service
Solar Power

See also Rescue Beacons - Personal Locator Beacons (PLBs) and SPOT Satellite Messenger

See my article in the Oct. 2008 issue of Condé Nast Traveler for summaries of these products
Trip Tech: Far and Away - www.concierge.com/cntraveler/articles/13155
---
Mobile phones are a modern miracle, as we have grown accustomed to connecting to a cell tower anywhere around the globe. But there still are remote regions in the world where travelers need to rely on satellite phones to keep in touch. So now you don't need to be out of touch even in very remote areas -- unless you want to.
(Jacki on an Iridium satellite phone)

For example, a friend's daughter was travelling in Asia this summer, so they got her a "world" mobile phone based on someone else's experience travelling to Europe. But this turned out to be a waste of money for remote places in northeast Thailand, and completely useless for travelling in Borneo, Sumatra, and Malaysia.
Yes, satellite phones still seem James Bond-ish, but they have become affordable and practical devices for all kinds of remote travel -- and standard equipment for more rugged pursuits like mountain climbing.
"We've been using satellite phones for years, and send them out with most of our groups," says Eric Simonson, Himalayan programs director and certified alpine guide for International Mountain Guides (IMG) in Ashford, Washington (www.mountainguides.com). IMG runs some 60 to 70 trips a year all around the world, with 179 climbers reaching the summit of Everest since 1991.
Satellite phones are no longer big and expensive. Ten years ago, the phones cost around $3000, and air time was about $7 a minute. Today, phones are available for around $500 to $1200, calling plans can fall under $1 a minute, and handsets weigh from 13 ounces down to only 4 1/2 ounces.
"The Inmarsat Mini-M phone really changed everything, back in the mid-1990's," says Simonson. "The first time I used one was in 1997 on Everest, for the first Everest cybercast. The Mini-M phones were about the size of a laptop computer. We had one on the Mallory and Irvine Research Expedition in 1999."

EMG Tibet Trek to Everest: View of Everest approaching Advanced Base Camp, elevation 21,000 feet.
These days, satellite phones work much like mobile phones -- The handsets have features including phone book, voice mail, call forwarding, hands-free, and even ring tones. Callers dial your number as an international call. You also can send and receive text messages and e-mail.
The key issue in choosing a satellite phone, besides cost and size, is the company behind the service -- how it has deployed its satellites and the resulting coverage area around the globe.
The four major satellite phone companies, as described by industry analyst Tim Farrar with TMF Associates (Telecom, Media and Finance Associates, www.tmfassociates.com):
Iridium
Iridium is the fastest growing handheld provider, with around 180,000 users, and is well-positioned as the only mobile satellite service that offers full coverage around the globe, pole to pole (www.iridium.com). It currently has some 250,000 total subscribers (including commercial installations), with a quarter of its business from U.S. and international government and military. Iridium therefore is the best choice if you travel widely and need service anywhere, especially in Alaska and at the ends of the continents near the poles.


Iridium Usage Map
week of 7/22/07 to 7/28/07
www.iridium.com/about/usagemap.php
Thuraya
Thuraya is a regional service based in the United Arab Emirates with some 230,000 subscribers in more than 110 countries in the Middle East, Africa and Europe, and has recently extended its service area to cover most of Asia and Australia (www.thuraya.com). It offers consumer-friendly (but less rugged) handsets that are especially small and light, some that also offer GSM service for calls roaming on cellular networks. It also offers an Internet access device the size of a notebook that supports DSL-like speeds of 144 kbps.

Thuraya Coverage Map
www.thuraya.com/content/thuraya-coverage.html
Inmarsat
Inmarsat has a strong position in broadband data services for maritime and aeronautical communications, and is now expanding into handheld phone service with some 10,000 subscribers in East Asia (www.inmarsat.com). It will be updating and replacing its handsets and extending its handheld coverage to other parts of the world by summer 2009.

Inmarsat Coverage Map
www.inmarsat.com/Services/Land/IsatPhone/Coverage.aspx
Globalstar
Globalstar has coverage over much of the globe, but its two-way service is currently degraded due to satellite problems, pending the launch of next-generation satellites by 2010 (www.globalstar.com). It has dropped to some 160,000 handheld phone subscribers. See the Globalstar Update on Satellite Coverage -- www.globalstar.com/en/news/update.php.

Globalstar Coverage Map
www.globalstarusa.com/en/coverage
IMG uses Iridium and Thuraya phones for its expeditions. "We like Iridium phones for all around the world use," says Simonson. "Some of the other phones don't work in the high latitudes and Alaska. We use the Thuraya phones in Africa and Asia. The new ones are the size of a cell phone, and reasonably priced. The batteries are a lot better, so power is less of an issue."
See also the Satellite Industry Association (SIA) State of the Satellite Industry Report, June 2008
www.sia.org/files/2008SSIR.pdf (PDF)
Iridium uses a constellation of 66 low-earth orbiting (LEO) satellites to provide full global coverage. You may remember the bankruptcy of its predecessor company in the late 1990's after its plans for a mass satellite phone service for business travelers was derailed by the rapid deployment of cell phones and adoption of international roaming agreements. The new Iridium now manages a high-end system that's actually overdesigned for its current use.
Globalstar also uses LEO satellites, but its service is currently degraded due to equipment problems.
Iridium LEO satellites illustration
Other regional carriers including Inmarsat and Thuraya offer service using a handful of satellites parked in geosynchronous orbit. Immarsat's 10 geostationary satellites provide coverage around the globe to around 85 per cent of the world's landmass, but not reaching to the edges of the continents towards the polar regions.
These satellites support smaller handsets and significantly higher bandwidth for data traffic from the fixed satellites, although the large satellites are in a more distant orbit and so introduce longer communications delays.
Since geostationary satellites are in a fixed position relative to the Earth, you can make calls as long as you have a clear sightline to the satellite (which will be lower in the sky as you travel further from the equator).
The Iridium LEO satellites are in motion, so its service is best used in an open area with views to the horizon. Otherwise, if you have a limited view of the sky, your call may be lost after 5 or 10 minutes as the satellite passes out of view and until the next one swings overhead. "If you're in a valley and the satellite comes whipping over overhead you only see it for a few minutes," says Simonson, "and then it cruises behind the ridge and you have to wait a little bit to pick up the next satellite."
My experience with the Iridium phone was very good. It successfully connected in travels along the Delaware River in Pennsylvania and New Jersey, under light foliage and even in the car near the window. And it worked fine from my front porch during a thunderstorm -- once I found the side that faced a satellite. Calls connected quickly (within a few seconds), the voice quality was fine, and the round-trip delay through the satellite was very short.
Satellite phones are available for around $600 to $1300 through authorized retailers such as Roadpost.com, SatPhoneStore.com, and Stratos, or you can pick up used handsets for less. For occasional trips, you also can rent phones for around $10 a day.
Eric Simonson also recommends Explorer Satellite Communications (ESCI) in Ft. Lauderdale, Florida, which offers information and pricing on the Inmarsat, Iridium, Globalstar and Thuraya services (www.explorersatellite.com).
The Iridium 9505A Portable Satellite Phone is the newest handset from Iridium -- more rugged and a bit chunky compared to today's cell phones, but not a heavy brick at 13 ounces, 6.2 x 2.4 x 2.3 inches (www.iridium.com/products/product.php?linx=0001).

It provides up to 3.2 hours of talk time and 30 hours of standby time from the battery.
The 9505A is smaller, lighter and more resistant to water, dust and shock than its predecessor. It has features familiar from cell phones: phone book, voice mail, call forwarding, hands-free, and even ring tones. The external antenna rotates out from the back and extends to 8 inches for better reception.

The new Thuraya handsets are small and light with GPS and color displays (www.thuraya.com/content/thuraya-smartphone.html).

The Thuraya SO-2510 for around $725 is 4.6 ounces, 4.6 x 2.1 x 0.75 inches, with up to 2.4 hours of talk time, and 40 hours of standby. The dual-mode Thuraya SG-2520 smart phone also can roam on GSM cellular networks, at $1195 and 6.0 ounces.

Once you have your phone, sign up a monthly or annual calling plan with bundles of minutes (as with cell phones) -- but shop around for current deals.
For example, Roadpost.com offers Iridium service starting at $34 per month and $1.39 a minute for outgoing calls (incoming calls and text messages are free). Or sign up for a 240 minute a month plan for $254, with additional minutes for $0.99.
Incoming calls are dialed as an international call (the Iridium prefix is +88) and so can be expensive for your callers. Iridium provides the option to receive calls as standard long distance though an Iridium number in North America, or even though your own dedicated +1 number.
As with cell phones, you can send short text messages and e-mail from a satellite phone phone, or receive text messages (via an Iridium website or through e-mail).
Beyond voice and messages, you can connect a satellite phone to your computer with a data kit. However, the bandwidth is very low -- around 9.6 Kbps for Iridium, too slow for sending high-res photos.
Laptop-sized data terminals like the Immarsat BGAN (Broadband Global Area Network) offer more broadband-like data rates up to 492 Kbps, while also providing simultaneous voice calls (www.inmarsat.com/Services/Land/BGAN).
BGAN terminals are available from several manufacturers.
The Wideye Sabre 1 is around $1400 for 384 Kbps service. It's a chunk at 10.2 x 7.6 x 2.2 inches and 3.6 pounds, with up to 1 hour transmit time, 3 hours receiving, and 36 hours of standby time.
The Thrane Explorer line starts at around $3100, with faster service up to 492 Kbps.

Compare BGAN terminals (PDF) - www.inmarsat.com/Downloads/English/BGAN/Collateral/BGAN_Terminal_Comparison_EN.pdf
BGAN Coverage Maps - www.inmarsat.com/Services/Land/BGAN/Coverage.aspx
Rentals are also available from dealers including SatPhoneStore.com, for around $115 a week, or $450 a month, with service for $1.75 a minute and $7.95 a megabyte.
Dedicated data terminals are best used when you can set up camp for a couple days; the antenna must be positioned to point at the satellite. Otherwise, a data kit with a satellite phone may be more convenient to use for quick Internet access.
With standard batteries, satellite phones can provide talk times of several hours, and standby times of around a day. So carry extra batteries when you're going remote, or use a solar panel.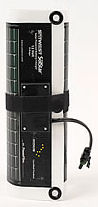 For example, the SolStar Rollable Solar Charger offered by Iridium for around $30 is only 1 pound, with charge times similar to an AC charger in optimal sunlight (www.solstarenergy.com/iridium_satellite_solar_charger.htm).
It's waterproof, UV resistant and weatherproof, and rolls to 3" diameter or lies flat.
"You can charge the phones with a little collapsible solar panel," says Simonson. "But the BGAN requires more power. At the base camp we have a bank of bigger, more powerful solar panels, 50 to 80 watts, to charge car batteries."

Bank of solar panels outside the IMG communications tent at Everest south side base camp