HOME DIGITAL MEDIA ARTICLES

Manifest Technology Blog -- Site: | Articles | Galleries | Resources | DVI Tech | About | Site Map |
Articles: | PC Video | Web Media | DVD & CD | Portable Media | Digital Imaging | Wireless Media | Home Media | Tech & Society |
Home Media: | Home Media Articles | Home Networked Media Gallery |

---
Triple Play: Installation, Market, Futures
(Digital Phone, Television, and Internet - 8/2007)
by Douglas Dixon and Josh Page
---
---
The good news as you join the digital future is that your home can go digital without needing to throw away your existing equipment or even wiring. While the new digital signal comes to your home on exotic technology like optical fiber, it is then split and sent around your house on the existing analog-style wiring -- plain old telephone wires and plan old coax video cable.
Digital telephone service is split out and connected up to your existing phone wiring, i.e., at the box in your cellar where the existing phone service enters your house.
One key difference with changing to digital phone service is that you lose the benefit that traditional telephone service is self-powered, so it continues to work if there is a power failure in your house (or even neighborhood). There is a small current in the phone wire, enough to ring the phone, make a call, and even light up the dial on the old Princess phone. Digital telephone service, however, is powered from your home electrical service, which is why both Comcast and Verizon include a battery backup unit with the service. Verizon specifies eight hours of talk time for its backup battery (that's talk time, not clock time after an outage).
Digital television service is split out and transmitted on standard coax cable. If you have an existing Comcast analog cable service, you can switch to digital by simply adding a set-top box at your TV -- the digital signal flows on the same cable as the original analog service.
In fact, both Comcast and Verizon digital TV services actually include the basic service with local stations as an analog feed on their digital services, so you can split the cable and run it to cable-ready TVs and watch the basic service without needing a set-top box (but without the digital channels, program guide, and on-demand services). Just be careful with using splitters and amplifiers to send a digital TV signal to multiple TVs around your house -- these can degrade the signal and cause problems with two-way on demand services.
Internet service also is split out and connected up to standard networking equipment using standard Ethernet (CAT5) cabling. Typically, Comcast and Verizon provide a network router to provide multiple wired or wireless connections within the home. The router also can serve as a hardware firewall to protect against some kinds of cyber intrusions.
Verizon FiOS - Customer Support
fioshelp.verizon.com
Comcast - Customer Support
https://www.comcast.com/Corporate/Customers/CustomerCentral.html
---
The installation process for adding additional services to an existing Comcast cable TV service should be straightforward. Going from analog to digital television service requires checking the signal quality on the existing cable and then adding a set-top box. Then adding Internet or digital phone service requires splitting the cable to hook up the new services. The Comcast interface box for digital phone service is the EMTA (Embedded Multimedia Terminal Adaptor), and the service includes a battery backup for continuing phone service during a power outage.
Comcast installation
However, while the new Verizon FiOS service offers Internet and associated services zipping at the speed of light, the actually installation process of the FiOS equipment can be rather pokey, running at the slower speeds required by human technicians running new cabling to your house, and any required wiring around your house. Verizon estimates the FiOS installation process will take between 4 to 6 hours, depending on the difficulty of running the required cabling to and around your house.
The first step, however, is to check whether FiOS service is available in your area -- if the fiber optic cables have been run through your town, and are enabled for service. Call Verizon, or check online. Installation is free if you sign up for one year of service, or else $69.99 if you select a monthly plan. This includes setting up the service on one computer; Verizon will set up additional computers during the initial installation for $75 each.
If FiOS service is available, you can set up a date to have the service installed. Before or on the day of your installation, a Verizon technician will run a fiber connection from the nearest utility pole to your residence.
On the FiOS installation day, the technician will come to your residence and install an Optical Network Terminal (ONT) box outside or inside your house, to bridge the digital optical cable into the phone, Internet, and/or TV services for your home. The ONT is a white box, a little bigger than the size of a shoe box, which is connected to the Verizon fiber service from the utility pole, and typically installed where existing cable/telephone wires enter the residence. The ONT then connects with wiring to the services in your home, and also to a power outlet.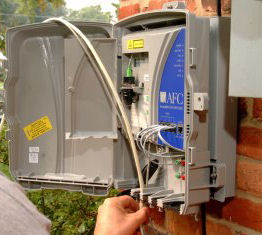 Verizon FiOS TV installation at ONT
Along with the ONT, Verizon also installs a battery backup unit inside your home that provides approximately eight hours of voice service (but not TV and Internet) in case of a power outage. This obviously must be installed near a power outlet.
---
For Comcast digital telephone service, the digital connection is typically split out from the Comcast cable at your television (i.e., a central point in your house that will optimize signal quality to other outlets). From there, the new phone service can run down a phone wire to the existing telephone junction box (i.e.., in the cellar), and be distributed around the rest of the house.
Comcast phone modem
For Verizon digital telephone service, the ONT box typically is located near where the existing phone wiring enters your house. The new digital service then connects to the existing phone wiring distributed around your home, replacing the previous connection to the telephone pole.
---
For digital television service, both the Comcast Digital and Verizon FiOS TV services are fed through the house using the same standard coax audio/video cable used for traditional analog cable TV. The signal is wired to a set-top box (STB) on each television to tune to the digital channels, display the program guide information, authorize access to the premium channels, and provide interactive video on demand services.
Comcast Digital Cable box / Verizon DVR
Interestingly, both the Comcast and Verizon digital television services also include the lower channels as standard analog signals, which can be tuned directly by a cable-ready TV (without requiring a separate set-top box). Verizon includes only the first 40-some channels with local broadcast stations (New York, Philadelphia, and New Jersey PBS), while Comcast includes the first 100 channels, also with basic cable channels like ESPN, AMC, TBS, Bravo, CNN, HGTV, and CSPAN.
The time required for installing new cable TV service depends on the layout of the house, and where the splitter box needs to be located. You should plan on a few hours, between running wires, installation of the inside/outside equipment, and programming the channels. More time may be needed for running wires to additional televisions or for more complex equipment, such as a set-top box with digital video recorder (DVR) features, or making HDTV connections to your television
---
For Internet service, Comcast can connect directly from the cable modem to your computer using Ethernet cable, or to a wireless router (provided by Comcast, or your own compatible router).
Comcast cable modem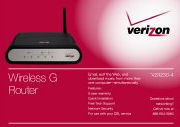 Verizon wireless router
Verizon will install a wireless network router near the Verizon FiOS ONT box. This will provide wireless access to notebook computers in and around your house. You also can use wired connections with standard Ethernet cables for desktop systems and for higher performance.
The technician will run data wiring and install wall jacks as required. As part of the installation, Comcast or Verizon will activate the Internet service, configure the provided router (if provided), and connect and configure one computer. You also can set up the wireless network to other computers in your home -- you may want to ask for help to set up a secure connection that is less easy for neighbors and passer-bys to share and snoop.
[ Top ]
---
---
As Comcast and Verizon fight for customers in New Jersey, we're just a small part of the larger war over who is going to own the wires to the home and extract the data toll.
Looking across all U.S. households, Leichtman Research Group reported that as of the end of the first quarter of 2007, over half of households subscribe to a broadband high-speed Internet service at home (www.leichtmanresearch.com).
Some 53 percent of U.S. households now have broadband, compared to 42 percent last year.
Another 21 percent of households have narrowband services.
Broadband services now account for about 72 percent of all home Internet subscriptions, compared to 60 percent last year.
Also as of the end of the first quarter of 2007, Leichtman reported that the top nineteen broadband providers in the U.S. (representing about 94% of the market) account for over 56 million subscribers.
The top cable companies now have over 30 million broadband subscribers, and about 10 million telephone subscribers, to complement their enhanced TV offerings. (Comcast was the largest cable broadband provider at 12 million subscribers, followed by Time Warner with 7 million and then Cox at 3.5 and Charter at 2.5 million).
The telephone companies have over 25 million broadband subscribers. (AT&T with 12.9 million subscribers and then Verizon with 7.4 million were the top two phone companies, followed by Qwest with 2.3 million).
---
Comcast Corporation reported revenues of $7.0 billion for the first quarter of 2007, an increase of 12 percent (www.comcast.com).
Comcast reports its subscriber base to include:
More than 24 million basic cable subscribers, with 13 million or 55% of video customers taking digital cable services.
More than 12 million high-speed Internet subscribers, or 26% penetration of available homes
More than 3.5 million voice customers, with digital voice service marketed to 35 million homes, 73% of Comcast's footprint.
Brian Roberts, Comcast Chairman & CEO, said he expects Comcast Digital Voice penetration to be 20 to 25 percent by the end of 2009.
---
Verizon Communications reported revenues of $23.3 billion for the second quarter of 2007, an increase of 6.3 percent (newscenter.verizon.com).

As of the end of the second quarter of 2007, Verizon reported subscriptions including:
Over half a million total FiOS TV customers, and nearly 1.3 million total video customers, including satellite TV in partnership with DIRECTV
Over a million FiOS Internet customers, part of 7.7 million total broadband connections (FiOS Internet and DSL).
Over 60 million retail customers for Verizon Wireless, the most customers of any wireless brand
And, to measure the deployment of Verizon's broadband fiber-to-the-premises (FTTP) network (for FiOS Internet and FiOS TV), as of the end of the second quarter of 2007 Verizon reported:
The Verizon broadband fiber network passed a total of nearly 7.6 million premises by, on track with the year-end target of 9 million.
FiOS Internet was available for sale to some 6 million premises in parts of 16 states, and targeted to about 18 million premises by the end of 2010. Penetration for the service is 19 percent across all markets, compared with 14 percent against a 4.8 million potential customer base at year-end 2006.
FiOS TV was offered in nearly 500 communities in 12 states. FiOS TV was available for sale to nearly 3.9 million premises by the end of the second quarter, up from 3.1 million at the end of the first quarter. Penetration for the service is 13 percent across all markets, compared with 9 percent penetration against a 2.4 million potential customer base at year-end 2006.
[ Top ]
---
---
"Broadband" service is typically defined as significantly faster than dial-up data rates, beyond Kbps to at least T1 rates (1.544 Mbps) or better.
Back in the old days, businesses were thrilled to have a T1 connection to the Internet for their internal Ethernet networks that ran at 10BaseT (10 Mbps). But now even home networks run at 100 Mbps, and newer equipment run at gigabit rates (1,000 Mbps or 1 Gbps), so DSL or cable rates in the single-digit Mbps are starting to seem horribly slow, especially for downloading large audio and video files.
In the battle of broadband data rates, the Comcast cable service with 6 and 8 Mbps download speeds trumped DSL at up to 3 Mbps, but is now surpassed by the Verizon FiOS fiber service at 20 Mbps and beyond.
In New Jersey, Comcast is now deploying 16 Mbps service, and the Comcast-developed PowerBoost technology provides a nice interim improvement, taking advantage of extra capacity in the service (when available) to double rates for file downloads and increase upload speeds (www.comcast.com/powerboost). Meanwhile Verizon is adding 50 Mbps to its FiOS service.
The next big step for cable-based Internet service is DOCSIS 3.0 (Data Over Cable Service Interface Specification) defined by the CableLabs consortium (www.cablelabs.com) -- which promises downstream data rates of 160 Mbps or higher and upstream data rates of 120 Mbps or higher. Comcast has been quoted as seeing this as a natural evolution of their existing cable-modem infrastructure, although it has not provided details of what data rates might be offered -- and when and where they might become available.
Meanwhile, Verizon sees FiOS as the future, a faster and more reliable service, which is why it is investing in running fiber all the way to the home. It already has the headroom to roll out 100 Mbps service in the near future. Then Verizon is beginning test deployments of technology based on the ITU GPON (Gigabit Passive Optical Network) standard, which promises to further quadruple Internet downstream speeds (www.itu.int).
[ Top ]
---
---
While the arrival of 10+ Mbps Internet service in New Jersey for around $40 a month is exciting, in the bigger picture the U.S. still significantly trails in broadband service compared to Asia and Europe.
According to broadband penetration rankings by the Organisation for Economic Cooperation and Development (OECD, www.oecd.org), the U.S. continues to slide further out of the top ten countries, although the exact numbers are disputed (see e.g., www.freepress.net/docs/shooting_the_messenger.pdf).
According to further data from the Information Technology and Innovation Foundation (ITIF, www.itif.org).
Broadband penetration has crossed 50 percent of U.S. households, compared to around 90 percent in Korea and 70 to 80 percent in countries including Switzerland, Denmark, and Iceland.
Average data rates are around 5 Mbps in the U.S. , compared to 60 Mbps in Japan, 45 in Korea, 15 to 20 in France, Sweden, Finland, and Denmark, and 6 to 9 in countries including Germany, Canada, and Portugal.
The monthly cost per Mbps is around $3.33 in the U.S. , compared to $1.64 in France, $0.63 in Sweden, $0.45 in Korea, and $0.27 in Japan.
[ Top ]
---
---
The battle for broadband digital services is focused on the last few yards -- which utility line is used to feed the bits into the home. But these days you can buy TV service from the phone company, phone service from the cable TV company, and possibly feed Internet service via one of many pipes, including the power line. Yes, you can buy Homeplug Powerline products to network through your home's electrical wires (www.homeplug.org), or transmit triple-play services though existing coax cable and phone lines (HomePNA, Home Phoneline Networking Association, www.homepna.org).
At the extreme, there's Google's April Fool's offering called TiSP (Toilet Internet Service Provider), a broadband service which would make use of a standard toilet and sewage lines to provide free Internet connectivity: "free, fast and sanitary online access" (www.google.com/tisp).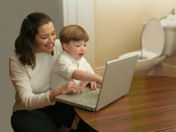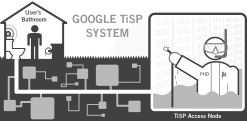 Google TISP
As a first step for liberating the TV, the CableLabs CableCARD standard promises to free TVs from the need for a separate and proprietary set-top box (www.opencable.com/primer/cablecard_primer.html). Instead, TVs, PCs, and general-purpose digital video recorders will support a slot for a CableCARD removable security module that authorizes access to a specific cable network. The new 2.0 specifications support two-way communications for ordering interactive services.
---
But why waste time with multiple wires to and around the house? Once you have an Internet connection, all the other services can be provided as data riding over the broadband connection.
Why have a dedicated phone wire to your house? Instead, you can keep your number, but make and receive from anywhere you can find an Internet connection:
- For phone service, PC software like Skype let you use you PC audio card and webcams to make free audio (and video) calls from computer to computer, also with plans for unlimited calls to any phone in the U.S. and Canada for less than $3 per month (www.skype.com).
- VOIP (Voice Over Internet Protocol) services like Vonage connect your phones to an adaptor to route your calls over the Internet (www.vonage.com). You keep your phone number, but it's no longer associated with a specific physical location.
- New phone handsets are combining traditional phone service, VOIP, and mobile connections in one device, to answer calls however they are made, and make calls over the most cost-effective service.
Similarly, why play for a dedicated TV cable chained to a set-top box, when you can access much more content over the Internet. View the shows on your big widescreen PC monitor, which may already have higher resolution than HDTV:
- The Vongo video on demand service brings the Starz premium cable service to your computer (www.vongo.com). Vongo offers more than 1,800 feature films, concerts, sports and more, as well as a live streaming Starz TV channel, for $9.99 a month. Pay-per-view titles are available for $3.99 per movie.
- Or for a more cable TV experience, the MobiTV service originally offered for wireless phones now is available for PCs as AT&T Broadband TV (att.mobitv.com). That's some 30 channels of live streaming TV on your PC for $19.99 per month, including, Fox News, Fox Sports, A&E Mobile, Bloomberg, and The Weather Channel.
- Or connect the Internet to your television with an IPTV (Internet Protocol Television) service that uses a set-top box to provide a cable-like experience, but with all the data flowing over your Internet connection, independent of any cable service. IPTV actually can refer to services like FiOS and digital cable if they use Internet protocols to transfer the TV service to your home over a dedicated network connection.
For example, Digeo develops IPTV boxes that are deployed through cable operators (www.digeo.com) and Microsoft TV develops IPTV software for cable networks and broadband providers (www.microsoft.com/tv). In addition, companies like VUDU also are developing set-top boxes that deliver movies over the Internet to your TV (www.vudulabs.com).
---
All Wireless: DBS, DTV, Wi-Fi, WiMAX, 3G
Even better, why have wires at all?
- Mobile phone service has swept the planet, not only providing service on the go, but also displacing landline service on broad areas like college dorms.
- Direct Broadcast Satellite (DBS) brings digital television service from the sky, including DIRECTV, with over 250 channels and 16 million subscribers (www.directv.com) and EchoStar DISH Network with more than 13 million customers (www.dishnetwork.com).
- You can still use rabbit-ear antennas to pick up old-fashioned analog broadcast TV and new digital TV (DTV) broadcasts. The FCC-mandated DTV transition is scheduled to be completed on February 17, 2009, after which the old analog broadcast will go dark (www.dtv.gov).
And Internet service can be wireless as well.
- We've come to expect that Wi-Fi service will be available from coffee houses to airports (Wi-Fi Alliance, www.wi-fi.org). Wi-Fi currently provides data rates of 11 Mbps (IEEE 802.11b) or 54 Mbps (802.11a,g). Find a hot spot at the Wi-Fi ZONE, currently listing over 150,000 Wi-Fi hotspots in 135 countries (http://wi-fi.jiwire.com).
- For service to entire neighborhoods, WiMAX (Worldwide Interoperability for Microwave Access) technology is designed to provide service over long distances (WiMAX Forum, www.wimaxforum.org).. Typical "last mile" deployments are expected to support a radius of three to ten kilometers, delivering up to 40 Mbps. Mobile network deployments are expected to provide up to 15 Mbps within up to three kilometers.
- Meanwhile, the mobile phone networks are being upgraded to offer faster third-generation (3G) data services, and now can provide Internet service -- not only to your mobile phone or PDA, but also to your PC though a wireless modem PC card. For example, Verizon Wireless has upgraded its BroadbandAccess EV-DO (Evolution-Data Optimized) service to Revision A (www.verizonwireless.com), with typical download speeds of 600 kbps to 1.4 mbps (burst up to 3.1 mbps) and typical upload speeds of 500 to 800 kbps (burst up to 1.8 mbps). Data service starts at $59.99 per month -- which is not so bad if you're often paying $10 a day for Internet service in hotels.
You actually could go totally untethered and location-less -- drop all your services except mobile Internet though your PC, use VOIP for your phone calls, and use an IPTV service to watch television and movies. However, you would end up swamping the cellular phone network, and mobile carrier would then need to explain to you its definition of "unlimited" data service.
[ Top ]
---
Comcast - Services and Prices
www.comcast.com/Shop/Buyflow/Default.ashx
Comcast - Customer Support
https://www.comcast.com/Corporate/Customers/CustomerCentral.html
Verizon - Services and Prices
www22.verizon.com/Residential
Verizon - FiOS Services
www.verizonfios.com
Verizon - FiOS Customer Support
fioshelp.verizon.com
[ Top ]