HOME DIGITAL MEDIA ARTICLES

Manifest Technology Blog -- Site: | Articles | Galleries | Resources | DVI Tech | About | Site Map |
Articles: | PC Video | Web Media | DVD & CD | Portable Media | Digital Imaging | Wireless Media | Home Media | Tech & Society |
Home Media: | Home Media Articles | Home Networked Media Gallery |

---
Behind the Scenes at SIRIUS Satellite Radio
(11/2005)
by Douglas Dixon
Terry Smith
New Team
Home and Satellites
Receiver Products
Data Services
Video
Princeton
References
Have you discovered satellite radio? For a monthly subscription of $12.95, you could be enjoying some 120 different channels of almost every flavor of programming -- news and sports and talk, plus commercial-free music in genres ranging across pop, rock, electronic, hip-hop/R&B, country, Latin, Christian, jazz/blues, standards, and classical. You can relax to your favorite music on a long trip; catch up with financial or world news, regional traffic and weather; brighten your day with dedicated channels for kids, family, women, or comedy; or catch the big game with extensive national coverage of the NFL, MLB, NBA, NHL, NASCAR, college football, and English soccer.
And satellite radio is not just for your car or truck or boat anymore. You can enjoy this programming at home or in the office, as with satellite TV. And now satellite radio is available in portable devices, so you can record your favorite artists and songs and channels, and then bring them along with you even when you are not driving.
The two licensed satellite radio broadcasters in the United States are SIRIUS Satellite Radio (www.siriusradio.com) and XM Satellite Radio (www.xmradio.com). XM is the current leader, with more than 5 million subscribers, and SIRIUS expects to have 3 million subscribers by the end of this year. SIRIUS has been making a big splash lately, lead by Mel Karmazin, who joined SIRIUS as CEO from Viacom / CBS in 2004. Since then, SIRIUS has developed channels with celebrity hosts including Howard Stern, Martha Stewart, and Sen. Bill Bradley, Tony Hawk, Lance Armstrong.
Satellite radio is a big business: SIRIUS has a market cap of $8 billion, and its guidance as of mid 2005, was to expect to generate $225 million of total revenue in 2005. But satellite radio is also still in start-up mode, as SIRIUS expects an adjusted loss from operations of approximately ($540) million, targeting that positive free cash flow could be reached as early as the fourth quarter of 2006.
While the SIRIUS programming is broadcast from its studios in Rockefeller Center in New York City, the engineering development for this start-up is performed here in Princeton. It's the responsibility of this team to make the breakthroughs that allow SIRIUS to best take advantage of its assigned satellite radio bandwidth, and to develop new and cool receivers that excite and amaze consumers.

SIRIUS studios at company headquarters in Rockefeller Center
"It's strange to think about a billion dollar company as a start-up," says Terry Smith, senior vice president of engineering at SIRIUS. But in early 2002, SIRIUS was already running behind XM. SIRIUS was not going to launch its service nationally until later that summer, while XM had already rolled out over the previous Fall, and had the additional advantage of being backed by leading car, radio and satellite TV companies, including General Motors, Honda, Clear Channel Communications, and DIRECTV.
"We had some technical hurdles that needed to be overcome", says Smith. "Our technology was just late." SIRIUS was reliant on outside companies for its technology and product development. "Our provider of chips basically was a sole source," says Smith, "and they had the intellectual property for themselves. So we were not in a very well leveraged position."
The solution for SIRIUS was to hire Smith away from Sarnoff Corp. (the former RCA Labs, www.sarnoff.com) to grow a new engineering facility in the Princeton area. The CEO of SIRIUS at that time was Joseph Clayton, who had joined the company in November 2001, and later moved up to be chairman of the board when Mel Karmazin became CEO in November 2004. Clayton had worked with Smith during Clayton's tenure in marketing vice president positions with RCA, General Electric and Thomson, at a time when Sarnoff was deeply involved in the development of digital television, HDTV, and DIRECTV.
"[Clayton] recognized that we needed to reduce the time-to-market, to get our products and our technology into the marketplace," says Smith. "He was concerned with making sure that the technology foundation was in place so that we were able to drive our own destiny, and not rely on third parties -- which led to me coming on board, and the creation of this lab here."
Smith had been with Sarnoff for 22 years, his entire career. He had joined right out of college in 1979, after graduating from Notre Dame with a BS in electrical engineering. While at Sarnoff, he continued his education at Drexel part-time, earning his masters in electrical engineering in 1983.
"I came up through the ranks there," he says, "getting into engineering management positions, and eventually taking over as director of consumer electronics for digital television. I had the great fortune of leading three different programs for advanced television services, and was head of the systems group that put together the Grand Alliance [for the U.S. HDTV standard]. And somewhere in between, we did DIRECTV as well."
Smith actually is second-generation RCA. His parents met at the RCA Camden facility, where his father was an engineering manager for broadcast cameras. His mother had an economics degree from Michigan, and was doing business analysis. "The opportunities for women with college degree at that time were pretty unique," says Smith.
Smith went into engineering, "though I actually thought I was going to be a lawyer," he says. "I went through high school on the debating team and did well in those types of things. So I thought that over time my silver tongue would get me somewhere." However, he did not want to go directly into prelaw. "I wanted to have something to fall back on," he says. "Fortunately, I thought that was one of the opportunities that RCA could provide me. I thought I could be there for a couple years, and then I could go to one of the divisions, or perhaps get into patent law if I thought that was interesting." Instead, he says, "over time, I enjoyed the engineering more and more. I like the idea of working on my own stuff, and helping other people work on their stuff."
Smith then joined SIRIUS in February 2002, to coordinate the engineering activities and create a capability to develop its own silicon chips.
"I came at a fortunate time for filling out team," he says. "At the time Hitachi had decided to close down their lab, and NEC had some cutbacks as well. So we were able to identify some really tremendous and talented people and get them to join the core team." Since then, he also has added some 15 ex-Sarnoff people from the heyday of its work in digital television.
Smith began at SIRIUS by focusing on integrated circuit development, "so that we can get low-cost, low-power, and small size with all the features."
"When we create our own silicon," he says, "we can choose the partners we want to work with, and make sure that we're getting the best results and the best pricing we possibly can."
Since then, the Lawrenceville site has grown to take on development of consumer radio receiver products as well. "With our product management team here we've gotten a lot more sophisticated with the kinds of things we want to do," says Smith. "We are building up more on the consumer electronics engineering side, utilizing a lot of manufacturing partners." SIRIUS also has an engineering group in the Detroit area focusing on automotive applications.
By now the Lawrenceville site has some 55 people, and is still growing. The staff includes approximately 35 engineers, plus product management and a new services group. "Having product management co-located here helps us out a lot," says Smith. "We can bounce ideas off them, and make sure that they are stretching us to really think about things. And we ground them when their dreams exceed our reach."
The services group is developing new applications including traffic data services, comprehensive aviation and marine weather data services, and vehicle telematics services combining wireless data with vehicle monitoring and location tracking.
This is the new challenge for Smith and SIRIUS: "We have this digital pipe into vehicles," he says. "We need to provide more effective means of using it. And if we add in a return channel, we can create even more possibilities."
Smith sees his charter to address three major issues:
- How to most efficiently utilize the available spectrum. "Basically, creating more bits in the spectrum that we have," he says, "or making more bits if we add additional spectrum."
- How to utilize those bits in the most efficient way. For example, with engineers dedicated to audio and video compression schemes.
- How to invent different ways to utilize the spectrum. "That becomes a nice blend of the technical and creative people here," he says, "and working with the programming folks."
To use the available spectrum more efficiently, Smith's team recently developed a "hierarchical modulation" technology that expands the total network capacity by approximately 25 percent. "It adds another layer of bits," says Smith, "without compromising the backwards compatibility of existing equipment." SIRIUS trumped this technological breakthrough in a corporate press release in June 2005, explicitly crediting "SIRIUS' Advanced Development Team based in Lawrenceville, NJ."
Perhaps the most interesting ongoing challenge is developing products and services that extend SIRIUS beyond its roots in music and talk radio for the vehicular market. Having started with in-dash car systems that now sell for from $200 to $1,900, SIRIUS and XM now offer home component systems (from $250 to $2,000) and "plug-and-play" portable systems (from $50) that you can bring with you from the car to the office and the home. For example, I've been trying out the Sportster Replay portable unit ($169), which can be removed from a docking unit in the car (it includes a FM transmitter to play though the car radio), and then be inserted in a compatible home dock or boombox unit to play at home or on the go.
Sportster Replay portable satellite radio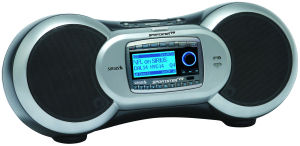 Sportster Boombox
"Once people get used to [satellite radio] in the vehicle," says Smith, "they want to see it in the home and the office." However, these systems were originally optimized for vehicular use. "The signal delivery from a satellite works great to provide a footprint across the United States," he says, "but makes it a lot tougher to penetrate into buildings and homes."
SIRIUS and XM also use terrestrial repeaters that fill in gaps of coverage in locations where buildings obstruct the satellite signal. SIRIUS has about 150 such repeaters, in some 120 major cities. There is one medium power repeater in Trenton, which has a strong signal for about five miles, and a reach of around 15 miles. However, "XM has about a thousand repeaters," says Smith, "because they have very low elevation angles in a lot of places, so they have to fill a lot more gaps than we do."
The difference is in the positioning of the satellites: XM uses two satellites, (called 'Rock' and 'Roll') in geostationary orbit, helpful for home use since your antenna can be positioned for a fixed location, as with satellite TV.
The SIRIUS system utilizes three geosynchronous (but not geostationary) satellites that orbit in a high elliptical pattern over North America, serving the continental United States (and to approximately 200 miles off the coasts). "The great advantage that gives us," says Smith, "is that we always have at least one satellite at very high elevation relative to where you are in the United States [60 to 90 degrees], so there are fewer structures that will block our signal."
However, the disadvantage for home reception is that the satellites are a moving target. But the motion of the high elevation satellite is over a small area, so the answer, says Smith, is to "point your antenna towards Minnesota -- you'll always see a satellite."
SIRIUS is working on better reception for the home, as well as offering alternate paths for home reception. For a fixed installation like a satellite TV, you can install a larger antenna. SIRIUS subscribers also can to listen to the channels as streaming audio over the Internet. (There's also a guest subscription available for trying out the service.) Or you can access the SIRIUS programming through agreements with other services: SIRIUS is available on satellite TV through the EchoStar DISH Network service, and on mobile phones on the Sprint network.
However, says Smith, "in the grand scheme of things, this is an entertainment company. We continue to develop and enhanced the technology to support those activities, though we make the money off content and not technology."
After all, SIRIUS and XM offer very similar services in many ways -- the same pricing ($12.95 for a monthly subscription, and $6.99 for additional receivers), and very similar numbers and kinds of channels, with some 120 channels of commercial-free music across all genres, plus some 55 more channels with news, sports, talk, and entertainment programming. SIRIUS has signed exclusive personalities like Howard Stern (plus Martha Stewart, of you prefer), and provides exclusive sports coverage for the NFL, NBA, and some 115 colleges (including the Ivy League) -- while XM carries Major League Baseball, NASCAR, and games from the ACC, Pac-10, and Big Ten. XM is available with General Motors and Honda cars, Sirius radios are offered in more than 20 brands, including Ford, Chrysler, Audi, Porsche, and Nissan.
Beyond the programming, the next frontier is in combining receiver products and services, taking advantage of digital transmission and storage to expand from just radio reception to digital media players and digital data services.
Since satellite radio is digital, it's easy to add a memory buffer so that, for example, the Sportster receiver can provide a 44-minute replay capability to catch a song or score that was recently broadcast. Even better, the digital signal includes not only the audio broadcast, but also additional "metadata" that describes the content of the broadcast, so these receivers can display information about the currently playing channel, song, and artist -- or the current score of the game.
But what about the times that you are walking or jogging or away from your car and want to listen to your favorite channels? The satellite signal cannot penetrate into the gym, or under heavy foliage, or even through your body. Instead, SIRIUS is introducing a combination MP3 and satellite player that can store up your favorite content when it is docked, and then play it back while you are on the go. The SIRIUS S50 satellite wearable radio, scheduled to be available in October for $359, includes 1 GB of shared memory to store up to up to 50 hours of SIRIUS content, in combination with downloaded MP3 and Windows Media WMA audio files. (The SIRIUS content is protected and locked to your subscription, and therefore cannot be extracted from the device.)
SIRIUS S50 satellite wearable radio with home dock
Smith argues that having access to SIRIUS programming provides a better user experience than needing to organize and download your own music library. "The discovery process for content that you like is just so much easier," he says. "We have the advantage of having people who are very talented in how to craft music thematically, with enough variety that you can all of a sudden trip onto things that are really great. You're able to follow the lead of professionals to find a stream of content, and identify the ones that you like."
"It's a great feature to have the metadata," says Smith. Not only for the users, but also for the on-air personalities, who do not have to be constantly telling you what music is being played. "It's interesting to see things from that perspective as well," he says. "They can actually spend their time on air telling you something you may not have known about that artists, or where that song came from. It frees them up to be a bit more creative about how they inject their personality, and the personality of the channel."
The use of metadata is even more extensive -- it includes information about what is being broadcast across all of the channels. The SIRIUS receivers therefore can provide alerts when when one of your favorite artists or songs is being played on any channel, or when your favorite team starts playing a game (or even any time the score changes). The receiver even can generate a custom screen that displays the scores from current games being played by your favorite teams.
The digital data stream also can be dedicated to other uses, such as the new traffic and weather data services. Smith's team is developing the initial traffic service to integrate with in-car mapping systems, to add overlay icons with alerts for traffic incidents and tie-ups.
"The challenge is how to provide the user experience," says Smith. "How can you give them all these choices, and all the things to navigate, and how do you do it particularly sensitive to the fact that they're driving along at 60 miles per hour."
So how could SIRIUS next imagine adding video to its service, with plans to offer two to three channels of children's programming in the second half of 2006?
To Smith, the issue was, "what can you do to enhance the user experience. In the U.S., it's the rear seat video experience -- trying to provide something that can entertain the younger kids in the rear seats, and do so with fresh enough content that you won't drive the parents bonkers with hearing the same Barney episode over and over again." Plus, he says, "our automotive partners feel it adds some additional cachet to the vehicle."
Of course, video does demand higher data rates than audio, although displaying children's shows on a small-screen monitor does not require the kind of quality as high-definition displays in the home. This need led to the team's engineering breakthrough in using the spectrum more efficiently.
In only a few years, SIRIUS has evolved from in-car radio to portable media players, and from audio broadcast to data services and now video. And Smith and the SIRIUS team still see more potential for this digital pipeline from the sky. Says Smith, "having people that came out of the digital video revolution provided us with insights into how we can go into the market, and efficiently send a lot of data services through this pipe."
"Given the wealth of talent that there is in this area," he says, "it was an easy sell to base this facility here. It's a little less expensive than New York, and relatively convenient for people to get back up to the headquarters there. There is great engineering talent to draw on, and that is important to us now because we are in growth mode to add additional people to tackle more and more initiatives here."
"I was been very fortunate throughout my life," he says, "to be in the right place, surrounded by great talent and smart people."
SIRIUS Satellite Radio
www.siriusradio.com
XM Satellite Radio
www.xmradio.com