HOME DIGITAL MEDIA ARTICLES

Manifest Technology Blog -- Site: | Articles | Galleries | Resources | DVI Tech | About | Site Map |
Articles: | PC Video | Web Media | DVD & CD | Portable Media | Digital Imaging | Wireless Media | Home Media | Tech & Society |
Home Media: | Home Media Articles | Home Networked Media Gallery |

---
SIRIUS Backseat TV: Technology to Product (4/2008)
by Douglas Dixon
Sirius Backseat TV
Engineering Project
2003: Early Demos
2004: System Architecture
2005: On the Satellites
2006: Push to Product
2007: Real Product
2008: Aftermarket Product
Ex-pats in Princeton
The Future
"Are we there yet?" -- The perennial cry from the back seat that strikes fear into the gut of parents on long road trips. I remember a long ride home from Cape Cod with our toddler daughter crying the entire time, except for a half hour time-out for lunch and play in a small park. As the kids grew older we were able to get some peace with a portable tape player, and then graduated to a pair of Nintendo Gameboy handheld games to keep both the girl and the boy entertained -- only to have a huge crisis when the screen broke before a trip and we had to rush to get it repaired.
These days, of course, you can equip each child with a MP3 / music player, handheld video player, or even a fancy game machine like the Sony PlayStation Portable that also plays movies. Even better, you can buy a car already equipped as a mobile theater, with iPod jacks, DVD player, and individual video screens for the back seat. But parents still bear the burden of planning and organizing the entertainment, and a trip still can be ruined if you leave a favorite DVD at home.
---
The folks at Sirius Satellite Radio's advanced development team in Lawrenceville, N.J. had a better idea -- add video to the existing Sirius radio service to deliver your kids' favorite cable TV experience directly to the car.
From an early concept demo in January 2002, the resulting product, Sirius Backseat TV, was announced at an event in Times Square in March 2007, hit the streets on selected new 2008 model Chrysler, Dodge, and Jeep vehicles in October 2007, and has just shipped as an retail aftermarket product in March 2008 to add both the Sirius radio and TV service to your car (www.sirius.com/backseattv).
Sirius Backseat TV features three channels of live TV, available 24/7, from the top family networks -- Nickelodeon, Disney Channel, and Cartoon Network. These are basically mobile versions of the same cable channels that your kids already love.
The Nickelodeon service includes popular shows such as SpongeBob SquarePants, Dora the Explorer, and The Adventures of Jimmy Neutron, Boy Genius. The Disney Channel includes Hannah Montana, Cory in the House, Mickey Mouse Clubhouse, and My Friends Tigger & Pooh. And Cartoon Network Mobile includes short-form pieces ranging from two to eight minutes, including The Powerpuff Girls and Dexter's Laboratory. -- Although in the evening when the Cartoon Network changes to its grownup Adult Swim programming, the mobile version stays with programming for kids.
The Sirius Backseat TV service is priced at $6.99 per month, as an add-on to the Sirius Satellite Radio subscription ($12.95 per month), for a total of $19.94 per month. Adding the service to a new Chrysler vehicle costs $470 with Sirius Satellite Radio and the Rear Seat Entertainment System, plus the first year of service. The new aftermarket product, the SiriusConnect Audio/Video Tuner, model SCV1, is $299. It provides both the Sirius radio and TV service, using an in-vehicle satellite video receiver and two small roof-mounted antennas, and is compatible with many factory-installed or retail aftermarket in-car video monitors.
---
The Sirius engineering team performed some amazing magic with the Backseat TV product -- They squeezed the video channels into the existing satellite radio bandwidth allocated to Sirius without affecting the radio service. The kids in the back seat can watch the live TV, while the parents in the front seat can enjoy the full Sirius radio experience -- 69 channels of commercial-free music, plus 65 channels of news, talk, entertainment, traffic, weather and data, and sports -- including the NFL, NBA, and NASCAR.
The product was developed by a core team of some 20 people, starting with the initial concept demos and prototypes, and then developing the end-to-end process of inserting video broadcasting into the satellite radio transmission and then pulling a reliable signal out in a car zipping along a highway. Their work included both designing the new video transmission protocol and developing the in-car product, including the new communications chips and associated decoder software.
The engineering expertise at Sirius includes a large ex-pat contingent from local companies including Sarnoff and Hitachi -- with more then 20 people from Sarnoff Corporation alone, lead by Terry Smith, senior vice president of engineering, who was recruited to Sirius from Sarnoff in 2002 to grow the engineering effort in the Princeton area.
"We were able to introduce this service in a backwards compatible manner, akin to the introduction of color TV to black and white," says Smith. "We were able to increase the throughput through our limited bandwidth by nearly 25 percent without impacting the millions of receivers already in the field. I'm very proud of our team that developed this breakthrough technology."
---
Sirius originally demonstrated the Backseat TV idea at the Consumer Electronics Show in January 2003. CES is a huge show with over 100,000 attendees, where all elements of the consumer electronics industry kick off the year by promoting their new products (www.cesweb.org). Sirius presented a basic concept demonstration, actually run on a PC, to gauge interest from possible partners. It showed that Sirius could broadcast a digital video signal over its satellite network, which was a rather dramatic statement considering that Sirius had only some 68,000 subscribers for its radio service by the end of the first quarter of 2003.
But to take the concept further, Sirius needed to show that the Backseat TV concept could be implemented as a real product, and work in a moving vehicle. "We needed to do the demo on something that could realistically be manufactured and sold into an automotive environment, so using PCs was out of the question," says Charles (Chris) Christine, also formerly with Sarnoff, who joined Sirius in September 2003 to help develop a product prototype to demonstrate at the next CES show. "We needed a system that could put a channel of video through our network," he says, "and play it real time on an embedded platform that could be installed in a car and run off its electrical system."
It was something of a leap at that time to buy in to the satellite radio concept. Sirius had only 260,000 subscribers by the end of 2003, and was still losing money in its battle with XM Radio.
"Satellite radio was very small back in 2003," says Christine, "and there were a lot of naysayers who doubted that a significant portion of the population would want to pay for something that they generally got already for free. Now when I get in a car that doesn't have it, I'm really annoyed with the commercials and the lack of choice. I can get a free subscription as an employee, but now I'm paying for four more subscriptions that I've gotten for friends and family."
Sirius arrived at CES in January 2004 with a product prototype that fit in a small box, installed in a Ford Explorer. "When we got there, we were looking for routes that we could drive where the signal would drop out," says Christine, "to show people that it was not a canned demo. But Vegas has a pretty good signal; It's flat and we have three repeaters there, so we were getting video even inside some of the casino parking garages." (Sirius has some 140 terrestrial repeaters around the country -- ground antennas to augment the satellite coverage -- in some 120 major cities, including one in Trenton.)
"We were set up in the parking lot across from the convention center so people could get in the car and go for drive," says Christine. "The car was booked solid." But Sirius was only demonstrating one channel of video, and right next door a company was demonstrating satellite TV reception in a car, with hundreds of channels. "They cut a hole in the top of the car to install satellite dish like in your home," says Christine. "On the last day of the show, I went over to take a look. The guy rocked the SUV with his hand and the signal went out. Satellite TV has only one satellite and they have to track it; Their antennas are fixed and need to have gimbals and be electronically steered."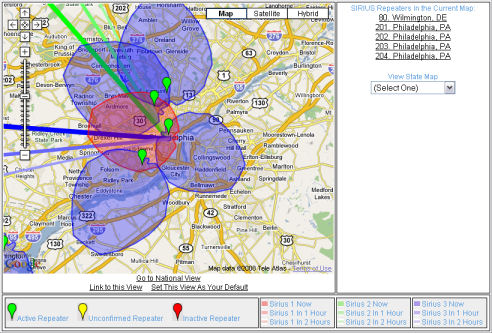 Dog Star Radio -- Sirius Satellites and Terrestrial Repeaters
www.dogstarradio.com/sirius_map.php
In comparison, Sirius has three geosynchronous (but not geostationary) satellites transmitting from orbits in a high elliptical pattern over North America, and uses omnidirectional signals that can be received from all directions. The bottom line, says Christine: "While we were driving around Vegas looking for places where the signal did drop out, our competition was trying to do 90 degree turns in the convention center parking lot without losing the video."
---
The CES demo was a great success, but now the company needed to find an automotive manufacturer to partner in premiering the product, and the engineering team needed to turn the demo into a real manufacturable product -- including inventing the magic to squeeze the video signal into the satellite radio broadcast.
The project continued quietly through the spring and summer of 2004 -- developing the overall system architecture and designing the video broadcast system. Meanwhile Sirius continued growing, eventually beating its year-end target for 2004 with 1.1 million subscribers. Mel Karmazin also joined as CEO, and started signing celebrity hosts like Howard Stern
But the big news for the Backseat TV product came in December 2004, when Chrysler signed up as the exclusive OEM partner to debut the Backseat TV service, targeting the 2007 model year Town and Country minivan -- which required that the product be in production by November 2006 -- a date that eventually slipped one year.

Sirius Backseat TV SCV1 aftermarket product
The team then had four key tasks: re-design the Sirius broadcast system to accommodate the new video signal, design a new chip to receive the signal, design the receiver hardware to use the new chip to display the new signal, and write the software for the new receiver to decode the new signal -- and then, of course, package the result as a shipping product.
"Our chips have to be auto qualified," says Christine, "not quite as stringent as military qualified, but more than consumer electronics stuff." The hardware needs to handle the temperature extremes of the automotive environment, as well as the mechanical vibrations and electrical idiosyncrasies.
The team evaluated a variety of host media processor chips for the design, and Christine had the software running on several of them so the team could make cost / performance trade-offs. "That made comparing the different video formats easier," he says, "because we could compare them on the same hardware."
Sirius selected the MPEG-4 H.264 video and AAC audio formats for Backseat TV, based on quality tests, and the industry support for these formats as standards used in high-definition Blu-ray DVD, DirecTV, and Internet video (including Apple QuickTime and now Adobe Flash). While Sirius does not provide specifics, Christine says the bandwidth required to transmit the video is "lower than what third parties expected -- a lot less than you're used to," for the apparent visual quality, albeit on relatively small in-car screens.
---
The next major step for the team was proving the new transmission scheme for the video service. Satellite companies only have a limited slot of bandwidth allocated for their use, and always have demand to add more channels for their customers. The technology the Sirius team developed, called "overlay modulation" (or "hierarchical modulation"), took the existing signal and added small perturbations with the new data. To existing audio receivers, these disturbances are within the error tolerances of the old broadcast signal, and therefore are filtered out and ignored as noise.
But the new receivers, taking advantage of Moore's Law and advances in processor power, can extract the hidden new signal as a video data stream (http://en.wikipedia.org/wiki/Moore%27s_Law).
The Sirius engineering team demoed the overlay modulation scheme to their partners in April 2005, using an internal cable feed in the lab to show that the technology worked. "That was the first all-nighter we pulled on the project to get everything ready for the next day," says Christine. "It would not be the last."
The demonstrations were a success, and Sirius touted the breakthrough in a June press release explicitly crediting the "Advanced Development Team based in Lawrenceville, N.J." with developing a "new, advanced proprietary technology that will initially increase the company's total network capacity by approximately 25 percent within its existing digital transmission system." The technology promised the ability to offer additional audio channels, as well as advanced services such as data and video.

SIRIUS studios at company headquarters in Rockefeller Center
The next step, however, was huge -- testing the signal live over the Sirius satellite system in the summer of 2005. Rich Branco, a chip designer also formerly with Sarnoff, remembers the experience of switching live for the first time at the Sirius uplink facility in Vernon, N.J.
"It's crowded there, and there was no room to set up," he says. "We literally had equipment duct-taped to a card table. They would only let us on late at night, so we went on the air at 3 a.m. People were standing by across the country, in Detroit, in Los Angeles, to check that we didn't break the signal." They flipped the switch and it all worked -- the video went on the air and the radio programming still came though fine. After the first test, they were able to leave the video signal on longer for testing.
"We tested in the lab and everyone said it shouldn't interfere," says Christine. "But nothing is certain." With the signal on the air, the team could start live drive testing with the prototype hardware to test the video reception and measure the effect on the audio signal. The team developed a standard test route for a half-hour drive around Princeton, along Route 206 and Cherry Valley Road and Great Road, with a variety of hills and buildings and foliage for testing both the satellite reception and the ground-based repeaters.
The final product actually uses two external antennas, mounted at the front and the back of the vehicle. "You actually combine the signals to get better reception," says Carl Scarpa, formerly with Hitachi, and principal designer of the overlay modulation scheme and leader of the hardware development for the new chip. "You don't need both if you're driving on the highway, but in the woods you can improve the reception. We actually combine across six different signals -- two antennas, each receiving up to two satellites plus a terrestrial repeater. It's actually a quite dramatic 6 dB improvement: the two antennas work equal to or better than the existing audio system. That's pretty impressive because we're using 1/20th of the power level."
By the end of 2005, Sirius passed 3.3 million subscribers, but the engineering team was distracted by other product development efforts, including the Stiletto line of portable radios for subscribers on the go, and radios that can record favorite programs and music to replay later. As a result, progress slowed on the Backseat TV product.
---
By spring 2006, however, the product was on the final push to market.
"This was a massive effort," says Terry Smith. "It touched every part of our service delivery except the satellites. We essentially redesigned our ground infrastructure, terrestrial repeater network, as well as our receiver chipsets in order to create the additional capacity within our licensed spectrum."
Working with Delphi, its manufacturing partner (www.delphi.com), Sirius chose the NXP Nexperia processor (formerly Philips), which was powerful, used very low power, and was available for automotive use (www.nxp.com/products/nexperia/home). Plus it offered an upside for future additional functions, says Christine: "We could decode our audio streams, we could add hard drives [for recording], we could support multiple displays, and we could do the user interface."
Prototype and pre-production chips arrived over the summer, as the firmware team led by Bob Shideleff, also from Sarnoff, implemented the programming that runs on the chips to process the satellite signal, and Chris Christine's team developed the software to decode and display the video.
"We have a software library that we port from chip to chip," says Shideleff. "We add features with each chip and new hardware. We continually update the receivers with new features and with over the air updates, making the radio more useful with a better program guide, making the audio quality better, and with more information and data services. There are new features just getting deployed now."
In October 2006, Sirius delivered the production prototype to Delphi. This was a minimally functional unit, used to set up the manufacturing process and test the production line. And in December 2006 the team delivered a full, minimally functional, pre-production unit.
---
Sirius closed 2006 on a roll, with some 6.6 million subscribers, and achieving its first cash positive quarter.
But things quickly got more complicated with the news of the intended merger of Sirius with XM, announced in mid-February 2007.
The companies have been on hold since then waiting for government review. The Justice Department finally issued its approval in March 2008, but the merger still must be approved by the FCC.
The big day for the Backseat TV team, however, came on March 29, 2007, when Sirius publicly announced the launch of the product, with Chrysler vehicles parked in the middle of Times Square, and complete with SpongeBob SquarePants in person.
The team delivered feature complete hardware and software to Chrysler in April 2007, and the final production software in July. But there was no resting, because Sirius announced the follow-up aftermarket Backseat TV retail product in August, for shipment in early 2008.

Sirius Backseat TV in Chrysler vehicles -- www.sirius.com/chrysler/backseattv
The Chrysler in-vehicle product hit the showrooms on schedule, in October. "We were able to introduce this service into Chrysler's newest minivan in record time," says Terry Smith. "The automotive industry has very exacting standards, and our new technology needed to pass numerous quality gates in order to be integrated into the vehicles."
"It's unheard of to get a product into an automobile this quickly, from concept to product in less than three years," says Carl Scarpa. "It's usually five to seven years. Chrysler really wanted this, and was willing to work with us. It was a big feature in the totally redesigned Town & Country."
While Sirius will not divulge sales figures, Christine reports the feedback is good: Chrysler is doing better than anticipated and doubled the number of orders for 2008.
Meanwhile, Sirius ended 2007 with over 8.3 million subscribers, and achieved positive free cash flow for the second half of the year.
---
With the in-vehicle product for Chrysler complete, the Backseat TV team moved on to the aftermarket retail product, aiming to get it on the market for Father's Day -- which, along with Christmas, are the two big days for getting consumer electronics stuff for Dad.
Sirius returned to CES in January 2008, and the new SiriusConnect BackSeat TV aftermarket product was judged the Best of Innovations winner for the CES Design and Engineering Awards in its category. The company's Stiletto 2 portable satellite radio and Sportster 5 dock & play radio also were honorees in their categories (www.cesweb.org/attendees/awards/innovations).
The retail product was more complex, says Gary Greene, another ex-Sarnoff engineer who led the product effort. "The in-vehicle Delphi product is video only, but the aftermarket product does audio and video, assuming that you don't have the Sirius radio service." The aftermarket product also has to integrate with an existing rear entertainment system. "You can hook it up to a headrest monitor or a flip-down monitor," Greene says. "These have auxiliary inputs to hook up videogames or iPods."
Sirius Backseat TV SCV1 aftermarket product
The product includes the small electronics box, which can be mounted under the seat or hidden in the rear console area, and a main display that can be mounted on the dashboard. The parents in the front seat can use the display to control the Sirius radio service, and also control the TV feed to the rear seat for young children. Plus, there's a "kid-friendly remote" for use in the rear seat -- "This is intentionally designed to be big, and kid friendly, and hard to lose," says Greene.
---
The complex engineering project that put SpongeBob and friends live in backseats for pint size consumers came about through the efforts of scientists that Sirius harvested from Princeton-area electronics powerhouses. The company has a thriving colony of ex-pats from local engineering companies, including Hitachi, Lucent, and especially Sarnoff -- with some 20 to 30 people from Sarnoff Corporation (www.sarnoff.com).
The migration began in February 2002 when Terry Smith was recruited as senior vice president of engineering to grow the Princeton facility by the then-CEO of Sirius, Joseph Clayton. Smith had worked with Clayton at RCA, General Electric, and Thomson, back when Sarnoff was deeply involved in the development of digital television, HDTV, and DirecTV.
Smith soon brought in other colleagues from Sarnoff, and more have continued to arrive ever since, from one personal connection to another. For example, Gary Greene had worked for Smith at Sarnoff. "I invited Terry out to lunch to update him as a reference for another job I applying for," he says. "But he told me he also had openings, and here I am."
After the Backseat TV product was in the showrooms, Christine went to a Chrysler dealer on Route 206, to see it displayed. "They were very positive about it as they showed it to us," he says. "It was the first time I ever saw somebody actually selling something that I worked on; I was so excited."
Christine also had worked with Bob Shideleff at Sarnoff on a project developing a reference design for a set-top box, but the final product never made it into production. At Sirius, Christine says, "You can go out and buy the product you worked on. You can see the blue glow on the dashboard in other cars -- You don't get angry when somebody cuts you off on the highway."
"It's like a family here," adds Larry Ward, another former Sarnoff engineer who worked on the video software. "We had a great group at Sarnoff doing good stuff, but six months later half of them were gone. It's kind of a vindication of the quality of people at Sarnoff, but working in a different environment."
Sirius also worked with the Princeton Server Group (PSG) in Princeton -- another ex-Sarnoff connection (since acquired by TelVue Corp. in March 2007, www.princetonservergroup.com).
PSG designed the multiplexer software for the Sirius broadcast system to combine the audio and video channels into the final transmission through the satellite. "They did a really good job," says Christine, "We didn't have enough people to implement it, or to ride herd on them. When you outsource something you really should spec it tight, but they would come back and tell us when it didn't make sense. We still use that multiplexer, and we still work with them."
Christine was at Sarnoff from 1997 to 2000, and then spent six years at ACTV in Branchburg, N.J. working on set-top box applications, before joining Sirius in 2006. "The nice thing about Sirius is that we are vertically integrated," he says. "When we want to do something, and the decision was made, then it got done. The first demo that we did for CES was amazingly fast. I had just come from a startup where everything was a slog, and then suddenly here we had a month to put a demo together, and everything fell into place. It was beautiful."
Christine was actually self-taught in software. "When I was in sixth grade I got a TI 99/4A," he says. "I really loved the text adventure game "Zork," and I wanted to make my own video game. The challenge was to get a computer to understand sentences, so I wrote a BASIC program that parses commands like 'Go to door' and 'I want to go to the door.' I had my friends play it and give me feedback."
By ninth grade Christine had moved on to a Tandy 1000. "I really wanted to get into video graphics," he says. "BASIC was slow so I moved into assembly language. A friend's father worked at Unisys as a software developer and gave me some hints, but a lot of it was buying books and learning things."
Christine went on to Temple University to earn his bachelor's degree in electric engineering in 1996, and then to Penn State to receive his masters in computer engineering in 1996.
"I knew I liked computers," he says. "My father was in the Air Force, and a friend of his was an engineer who told me that, while I could go to school for computer science, I should go for electrical engineering since I was interested in software and hardware, and take software classes on the side. If I understand how the hardware does what it does, it would make me a better software person."
Later in college, he says, "when I finally took a C programming course I discovered that unfortunately I'd learned a lot of bad habits. The class was an eye opener; I needed exposure to proper software development practices." While at Penn State, Christine worked for the agricultural school, which designs expert systems for farmers, and then took a job with C-COR Electronics in State College. "My advisor at Penn State got sick," he says, "so I couldn't defend my thesis, and that put me a semester behind. By the time I graduated, I already had a job."
Christine shares his interest in engineering with his brother, who has an engineering degree from Drexel and works at Lockheed Martin. But while "we have engineering people in the family," he says, "it didn't come from my parents -- They are both teachers. My mother taught elementary education, first through sixth grade." And after the Air Force, he says, "my father liked teaching, so he got his doctorate in education. He also taught elementary education, then middle school, and ended up being a high school principal before finally going into management."
Instead, he says, "my mother's father was a musician, and taught me to play the trumpet. My father actually wanted me to be a musician -- if you can believe it -- a classical musician. I played trumpet and violin all through high school, but dropped it in college. I was in marching band and it really killed music for me." But, as the ACTV start-up was fading, he joined the Hanover Wind Symphony in north Jersey to play the trumpet (www.HanoverWinds.org). "I had to do something outside of work," he says.
"I've always been interested in computer graphics," Christine says, "and digital video with image processing and encoding. BackSeat TV has a simple graphical user interface, but I'd really like to do a receiver with a good user interface, where you can control not only the video but the audio program guide to see what's available."
---
So what is next for the team at Sirius? The staff in Lawrenceville has grown from 55 people in 2005 to about 110 today. And the company has expanded its space, starting with 9400 square feet, adding a downstairs engineering section in 2004 for a total of 16,100 square feet, and then expanding the upstairs section in 2006 - 2007 to the current size of 26,100 square feet.
One direction for Sirius is adding additional data services, particularly integrated with the larger display for in-vehicle navigation systems. The Sirius Travel Link, which was announced in November 2007 for the 2009 Lincoln MKS, provides data services including real- time traffic updates with speed/flow and incident information, near-by gas stations and fuel prices, local movie listings, national weather, and sports schedules and scores. It will be standard on Ford's next-generation navigation system and will be offered on multiple Ford, Lincoln and Mercury vehicles in 2008.

SIRIUS Travel Link - www.sirius.com/travellink
"We've got people here and elsewhere trying to make the audio quality better," says Christine, "to make the audio sound better, or make the sound the same with fewer bits, which allows more channels and more variety. The same things will happen with the video. We'd like to bring some of the features like replay to the video side, and add more channels. The more powerful processors get, the more you can do with them, or you can have fewer boxes and make the product cheaper."
"In the end," says Bob Shideleff, "we want to give away the receivers for free, and make money off the subscriptions."
Originally published in the U.S.1 Newspaper, April 9, 2008 -- www.princetoninfo.com/200804/80409c01.html