HOME DIGITAL MEDIA ARTICLES

Manifest Technology Blog -- Site: | Articles | Galleries | Resources | DVI Tech | About | Site Map |
Articles: | PC Video | Web Media | DVD & CD | Portable Media | Digital Imaging | Wireless Media | Home Media | Tech & Society |
Home Media: | Home Media Articles | Home Networked Media Gallery |

---
Paragon Partition Manager 9 (3/2008)
by Douglas Dixon
Using Partition Manager
Get Partitioned
Partition Manager Features
I've been retrofitting some older PCs, and facing the once-common problem of partitioning the hard drives. The issue now, however, is to remove the old partitions in order to consolidate the space back to one large C: drive -- but without destroying the installed Windows and application software.
Remember partitioning? -- Sub-dividing huge hard disks (100 GB!) into multiple logical volumes. This was once a recommended practice for performance and organizational reasons to help out poor Windows 98 and its successors. These days, however, we need to consolidate all the available disk space to make room for ever-larger applications and their associated data.
At the time, PowerQuest Partition Magicwas the popular solution for messing with partitions, since it -- unlike Windows -- could resize and reorganize partitions without destroying the data stored on them (see Wikipedia: http://en.wikipedia.org/wiki/PartitionMagic). But Partition Magic was bought by Symantec, and what is now Norton PartitionMagic 8 apparently has not been updated since 2004 (www.symantec.com/norton/products/overview.jsp?pcid=sp&pvid=pm80). Even worse, my old version would not run because the website and phone number for the required registration were no longer supported. (See also the Symantec FAQ.)
Which is why I'm glad to have discovered Paragon Partition Manager, which I have used successfully to consolidate the partitions on two older machines (www.Partition-Manager.com).
The Paragon Software Group is based in Russia, Germany, Japan, and San Jose, and sells disk tools including Hard Disk Manager, Drive Backup, and Partition Manager, with Personal, Professional, and Enterprise versions (www.paragon-software.com).
Paragon Partition Manager 9.0 Personal was released in January 2008 for $39.95, and can perform both basic and advanced operations, from creating and deleting partitions to resizing, merging, and copying (http://www.paragon-software.com/home/pm-personal). Plus, you can explore your disk volumes and change partition properties.
Version 9 adds improved Windows Vista compatibility, boot manager support for running multiple operating systems, the Recovery CD, and backup of critical partitioning information in the event of a power failure or other catastrophic system failure.
The Professional version for $79.95 adds command line ands scripting support. There also are Enterprise / Sever editions with a technician license for use on multiple machines.
Partition Manager has a nice clean interface with task-based options. You don't even need to install it -- you can run it directly from the CD (but not for some advanced operations) -- plus the product CD is bootable, so it can serve as a Recovery CD in the event of a catastrophic failure.
Partition Manager starts up with a main screen to perform common operations, or to run the full application.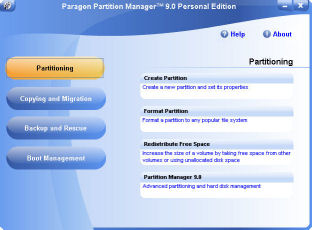 Main Screen: Partitioning
The main application window shows the structure of the disk, with a simple diagram and details on each partition. You then can use the menus or task lists to choose the operation you want to perform.
When you choose a task (i.e., Delete Partition, Merge Partitions, Redistribute Free Space), Partition Manager displays a multi-step Wizard to walk through the process of confirming the partitions to work on and parameters to change. But it does not yet perform the action. It first displays a diagram of how the disk structure will look after the change, so you can Discard the change, specify addition operations (i.e., combine several partitions), or Apply the change and start the operation running.
Merge Partitions Wizard
When you actually click to perform the operation, Partition Manager does a quick set-up and validation, and then prompts you to restart the computer so that it can do the low-level work on the disk at boot time, before Windows starts up again. After re-booting, it then runs in text mode to do the heavy lifting of adjusting the disk partitions and moving the data on the disk. Your files from consolidated partitions are added in a folder to the adjusted partition.
Reboot message
Partition Manager provides a wide variety of disk and partitioning tools, accessible through a clean interface. But while performing single operations is straightforward, with clear documentation in the Users Guide and built-in Help for the various functions, you still need to have a higher-level strategic view to understand how to complete a multi-step task.
While mucking with partitions is fine for people who understand what they are doing, the documentation is a bit thin for newcomers. Just to get started, it would be helpful to have an explanation of how the program operates -- collecting one or more operations, then starting work, then re-booting to complete the task. Similarly, it would be helpful to understand when it is best to use the option to run from CD, or boot from the Recovery CD, and specifically what operations then are available (or not available) in these modes.
For example, one of my tasks was to consolidate four partitions on one disk (C, D, E, F), with three actually subdivided from an extended partition. So what's the best strategy for this? Merge E and F, then D, then C? Or C and D, then E, then F? Delete the partitions and then expand into the free space? Do it all in one operation, or in multiple steps?
As it turns out, you can't merge with an extended partition, so you need to delete it and then expand the C partition into the free space -- Yes, these are effectively the same operation, but if you try to merge you get an error message, with no guidance on how to do what you want.
No matter -- Paragon Partition Manager did the job for me on several disks, stepping though the individual operations with clear instructions that avoided any horrible accidents. You can try it out by downloading a trial version from the Paragon download site (www.paragon-software.com/downloads/demo.html).
For more messing with your hard disk, also check out Paragon Hard Disk Manager 2008 (Personal edition $49.95, www.paragon-software.com/home/hdm-personal), with disk backup, cloning, optimization, recovery utilities, imaging, wiping, and also partitioning.
---
Basic partitioning operations: create/format/delete partitions
Advanced partitioning operations: resize/move/copy/merge/undelete partitions
Redistribute unused disk space - resize partitions without any data loss
Change partition properties: hide/unhide, make active/inactive, assign/remove drive letter, change volume label, convert file system, etc.
Clone hard disks or separate partitions
Volume Explorer (fully embedded within the application) - browse FAT, FAT32, NTFS, Ext2 or Ext3 FS partition, edit or copy files and folders
Defragment partitions and optimize their cluster size
New and updated features:
New: Install New OS Wizard prepares a hard disk for a new operating system installation.
Updated: Safely setup and manage multiple operating systems on the same PC with the Boot Manager
Updated: Boot Corrector allows you to resolve most common boot problems.
New: Simple Backup Wizard enables to back up system and data to a local or network disk before applying any critical operations.
New: The Initial Backup Reminder which appearances on program startup, advices to back up system and data before critical partitioning operations.
New: Restore entire disks or separate partitions and roll-back your unsuccessful partitioning operations with the Paragon Recovery CD
New: File Transfer Wizard can restore separate files and folders from a previously created backup archive.
New: Express Launcher provides user-friendly interface and quick access to most common operations.
Updated: Improved Windows Vista support, including 64-bit editions.
New: Included Paragon Drive Backup 8.51 trial version to evaluate powerful backup and restore tools.