HOME DIGITAL MEDIA ARTICLES

Manifest Technology Blog -- Site: | Articles | Galleries | Resources | DVI Tech | About | Site Map |
Articles: | PC Video | Web Media | DVD & CD | Portable Media | Digital Imaging | Wireless Media | Home Media | Tech & Society |
Home Media: | Home Media Articles | Home Networked Media Gallery |

---
Good PC Health: iolo System Mechanic 9 (8/2009)
by Douglas Dixon
New Version 9
Prices and Versions
Interface
System Mechanic Tools: All-in-one Tools, Individual Tools
I'm a big believer in preventive maintenance for PCs. Windows systems just accumulate cruft over time, as the disk fills up with junk files, disk access slows down with files broken into multiple fragments, and more and more applications insert themselves as part of the start-up process to eat up the processor with background tasks. And even when you try to be good and uninstall old applications, they still leave remnants of orphaned files, broken shortcuts, and unneeded entries in the Windows Registry file.
And that's when things are going good ... Even worse, crashes and bugs can cause corrupted files, and malicious attackers can do even more damage through flaws in Windows and applications.
I've been pretty lucky (double-click on a GIF of wood texture), in not having systems get so sick that I needed to wipe the disk and reinstall Windows. My general preventative care has been to periodically run tools like Symantec / Norton WinDoctor (www.symantec.com/norton/systemworks) and CCleaner (freeware, www.ccleaner.com) to clean out the cruft.
More recently, I've been using iolo technologies System Mechanic as an all-in-one approach to keep my PCs under control, with system and security analysis, repair, and optimization (www.iolo.com/system-mechanic/standard).
System Mechanic has been developed over 11 years; iolo reports that it is currently the #1 best selling PC tune-up product in the US, Canada, UK, France, and the Benelux region according to NPD and similar sources, and is used by more than 23 million consumers worldwide on nearly 70 million computers.

System Mechanic version 9, released in July, enhances the tests (especially for Windows 7 and new Internet services), speeds up processing, and adds expanded Tune-up Definitions that are downloaded with product updates to further strengthen the testing. There's also a new EnergyBooster feature to temporarily boost your system performance by shutting down background processes; an integrated Total Registry Revitalizer to clean, compact, repair, and back up the registry; a PC Health Status Gadget for Windows 7 and Vista; and Incinerator features for file and Recycle Bin deletion with DoD security.
Press release 7/09 - System Mechanic Released
www.iolo.com/company/pressrelease.aspx?pressreleaseid=...
New and Improved Features
Tune-up Definitions - Downloaded with product updates
EnergyBooster - Temporarily shut down background processes to free up system memory and CPU for additional horsepower
Total Registry Revitalizer - Integrated registry backup, repair and cleaning, compaction, and defragmentation
PC Health Status Gadget - For Windows 7 and Vista, reports on system health, security, and status, plus access to commonly used System Mechanic tools
Incinerator - Standard file delete and Department of Defense 5220-22M security when deletion, can integrate into the Windows Recycle Bin
Updated PC Cleanup - Clutter detection finds unneeded files for newest operating systems, browsers, web toolbars, and chat services
Updated Memory Mechanic - Improved memory leak detection, faster defragmentation, free more memory
Updated Registry Tuner - Additional tests, improved detection rates, faster scan speeds
Updated Privacy Cleaner - Uses military-grade Incinerator secure shredding techniques, including chat programs, all major web browsers and toolbars
Updated Boot-time operations - Postpone boot-time tune-up processes
System Mechanic has some 40 tools to fix, speed-up, and maintain PCs. It organizes these in an integrated console, so you can choose one of the integrated All-in-one Tools to find and fix system issues, or drill down to the Individual Tools to examine specific problems and customize the repairs.

System Mechanic 9 - Dashboard status display
All of these options can be overwhelming, so you can delegate the whole job to System Mechanic, and set up its ActiveCare feature to run periodically in the background to monitor your system status and optionally fix problems. (Unfortunately, there's still no way to turn off ActiveCare, so it insists on scanning my laptop once a day, banging the disk to collect information that I don't need.)
I like to run the full System Analysis from the main Dashboard once a month or so, and then step though the reported problems, especially to fix junk in the registry and to find new pieces of applications installed to run at startup. It also reports possible security vulnerabilities, especially file type associations that could be used by viruses.
I'll also run some of the individual tools after major changes to my system, particularly after uninstalling old applications to clean up before installing new versions. There's a surprising amount of junk left over from old apps, so Repair Registry Problems, Clean PC Clutter, and Repair Broken Shortcuts are particularly useful.
Version 9 also expands System Mechanic for configuring your system, including Windows startup and advanced Windows options, as well as measuring and enhancing your system's performance, including the hard drive, Internet bandwidth, and background programs. It also overlaps with firewall applications with its System Guard option for blocking unwanted programs and Internet pages.
You may never use all the options, but, for example, some of the other interesting tools are Optimize Windows Startup, to suggest removing unnecessary startup programs, Monitor Hard Drive Status, with real-time hardware sensor readings, Measure Internet Download Speed, and Track System Changes, to snapshot system status and compare after changes like installing new applications.
iolo is currently running deals on its website for System Mechanic 9 -- $49.95 list, $39.95 on the website, with annual renewals for $29.95, or $19.95 for a limited time. You don't need multiple copies: one license can be installed on up to three machines. The subscription includes automatic upgrades for all version releases, not only minor upgrades, but also major new versions (like this version 9 for existing users). And iolo provides free, unlimited technical support and customer service.
There's also a System Mechanic Pro 8.5 bundle, for $69.95 list, $49.95 on the website, with $39.95 annual renewal. It includes other iolo tools: iolo AntiVirus, iolo Personal Firewall, DriveScrubber to securely erase data, and Search and Recover to rescue deleted files from hard drives, CD/DVDs, portable devices, and memory cards.
The iolo website has screenshots and videos with more detail, but you can go ahead to download the demo version to try it out -- www.iolo.com/system-mechanic/standard/download.aspx.
The System Mechanic interface is a bit confusing in its desire to serve all types of users -- novice, intermediary, and more advanced.
The main Dashboard provides an overview of your system status, and one-click display and repair of problems. The ActiveCare tab shows options to enable automatic fix-up in the background. And the bottom Reports tab for IntellStatus information on system resources, and the History of recent changes, including the SafetyNet option to undo changes.

Dashboard - Problems found, ready to repair
So novice users can set up ActiveCare to automatically run and apply fixes, or use the Dashboard to manually review the problems found from the last analysis (or re-run the analysis), and then apply the solutions.
Dashboard

Overview: System and Subscription Status
Problems: Review, then Repair, Start Repair Wizard

ActiveCare

Automated Tasks: ActiveCare Reports, Automatic Tasks
Internet Security: AntiVirus, Firewall status

Toolbox

All-in-one Tools: PC Total Care,
PC Accelerator, PC Repair, PC Cleanup, PC Security, Total Registry Revitalizer
Individual Tools: Increase Performance, Enhance Protection, Free Up Drive Space,
Repair Problems, Ensure Personal Privacy, Manage System Configuration, Perform Diagnostics

Reports

IntelliStatus: Hard Drive Space, System Memory, Startup Programs
History: Problems Recently Repaired, Odometer, SafetyNet (roll-back changes)
More intermediate users can use the All-in-one Tools tab to perform an entire set of operations on demand. Use the one-click PC TotalCare to run all the tools, or wizards to run each set of tools: PC Accelerator to boost performance, PC Repair to fix problems, PC Cleanup to free up clutter, and PC Security to root out security issues. There's also a new Total Registry Revitalizer to clean and organize the registry.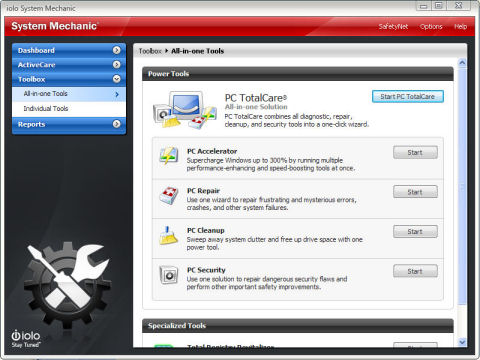 Toolbox - All-in-one Tools
And advanced users can use the Individual Tools tab to access all the 40-some tools, but organized slightly differently into seven categories (see below).
Most tests provide options to run either Quick or Complete automatic test and repair, or to run a Custom analysis and then manually choose items to repair.
System Mechanic also provides nice visual status reports on system usage and performance, and listings of system elements such as startup programs.
---
All-in-one Tools
PC Total Care - All-in-one wizard for diagnostic, repair, cleanup, and security tools
PC Accelerator Wizard - Disk / memory / registry defrag, startup, Internet speed
PC Repair Wizard - Registry, hard drive, invalid uninstallers, broken shortcuts
PC Cleanup Wizard - 40 different types of junk files, Internet clutter
PC Security Wizard - Repair security flaws, backup registry
Total Registry Revitalizer - Keep the registry clean, organized, free of errors

Toolbox - Individual Tools
Individual Tools
Increase Performance - Defragment Memory, Defrag Hard Drive, Defrag Registry and compact
Configure Defragmentation for Boot Time, Right-Click on demand
Turn Off Unused Background Programs (EnergyBooster)
Optimize Windows Startup, Internet Settings (NetBooster)
Enhance Protection - Configure Automatic System Defense (System Guard)
Fix Security Vulnerabilities, Back Up or Restore Registry
Free Up Drive Space - Clean PC Clutter (PC Cleanup), Remove Junk Files
Repair Problems - Registry (Registry Tuner), Hard Drive (Drive Medic), Unbootable PC, Broken Shortcuts
Troubleshoot System Problems (disaster or unstable PC)
Ensure Personal Privacy - Erase Private Data (Privacy Cleaner), Securely Delete Files (Incinerator)
Configure Desktop File Incinerator, Config Recycle Bin Incinerator
Manage System Configuration - Configure Windows Startup, Manage Running Programs
Customize Advanced Windows Settings, Customize Advanced Internet Settings
Find Duplicate Files, Remove Installed Programs,
Perform Diagnostics - Monitor Hard Drive Status (DriveSense)
System Information Report, Measure Internet Download Speed, Track System Changes