HOME DIGITAL MEDIA ARTICLES

Manifest Technology Blog -- Site: | Articles | Galleries | Resources | DVI Tech | About | Site Map |
Articles: | PC Video | Web Media | DVD & CD | Portable Media | Digital Imaging | Wireless Media | Home Media | Tech & Society |
Home Media: | Home Media Articles | Home Networked Media Gallery |

---
Holiday Tech 2016
Riding the Mobile Digital Revolution
by Douglas Dixon
---
Contents
Connect to Your Environment - Smart Home

External devices - Smart Home, Smart Car, Connected toys - Internet of Things (IoT)
Smart home - Network cameras, Smart thermostat, Smart applicances, Digital assistant devices

Extend Your Senses - Hearing and Sight

Connected Health and Fitness
Wearables, Smart watches, Fitness trackers, Health sensors

Digital Assistants

Intelligent Personal Assistant - Hands-free voice assistance - Natural language user interface
Amazon Alexa, Apple Siri, Google Assistant, Microsoft Cortana
Digital Assistant Commands

Get Information (Web) - Time, News, Weather, Stocks, Sports scores, Movie times, Search Web,
Conversions, Tips/Math, Translate, Spell, Define/synonym
Access entertainment - Search / play music, Movie information, Read book
Travel assistance - Address, Directions, Navigation, Stores nearby, Hours open
Actions / Operate Apps - Call, FaceTime, Launch, Read Text/Email, Where is/Directions, Set Alarm, Settings

Fun - Joke / Knock knock, Trivia, Bark, Simon Says, Easter Eggs
See also:
---
---
From Dedicated Devices

Telephone, Record player, Camera, Book, Day Planner / Notebook, Map, Board Game

To Portable Digital Gadgets

Pager / Cell phone, Media Player, Digital Camera, PDA / Organizer, E-Reader, Navigation, Game System

To Smartphone

To Connected Devices (and Apps) - Smart Home, Digital Health, Digital Assistants
Mobile Digital Revolution - to Smartphones (PDF)
---
---
---
SanDisk - Memory Cards - SD, microSD




Secure Digital

2000 - SD card format - 64 MB - SanDisk, Matsushita, Toshiba
2003 - miniSD
2005 - microSD - mobile phones
2009 - SDXC - Storage up to 2 TB, speeds up to 300 MB/s

microSD - to 200 GB

200 GB $73/$149, 128 GB $42 (SanDisk)

SD - to 512 GB

512 GB $269, 256 GB $134 (SanDisk) - 512 GB $199 (PNY)

9/2016 - SanDisk - 1 TB prototype SDXC

Find SanDisk SD cards and microSD cards
on Amazon.com
---
---
Power

Smaller bricks
Wireless power
---
FINsix Dart Laptop Charger
Improved power conversion - Higher switching frequencies, 10X better power densities
Reduced wasted energy - Heat.
World's Smallest Laptop Charger
4x smaller and lighter than today's laptop chargers
Built-in USB port - 2.1A rapid-charge - charge simultaneously
Includes 9 universal power tip
Support 95%+ of today's PC laptops and notebooks.
Currently not compatible with Apple MacBook and Microsoft Surface
Reversable 6 foot cable with inline 2.1A rapid charge USB port
Input global 100 - 240 V AC, 50-60 Hz, 1.5A
Output 65 W total
Laptop - 18 - 21 V DC; USB - 5.0 V, 2.1 A
Over-voltage , short circuit, over-temperature protection,
Output current limited
2.75 x 1.1 in (~70 x 28 mm), ~3 oz (85 g)
Released 9/16 - $99 - Blue, magenta, silver, gunmetal, orange

Find the Dart Charger on Amazon.com
---
Zolt Laptop Charger Plus
4x smaller, 3x lighter than current laptop chargers
Replaces 3 power adapters - 1 laptop + 2 USB outlets
Charges 65W laptop and two mobile devices simultaneously -
tablets, smartphones, digital cameras, portable speakers
Includes 8 interchangeable PC power tips
Compatible with 90% of today's laptops
6 foot cable with laptop adapters
Separate MacBook cable accessory
Folding prongs for travel
Base rotates up to 90 degrees to free up adjacent outlets
Input global 120 - 240 V AC, 50/60 Hz
Output 70 W total
Laptop - 19.5 V, 3.3 A /18.0 V 3.6 A; 2 USB - 5 V, 0.5 - 2.6 A
Automatically regulates power to each connected device
Built-in over-voltage, short circuit, over-temperature protection

(~ 3.7 x 1.3 in) 93 x 34 mm, ~3.5 oz (100g)
Released 11/16 - $99 - ultra violet, graphite, electric orange

Find the Zolt Charger on Amazon.com
---
---
Connect to Environment

External smart devices - Smart Home, Smart Car, Connected Toys

Smart Toys
Smart Home

Network cameras, Smart thermostat, Smart applicances, Digital Assistant devices
Wireless lightbulbs - Remotely adjust brightness or color (Philips Hue)
Door locks - Unlock remotely from smartphone (Kwikset)
Thermostats - Save energy by learning your schedule (Nest)
Slow cookers - Start working when you begin the commute home (Crock-Pot)
Infrastructure - Apple HomeKit, Samsung SmartThings, Belkin WeMo

Internet of Things (IoT) - Hacked, botnets
---
Switchmate Home - Smart Light Switch
Install in one second with no tools
Attaches magnetically to screws of standard light switches
Switchmate app (iOS or Android)
Automatically turn on lights as enter room
Two AA batteries last up to one year
$39.99 - Toggle or Rocker, white and ivory

Find the Switchmate Home on Amazon.com
---
Tile Slim - Thin Bluetooth Tracker
Thinnest Bluetooth tracker
Slip into wallets, purses, passports
Stick onto surface of a laptop or tablet
Ring Tile to locate a misplaced item - 4 ringtones
Find phone even when in silent mode
View last known location of item on map
Tile community - Help find lost or stolen item almost anywhere in world
Release 8/16 - $29 each, 4-pack $99

Find the Tile Slim on Amazon.com
---
---
Wireless Headphones

Bluetooth wireless audio - Music and calls
---
Jabra Halo Smart Neckband Bluetooth Headphones
U-shaped neckband, flexes to fit
Vibrates to alert on incoming call
Wind and water resistant
17 hours talk time, 14 hours music
Earphones mounted on 8 inch cords
Magnets to snap around neck or to neckband
Wind protected microphone, noise reduction for voice.
Buttons for volume and track skip
Multi-function button for power, play/pause, call answer/end
Dedicated Voice button for Apple Siri or Google Now

Voice Guidance spoken prompts
1.34 oz (38 g)
$79

Find the Jabra Halo Smart on Amazon.com
---
Apple AirPods - Wireless Headphones
Wireless - Automatically on and always connected
Voice accelerometer recognizes when speaking and
works with pair of beamforming microphones to
filter out external noise and focus on the sound of voice
Sense when in ear, pause when take out
5 hr battery life, 24 hr battery life with charging case
15 min charging time
Announced release 10/16 - $159
---
Rexton Smart Connect for Hearing Aids
Rexton TruCore Hearing Aids

Noise reduction
Some with wireless and audio streaming, Hands-free phone & TV streaming
Some with real time audio exchange between hearing aids
Voice Ranger - singles out target speaker, reduces unwanted background chatter
Reverb Reducer - Suppresses echoes in environment
XPhone (Cross Phone) - Sends phone signals to
both hearing aids when phone is held to one ear
Music Enhancer - Better sound quality
Tinnitus Function - Generates sound pattern to soften phantom noises
Rechargeable
IP67 rated to resist water, dirt, and sweat
"Invisible" RIC (Receiver-in-the-Canal) models
Smart Connect - Bluetooth Remote

Wear aAround neck - Hands-free connection, with mic
Incoming call direct to hearing aid
Press multifunction button to accept
10 hours Direct Audio Input streaming
2 hours charging time

Smart Remote App

Hands-free connection around the neck, with mic
Turn hearing aid on/off
Change hearing aid programs
Increase and decrease volume
Start streaming
Mute/unmute hearing aid mics during streaming
Toggle between paired transmitters
---
---
The VR Experience - Vivitar VR Glasses


Full 360 degree video - HumanEyes Vuze
---
Sony PlayStation VR - Virtual Reality Headset for PS4
Virtual Reality headset for PlayStation 4 console
Balanced, comfortable, adjustable
Over 160 titles under development
Display ~ 100 degress field of view
5.7" OLED, 1080p, 960×RGB×1080 per eye, 120/90Hz
Cinematic mode - View content in large virtual screen
3D Audio - Pinpoint sounds above, below, all around
6-axis motion sensing (3-axis gyroscope, 3-axis accelerometer)
Requires PlayStation Camera ($39) for player tracking
Play area ~ 6.2 x 9.8 feet
Headset: Approx. 187×185×277 mm, 610g
$399 / $341 (PS4 console from $299)

Find Playstation VR on Amazon.com

Robinson: The Journey game
---
Google Cardboard - VR Headset
Simple, fun, affordable VR
Folded cardboard design with lenses - Slide in smartphone
Visit new places, play immersive games, fly through space
Google $15, Kit $9.99

Find Google Cardboard on Amazon.com
360 degree video displayed by VR app
Reading for viewing with headset
---
Vivitar Virtual Reality Glasses - for Smartphone (VR 160)
Transform smartphone into immersive VR viewer
Uses motion sensor of phone to create 360 degree view
iPhone and Android
Audio ports, suction pad, adjustable head strap
$5.99

Find the Vivitar VR Glasses on Amazon.com
---
Homido Mini - VR Glasses for Smartphones
Turn any 4 - 6" iPhone/Android smartphone into VR headset
Unfold and clip on to smartphone, launch VR app
Enjoy immersive 360 videos, VR games, 3D movies
Works with YouTube, over 300 iOS & Android apps
Homido Center mobile VR portal app, Homido VR Player app
Custom designed VR lenses, 100° FOV
Minimal distortion and light reflection
Light, foldable, fits in pocket
Folded 2.6 x 2.15 x 0.7" (66 x 55 x 15.5 mm)
$14.99

Find the Homido Mini VR Glasses
on Amazon.com
---
HumanEyes Vuze 360° Virtual Reality Camera
World's first consumer virtual reality 360 3D camera
Integrated Studio software with automatic VR movie production
3D 360 video and stills camera
Also creates 2D 360 videos and images
360 by 180 degrees sphere, best beyond distance of 3 - 4 feet
Video - H.264, 4K panorama @ 30fps, to 120 Mbps VBR, AAC audio
Optics - 8 FHD lenses, 180 x 120 FOV; FOV Spherical 360 x 180 deg
Mics - 4 48Hz MEMS mics,16-bit PCM audio, non-compressed
App - remote control - on/off, start/stop, preview before shooting,
view and manage media after shooting
Vuze Studio software - Automated VR Production and Editing

Import and stitch multi cameras into VR 360 video
Near real-time processing (1 min per min of footage)
Add 3D effects, audio and titles

Store on microSD - ~ 1 GB pre minute of raw footage
Data transfer - USB 2.0, Wi-Fi
Battery operates 1 hour
~ 4.7 x 4.7 x 1.2 in. (12 x 12 x 3 cm)
$799 - pre-order
---
---
Camera Drones

Unmanned Aerial Vehicle (UAV)
Aerial photography -- Video recording and streaming
Assisted / autonomous flight
See Holiday 2014 - Drones - Parrot MiniDrone Rolling Spider
---
Vivitar Air Defender X Camera Drone with Wi-Fi (DRC 333)
Family friendly drone
Smartphone app for real-time, bird's-eye view video
16.1 MP camera, HD video recording
32 LEDs wrap around to fly in dark
Radio transmitter control - Hover, fly, flip upside down
Smartphone bracket in controller
Wi-Fi video transmission, save on smartphone
Flight range 200 meters
Flight time 5 - 7 min., 120 min. recharge
$99

Find the Vivitar Air Defender X Drone
on Amazon.com
---
DJI Mavic Pro Foldable Drone - Automated Flight
DJI is market leader in easy-to-fly drones and aerial photography systems
Consumer quadcopter drones
Arms fold in --
Height of a water bottle by cross-section of a wallet
Records up to Cinema 4K video, 4096×2160 at 24p
Streams live video back to controller at up to 1080p --
from a distance of over 4 miles away
Fly up to 27 min.
Tracks and controls flight with 5 cameras, 8 addl sensors
5 cameras - main camera,
dual forward and downward for stereo vision
8 sensors with redundancy --
dual-band GPS and GLONASS satellite navigation,
2 ultrasonic range finders, 2 compass and
Inertial Measurement Unit sensor pairs
Folds to 3.26 x 3.26 x 7.79 in., 1.64 lbs.

$999 with remote control, $749 without

Find the DJI Mavic Foldable Drone
on Amazon.com
Automated Flying
Drone takes off by itself, hovers in winds up to 24 mph.
Flies itself to a destination that you tap on the screen -- while automatically avoiding obstacles in its path.
Automatically follows a target that you select on the controller display,
and then stays in relative position behind, in front, to the side, or orbiting in a circle --
or even keeps the camera locked on target as you fly it around.
Maintains a fixed distance over ground, even as you navigate changing terrain.
Automatically returns home when you are done (or the batteries are running low) -- again avoiding obstacles.
Sports mode - High-speed racing drones up to 40 mph.

New Tripod mode - Slows the movement for more precise positioning and framing (especially useful indoors),
New Gesture mode - Controls the drone directly with simple arm and hand gestures.
Goggles
Components
Compact remote controller - Built-in LCD display, dedicated function buttons, 1/2 lb.
Smartphone control - Touchscreen
DJI GO app - Stream video, edit, share to social media sites
DJI Goggles - Immersive aerial view with dual 1920 × 1080p LTPS displays, 85 degree view angle, full 1080p video
---
---
Connected Health and Fitness

Wearables, Fitness trackers, Smart watches, Health sensors
Digital bathroom scale, digital blood pressure cuff (Withings / Nokia)
Digital medication tracking - Reminders to take pills, send notifications (PillDrill)
Telehealth - Remote medical exam (TytoCare)

Temperature, Record heart and lung sounds, Photos or videos of throat, answering check-up questions
Connected to a clinician in real time, or recorded for doctor to analyze and respond later

Digital sleep coach - For better rest (2breathe)
Smart sleeper - Digitally controlled baby bed - Responds to crying with white noise and gentle rocking (Happiest Baby)
See previous - Holiday 2014: Smart Watches - Martian, Pebble, Android, Apple Watch
---
Fitbit - Track Everyday Health and Fitness
Pocket trackers, wrist bands, watches
Fitbit Pocket Wireless Activity Trackers

Zip - Clock, Steps - $59
One - Climb, Sleep - $99

Fitbit Fitness Wristbands

Flex 2 - Call & Text Notifications - $99 (new)
Alta - Calendar Alerts - $129
Charge 2 - Heart rate - $149 (new)

Fitbit Fitness Watches

Blaze - On-screen workouts, Music control - $199
Surge - Built-in GPS - $249

Find the Fitbit One and Fitbit Flex 2
on Amazon.com
---
Verizon / Fitbit Charge 2 - Heart Rate + Fitness Wristband
All-Day Activity Tracking - Steps, heart rate, distance, calories burned,
active minutes, floors climbed, hourly activity, stationary time
Fitbit app - Recognize activities, post-workout summaries
Saves 7 days motion data by minute by minute
Saves daily totals for past 30 days
Stores heart rate data at 1 sec intervals during exercise, otherwise 5 sec
Sweat, rain and splash proof
OLED display - Tap for info
Bluetooth LE - Wireless sync
Send smartphone notifications and syncs to computers
and 200+ leading iOS, Android, Windows devices
(notifications or Connected GPS may require Android 5.0+)
Optical heart rate tracker, 3-axis accelerometer, altimeter, vibration motor
Battery up to 5 days
$149 - Small, large, XL - Black, plum, blue / Silver
Bands $29, Leather $69

Find the Fitbit Charge 2 on Amazon.com
Fitbit App

App - Apple iOS, Google Android, Windows Store - also Desktop
All-Day Activity - Progress towards daily goals, trends over time
Track Exercise - View exercise stats, how performance is improving
Exercise Calendar - Data & trends to make progress toward goal
Sleep Goals & Tools - Create bedtime reminders and wake targets
Notifications - Pop up on smartphone as gentle push to keep moving towards goal
Earn Badges - Receive badges to keep motivated when hit milestone or goal
Weight & Nutrition - Track weight, log food, measure hydration
MobileTrack - Smartphone can record basic stats like steps, distance, calories burned
Multi-Tracker Support - Connect multiple trackers to one account
Stay Connected - Use Facebook and email to find and connect with Fitbit friends
Exercise Sharing - Share a view or a selfie on any social channel, or through email and text
Challenge Friends & Family - Climb leaderboard, or compete with friends and family in Fitbit Challenges
---
Interaxon Muse - Brain Sensing Headband
Personal meditation assistant - Makes meditation easier
Meditation reduces stress and increases focus
As little as 3 minutes a day
Real-time audio feedback
Brain sensing headband

Wireless electroencephalography (EEG)
7 sensors detect and measure the activity of your brain
2 on forehead, 2 behind ears, 3 reference sensors

Released 8/15 - $249

Find the Muse Headphone on Amazon.com

Muse App

Displays natural environment (sand, beach)
Plays relaxing soundscape like ocean waves
Weather reflects what's happening in your brain
When focused, listen to peaceful waves lapping on the shore
and birds singing
When mind wanders, hear weather change, become stronger
Gently guides you back to calmness
---
Digital Assistants
Intelligent Personal Assistant - Uses Web services

Amazon Alexa, Apple Siri, Google Assistant, Microsoft Cortana

Hands-Free Voice Assistance

Information, operate applications, entertainment, travel, smart home, in-car

Natural Language User Interface

Answer questions, make recommendations, perform actions
---
Hands-Free Voice Assistance
Operate apps, get information, access entertainment, travel assistance
Smart home control - Apple HomeKit
In-car - Make calls, read texts/email, play music
Launch phrase / wake word - Optional, or press button
One Assistant - Across multiple devices
Quick interactions, Off-load, Personal - Learn about you - proactive (family, home, schedule)
Visual interaction - Siri waveforms, Google dots, Cortana animated circles
Commands

Get Information (Web) - Time, News, Weather, Stocks, Sports scores, Movie times, Search Web,
Conversions, Tips/Math, Translate, Spell, Define/synonym
Access entertainment - Search / play music, Movie information, Read book
Travel assistance - Address, Directions, Navigation, Stores nearby, Hours open
Actions / Operate Apps - Call, FaceTime, Launch, Read Text/Email, Where is/Directions, Set Alarm, Settings

Fun - Joke / Knock knock, Trivia, Bark, Simon Says, Easter Eggs
Apple Siri

"Hey Siri"
Acquired from SRI International spin-out - Released in iOS 5 (2011)
Auto - CarPlay
Online services - Wikipedia, Yelp, Rotten Tomatoes, Shazam
Siri on iDevice - https://support.apple.com/en-us/HT204389

Google Assistant (Google Now)

"OK Google"
Google Now - (Android 4.1, 2012)

Google for your own personal stuff

Search based - Returns results as found
Google Voice Search on iOS

Google Assistant (2016)

Two-way dialogs - In Google Pixel smartphone

Google App - Search - https://www.google.com/search/about/

Microsoft Cortana

"Hey, Cortana" (cor-tah-na)
For Windows 10, Windows 10 Mobile, Windows Phone 8.1, Microsoft Band, Xbox One, iOS and Android (2010)
Named after synthetic intelligence character in Microsoft Halo video game franchise

Amazon Alexa

"Alexa" (lex-ah)
Supported in Amazon Echo products (2014)
Use wake-word or press button to start

Voice request sent to cloud as streaming audio
Alexa Voice Service recognizes and responds to request

Read books
Adapts to your speech patterns, vocabulary, and personal preferences
Third party developers - over 3,000 "skills" available

Order pizza from Domino's, request ride from Uber, track fitness with Fitbit, order flowers from 1-800-Flowers,
read Audiobooks with Audible, find flight information with Kayak
---
Smartphones - iPhone / Siri, Google Assistant, Microsoft Cortana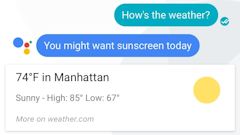 ---
Verizon / Google Pixel Smartphone - with Google Assistant
First phone with Google Assistant built in - Android 7.1 Nougat
Highest rated smartphone camera - Shoot in low light

Main Camera - 12.3 MP, 1.55μm pixels, f/2.0 Aperture, Phase detection + laser detection autofocus
Front Camera - 8MP, 1.4µm pixels, f/2.4 Aperture, Fixed focus

Unlimited storage for photos and videos
Google Duo - Vdeo call with friends and family on Android & iOS
2.5D Corning Gorilla Glass 4
Battery lasts all day - Fast charge - 15 mins for 7 hours use
USB Type-C & USB 3.0 ports, 3.5mm headset jack
Google Store, Verizon, Best Buy
Google Store - $649 + $120 (XL) + $100 128 GB
Google Pixel

5.0 in, 441 ppi
6.0 x 2.9 x 0.2 ~ 0.3 in (154.7 x 75.7 x 7.3 ~ 8.5 mm)
Talk time 26 hrs, Internet / Video 13 hrs, Audio 100 hrs
32 or 128 GB, Quite Black, Very Silver, Really Blue
Verizon - 32 GB $749, 128 GB $869

Google Pixel XL

5.5 in, 534 ppi
5.6 x 2.7 x 0.2 ~ 0.3 in (43.8 x 69.5 x 7.3 ~ 8.5 mm)
Talk time 32 hrs, Internet / Video 14 hrs, Audio 130 hrs
32 or 128 GB, Quite Black, Very Silver, Really Blue
Verizon - 32 GB $649, 128 GB $749
---
Amazon Echo Dot (2nd gen) - Alexa Digital Assistant
Play music

Amazon Music, Spotify, Pandora, iHeartRadio, TuneIn

Smart home control - compatible connected devices

Lights, fans, switches,, thermostats, garage doors, sprinklers
Philips Hue, TP-Link, ecobee, WeMo, Samsung SmartThings, Insteon, Lutron, Nest, Wink, Honeywell
Hands-free, voice-controlled device
Uses Alexa to play music, control smart home devices,
provide information, read the news, set alarms, and more
Say "Alexa" to wake - Lights up, streams audio to cloud
Hands-free control - Hears from across the room

7 far-field microphones - beam-forming, noise cancellation
Even in noisy environments or while playing music

Small built-in speaker - or external speakers or headphones

Bluetooth or 3.5 mm cable

Multiple devices in home - Echo and Echo Dot

ESP (Echo Spatial Perception)

Alexa App (Fire OS, Android, iOS, desktop browsers)

Setup and manage - services and devices

Dual-band Wi-Fi - 802.11 a/b/g/n (2.4 and 5 GHz)
Buttons - Action, Mic on/off, Volume Up/Down
3.3" x 3.3 x 1.3" (84 x 84 x 32 mm), 5.7 oz. (163 g)
Introduced 9/16 - $49 - order 6 get 1 free - black or white

Find the Echo Dot on Amazon.com
Amazon Echo - Alexa-Enabled Bluetooth Speaker
Hands-free speaker you control with your voice
Connects to the Alexa Voice Service
Cylinder - $179
Amazon Tap - Alexa-Enabled Portable Bluetooth Speaker
---
Google Home Voice-Activated Speaker with Google Assistant
Voice-activated speaker powered by Google Assistant
"OK, Google" - Ask questions, tell it to do things
Play music, podcasts or radio from services including
Google Play Music, Spotify, YouTube Music, Pandora, TuneIn
Get answers - Weather, traffic, finance, sports, local business
Get personal - Set alarms and timers, traffic home, flight info
Control smart devices - Chromecast, Nest, Philips Hue
Wi-Fi connection
Hi-Fi speaker - 2" driver + dual 2" passive radiators
Far-field mics for voice recognition
Top touch surface - LED lights when active
Mic mute on side, swipe circle on top for volume
Customize bases - 7 colors
3.79 in diameter x 5.62 in, 1.05 lbs
---
Big Mouth Billy Bass is Amazon Alexa
---
2018 - Better, Faster, Cheaper 2017 - Smart Home 2016 - Digital Assistants, Digital Health, Smart Home, VR & Drones 2015 - Holiday Giving with Internet Crowdfunding
2014 - Wearables and Body Tech
2013 - Wireless Accessories / Digital Health
2012 - Cloud Services
2012 - Portable Accessories
2011 - Smartphones, Tablets & E-Readers
2011 - New Year
2010 - Portable and Wireless - 3-D - Apps
2010 - New Year
2009 - Accessories
2008 - Home Media
2007 - High-Def
2006 - High-Def, Mobile Media and Navigation
2005 - Portable Storage and Media Players
2004 - Accessories
2003 - Gadgets to Go
2002 - Gadgets as Gifts