HOME DIGITAL MEDIA ARTICLES

Manifest Technology Blog -- Site: | Articles | Galleries | Resources | DVI Tech | About | Site Map |
Articles: | PC Video | Web Media | DVD & CD | Portable Media | Digital Imaging | Wireless Media | Home Media | Tech & Society |
Home Media: | Home Media Articles | Home Networked Media Gallery |

---
Holiday Gadgets 2010:
Consumer Electronics Wish Lists (12/2010)
by Douglas Dixon
---
See also:
---
The upcoming holiday season is looking a bit merrier, as the Consumer Electronics Association (CEA) sees evidence that the economy is picking up after a disastrous couple of years. In its annual holiday survey, the CEA reports that U.S. consumers predict that the total household spending for the 2010 holidays will be $1,412, up 3 percent from last year. This is still not back to the golden days of the 2007 household spending of $1,671, but it's definitely an improvement, and much better than the horrendous 15 percent drop suffered in the 2008 season.
Even more optimistically for the consumer electronics industry, the allocation of holiday gift spending on CE has continued to rise even through the bad years, and now is at 31 percent of the gifts portion of the holiday budget, or $232. (Interest in electronics gifts is not surprisingly lead by 18 to 24 year olds at 38 percent, kids at 36 percent, and men at 34 percent, but interest is still strong in other demographic categories, with even the 55+ age group at 20 percent.)
And this may be an even better year to buy, as retailers are broadening the excitement and discounts of "Black Friday" sales on the day after Thanksgiving -- We now have pre-Black Friday, every Friday is Black Friday, and any day is Black Friday, expanding to Black Friday weeks and even months. This special day keyed to a once uniquely American holiday has gone worldwide, so you'll find Black Friday overseas as well.
So to help understand the products that are popular this year, and that you'll find promoted in the stores, the CEA consumer survey also reports top ten lists of specific product categories that are on the holiday wish lists for adults, and for teens.
These are the electronics gifts that consumers say they would like to receive, so let's look at why this gear could be intriguing for you as well.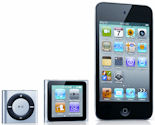 Apple iPods '10: shuffle, nano, touch
---
Convergence and Change
The most dramatic change in this year's wish list is the appearance of the Apple iPad tablet as a new category, displacing netbooks after their appearance just last year. The iPad is joined by the iPod and iPhone as the only specifically branded products on the list, showing Apple's continued strength in defining entire categories.
The other strong trend is the continued reversal of the call of convergence, the idea that we would want to collapse all our different gadgets and functions into one uber-device, a super smartphone that could go everywhere and do everything. Instead, consumers still want to carry separate devices for specific functions, starting with a portable laptop computer plus now an in-between tablet PC. And consumers still see the need for more focused devices including media players, eReaders, digital cameras, and GPS navigators.
For comparison, the CEA's adult wish lists for overall gifts (in general), and also specifically for consumer electronics gifts (as discussed in detail below). Showing the attraction of electronic gadgets, three of the top five, and four of the top ten, items on the overall holiday gift wish list are CE devices.
| | | |
| --- | --- | --- |
| | Gift Wish List - Adults | CE Gift Wish - Adults |
| 1 | Peace/Happiness | Notebook/Laptop |
| 2 | Notebook/Laptop | iPad |
| 3 | iPad | eReader |
| 4 | Clothes | iPod/iPod Touch |
| 5 | eReader | Video Game System |
| 6 | Car/Motorcycle | Digital Camera |
| 7 | Family Together | Big Screen TV |
| 8 | Good Health | TV (unspecified) |
| 9 | Video Game System | Computer (unspecified) |
| 10 | Money | Desktop PC |
From the Consumer Electronics Association's 17th Annual CE Holiday Purchase Patterns Study.
---
Notebooks, Netbooks, and Tablets
---
Notebook PCs continue at #1 on the adult wish list, and are #4 for teens.
The portable PC has clearly won favor as the right form factor for full-up PCs, with desktop PCs appearing only at the end of the wish list for adults.
Meanwhile, the netbook appeared on the list last year for the first time, but now is gone, as consumers apparently did not like the trade-off of an inexpensive and lightweight PC that promised the full functionality of a notebook, but with under whelming performance (and all the associated PC support hassles).
Instead, this year the Apple iPad tablet exploded in its first year to #2 on the adult list and #6 on the teen list, as consumers see the potential of this new category and form factor. Tablets are definitely hot, as the CEA expects a flood of new announcements (over 50 products) to be announced at the upcoming Consumer Electronics Show in January.
The tablet promises the best of both worlds -- the capabilities you want on a larger screen, but with the comfort of a smartphone operating system, instead of a full-up PC with its constant nagging anti-virus updates and pop-up warnings. A tablet can make real sense for replacing a notebook for casual use, as it's immediately accessible at home in any room, and easy to pull out on the go without worrying about setting up at a table or finding a power outlet.
The CEA reports that the top tablet activities for consumers can replace a computer, including browsing the Internet and reading e-mail (including attachments), followed by watching video, reading books and magazines, and gaming. Tablets also replace a media player or PDA for listening to music and keeping your calendar and contacts.
These activities are even easier with downloadable applications for your favorite activities, including, for example, apps for browsing clips on YouTube, reading the New York Times, editing office documents, keeping up with Facebook, and even editing videos.
So if you don't need a full notebook with PC software, a tablet can provide the capabilities that you are looking for in a very accessible package. These devices are still heavy (the iPad is 1 1/2 pounds) and quite expensive (the iPad starts at $499 with Wi-Fi networking and 16 GB of memory, and $629 for the Wi-Fi+3G model with the addition of a monthly cellular data plan so you can continue to access the Internet away from Wi-Fi hot spots).
You also need to live with the limitations of the somewhat closed system compared to a laptop, for example the virtual keyboard on the screen that's not great for extensive typing, and indirect methods to move data back and forth from PCs.
Apple iPad Tablet
Apple iPod Tablet

9.7 inch display, LED backlight, multi-touch

1024 x 768 - wide 178° viewing angle

1 GHz Apple A4 chip
Battery 10 hours active; standby over a month
9.56 x 7.47 x 0.5 in., 1.5 / 1.6 lbs Wi-Fi / +3G models
Wi-Fi and Wi-Fi + 3G models -

Activate from iPad, No contract - cancel anytime

1/10 - Pricing - 16 GB 32 GB 64 GB

Wi-Fi $499 $599 $699
+ 3G $629 $729 $829 -- additional $130

Apple iPad - www.apple.com/ipad

Find the Apple iPad on Amazon.com
---
iPods and Media Players
---
Portable media players and Apple iPods continued at #1 and #2 on the teen wish list, and down slightly to #4 for adults.
Apple still defines and dominates this category, as shown by the iPod having its own entry on both lists.
In comparison, the iPhone 4 is available from AT&T (with a service plan) starting at $199 with 16 GB of memory.
Apple iPod shuffle / iPod nano
This year's update to the iPod line further focused on portable music playing, with the display-less iPod shuffle (for $49 with 2 GB of storage) and the shrunken iPod nano with tiny touch display (starting at $149 with 8 GB). Both now feature clip-on designs for use with headsets.



Apple iPod shuffle

Holds hundreds of songs, up to 15 hours playback
Front control pad, built-in clip
1.24 x 1.14 x 0.34 in., 0.44 oz.
Introduced 9/10 - 2 GB $49


Find the iPod shuffle (gen 4) on Amazon.com






Apple iPod nano

Multi-Touch interface, built-in clip, FM radio
Smaller display, No camera, no video, no mic, no click wheel
16 GB - about 4,000 songs, Up to 24 hours playback
1.54 in. color display, 240 x 240
1.61 x 1.48 x 0.35 in., 0.74 oz.
Introduced 9/10 - 8 GB $149, 16 GB $179

Find the Apple iPod nano (gen 6) on Amazon.com
Apple iPod touch
Meanwhile, the iPod touch (starting at $229 with 8 GB) has become an almost full-fledged iPhone without the phone (or think of it as an iPad mini), including dual cameras and downloadable apps for Web, e-mail, entertainment, and gaming.
Apple iPod touch

3.5-in. widescreen Multi-Touch display [same size]
Adds Retina display - from iPhone: 960 x 640, 326 ppi [4X higher res]
Adds cameras with HD recording: Video editing, FaceTime video calling
Adds three-axis gyroscope: Advanced motion sensing - acceleration
Apple A44 mobile processor from iPhone - Performance, battery life
64 GB = 16,000 songs, 80,000 photos, or 80 hours of video
Back camera: Photos (960 x 720), Video HD (HD / 720p)
Front camera: VGA-quality photos and video up to 30 fps
Play music up to 40 hours, Video 7 hours
4.4 x 2.3 x 0.28 in. (7.2 mm thin), 3.56 oz.
Introduced 9/10 - 8 GB $229, 32 GB $299, 64 GB $399

Find the Apple iPod Touch (gen 4) on Amazon.com
---
eReaders
---
eReaders are another strong category for this year, up to #3 on the adult list from #6 last year.
This is a great example of the counter-convergence story, as paper books are about the most convenient content delivery media you could imagine, and you already can read digital books on devices ranging from notebooks to smartphones to tablets.
But the electronic eReader still makes great sense for people who just like to read stuff. You can easily preview and download a huge variety of books and magazines from the associated bookstore (e.g., Amazon or Barnes and Noble), as well public domain material (e.g., from Google Books), and audiobooks (e.g., from Audible.com). And you can download and view your own documents.
You then can access and read your eBook store purchases on other platforms, including PCs and smartphones and tablets with the associated apps. eReaders also add some limited convergence functions, including serving as a media player and even an (albeit limited) Internet browser. You can go online with built-in Wi-Fi to browse the bookstores, or some eReaders have built-in cellular data connections -- and without any additional monthly service plans.
And eReaders are much less expensive than tablets: the Amazon Kindle starts at $149 for the Wi-Fi version, and $189 with 3G+Wi-Fi cellular, and the similarly-sized Barnes & Nobile Nook is $10 more, with the addition of a 3.5 inch color touchscreen navigation strip below the grayscale E-ink screen. Amazon also offers the larger Kindle DX with 9.7-inch screen and 3G+Wi-Fi for $379, and the new Nook Color with 7-inch color touchscreen is $249.
The advantage of eReaders versus multi-function tablets is again the focused design -- these devices are lighter, thinner, and therefore easier to hold comfortably for extended periods (the Apple iPad tablet with 9.7 inch diagonal display is four times the weight of the smaller and thinner 6-inch Amazon Kindle (24 vs. 8.5 ounces), and the larger 9.7-inch Kindle DX is also lighter and significantly thinner than the iPad (19 ounces, and 1/3 vs. 1/2 inch thin).
In addition, the typically grayscale E-ink screens are crisper for extended reading, and easier to read outdoors, even in direct sunlight. The batteries also run for multiple weeks without wireless, or at least a week even with wireless running.
---
Amazon Kindle 3rd gen - 6" display - Wi-Fi / + 3G (7/10)



6" diagonal, 600 x 800, 167 ppi, 16-level gray scale
Lighter than a paperback and thinner than a magazine (1/3 in.)
E Ink "Pearl" display, 50% improved contrast
Double storage (4 GB), 3500 books
Built-in Wi-Fi
20% faster page turns, Enhanced PDF reader
Battery 1 month w/o wireless, 3 weeks Wi-Fi, 10 days 3G
Full charge approx. 4.5 hours
7.5 x 4.8 x 0.335 in. (190 x 123 x 8.5 mm), 8.5 / 8.7 oz. (241 / 247 grams)
7/10 - Wi-Fi $139, 3G+Wi-Fi $189

Find the Amazon Kindle Wi-Fi
and Kindle Wi-Fi + 3G on Amazon.com
Amazon Kindle DX - 9.7" display - Wi-Fi + 3G (7/10)



9.7" diagonal, 1200 x 824, 150 ppi, 16-level gray scale
50% better contrast, 10:1 contrast ratio, darker fonts
3G+Wi-Fi
Battery 2-3 weeks w/o wireless, 7 days with wireless
10.4 x 7.2 x 0.38 in, 18.9 oz.
7/10 - $379

Find the Amazon Kindle DX on Amazon.com
B&N NOOK Color - 7" touchscreen
7 inch VividView color touchscreen display

178 degree viewing angle
IPS (In Plane Switching), 16 million, 1024 x 600, 169 PPI

8 GB storage, up to 100 hours of audio
Plays music (MP3, AAC) and video (MP4)
Adjust 6 text sizes, font styles, background colors, line / margin spacing
Battery up to 8 hours without wireless, Charge in 3 hours
8.1 x 5.0 x 0.48 in., 15.8 oz.
10/10 - Introduced - $249
---
B&N NOOK eBook Reader - 6" E ink touchscreen
6" E ink Vizplex display, 16-level gray scale
Plus - 3.5 inch color touchscreen LCD at bottom - touch navigation
2 GB memory built in (approx. 1500 eBooks), microSD slot up to 16 GB
Plus - Micro SD card slot - 16 GB expand up to 17,500 titles
AT&T 3G Wireless Network
Plus - Wi-Fi (Free at every Barnes & Noble)
Password protection: Lock on sleep, password to buy
Built-In Merriam-Webster Collegiate Dictionary
Android-based
Mono speaker, 3.5 mm stereo headphone jack, Micro USB connector
Plus - Replaceable battery, Interchangeable back panel

Battery up to 10 days, 2 days with wireless / music

7.7 x 4.9 x 0.5 in., 11.2 oz.
Ship 2/10 - $259
6/10 - Introduce NOOK Wi-Fi $149, Nook 3G lower $199
---
Video Games
---
Video game systems and video game accessories continue to be strong, appearing at #3 and #5 on the teen and adult wish lists.
The Nintendo Wii has revitalized the console market by broadening the audience with casual games and sports activities -- Kids can play with their parents, couples can play together, and retirees can get some fun exercise in the retirement home.
This holiday the gaming focus is on competing motion control systems with the Microsoft Xbox 360 Kinect and Sony PlayStation 3 Move systems. You can just move in front of the camera to control the action with gestures, for more accurate and realistic control of the game and your virtual character.

Microsoft Xbox 360 Kinect - soccer
Sony PlayStation 3 Move
The Sony PlayStation 3 Move adds a motion controller and associated camera to track your movements with the controller, to control the game or even bring a virtual character into the room with you. It's available as a $99 accessory, or bundled with new PlayStation 3 systems.
Sony PlayStation 3 Move

PlayStation Move motion controller $49
PlayStation Eye camera $39
Track movements with controller
Control game, bring virtual character into room
9/10 - Introduced - $99 accessory
PS3 320 GB $349 w/ Move Bundle $399
PS3 160 GB $299PS3 250 GB $349, 120 GB $299

Find the Sony PS3 320 GB w/
Playstation Move on Amazon
Microsoft Xbox 360 Kinect
The Microsoft Kinect uses a stereo camera system for controller-free gaming that does full-body tracking to follow gestures and your skeletal position, as well as providing face and voice recognition. It's available as a $149 accessory, or bundled with new Xbox systems.
---
HD TV and 3D TV
---
The CEA holiday wish lists show the success of the digital TV transition and the movement to high definition,
as big screen TVs have dropped to #7 on the adult list, down from #3 and #2 in the previous years.
Similarly, the DVD player was #6 in 2008, followed by the Blu-ray Disc player at #8 in 2009,
and then was displaced in the top ten for 2010.
In response, the consumer electronics industry is rolling out its next big step in technology -- 3D TV. According to the CEA, over 27 percent of U.S. adults saw a 3D movie in 2009, and so consumers are ready to also enjoy 3D in their homes. This year saw companies roll out entire lines of 3D HDTVs, complete with the associated 3D glasses. Just add a 3D Blu-ray player and you can experience 3D movies in your own living room. (Unlike the deployment of high-def, 3D is not being led by broadcasters and cable systems.)
Since adding 3D to TVs and Blu-ray players is not a major change (some Blu-ray players like the Sony PlayStation 3 even can be upgraded in firmware), the technology likely will be built in as a standard part of more and more new products, as some TVs are already being sold as "3D ready" (i.e., buy the glasses separately).
The other continued push in TV is Internet integration, with Web access and widgets built in directly to some TVs. Or you can add these features with set-top boxes like the Apple TV, Roku, and Google TV that provide access to a broad variety of streaming content beyond your cable system, including services like Netflix as well as Internet sources including Hulu and YouTube. And services like Netflix offer unlimited access to content anywhere, anytime, on any device, from discs in the mail (how old-fashioned) to streaming on PCs, set-top boxes, game consoles, and the iPhone / iPad.
Sony BRAVIA 3D HDTVs
Sony BRAVIA 3D HDTV - 40, 46, 52, 55, 60 in. displays

40" BRAVIA HX800 Series 3D HDTV

Full HD 1080p with 3D (3D ready)
37 1/2 x 24 1/4 x 9 7/8 in.,36.2 lbs. with pedestal
11/10 - $2099 -> reduced - $1349 (Model KDL-40HX800)

60" BRAVIA LX900 Series 3D HDTV

Full HD 1080p with 3D built-in (active glasses included)
56 3/4 x 37 x 15 in., 109.7 lbs. with pedestal
11/10 - $4999 -> reduced $4499 (Model XBR-60LX900)

Find the Sony 40" BRAVIA HX800 3D HDTV and 3D Deluxe Starter Kit on Amazon.com

Sony 3D Accessories

3D Active Glasses [Standard and Small Sizes] - $149

Battery up to 100 hours (TDG-BR100/B)

3D Sync Transmitter - $49
3D Deluxe Starter Kit - $399

Two pairs of 3D active glasses, 3D sync transmitter
Disney Alice in Wonderland 3D Blu-ray Disc, HDMI cable
Apple TV
Apple TV

Watch HD movies and TV shows on HD TV, HDMI, Wi-Fi, Ethernet
Rental for all content, no purchasing, no managing storage on box
Enclosure under 4 inches square
HD movies rent $4.99, HD TV show episodes rent $0.99
Stream from Netflix, YouTube, Flickr and MobileMe
Music, photos and videos from PCs and Macs
9/10 - $99 (was $299)

Find the Apple TV (2010) on Amazon.com
Google TV
Logitech Revue with Google TV

"Watch whatever you want, wherever it comes from on HDTV"
"TV gets a homepage" -- "The web is now a channel"
TV + Search + full Web browser + Android apps
Pass-through cable box to TV, search and view across sources
10/10 - $299
Logitech - www.logitech.com/en-us/smartTV
Google TV - www.google.com/tv

Find the Logitech Revue on Amazon.com
---
Digital Cameras and Camcorders
---
The digital camera also continues in the middle of the adult wish list, as in previous years.
Yes, it's trivial to shoot photos and videos with your cell phone or smartphone, and you even get the instant satisfaction of being able to text or e-mail or upload your photos directly from the phone. But dedicated cameras provide clearly better pictures with higher-quality sensors and lenses, with extensive automated assists plus the option of manual controls.
Today's cameras have plenty of resolution, so the focus is no longer on competing on the basis of raw megapixels. It's now more about more subtle details of the sensor quality and image processing, with features like automated face detection and exposure settings.
The other consideration is size and style. Do you want a pocketable camera, or the higher quality and flexibility of a larger model, for example with a better lens that telescopes from the body? At the higher end you get more control, with a viewfinder (instead of just the back display) and interchangeable lenses.
So the SLR (single lens reflex), with the flip-up mirror between the viewfinder and sensor, evolved to the DSLR (digital SLR), and now is going to the "mirrorless" DSLR, with the same style of camera, but without that clunky mechanical mirror.
Then continuing with the de-convergence trend, while digital cameras also shoot video, it also can make sense to have a dedicated video camcorder, particularly if you will be shooting for longer periods, or want more control of shooting features like zoom and mics. And simple pocket camcorders like the Cisco Flip make it dead easy to shoot both spontaneous fun and more formal events, with great HD quality.
For high-end photographers, digital cameras are pushing back with the "hybrid" DSLR, explicitly designed to shoot HD video. These bring camera looks including interchangeable lenses and precise control over depth of field to video. And they let you shoot video less obtrusively then lugging around a camcorder.
Cisco Flip Pocket Camcorders
Flip MinoHD (3rd gen)

New: 60 fps & image stabilization
Brushed metal front, rounded, solid metal USB arm

Touch-sensitive capacitive buttons
Internal lithium-ion battery, recharges from USB (not removable)

Up to 1.5 hrs. use between charges
Charge in 3 hours via USB, 2 hours via external adapter

3.94 x 1.97 x 0.63 in., 4.1 oz.
9/10 - 2 hr. (8 GB) $229 black, 1 hr. (4 GB) $179 silver

Find the Flip MinoHD on Amazon.com
---
Phones and Smartphones
---
So what about the smartphone, the ultimate convergence device?
This year's teen wish list adds smartphones at #8 and the Apple iPhone at #10, as well as cell phones at #5, and the adult list does not have them at all this year.
The iPhone has clearly defined the smartphone category, starting as an iPod phone and expanding to an app phone, but is now facing significant competition from Google Android, the RIM Blackberry for business, the reinvented Palm now part of HP, and Microsoft's totally reborn Windows Phone 7.
The result is relatively clear choices for consumers, depending on your needs and interests. In particular, Apple is echoing its long-time strategy on the desktop with the iPhone: premium products that inspire user fanaticism, with limited product models, and tight control of the software environment for a consistent experience. In comparison, Android, like Windows, is available from a plethora of manufacturers, on a huge variety of models with different feature options (e.g., physical keyboard, larger screen, removable battery, removable memory cards), and with an open development environment for applications.
Yet even more than before, smartphones are living up to their promise as convergence devices, including nearly-HD displays, multi-megapixel cameras, and GPS for live maps with directions. As a portable computer, you get full-up Internet browsing, e-mail, office document viewing and editing, and synchronized contacts and calendars.
As a media device, you also get streaming Internet music and video, and photo and audio and video recording, albums, and playback -- Plus new features like voice input and photo analysis, including text and bar code recognition.
And downloadable apps further extend smartphones capabilities, including as an E-reader and handheld gaming system.
And, yes, these smartphones even do phone calls as well -- This communications part is why it does make sense to off-load some of these tasks to other dedicated devices if you're going to use them for an extended period, like GPS navigation for a long trip or shooting video of an entire event.
So whatever your needs this holiday season, the consumer electronics industry is ready and willing with ever more amazing products -- converged or dedicated, for the home or on the go, large or small screen, pocketable or luggable, Wi-Fi or cellular. The choice is yours, whether you justify it as for personal entertainment or for business productivity -- or both.
Apple iPhone 3
20% thinner (0.48 to 0.37 in.), 40% longer talk time
"Retina" display, 3.5 in., 960 x 640 backlit LCD, 326 pixels per inch
4X more pixels (was 480 x 320)
5 MP back camera (was 3 MP)
with LED flash / light and illumination sensor
Records HD video
Front camera for video calls and self-portraits. VGA res
Second microphone to reduce background noise
4.5 x 2.31 x 0.37 in. (58.6 x 115.2 x 9.3 mm), 4.8 oz. (137 g)
iOS 4 Software: Multitasking, FaceTime video calls,
FaceTime video calls - between iPhone 4s, Wi-Fi only
iMovie app ($4.99) - Combine and edit clips, in HD
Available 6/10 - 16 GB flash $199, 32 GB $299; AT&T only in U.S.
Apple iPhone - www.apple.com/iphone
Verizon Wireless / HTC Droid Incredible
3.7 in. touch screen, 480 x 800
8MP camera, auto focus and dual LED flash
Optical joystick / button for navigation
1 GHz Snapdragon processor
FM Radio - with wired headset connected
Android 2.1 with HTC Sense experience
512 MB RAM + 8 GB internal
+ microSD to 32 GB
4.63 x 2.3 x 0.47 in., 4.59 oz. w/ battery
4/10 - $199, w/ new 2-year agreement

Find the Verizon Droid Incredible on Amazon
---
Annual Holiday Gadget Guides
---
Expanded from my annual holiday gadget guide article in the U.S. 1 Newspaper, Dec. 1, 2010:
My Holiday 2010 Gadget guides:
See my Holiday Tech Gadget Guides from previous years: