HOME DIGITAL MEDIA ARTICLES

Manifest Technology Blog -- Site: | Articles | Galleries | Resources | DVI Tech | About | Site Map |
Articles: | PC Video | Web Media | DVD & CD | Portable Media | Digital Imaging | Wireless Media | Home Media | Tech & Society |
Home Media: | Home Media Articles | Home Networked Media Gallery |

---
Gadgets to Go 2003:
Traveling Light for the Holidays (12/2003)
by Douglas Dixon
Have gadgets, will travel! As the holiday travel season approaches, do you begin to dread your dependence on a growing collection of electronic gizmos? What do you pack for a trip? A cell phone (of course), to keep in touch, plus a notebook and handheld PDA (personal digital assistant) for business work. To help pass the time, you can bring along a portable audio player, or even (especially for the kids) a portable video player or DVD player. And to remember the trip, you can pack a camera and or even video camcorder. And if your bag wasn't big enough, you'll also need all the associated spare batteries, chargers, wires, and connectors -- and don't forget the spare extension cord so you can plug all this stuff in to recharge at the end of the day.
It's messy enough getting this stuff through the airport baggage screening on a business trip, but it all gets seriously cumbersome on what is supposed to be a vacation trip, not to mention offensive to the family as you bring the office along during holiday family travels.
But we are addicted to our gadgets, and it's hard to give them up. The answer to this dilemma comes in two parts: miniaturization -- shrinking the devices to be lighter and less obtrusive (though not too small to be impossible to operate) -- and integration -- combining more features into multifunction devices (if nothing else to reduce the number of batteries and cables).
However, the real issue for me is the pocketability test -- can the device slip into a pocket, so it's unobtrusive (instead of being clipped to the belt), and not so heavy as to lower your pants line as you walk. (The pocketability issue helps make otherwise fashion-oblivious males interested in the pleated look for trousers to help disguise the silhouettes of bulky gadgets.)
For this holiday season, here's my take on how to pack light and still have the gadgets that you can't bear to leave behind. Of course, your trade-offs and priorities may be different, but at least there's hope that you can have your trip, and your stuff too.
The first step in gadget reduction and consolidation is to do something about the biggest item -- the notebook. Though bulk and power has its place, you can do a lot better than lugging around a big "desktop replacement" notebook and its peripherals, which can add up to eight to ten pounds with all the peripherals. These "high-performance" systems are big and bulky (up to 1.8" thick), with desktop-rated processors, large disks, CD/DVD drives, lots of connectors and ports, and big displays (up to 15.4").
What you want is an "ultraportable," weighing under four pounds, smaller (with a 12" display), and thinner (1.4" or less), and less bulky than some of the issues of the dot-com magazines during their heyday). These notebooks are small enough to slip into a briefcase, instead of requiring a separate (and obvious) piece of computer luggage.
Sony has specialized in these products as part of its VAIO line (www.sonystyle.com/vaio). The Sony VAIO TR series, at $2200, squeezes down to 3.11 pounds, with a 10.6" display, and still includes a CD/DVD drive (at only 7.4" x 10.6" and 1.44" thick). Dell (www.dell.com) also has lightened up with the new Inspiron 300m for $2500 that weighs only 3 lbs with a 12.1" display and is even thinner at 0.96" (by removing the CD/DVD drive to an external modular bay).
Sony VAIO TR series Dell Inspiron 300m
Meanwhile, notebook manufacturers continue to experiment with even smaller sizes in products sold in Japan, such as the Sony VAIO U101 "palmtop", down to 1.94 pounds and 5.49" x 7.04" by 1.34" thick.
The downside with small notebooks is what you have to give up to eliminate size and weight, so you need to be sensitive to which tradeoffs are important to you when evaluating different models. You give up screen size, of course, and some detail in the screen resolution, and often the feel of a full-size keyboard. And you can't expect to get cutting-edge processor speed, fully-loaded memory, and disk space. These systems also shrink the size of the battery, so even though the new Intel Mobile Pentium chips are significantly more efficient at reducing power, these systems typically will not last for an entire airline flight.
Ultraportables typically reduce thickness and weight by removing the CD/DVD drive, and even lose connectors such as serial and parallel ports. These often move off to a separate docking device along with an auxiliary battery. If you are going to use one of these systems for presentations, though, make sure it includes a video output port. You also will want USB ports to hook up to external devices such as a digital camera, and maybe even a FireWire / IEEE 1394 port to hook up to a camcorder.
However, having a DVD drive is useful for watching movies when you travel -- whether to keep kids quiet in the back seat, or executives pacified on long plane flights. DVD player software like InterVideo WinDVD (www.intervideo.com) even has variable-speed playback, so you can enter the amount of time you have until the plane lands, and the software will speed up the playback so you can watch the entire movie (and without distorting the audio pitch).
InterVideo WinDVD
You should also carry a "USB drive" -- the new floppy disk -- a thumb-sized flash memory card that can plug in to the USB port to use for saving and transferring files (around $40 for 128MB, or $145 for 512MB).
Although notebooks are getting smaller, the best solution for traveling light is to jettison the notebook and use a handheld PDA as a stand-in. Unless you're really going to be doing serious work, the only reasons to bring a notebook are to have documents for reference and to check E-mail. But today's PDAs are great for both of these needs.
You can use both the Palm (www.palmone.com) and the PocketPC (driven by Microsoft, www.pocketpc.com) platforms to download and synchronize documents with your main computer, so you can bring along your Word and Acrobat documents, spreadsheets, and even PowerPoint presentations. Yes, you can sync your Microsoft Office documents on the Palm with applications like DataViz Documents to Go (www.dataviz.com), view them complete with text styles on the handheld, do spell checking, and even edit them and sync the changes back to the desktop.
I'm partial to the Palm myself, although historically you give up a bit in raw performance versus the PocketPC, in order to achieve a slightly smaller (but noticeable) size. The Palm platform has migrated from Motorola Dragonball processors at 16 and 32 MHz to the same speeds as the PocketPC platform, with Intel XScale processors at 400MHz. Dell recently has joined companies including Hewlett Packard and Toshiba in offering lighter and less expensive PocketPC devices.
PocketPC - Dell Axim X5
Sony is pushing the handheld concept about to its limit with the CLIE line of Palm-based PDAs (www.sony.com/clie). These include built-in cameras (up to 2 megapixels) and miniature QWERTY keyboards, at up to $799. The CLIE PEG-UX50 ($700), called a "personal entertainment communicator" or "mobile internet communicator," expands the handheld concept to something like a miniature notebook, with separate keyboard and swivel display, and fits in the palm of your hand at 4 1/8" x 3 1/2" and 3/4" thick, and weighing only 6.2 oz. It has a 480 x 320 display and supports both Wi-Fi and Bluetooth wireless communications.
Sony CLIE PEG-UX50
Like a notebook, handhelds also can be your portable media player, for music, photo slide shows, and even video clips. These devices use external flash memory cards, which give you plenty of room to store short video clips (typically around a minute), hours of music, and hundreds of photos. (A 512MB Secure Digital (SD) Card costs under $200; that's nearly the capacity of a CD in around the size of a postage stamp.) You even can carry higher-res photos or scanned images, to reference and zoom in on maps of your travels.
Even if a PDA can replace a notebook for bringing along your electronic files, there's still the need for communications, E-mail and even Web access. One option is to use yet another device like a RIM BlackBerry (www.blackberry.com), designed expressly for messaging on the go, with a display, keyboard, and organizer applications. But why add yet another device if you already have a PDA, conveniently already loaded with an address book full of email contacts and documents you may want to reference? All you need is an E-mail application, and even a Web browser application, and some way to communicate.
RIM BlackBerry 7700
These days there are a bewildering variety of networking options for PDAs. The original Palms used IR (infrared) to "beam" contacts and documents between handhelds. Some now support Bluetooth for wireless connections to near-by devices, such as a desktop machine for syncing or even a headset for playing music.
These are point-to-point connections, for replacing a cable between two devices. To connect to the Internet to access your E-mail you need true networking, with multiple systems sharing the airwaves to connect to an Internet access point. This is the magic of Wi-Fi (an abbreviation for Wireless Fidelity), a network access point with an antenna to provide radio connections to any system in the range of the hotspot, around 300 feet (www.wirelessethernet.org). Many hotels, restaurants, airports, and university campuses now offer Wi-Fi service, although you may have to do some re-configuring to connect properly, and not all such services are free.

One important issue with Wi-Fi is that the airwaves are shared, which means that it is very easy to eavesdrop on, say, private E-mail or Web transactions with credit cards. The current Wi-Fi standards do not provide very strong security, and even that is often not necessarily enabled and configured properly, especially in public spaces.
There also are several versions of Wi-Fi standards, so you may need different equipment for your handheld or notebook to access a particular site. The original Wi-Fi, officially called 802.11b, provides up to 11 Mbps connections, but uses the same 2.4 GHz radio band which is used for cordless phones and microwave ovens. The later 802.11a standard moved up to the 5GHz band, avoiding this possible interference and providing up to 54 Mbps data rate. Current Wi-Fi equipment typically supports both the "a" and "b" versions, and new equipment is adding 802.11g, which is compatible with "b" but increases the data rate to the same as the "a" standard. In practice, this can provide similar speeds as wired Ethernet network connections, at 10 or 100 Mbps.
Although Wi-Fi can be great when you are near a compatible access point, the most ubiquitous and reliable wireless communication service in this country is cellular phones. Plus, a phone connection is a virtual dedicated line, and therefore not so trivially intercepted. By connecting via a cell phone, you can access E-mail from almost anywhere, albeit at lower data rates than Wi-Fi. While the cellular phone companies are still rolling out higher-speed data service, today's speeds are fine for checking E-mail and even perusing (although not really browsing) Web sites.
So we're converging here, on an integrated device which is both a cell phone and a PDA. After all, the cell phone is the key device that is always with you. As a result, it's also the most obvious target for integration of multiple functions: as the phone plus basic address book grows to add a PDA, and the phone plus downloadable music and photos grows into a music player and camera phone.
Camera phones are definitely getting hot: USA Today reports market research from IDC showing that over 80 million camera phones have been sold worldwide, and 6 million in the U.S. This year, camera phones even are projected to outsell digital cameras worldwide, 57 million to 44 million. For example, Verizon offers the LG VX6000 ($149.99 after $50 rebate), which shoots photos at 160x120 to 640x480 resolution.
Beyond camera phones, the next new thing for cell phones is walkie-talkie service. Originally popularized by Nextel, this "push-to-talk" service can connect you directly to your work group or family members, providing instant two-way radio service without the unbearable delay of dialing. Verizon Wireless (www.verizonwireless.com) began offering push-to-talk service in August, including the Motorola V60p ($199). The New York Times quotes Forrester Research reporting that 100,000 people signed up for the service in the six weeks after it was introduced. In November, Sprint also announced that it would become the third wireless provider to offer this service.
Push-to-talk service, like the other multifunction phone services, does requires special phones that support that service. Your choices when selecting a cell phone now include basic analog phone service, one or two bands or modes of digital service, digital data service, downloadable applications and games, PDAs, cameras, and more. Currently, no one device has all of these capabilities, so we will continue to see further levels of multi-functionality and integration of all these possibilities.
There are several different philosophical approaches to portable wireless E-mail and communication. Some devices like the RIM BlackBerry (now available with color display) are focused on wireless mail, great if you need a dedicated device, but yet another separate gadget for the rest of us. Other devices like the Handspring Treo (www.handspring.com now www.palmone.com/us/products/smartphones) are based on a PDA, designed as a handheld that is integrated with cell phone features.
In contrast, the Kyocera 7135 Smartphone (www.kyocera-wireless.com/7100_phone/7100_phone_series.htm) is the first elegant combination of both devices in one unit. It is first a cell phone, but also with the integrated Palm PDA. You're just carrying a slightly larger phone, but now you can have your address book and calendar with you everywhere you go, plus carry along your collections of documents, photos, and even movies. You can check your E-mail on the train to New York, even in the bowels of Penn Station, or in the basement of the Javits Center, and you even can browse the Web on a trip in Virginia to look up Monticello on Google, find out the derivation of the name ("little mountain" in Italian), and check visitors' hours.

Kyocera 7135
The uses a clamshell or flip design, only 3.97" by 2.43", and is a little chubby at 1.17" thick, and weighing 6.6 ounces. It's like carrying a full wallet in your pocket, or clipped in a holder on your belt.
As a full-featured phone, it includes caller ID, vibrating alerts, position locator for 911 service, speakerphone, and hands-free car kit with voice-activated dialing. It has a removable battery, with talk time estimated at up to 3.5 hours, and standby time up to 160 hours. The display is great for a phone, 65,000 colors and 160x160 resolution, bright for a PDA, albeit a tad small at 2 x 2 inches.
But this is also a full Palm PDA, actually slightly better than last year's Palm models, with the old 33 MHz Dragonball processor and 16 MB of memory. It accepts both Secure Digital (SD) and Multi-Media Card (MMC) expansion cards, so you can add significantly more memory to store data, pictures, audio, and even movies (a 256MB card costs around $80).
The Kyocera 7135 includes all the standard Palm applications, and they integrate with the phone, so you can look up and dial numbers directly from the Address Book, and have incoming calls identified by name when they match the caller ID number.
Verizon released the Kyocera 7135 in May, for $499.99 with a two-year contract. It also offers similar PocketPC-based Smartphone products, such as the Samsung SCH-i600 ($499).
Samsung SCH-i600
The really cool integration of PDA and phone comes from the ability to send E-mail and surf the Web, combining the Palm interface with the integrated phone connection. This does require a non-trivial understanding of setting up the Palm software and wireless communications interface.
Verizon offers two ways to connect to the Internet. You can use the "Quick Connect" service, which connects over the standard CDMA digital cellular service used for voice calls. It is therefore charged by the minute against your regular voice service plan (including evening and weekend minutes, if available). Quick Connect provides a maximum speed of 14.4 Kbps -- considerably lower than a 56 Kbps dial-up modem.
The second option is the Verizon "Express Network" service, available in major cities and using the new CDMA2000 1X (aka 1XRTT) technology. This provides a maximum of 144 Kbps, or more typically 50-60 Kbps when shared with other users. Express Network is an add-on service, charged against the base minutes in your voice service plan. Or, for heavy users, you can pay by the amount of data traffic, at $29.99 per month for 5 MB of traffic, or $49.99 per month for unlimited use. Verizon also sells the Express Network service for applications such as wireless Internet access from laptops.
You then can connect to the Internet and run Palm E-mail or Web browser applications to access Internet-based services. The slower Quick Connect service was fine for E-mail -- you can connect, check for new mail, download five or ten messages, and even delete mail in under five minutes. The trick is to limit the download time by skipping long messages, and setting up E-mail filters to ignore junk mail that you can handle later from a desktop.
Kyocera also bundles several Web browser applications, one that attempts to download and display full Web pages with images, another that skips images for faster downloads, and a third that accesses special text-based WAP pages that are designed for small phone displays. Web access was bearable with the faster Express Network service if you were highly motivated to find results, for example to use Google to enter a query and find a useful search result.
AOL also sells a Palm application for $19.95 that can use these services to access AOL E-mail and instant messages (AIM). You can use a virtual private network (VPN) connection to connect to your corporate system.
The catch with these applications is that they are not particularly well integrated with the data services, so it's easy to get connected, do some AOL or surfing, and then forget to disconnect, which means you'll be piling up a lot of minutes on your calling plan. The Eudora E-mail application does better, with the option to automatically connect when needed (and even powering on the phone service), and then explicitly disconnect after the transfer is complete.
With the Kyocera Palm phone and similar devices, we have our phone, with caller ID, voice dial, voice messages, speakerphone, and text messaging -- plus the PDA side, with contacts and datebook, electronic file cabinet including slide presentations, electronic books, games, photo slideshows and scans, music player library, and short video clips. By integrating the two, we also add data services with E-mail and even Web browsing.
What you give up, compared to other PDA designs, is such features as a larger screen, alphabetic keys (versus the numeric phone keypad), faster processor, and camera. That's a good tradeoff for me, because all the functionality in the PDA phone can be with me all the time, and I can easily bring along a separate small camera as well.
In addition, with today's technology, camera phones really still are toys, designed for taking relatively small photos best viewed on the small camera displays. The phones do not have the processing power and storage to shoot multi-megapixel images, and the images need to be tiny anyway in order to transmit them quickly, since sharing is the whole point of the exercise.
Instead, I pack the Sony Cyber-shot DSC-U20, a 2 megapixel digital camera squeezed into about the size of two packs of gum (now upgraded to the U-30 for $199, U-50 with rotating lens, and also available in a waterproof version). Yes, it shoots slightly smaller 1632x1224 pixel images then a 3+ megapixel camera at around 2048x1536, and it has a fixed lens with no zoom, and the display and controls are almost too tiny to be usable... But, even so, it's a real camera, with flash and focusing modes. And at 4.3 ounces and 3 1/4 x 1 1/2 x 1 1/8 inches, it's small enough to fit comfortably in a shirt pocket, and is unobtrusive for grabbing quick pictures (www.sony.com/di).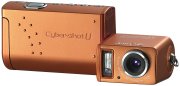 Sony Cyber-shot DSC-U50
Pocket-size cameras are not just for "impulse" snapshots like a disposable camera. What this development means is that you don't have to remember to bring the camera along when you go out, or to get the camera bag out of the car when you arrive -- you can just throw it in your bag or your pocket, and then you will always be sure that you have a camera with you, ready for use to capture moments you otherwise would just never get.
There now are a wonderful variety of small cameras, available in form factors for every need, from credit card size to more the stick of gum look. In September, Panasonic introduced an interesting D-Snap product line with another spin on miniaturized and integrated digital cameras and video camcorders (www.panasonic.com/d-snap).
Panasonic SV-AS10
The D-Snap digital camera, the SV-AS10 ($299), is a 4-in-1 multimedia device that starts as a 2 megapixel camera for shooting photos and videos, and also is a music player and even a voice recorder. All this in what Panasonic describes as a footprint "not much larger than a business card" and "thinner than many make-up compacts," or 4 1/8" x 2" by 1/3" thick, and weighing around 2 ounces.
The camera includes a 4X zoom lens, and the lens rotates 270 degrees for self portraits. All this data is stored on a standard Secure Digital (SD) card. A 512MB SD card can store up to 847 photos at full 1600x1200 resolution, or 46 minutes of lower-resolution video, or 10 hours of music, or almost 18 hours of voice recordings.
Now, that's multi-function, combining together all the stuff beyond a phone and PDA that you don't necessarily need to have with you at all times, but which is useful to use on trips, for taking pictures, or just relaxing to music. Plus, it's a voice recorder, which counts as a business expense.
Panasonic also released a D-Snap video camcorder, the SV-AV100 ($999), which provides a new level of "ultra compact" miniaturization. It records directly to SD cards, so there's no tape, no disc, and therefore none of that delicate mechanical transport mechanism with spinning parts. As a result it can be made smaller than a wallet (though a tad thicker), at 2.56" x 3.54" by 1.31" thick (for the lens barrel), and weighing around 5.4 ounces.
Panasonic SV-AV100
The camcorder includes 10X variable speed optical zoom, and a flip-open 2.5-inch LCD screen that turns 180-degrees for more self-shooting.
Again with a 512MB SD card, you can store 10 to 20 minutes of "DVD grade" MPEG-2 video at standard or fine quality (3 or 6 Mbps), or 70 to 610 minutes of video in the newer MPEG-4 format at various Web video rates (320x240 and 174x144 at 64 to 798 Kbps). Plus, you can shoot from 3,500 to 7,000 still photos at 640x480 resolution.
While 10 to 20 minutes of video is really too little for recording a full event, Panasonic is a big believer in the SD format, and sees further capacity growth to 1 GB and 4 GB cards in the next few years, which would provide for a more useful 80 to 160 minutes per card.
The other issue is that the video is recorded in MPEG formats, and not the common DV format used by most digital camcorders. MPEG is more highly compressed, and therefore is less amenable to being edited (it will show visible artifacts or glitches if you edit and recompress too much). In addition, many video editing tools do not support the MPEG formats well, and so the video will probably need extra processing steps to save, edit, and share.
On the other hand, much like the situation with pocket-sized still cameras, this kind of dramatic reduction in the size of a camcorder means that you will be more likely to bring it along, and therefore have opportunities to shoot material that you would otherwise miss.
You do still need a full-fledged still camera, and camcorder, for those situations when you know you are going to be shooting an important event. With better lens optics, higher resolution, and more flexibility, you then can get better shots, especially if you are in difficult shooting situations, farther away from the scene or with tricky lighting.
While these kinds of smaller and more integrated devices do make it much easier for you to travel with all your stuff, they do have disadvantages beyond the compromises in capabilities to squeeze into smaller sizes. With the miniaturization, the controls and displays can shrink to the point that the devices just get too hard to use. In addition, all this integration increases the complexity of the devices, which means what was once a highly reliable phone becomes a much less closed and less stable system, increasing the risk of problems.
While you probably never have seen an older cell phone crash, and it is very uncommon to see a Palm crash, it's still a too-common occurrence on PCs. Unexpected crashes are now coming to these kinds of multifunction devices, as they become general programmable devices running a wide variety of applications that stress the system.
For example, the early Kyocera Palm phones occasionally would stop being able to receive or dial calls, and needed the battery removed to force a reset. Even worse, a bad crash can cause a hard reset, which means that all the programs and downloaded data are lost. This could be a real problem, for example, on a business trip. After a hard reset the core phone functions still work, since they use the keypad and not the Palm interface. As a result, you can still send and receive calls, it's just that your entire address book is gone, along with all the other data.
As a result, users do need to treat this kind of device as a computer, and be prepared for the possibility of unexpected problems. If you are near your computer, you can recover most of your data by syncing the device with your PC, which keeps a copy of the handheld's data in files on hard disk. However, especially for times when you are on the road, you also should use third-party software to back up your system to the expansion card. In the case of a reset, you can restore the entire contents of the unit, at least to the point of the last backup.
For me as a Palm user, the Kyocera 7135 Smartphone is as close to a dream device as you can find these days. It's a full phone, with speakerphone and hands-free car use; it's a full Palm, with all my important information; and it's a mobile E-mail and Web access device. It does have a relatively small display for a Palm, and it's still not quite as well integrated as it could be. It's also not the latest Palm system, so it is missing the faster processor and new Palm OS 5 operating system.
However, it certainly satisfies the pocketability test, comfortably traveling in both business and casual attire. From an integration viewpoint, it still does not support some of the sexy features in newer phones and PDAs, such as 802.11 wireless access for local networks, or Bluetooth for wireless headsets, or a built-in camera. Although some of these features can be added on through the expansion slot, I'm happy to also carry a separate multifunction camera, so I can be shooting pictures or loan it to a friend while still keeping my phone/PDA close at hand.
This may not be your preferred mix of features and trade-offs, but there are certainly a lot of other alternatives out there this holiday season. So good shopping, and happy trails!
Some good starting points for checking out cool new gadgets, reviewing products, and comparing prices include:
Gizmodo - the Gadgets Weblog
gizmodo.com
CNET Reviews - reviews and proces
reviews.cnet.com
Froogle - Google service - products for sale online
www.froogle.com
Notebooks
Dell
www.dell.com
Sony - VAIO Notebooks
www.sonystyle.com/vaio
InterVideo - WinDVD
www.intervideo.com
Handheld PDAs
PalmOne - Palm Hardware
www.palmone.com
Microsoft - PocketPC
www.pocketpc.com
Sony - CLIÉ
www.sony.com/clie
DataViz - Documents to Go
www.dataviz.com
Wi-Fi Communications
Wi-Fi Alliance
www.wirelessethernet.org
Verizon - WiFi
www.verizon.net/wifi
Cell Phones
Verizon Wireless
www.verizonwireless.com
PDA Phones
Kyocera Wireless
www.kyocera-wireless.com
Kyocera 7135 Palm
www.kyocera-wireless.com/7100_phone/7100_phone_series.htm
RIM BlackBerry
www.blackberry.com
www.rim.net
Handspring - Treo
www.handspring.com
now www.palmone.com/us/products/smartphones
Cameras & Camcorders
Panasonic - D-Snap Cameras
www.panasonic.com/d-snap
Sony Digital Imaging - Cyber-shot Digital Cameras, Digital Camcorders
www.sony.com/di