HOME DIGITAL MEDIA ARTICLES

Manifest Technology Blog -- Site: | Articles | Galleries | Resources | DVI Tech | About | Site Map |
Articles: | PC Video | Web Media | DVD & CD | Portable Media | Digital Imaging | Wireless Media | Home Media | Tech & Society |
Home Media: | Home Media Articles | Home Networked Media Gallery |

---
Digital Holiday 2006:
Home Entertainment Goes High-Def (12/2006)
by Douglas Dixon
High-Def Displays: HDTV
Philips Ambilight flat-panel TVs

High-Def DVD: HD DVD and Blu-ray
Toshiba and Samsung high-def disc players

Digital Photo Cameras
Kodak EasyShare V610 Dual Lens Digital Camera

Digital Video Camcorders Go HD
RCA EZ-105 Small Wonder
Canon & Sony HDV Camcorders

Home Networked Media
Slim Devices (Logitech) Squeezebox, Logitech Wireless DJ Music System
Sonos, Sling Media Slingbox

Home Video Monitoring and Webcams
Logitech QuickCam UltraVision, WiLife LükWerks
Creative Live! Wireless

Home Media Servers - Backup / Archiving
Maxtor OneTouch III, Buffalo TeraStation, Infrant ReadyNAS

See also: Digital Holiday 2006: Mobile Media and Navigation -- Portable players and GPS
It's an electronic entertainment holiday -- Just ask the Consumer Electronics Association (CEA, www.ce.org). In its thirteenth annual Consumer Electronics Holiday Purchase Patterns Study, the CEA reports that consumers plan to spend 24 percent of their gift allocation on CE products, or an average of $195 per household (up from 21 percent and $154 last year).
So what should you shop for this year? The consumer wish lists for electronics products reported by the CEA show continued strong interest in portable music, cell phones, digital cameras, and computers. Teens were more focused on video games (consoles and portable), while adults preferred home video (TV, DVD, and HDTV):
| | |
| --- | --- |
| Adult CE Wishlist 2006 | Teen CE Wishlist 2006 |
| Portable MP3 Player | Portable MP3 Player |
| Digital camera | Video Game Console |
| Notebook/Laptop PC | Computer (Unspecified) |
| Computer (Unspecified) | Cell Phone |
| Any Type of TV | Portable Game Device |
| Video Game System | Digital camera |
| DVD Player/Recorder | DVD Player/Recorder |
| Cell Phone | Car Stereo |
| Camcorder | Video Game Peripheral |
| HDTV | PC Speakers |
So let's take a look at some developing trends and options across these hot gift areas, with samples of representative products.
Hot areas:
- Portable devices certainly have been highly visible, with the Apple iPod and now Microsoft Zune, and the profusion of mobile phone carriers and devices. But at the same time there is clearly a parallel contrasting trend towards the high-definition home, with wide-screen HDTV home theater, next-generation HD discs, and even consumer high-def HDV camcorders.
See Digital Holiday 2006: Mobile Media and Navigation
- Similarly, while mobile phones can shoot photos and even short video clips, dedicated digital cameras and video camcorders still provide better and higher-resolution imagery, with the better quality required for viewing on home TV displays.
- And as you think about updating your home entertainment equipment, you also can start to see how these might fit together within the networked home, with media flowing between the set-top and desktop, accessible between both CE and computer devices.
---
It's been a big year for displays -- literally -- as consumers have fallen in love with flat screens and high definition. The CEA reports that gift purchasers are almost as interested in big-screen TVs (40 inch and above) as smaller-screen, and are more interested flat panels (LCD and plasma) than standard tube TVs.
Digital TV display options:
- LCD (liquid crystal) displays continue to come on strongly, as manufacturers (and consumers) are reaping the benefits from the mass production of LCD for both computer and TV displays, resulting in more efficient manufacturing and lower prices. LCDs are the cost-effective choice for smaller display sizes, and plasma is still dominant for larger screen sizes, but the cross-over point continues to move up with the growing dimensions of LCD displays.
- Plasma screens are for larger screens, to 60 inches or more, while LCD screens are typically sized up to around 45 inches. Plasma also has had a better contrast range and a wider viewing angle, although LCD is catching up. LCD also is typically thinner and lighter for the same screen size. Plasma has a somewhat shorter lifespan (albeit measured in multiple tens of thousands of hours), and can have burn-in problems, although much less than with older sets.
- Plus, there's rear-projection displays, with much less bulky sets than in the past (using DLP, LCD, and LCOS technology instead of more bulky CRTs). And don't rule out front projectors as a developing option for the home theater. These are especially great options for really large screen home theaters.
Besides the display technology, there are also additional technology issues that you should be aware of for digital and HD displays.
Digital TV issues:
- Room size: You need a large space to really appreciate a large display, so make sure you have enough viewing distance back from the screen -- not so close up that you see the dots on the screen, and not so far back that you lose the immersion experience from the picture filling your field of view. Roughly, you should sit back a distance of three times the height of the screen. For example, a 60-inch (diagonal) HDTV should have a viewing distance of 7 to 15 feet, while a 40-inch set would be more like 5 to 10 feet.
- Resolution: Not all flat-panel displays are high-definition: they may be digital televisions, but not true HD. HDTV is broadcast in two main resolutions: 720p (1280 x 720, progressive) and 1080i (1920 x 1080, interlaced), both at 16:9 widescreen aspect ratio. You can find smaller LCD displays described as SD (standard-definition) at much lower 640 x 480 resolution -- what we called VGA resolution on old PCs. Or they might be EDTV (extended definition), at 1024 x 768 -- which is a bit small even for a laptop display these days.
- Scaling: Since less expensive displays do not have the full 1280 x 720 resolution, and since there are multiple HDTV formats anyway, the display electronics will need to scale the picture to fit (and also convert between interlaced and progressive formats). This scaling is a big issue, as the native resolution of the input picture is mapped to the actual dots on the display screen. So check how the display reacts when it is fed signals with different sizes and different aspect ratios -- how it might squish or stretch the signal, or frame it in black to keep the correct aspect ratio. High-end theater systems therefore include separate scaling units.
- Cabling: There's also the issue of how to connect up these sets, especially as the actual display (the flat panel) is being decoupled from the TV tuner and the speakers, and as the signal arrives through alternative paths -- off-air, cable, satellite, fiber, DVD, and even over the Internet. And each of these paths may require a separate box (possibly with its own digital video recorder), and provide a different kind of signal. There's also a stunning variety of connectors on the back of these boxes: high-quality video and surround-sound audio can require dedicated cabling for each component of the signal. Instead, look for the HDMI (High-Definition Multimedia Interface) connector, which replaces the tangle of cables with a single cable that carries uncompressed digital audio and video (www.hdmi.org).
Obviously, going HD will take some thought and preparation, as you look at options that will work with your preferred TV delivery source, and also try to plan for future options. You can get started with a 15 to 20 inch SD LCD for under $300, get a 30-inch HD display for around $1000, or a 40-inch LCD with full 1080i and HDMI connectors for around $2000. Of course, you can go much higher, but then should be having serious discussions with a home theater specialist. At the higher end for the holidays, for example, Philips is introducing a 47" LCD with support for native 1080p display at $2,999, and a 63" plasma display for $5,999.
Today's displays often have added bonus features, including memory card slots to display slide shows when not watching TV, and network interfaces to display material from other devices in your home.
The interesting Philips Ambilight feature included on some of its flat-panel TVs uses multicolor lights behind the edges of the display to cast a color around the display, and even change with the picture to duplicate the colors being displayed on-screen (www.flattv.philips.com). Philips describes this as a soft light glow that creates a unique ambiance in the room and can promote more relaxed TV viewing.
---
As you step up to HDTV for live television, you'll also get a nicer picture from DVDs, especially for material in its native widescreen movie format. The explosive adoption of DVD is tailing off, but the CEA still projects 8 percent growth this year, with first-generation DVD players being replaced by set-top DVD recorders (for off-air TV and transferring your home videos), as well as combination DVD / VCR devices. But the real hope for the CE and film industries is the potential for next-generation DVD, offering high-definition video and higher capacity with blue laser technology.
Unfortunately, this great idea is stymied in the midst of a all-out "format war" between the two main high-def disc formats -- HD DVD, championed by Toshiba and NEC (www.hddvdprg.com), and Blu-ray Disc (BD), championed by Sony and Panasonic, with strong support from the consumer electronics and computer industries (www.blu-raydisc.com). While HD DVD was designed as an incremental improvement beyond DVD, offering 15 GB of capacity per layer and 30 GB for dual-layer, Blu-ray is a more aggressive step forward, with 25 GB per layer and 50 GB for a DL disc -- making it a much more interesting choice for PC-based data backup and video sharing.

The potential of this concept is exciting -- HD movies in the home, personal recording of HDTV, enhanced navigation with translucent menus floating above the playing movie, interactive activities including picture-in-picture inserts, and even networked downloads of new content.
However, the promise is still being developed, and these new products still have a long way to go before they match the flexibility and ubiquity of DVD.
High-def disc status:
- Players: The initial first-generation set-top players for both formats were released in the first half of 2006, with Toshiba aggressively pricing its HD DVD player at around $500 (www.tacp.toshiba.com/hddvd) and Samsung pricing its Blu-ray player at a more typical $900 for an early-adopter product (www.samsung.com/Products/Blu_ray). Both formats are rushing to the mass market, resulting in problems and upgrades for the early players, and fairly plain initial movie discs as the designers get up to speed on the new formats.
Samsung BD-P1000 Blu-ray Player
Toshiba HD-A1 HD DVD Player
- Recorders: In addition, these first products are playback-only: no set-top recorders are available, even though one obvious motivation for these new formats was to record HD television. And there are only a few PC-based burners, mainly for data backup -- tools to author our own high-def discs to watch on TV, like we can with DVD, are still being developed
- Copy Protection: In addition, the movie industry has locked these formats down with extensive layers of copy protection technology to protect their high-def content. The idea is that the set-top high-def DVD players will display their picture in full HD only on displays that support the one-cable HDMI interface -- and only on newer devices that implement full copy protection. Otherwise, you'll need to buy a new display, or the titles may permit display at lower resolution on older analog displays.
- PC Playback: Similarly, you can't expect to play back these HD discs on any old PC, like you are used to doing with DVDs. Full HD playback will require significant upgrades or a new system, with good performance, updated drivers, plus a secure digital connection with hardware support in both the video card and in the display across a digital interface.
So high-def discs are coming, but are still in the initial ramp-up stage -- best for video enthusiasts and early adopters.
---
And speaking of high definition, the "megapixel war" for promoting the resolution of digital cameras seems to have neared its end, as even inexpensive consumer cameras offer around 6 megapixels of resolution. That's good enough for 11 x 14 inch prints -- larger than most home printers -- while 3 megapixels is plenty for normal prints, 4 x 6 and even 5 x 9, and even 4 to 5 MP can make great full-page 8 x 10 images.
(On megapixels: A camera with around 1000 x 1000 pixel resolution multiplies to 1 million pixels. In comparison, the common PC display resolution of 1280 x 1024 is 1.3 MP, while the highest HDTV display resolution of 1920 x 1080 is only 1.7 MP -- showing how much more resolution is used in print than even in HD displays.)
See:
About.com: cameras.about.com/cs/choosingacamera/a/megapixels.htm
Microsoft: www.microsoft.com/windowsxp/using/digitalphotography/learnmore/bestquality.mspx
The CEA projects healthy 48 percent growth for digital camera, from both new users and upgrades of older cameras.
Trends for digital cameras:
- Larger LCD displays, not only to preview and review the 6+ megapixel images, but also for better access to the menus without squinting. As the displays enlarge to fill the back of the camera, they squeeze out the viewfinder and dedicated controls, so you become more dependent on clear and convenient menus.
- Smaller and stylish cameras, which also mean fewer controls, and require smaller lenses that pop out from into the camera body, or even fold the optics so they are totally internal. A larger lens does focus better images, gathers more light in dim environments, and can provide more zoom power for distant objects. But today's small cameras can do a good job, and offer 3X optical zoom (real zoom, not lower-res digital zoom).
- Optical image stabilization is appearing in more cameras, not only to help with shaking when trying to steady these small devices, but also providing better results in low light.
- Cool features available in the menus, with digital enhancements from "burst" shooting modes to shoot multiple shots of fast action in one click to automatic red-eye reduction.
One interesting design approach to these issues is the Kodak EasyShare V610 Dual Lens Digital Camera, a pocket-size 6.1 MP camera with a 10X range of optical zoom provided by switching between two lenses ($300, www.kodak.com). It has a reasonably sized 2.8 inch display to review your shots, warns you if a shot is out of focus, and has built-in Bluetooth to share pictures wirelessly, such as to mobile phones.
Kodak EasyShare V610
Digital cameras also are becoming more useful as video camcorders -- at least better than your mobile phone, with reasonable resolution (typically 640 x 480), the better lens, and more storage.
---
Similarly, video camcorders have gone digital, are getting smaller and lighter, and are now moving to high-def. They also include better still photo capabilities, with the advantage of the longer zoom lens (typically 10X) and multiple-megapixel still recording.
A key trend this season is the range of approaches available for the basic recording function: tape and DVD disc, hard disk and even memory.
Options for digital camcorders:
- The best all-round format is digital tape, with a DV camcorder that records to Mini-DV tape. These record good-quality, lightly-compressed video that is easy to edit on a computer. And you can keep the original tape as the archive of your work.
- For quickly viewing after shooting, a DVD camcorder will record directly to a mini-DVD disc. You then can just pop out the disc and immediately play it pack on most DVD players. However, the video is more heavily compressed in MPEG-2 format, especially if you want to squeeze 60 minutes onto a tape (instead of 20 at higher quality), which means lower-quality results (and more work) to edit it later.
- And for a smaller and lighter package, a hard disk camcorder has no removable media -- it records to a built-in hard drive, typically 30 or 60 GB. However, once you fill up the drive (7 to 20 hours for 30 GB) you need to off-load it to a computer (and then have a way to back it up to some other disc or tape). These also shoot in more compressed MPEG-2.
- Finally, for the ultimate in portability, flash memory camcorders are designed to be very light and less expensive, with the trade-off of fewer features and significantly lower recording time. And these typically shoot in compressed MPEG-4 format, which can require conversion and more work to edit.
For example the pocket-size RCA EZ-105 Small Wonder digital camcorder is all about easy and fun shooting ($129, www.mysmallwonder.com). The packaging says nothing about resolution or storage, megapixels or megabytes -- it's just about shooting and sharing. It weighs around 5 ounces, and has only a few controls -- Press Power to turn on, press the red Record button to start shooting, and press Play to review your clips. There's no confusing menus and profusion of options. You can delete clips to free up memory, and there's a dedicated switch between LP and HQ quality (60 or 30 minutes of record time, in MPEG-4 format).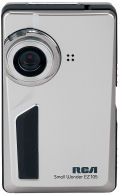 RCA EZ-105 Small Wonder
The Small Wonder is designed for simplicity in interfacing as well -- There is no power adaptor to lose, as it runs on two standard AA batteries. And no USB cable required for hooking up to a computer -- it includes a built-in pop-out USB connector, and comes preloaded with software that simplifies transferring files to a PC or Mac. It also has an A/V jack for displaying directly on a television for immediate viewing.
At the other extreme, high definition also is coming to consumer camcorders, at prices dropping near $1000. For example, the small Canon HV10 is around 1 pound ($1399, www.usa.canon.com).
Canon HV10
And the Sony HDR line supports tape, DVD, and hard disk: the Sony HDR-HC3 records DV and high-def HDV video to standard MiniDV tape, the HDR-UX1 records to 8 cm mini-DVD, and the HDR-SR1 records to 30 GB hard disk (www.sonystyle.com).

Sony HDR-HC3 (MiniDV tape) and HDR-UX1 (mini-DVD)
Sony HDR-SR1 (hard disk)
The HDV format makes high-def affordable by bringing HD widescreen video to consumer Mini-DV tape, allowing convenient interfacing with computers much like current standard-definition devices (www.hdv-info.org). HDV supports MPEG-2 video in HD resolution: 720p (1280 x 720) and 1080i (1440 x 1080 -- not the full 1920 x 1080 of HDTV).

The newer AVCHD format supports more advanced MPEG-4/AVC format for HD resolutions (www.avchd-info.org)..

See Getting to High Def: HDV Video to High-Def DVD
---
Another use for a home network is to share your own stored content around the house, with connections not only among PCs but also among consumer electronics devices. The idea is that you can set up the stereo system in the study to listen to music stored on your PC (or streamed directly over the Internet), or watch movies downloaded to your PC on the living room TV, or catch up with TV shows recorded on your set-top DVD recorder on the bedroom TV. Look for products supporting Digital Living Network Alliance (DLNA, www.dlna.org), and Universal Plug and Play technology (UPnP, www.upnp.org).
The infrastructure to support this kind of connectivity is growing. New TV displays and set-top players are starting to come with network connectors, and software media players like InterVideo WinDVD (www.intervideo.com) and CyberLink PowerDVD (www.gocyberlink.com) can act as networked UPnP players and even servers. Microsoft is building networked media into Windows Vista, and already supports it in Windows XP Media Center computers with the Windows Media Connect option for Windows XP that acts as an UPnP server, plus access from remote Media Center Extender devices (www.microsoft.com/windowsxp/mediacenter). And the Microsoft Xbox and now Xbox 360 gaming systems also are serving as popular media gateways (www.microsoft.com/xbox).
But while this promise of PC / CE device interoperability is exciting -- remote access to music, photos, and video, recorded and live, from any device, to any device -- it's still being developed and does require some system configuration and tweaking. As a result, a better option for today can be to use a dedicated system to share media around the house.
Options for home media networking:
- Networked Music: You can solve the simpler need of just access accessing your PC music library from your living room stereo with a device like the Slim Devices (now Logitech) Squeezebox ($249, www.slimdevices.com). This is an elegant little box which connects to your stereo system (analog or digital or headphones) and uses a wired or wireless network connection to deliver music. Just click the IR remote and use the bright fluorescent display to browse your stored music connection on the PC (after installing the SlimServer software). And since the Squeezebox is on the network, you can access thousands of streaming Internet radio stations, and Rhapsody's 2 million song collection (with subscription) -- even when your computer is turned off.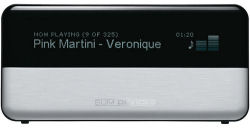 Slim Devices (Logitech) Squeezebox
Or see try elegantly-designed Sonos multi-room digital music system as a whole house solution (www.sonos.com).
Sonos digital music system
- Wireless Music: Even simpler, if you don't have a wired home or a wireless network, the Logitech Wireless DJ Music System ($249, www.logitech.com) uses a digital radio connection (long range wireless Bluetooth) to reach some 300 feet from your computer to a home stereo. You then control the system using a remote control with built-in display to browse the music in your PC's library -- much like the interface on portable music players, just with many more songs, including Internet radio stations. And you can add additional receivers for other locations around the house.
Logitech Wireless DJ Music System
The only other pieces are the wireless antenna unit that plugs into your PC's USB port, and a recharger cradle for the remote with cables to connect to your stereo (or to a powered multimedia speaker system with a stereo-mini input jack). The StreamPoint server software on your PC then can access and play common music file formats, as well as music libraries from Apple iTunes, Windows Media Player, and Musicmatch Jukebox,
- Networked Video: Then to expand to video, check out the Sling Media Slingbox family, with devices to transmit your set-top TV signal to PCs and mobile devices (starting at $179, www.slingmedia.com). Run the SlingPlayer on a PC, Mac or Mobile device, and watch your TV remotely -- just click to change the channel, or use the virtual remote control to set up your digital video recorder to record a show.
Sling Media Slingbox
The Slingbox works over your Ethernet network, or if you don't have a home network, use the SlingLink Powerline Ethernet Adapters to pass a network connection through your home electrical wiring ($99). The Slingbox also can be set up so you can access your home devices over the Internet -- to catch a favorite show or to watch local news.
The days are gone when you needed to go to a specific room and use a specific player device to enjoy your home media library.
---
Your home media networking does not just have to be pre-recorded media -- you can stream your own content and add in your own live video feeds as well.
For example, you can set up a camera in the nursery to keep watch over your sleeping baby, or point a camera out a front window to monitor activity on the street -- and see the delivery truck arrive while you are working in the study.
Some options for home webcams:
- Consumer web cameras: Products like the Creative WebCams (www.creative.com/products/webcams) and Logitech QuickCams (www.logitech.com) start at around $30. These deliver the video over a USB connection to your computer, so you can grab clips or run video conferencing software to communicate over the Internet.
And these are not crummy little PC cameras any more: For example, the Logitech QuickCam UltraVision ($129) can clip on top of your display, but has a 1.3 megapixel sensor with 5 lens elements, and compensation for dim, side-, and back-lit situations. It captures video up to 640 x 480 at 30 frames per second, and still images up to 1280 x 960. Plus, it includes a microphone with echo correction. The camera ships with software offering free video conferencing, including Windows Live Messenger, Yahoo Messenger, AOL Instant Messenger Service, and Skype. And Logitech has Video Effects software for fun effects and face enhancements.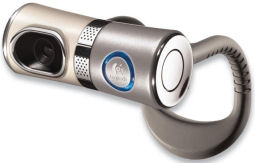 Logitech QuickCam UltraVision
In addition, these direct-connect cameras can be used with monitoring software on the attached PC to act as a video server. You then can connect to the server PC over your home network and watch the video from other computers in your house. The advantage of this approach is that the server machine can run video surveillance software that can look for changes in the scene and generate alerts when detecting motion.
- Consumer surveillance cameras: However, today's consumer software is not very sophisticated, and so can be confused by motion such as trees waving in the breeze. Products like the WiLife LükWerks Digital Video Surveillance System bridge the gap to more sophisticated home and small business, and offer a selection of indoor and outdoor cameras, lenses, and lighting kits ($299 starter kit, www.wilife.com).
The disadvantage of this approach is that you need to dedicate a computer to act as a server for the camera, which restricts your flexibility in locating the camera, and also becomes another possible point of failure -- especially when other people are using the system.
- Networked cameras: As a result, a better solution for continuous remote monitoring is a network camera like the Creative Live! Wireless ($149). This comes with a small network server box, so no server computer is required -- You can plug the camera directly in to your home network, or be totally untethered though a wireless connection. You can monitor the video feed from a Web browser, change the display resolution, tweak the brightness and contrast to pick out detail in the early evening, and adjust other camera settings. Or you can run the Creative software to monitor up to four cameras simultaneously.
Creative Live! Wireless
See Remote Video Monitoring with the Creative Live! Wireless Internet Camera
With any of these approaches, you also can choose to access the camera from outside your home. This typically requires opening a connection through your firewall, and registering with a Web service to make the connection.
Then you can connect in from your beach vacation to check the snowfall at home.
---
Finally, as you assemble all this media -- shooting photos and video, collecting music and movies -- you really should think about how you are going to share and archive it, along with your growing collection of digital files across multiple computers. These days, as prices have dropped below $1 per gigabyte, you can think about getting a half-terabyte or more of storage, 500 GB -- enough to store some 400,000 photos, 5,000 hours of music, or 40 hours of DV video.
Options for home backup and archiving:
- For backup, start with a external hard drive to connect to your computer with USB or FireWire, so you can use software to automatically backup new and changed files from both your local computer, plus other systems across your home network. And you can set up folders to share you media files. For example, the Maxtor OneTouch III is available with 300 GB for $200 and 500 GB for $329 (www.maxtor.com).
Maxtor OneTouch III
- But for shared storage, think about a network drive that plugs directly in to your home network, as a central home server with no computer required -- what is called Network Attached Storage (NAS). You can still back up across the network, and you can share media files.
In addition, terabyte media servers like the Buffalo TeraStation (starting at $650 for 1 TB, $1340 for 2 TB, www.buffalotech.com) and the Infrant ReadyNAS line (up to 3 TB for around $2870, www.infrant.com) add built-in support for media streaming to set-top devices, plus enterprise features like support for 10X faster Gigabit Ethernet.

Buffalo TeraStation Infrant ReadyNAS
The other issue, as these servers get so big and as you consolidate all your files on one system, is how to back up your backups. Some drives have USB ports to back up to other external drives. But a better solution can be support for RAID (Redundant Array of Independent Disks), so that the server spreads your files across multiple physical drives, so that if one fails you can still recover all the files.
Just please do something to backup your files!
---