Manifest Technology Blog -- Site: | Articles | Galleries | Resources | DVI Tech | About | Site Map |
Articles: | PC Video | Web Media | DVD & CD | Portable Media | Digital Imaging | Wireless Media | Home Media | Tech & Society |
Digital Imaging: | Digital Imaging Articles | Digital Cameras Gallery | Digital Camcorders Gallery |

---
Creative Vado / HD Pocket Video Camcorders (3/2009)
by Douglas Dixon
Creative Vado HD and Flip Mino HD
Creative Vado Pocket Video Cam
Creative Vado HD Pocket Video Cam
Sharing Your Videos

See related article: Holiday Gadgets 2008: Pocket Camcorders - Flip, RCA Small Wonder, Kodak
Find related Creative articles in the Manifest Tech Blog
See my Video Camcorders Gallery for more on pocket camcorders
Last year saw an explosion of consumer interest in pocket camcorders, lead by the Pure Digital Flip line (www.theflip.com) -- These are small and light enough to carry anywhere (literally in your pocket), so there's always available to capture the fun.
Admittedly, these pocket cams don't give anywhere near the quality of even a traditional consumer camcorder, especially because they have such a small lens, with no ability to zoom or focus, and limited ability to adjust to lighting conditions.
Yet as a dedicated camcorder, pocket camcorders still shoot better quality than a cell phone camera or digital camera with a video mode -- especially with the introduction last year of HD models that shoot real, great-looking high-definition video.
Other great features of these pocket camcorders including instant startup -- power on to shooting in a handful of seconds -- and easy interfacing -- with a built-in USB connector and built-in editing software that runs directly from the camcorder (with no download or installation required). They even have tripod mounts, since it's helpful to use them with even a hand-held tripod or monopod, since these camcorders are so light that you tend to get somewhat shaky footage.
And they're really easy to use, as the result of aggressive design simplification -- removing a whole bunch of options that can be confusing. There's no worry about setting focus, or exposure, or special shooting modes, or stabilization, or face recognition -- all those options and controls are gone.
For example, Creative has a nice pair of Vado Pocket Video Cams with these features, and nicely compacted to around the size of the Flip Mino -- with standard-definition for around $99 (or a street price of $59!) and high-def for $229 (www.myvado.com).
Creative also offers a variety of Vado accessories, including a pouch, A/V cable to TV, charging station / power adapter, and spare batteries.
See www.creative.com/products/welcome.asp?category=833
---
Compared to the Flip Mino HD, the Vado HD has some very attractive features:
Twice the recording time: 2 hours, vs. 1 hour on the Flip (with twice the internal memory - 8 GB vs. 4 GB)
Multiple shooting modes: (HD, more compressed HD, and VGA), vs. only HD on the Flip
1/3 larger display screen: 2" vs 1.5" on the Flip (4 cm vs. 3 cm wide active picture area)
Very wide angle lens: vs. more typical field of view on the Flip
Removable battery (although custom)
Slightly larger and heavier (but just a tad)
With both priced at $229 (although the Flip's street price currently is around $209)
However, the Vado HD has a significantly wider angle lens than the Flip HD (and the Kodak Zi6) -- the picture is almost a 2X zoom back from the view captured by the other cameras. You get a lot more of the scene in the frame, but as a result you get less detail (fewer pixels) on any specific element of the picture (like the books in the Princeton Public Library below). Also note that both cameras did well in the difficult evening lighting conditions with bright lights in the scene.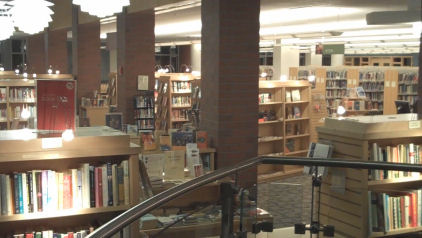 Flip HD - with books (enlarged 2x)

Vado HD - with books (enlarged 2x)
(Click for original frames -- screen captures of 1280 x 720 video frames -- tho JPEG compressed)
---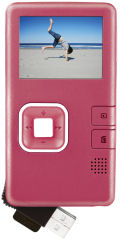 The Creative Vado line started in mid-2008 with the Creative Vado Pocket Video Cam, which shoots in standard definition (640 x 480 VGA). It has a 2" antiglare screen, and is about the same size as the Flip Mino at 3.9 x 2.2 x 0.6 inches and under 3 ounces. Creative specs good low light performance, with high sensitivity at 3.8V/lux-sec.
The Vado comes with 2 GB of memory built in, but no card slot for additional storage. It can record 2 hours of video at good quality, and 1 hour at excellent quality (MPEG-4 AVI format). The battery is removable (the whole front panel pulls off), but is a custom part. It's rated to run 130 minutes.
The Vado has some interesting design features, in that it has slight protuberances all rounds -- the lens sticks a bit out the front, the power switch curves slightly out the side, to control pad on the back is slightly raised, and the USB connector has a little flange out the bottom. The USB connector is actually on a short wire (instead of popping straight out as on other similar products), which gives you some flexibility when trying to squeeze it in to a crowded USB port. (Unlike the Creative ZEN Mosaic and X-Fi, the Vado HD does seem to charge from a USB hub or adapter.)
The interface works cleanly from the control pad -- press the center button to start and stop recording, and use the directional buttons during playback to adjust volume and skip between clips. There are also two dedicated buttons to the side for Play/Pause and Delete -- press for the current clip, or hold down to play or delete all the clips.
Beyond its straightforward operation, the Vado does hide some useful options in the setup menu, which is hidden until you push both Play/Pause and Delete simultaneously (see below). Unfortunately, there's no option to turn off the little tune that pays when powering off and on, but at least it's relatively quiet, and does not beep every time you start and stop recording.
As of this writing, The Creative Vado Pocket Video Cam lists for $99, in silver or hot pink -- but is on sale for $79, and is available for $59 at Amazon.com.
See http://us.creative.com/products/product.asp?category=833&subcategory=834&product=17761

Find the Creative Vado on Amazon.com

[ Top ]
---
Then in December 2008 came the Creative Vado HD Pocket Video Cam -- the same basic design, but now shooting high-def video, at 1280 x 720 HD video resolution. It's the same size, but a little heavier (100 vs. 84g). The low-light performance is speced at 3.3V/lux-sec.
And it records up to 2 hours (at HD+ quality), 4 hours (HD quality), or 8 hours (VGA quality), since the built-in memory was increased to 8 GB.
Press Play/Pause and Delete simultaneously for the options menu: Time/Date, Video Quality, Instant Record, Anti-Flicker (50 / 60 Hz frequency), TV System (PAL / NTSC), and Language.
Use the Instant Record feature to have the Vado wake up to quickly start shooting by pressing any button. To save the battery, the Vado turns off the display after 1 minute of inactivity, and turns off after five minutes. If you turn on the Instant Record option, it stays in the power saving mode for 30 minutes before turning off.
The Vado video files are in AVI format, with H.264 video at 30 fps, and ADPCM audio at 177 kbps, 4 bit.
The Video Quality option has three settings (there's no mode for shooting still photos):
HD+ - 2 hours recording time - 1280 x 720 video, 8304 kbps (~ 10.5 MB / 10 sec)
HD - 4 hours - 1280 x 720 video, 4252 kbps (~ 5.4 MB / 10 sec)
VGA - 8 hours - 640x480 video, 2153 kbps (~ 2.6 MB / 10 sec)
The "HD+" data rate is comparable to the Flip Mino HD and the Kodak Zi6, all of which make good-looking HD video at 9 to 10 Mbps, while the half-rate "HD" format is more aggressively compressed. For example, when shooting snowy scenes, the compression for the VGA and HD modes definitely had problems with artifacts in empty white areas, with the HD+ mode did visibly better.
The Creative Vado HD Pocket Video Cam is available for $229, in black. It comes with a USB extension cable, HDMI cable, and a protective silicon skin.
See http://us.creative.com/products/product.asp?category=833&subcategory=834&product=18108

Find the Creative Vado HD on Amazon.com
[ Top ]
---
When you're done shooting, just plug the Vado in to a USB port on your computer and use the Vado Central software that's built in to the Vado's memory to copy and edit videos and post them online. You can grab stills from the video, do more detailed editing, and post videos to YouTube or Photobucket, or share on Box.net. Or use your own video editing software to process the files, since they are in Window AVI format.
With your HD videos, you can create widescreen DVDs (albeit in standard definition), that look great on your widescreen TV display. And, with some software, you can actually burn high-def material in a Blu-ray format onto a standard DVD disc, and play it back in beautiful HD on the Sony PlayStation 3.
(See, for example, Pinnacle Studio 12 - www.manifest-tech.com/media_pc/pinnacle_studio_12_sum.htm)
[ Top ]