Manifest Technology Blog -- Site: | Articles | Galleries | Resources | DVI Tech | About | Site Map |
Articles: | PC Video | Web Media | DVD & CD | Portable Media | Digital Imaging | Wireless Media | Home Media | Tech & Society |
Digital Imaging: | Digital Imaging Articles | Digital Cameras Gallery | Digital Camcorders Gallery |

---
Affordable HDV Pro Camcorders: Canon XH A1 (4/2007)
by Douglas Dixon
HDV Goes Upscale -- Early HDV cameras

Canon XH A1 and XH G1 - Design - Interfaces - Shooting Modes - Pro Technology
Wrap It

Customization: Canon Console Software -- Customization and monitoring
Focus FireStore FS-C Portable Recorder -- Tapeless editing
HD is coming! We've seen HD on broadcast TV for several years now, and drooled over the high-end broadcast studio equipment required to shoot it. And now the HDV format (MPEG-2 HD video on DV tapes, www.hdv-info.org) has brought HD video to a much broader market -- with HDV camcorders for consumers down to $1500, and now under $1000 with the Canon HV10. And for high-end video enthusiasts and event videographers who want a more professional unit, there's now a broad range of affordable choices in the $4000 to $10,000 range.
For this article, we'll explore the Canon XH A1 HDV camcorder kindly loaned by Canon for evaluation (www.usa.canon.com). It's easily carried and yet packed with pro features, with 3 CCD sensors, 1080i resolution, and a 20X lens, and all for under $3999. It's a nice design that shows the broad range of features that are available in this price range.
I've also included comments on shooting with the camera from John Markert, an independent videographer with Accel Video Productions, based near Princeton, N.J. (www.accelvideo.com).

Look up Canon XH A1 camcorder on Amazon.com.
HDV definitely has arrived: By the end of 2006, Cannon, JVC, Panasonic, and Sony had expanded their lines of pro-style HDV camcorders to offer a nice range of options. These cameras have three sensors, designed for HD with widescreen 16:9 aspect ratio, plus good lenses with 12 to 20X optical zoom. And all have an abundance of controls for customized shooting, and options for adding additional lenses, mics, lighting, etc.
These are relatively light hand-held cameras, designed for on-the-go shooting and electronic news gathering (ENG). With support for a range of frame rates, and particularly 24p (film-rate 24 frames per second, full-frame progressive), they also can serve the cinematography needs of independent filmmakers. And the higher-end products add time code and genlock support, plus even full-quality SD/HD-SDI output for studio operation.
Just to summarize the early range of products:
- The Panasonic AG-HVX200 P2 / DVCPRO HD camcorder at around $5299 street price not only records DV to tape, but also a multitude of formats and frame rates to the Panasonic P2 memory card format. This offers immediate access to editing the digital video files from the memory card (with tape as backup), but memory cards still are expensive and relatively low capacity for HD video.
www.panasonic.com/business/provideo/cat_camcorders.asp
www.panasonic.com/business/provideo/hvx200microsite/index.asp
- The early Sony HDR-FX1 at around $3699 used 1/3" CCD sensors with 12X zoom. The newer Sony HDR-FX7 at $3499 moves to 1/4" CMOS sensors and a 20X zoom lens, plus a short-burst slow motion function.
- JVC offers a broad line, with the updated JVC GY-HD110U at around $5600, a step up to the JVC GY-HD200U at around $8995 with enhanced signal processing and 50p/60p recording, and the full-up JVC GY-HD250 at $10,000 with time code and SD/HD-SDI.
pro.jvc.com
pro.jvc.com/pro/attributes/HDTV/desc/prohd_camcorders.html
Canon began with HDV with the high-end Canon XL H1 upgrade from the XL1 design at around $8499, with 20x lens and SD/HD-SDI output. The next addition was the compact Canon XH A1 at $3699 with 20x lens, plus its twin Canon XH G1 at $6949 with Professional Jackpack adding time code and HD-SDI output.
www.usa.canon.com/consumer/controller?act=ProductCatIndex1Act&fcategoryid=102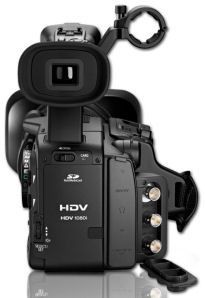 Canon XH A1, and XH G1 with Jackpack
The Canon XH A1 and XH G1 camcorders are twins -- the XH G1 is exactly the same as the XH A1, with the addition of the professional Jackpack terminals: three additional connections that provide professional quality interfaces: HD-SDI/SD-SDI output, SMPTE Timecode input/output, plus Genlock input.
www.usa.canon.com/consumer/controller?act=ModelDetailAct&fcategoryid=175&modelid=14061
The HD-SDI connection outputs an uncompressed 1.485 Gbps digital signal with embedded audio and LTC Timecode (SMPTE 299M). The signal also can be set to SD-SDI, during shooting or playback (SMPTE 272M).
The Genlock synchronization input supports clean switching for multi-camera shoots. Each camera can use synchronous time code with the SMPTE time code input/output.
As an alternative to Panasonic's approach to using P2 solid state memory cards for tapeless recording, Canon recommends the Focus Enhancements FireStore FS-C Portable DTE Recorder -- a portable hard disk drive designed for use with video cameras so you can simultaneously record both tape and to disk -- see Focus FireStore FS-C Portable Recorder sidebar.
So let's take a look at the Canon XH A1 -- picking it up to check the feel and locating the controls and interfaces.
These cameras are derived from the original Canon XL-H1 HDV camcorder, with the same high quality 1/3" CCDs. But it's a more compact design, for videographers that have tighter budgets, but still need pro features.
"It's the same chip as the XL1," says Markert, "native 1440 with less interpolation, like a $10,000 camera."
The camcorder is compact and lightweight -- approximately 6.4 x 7.4 x 13.8 in. with the lens hood, and weighing 5.2 pounds fully loaded with lens and battery pack. You can hold it in front of the body with one hand, or held by the top handle for low-angle shots.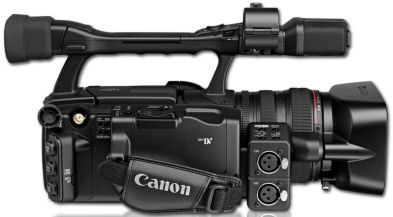 The camera is relatively light, but the short length means it does not rest on your shoulder when shooting. "The A1 is slightly front-heavy, especially with the battery inside design, compared to a similar hand held camcorder like the FX7," says Markert. "The weight is on the front, not on your shoulder. You feel it in middle of your back after a while. You need to use two hands, one underneath or on the side."
The handle has the microphone mounted on the front, and the viewfinder on the back. The handle also has additional record Start/Stop and Zoom controls on the top for convenient thumb operation, plus a Lock switch to prevent accidental use of these controls. Also on the handle are a hot shoe, a Photo button, and six playback control buttons under an access panel.
The 2.8" widescreen LCD display is mounted out of the way under the handle. It can flip out and rotate for viewing on both sides of the camcorder. It also provides good access to the camera's menu system through Menu and Select/Set buttons at the back left edge of the unit. It can be used at the same time as the viewfinder, and even point forward for self-portrait shooting.
"The monitor has a small screen, and kind of blurry," says Markert. "It's good for checking color quickly, and has a peaking option. You get used to the menus as you get to know the camera, and can define presets."
The lens on the front of the camcorder is build-in, and has independent barrel rings for manual Focus, Zoom, and Iris. And it has two built-in Neutral Density Filters (switch between Off, 1/6, and 1/32).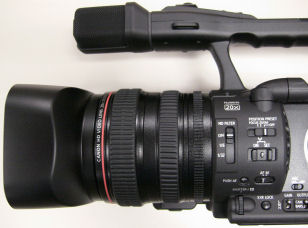 The main recording controls are along the right side for finger and thumb access when shooting, including the Start/Stop button, Zoom lever, and Photo button. The camcorder also provides 16 zoom speeds, plus high speed and variable zoom modes.
"There are lots of ways to shoot," says Markert, "and the buttons are easy to find on the left side." However, "the touchy zoom rocker is hard to control, and it's even more difficult to control with the left hand when the camcorder is on a tripod."
The back of the XH A1 houses the internal battery compartment, which can hold a regular or large capacity battery. The memory card slot also is located above the batteries.
The video connectors are located on the right back of the unit, with DV/HDV terminal, headphones, and component video, plus the studio interfaces on the XH G1 Jackpack.
The audio interface is positioned at the right front of the camcorder, with two built-in XLR terminals with mic/line level and phantom power, and controls for two-channel manual audio level adjustment. There's also a voice-recording mode, and an external microphone input on the handle plus a holder for attaching shotgun microphones.
The (non XLR) external mic input is a mini-phone jack. "It's a nice touch," says Markert, "an extra added convenience for non-professional inputs." In general, he says, "the audio circuitry attenuates sounds well, even in loud music environments, and can be manually overridden."
The left side of the unit then has the Power dial for selecting recording mode, plus a plethora of controls for fine-tuning your control over the camcorder's operation. These include dedicated toggle switches for gain, color bars, and white balance. The XH A1 provides great control over camera options through the menus, including defining presets that can be accessed from the buttons (these also can be set using the Canon Console software -- see Customization: Canon Console Software sidebar below).
When you're getting started, the camcorder can be run in automated modes with Auto and Easy Recording modes (plus auto-focus), with a total of 7 program AE modes for Shutter-Priority, Aperture-Priority, Spotlight, and Night. As you get more experienced with using it, you then can switch to full Manual to control and customize to your liking.
Beyond its video modes, the XH A1 is an interesting still photo camera as well. It captures 2.0 megapixel still images at up to 1920 x 1080 resolution to a MMC or SD card. You can use the camcorder in digital still camera mode, capturing photos in digital camera color space, complete with metering modes, continuous shooting modes, and the option of using the dedicated flash shoe.
Even better, you can capture photos at the same time as video is being recorded to tape, using video color space. The camcorder also includes a still image histogram and EXIF display for exposure verification.
Beyond the surface appearance the Canon XH A1 (and XH G1) includes interesting design features and technology.
Some highlights:
- Optics: The Canon-designed HD video lens provides with 20x optical zoom. The f1.6 - 3.5, 4.5 - 90mm lens has a wide focal range of 32.5 - 650 mm (35mm equivalent). Canon also offers an optional WD-72 wide converter (.75x).
- Imager: The camcorder has three 1/3 inch interlaced CCDs, native 16:9 full 1440 x 1080 resolution to capture HDV video at 1080i. In SD mode it uses approximately 1080 x 1080 pixels in standard 4:3 aspect ratio, and the full 1440 x 1080 for 16:9.
"The lens is wide and versatile," says Markert. "But when you zoom in, the iris shuts down, from 1.6 to 3.4, so it's not very light-sensitive when you get all the way in. It's two stops less than the JVC DV 500, so you need to be twice as close or have two times more light."
Lighting does require an adjustment when shooting wide-angle HDV, in order to avoid hot spots and to adequately light the frame from edge to edge. Says Markert, "when shooting widescreen 16x9, you must update the on-camera lighting from a standard single round bulb to twin bulbs or LightPanel-type rectangular format."
- Frame Rates: Selectable 60i, 30F and 24F frame rates ("F" is Canon's indication of true progressive). You can shoot the 30 Frame rate for fast motion events with full clear frames, use 60i for ENG or a reality TV look, and switch to 24 Frame rate for a movie film look. Plus, the camcorder can be upgraded for 50i/60i PAL for an additional fee.
- Image Stabilization: Canon's Super-Range Optical Image Stabilization compensates for camera shake (from hand held shooting or even a moving vehicle). The stabilization is optical, not electronic or digital, using two detection methods (gyro and vector), and designed to deliver smooth, steady video even at longer focal lengths.
- Auto Focus: The Canon Instant AF system uses an external sensor in addition to the camera autofocus to significantly reduce the time it takes to find focus, even in low light conditions. It is designed to resolve focus instantaneously, reducing focus "hunting," and to be particularly useful in high brightness and for night shooting. The camcorder offers three auto focus modes: Natural for least distraction, Stable, and Super Quick.
"Focus is more critical for high definition," says Markert. "Framing focus is pretty accurate. The auto-focus is so good it can be left on most of the time and produce outstanding results. One-touch focus also works great when focusing manually. The peaking feature works well on both the viewfinder and the LCD screen."
- Image Processor: The camcorders feature Canon's DIGIC DV II proprietary digital signal processor for both HD and SD video signals and still photos. New noise reduction and gamma systems are designed to provide highly accurate color and tonal reproduction for high HD image quality.
- Image Enhancement: The camcorder includes face tone settings, cine settings, plus a sky detail function for removing detail or noise in the sky without affecting other areas of the picture. And for extreme low light situations, the video gain can be increased up to +36dB.
- Shooting Assists: The Level Shot Control button displays a horizontal marker to help line up the horizontal lines in the shot. The Grid Marker displays a precise grid top help accurately compose the shot.
The Canon XH A1 HD camcorder nicely demonstrates the range of professional features and control available today for around $3500. You get DV and HDV shooting at up to full 1080i, 20x zoom, 24p frame rates, plus continuing innovations in optics, focus, stabilization, and image processing.
"This camcorder can surpass expensive ENG cameras," concludes Markert. "Manual control is much improved from the XL 1. You can lock in quickly."
"Image quality can meet or exceed that of more expensive 'pro' and 'ENG' camcorders in Standard Definition," he says, "and greatly surpass SD camcorders in high definition recording. On the other hand, low-light performance lags behind modern DV camcorders by about two stops. With 1440 native chips, pro audio inputs, a 20x lens, and 24p, Canon still priced the camcorder thousands less than the competition."
The camera also is very quiet in operation. "It has a confidence-inspiring hum, not clunky gears," adds Markert. "It seems like a precision instrument."
---
The Canon XH A1 provides extensive customization over the image, display items, and functions:
- Use Custom Presets to store up to nine image quality presets in the camcorder's internal memory, including gain, sharpness, color matrix, black, and H/V balance.
- Use Custom Functions to set up three custom function modes, each selected from up to 21 camera controls, such as high-speed zoom, color bar display, and tally lamp settings.
- Use Custom Display to create a custom menu with up to 22 display items, such as zoom, focus, image effects, DV record mode, tape reminader, light meter, and battery.
You also can save these settings on SD memory card to transfer your preferred settings to other XH A1 camcorders.
And while the camcorder's menu system provides a straightforward interface for adjusting and saving these settings on the fold-out LCD display, Canon also offers another alternative: its Console Image Control and Storage software that provides remote control of camcorder functions and settings from a Windows computer through a single FireWire (IEEE 1394) cable.
www.usa.canon.com/consumer/controller?act=ModelDetailAct&fcategoryid=169&modelid=14062
When shooting, you can use the Console software when the camera is mounted on a remote crane or studio -- to view the live video stream, adjust the camera controls, monitor the shoot with on-screen Vectrascope and Waveform monitor windows to adjust video and phase parameters, and record the video to the computer's hard disk.
Even better, the Console software provides a great interface for viewing, adjusting, and saving your preferred camera options and settings, organized and displayed in different windows. For example, you can set zoom, focus, iris, shutter speed, white balance, shooting mode and frame rate, and adjust gamma, master pedestal, color phase, and AE metering. And then you can save and restore these settings for specific shoots.
The Console software is available from Canon for $599. Most functions also are compatible with Canon's XL2 digital camcorder. You also can download a 14-day trial version to try it out.
---
As an alternative to Panasonic's approach to using P2 solid state memory cards for tapeless recording, Canon recommends the Focus Enhancements FireStore FS-C Portable DTE Recorder -- a portable hard disk drive designed and ruggedized for use with video cameras to simultaneously record both tape and to disk, in DV and HDV mode. You then get "direct to edit," with the ability to connect the drive to your computer with a FireWire cable to immediately begin work on your recorded footage without needing to first extract it off the tape.
www.focusinfo.com/solutions/catalog.asp?id=171
The FS-C is around 1.5 inches think and weighs one pound, and can be mounted to the back of the camcorder using a mount kit, or clipped to your belt. It can be powered using the removable battery or from the AC adaptor.
It interfaces with the camcorder using a single FireWire cable that passes audio, video, timecode, and control information. Each press of the camcorder's record button creates a new clip on disk. And you can mark scenes to categorize clips into pre-named folders.
The front of the unit has a backlit LCD display, with menu navigation buttons and playback controls. The camera and computer FireWire connectors are on the top, along with a remote control / serial connector, and two status LEDs that change color and blink to indicate status modes.
The FS-C is available with either a 60 GB hard drive (around $1299) for up to 4.5 hours of DV or 1080i HD recording time or a 100 GB hard drive ($1899) for more than 7 hours of recording time. You also can chain an additional FS-C for extended recording time. It also includes a 10-second cache to buffer through shocks, and a 10-second retro record mode that saves up to 10 seconds prior to the time that you start recording.
The FS-C can record in a variety of digital video file formats for compatibility with both Windows and Macintosh editing software. In DV mode, it records as RawDV, AVI Type 1 / 2 (for Adobe Premiere) / 2 24p, Matrox AVI, Canopus AVI, Pinnacle AVI, Avid OMF (for Avid Xpress DV), and QuickTime / 24p (for Apple Final Cut). In HD mode, it records up to 1080i MPEG-2 transport streams (.m2t). The FS-C version 2.0 firmware also can now record 1080i-50/60 in native QT HDV file format, which can be imported directly into Apple Final Cut Pro.
However, the design of the FS-C is a little clunky for the Canon XH A1 camcorder -- it a bit large and not convenient to mount on the top above the handle or hang off the back. On the other hand, says Markert, "a metal body would hold up better. It would be okay to have a little more weight."
In addition, the displays could be easier to use. "It's hard to see the lights and display outside," says Markert, "you need to shield them from the sun. The two LEDs have different functions, so you need to get used to them. You really need a color confidence screen. For example, it's easy to put the FireWire connector in the wrong plug, the computer and not the DV side."
"This can be very valuable tool," concludes Markert. "Tape becomes the backup. You can rely on the disk, and edit directly from start to finish."
---
References
| | |
| --- | --- |
| | The Canon XH A1 HDV camcorder is easily carried and yet packed with pro features, with 3 CCD sensors, 1080i resolution, and a 20X lens, and all for under $3999. |
HDV Format
www.hdv-info.org

Canon XH A1 / XH G1
www.usa.canon.com/consumer/controller?act=ModelDetailAct&fcategoryid=175&modelid=14061

Canon Console Image Control and Storage software
www.usa.canon.com/consumer/controller?act=ModelDetailAct&fcategoryid=169&modelid=14062

Panasonic AG-HVX200 P2 / DVCPRO HD camcorder, $5299
www.panasonic.com/business/provideo/cat_camcorders.asp
www.panasonic.com/business/provideo/hvx200microsite/index.asp

Sony HDR-FX1, $3699 / Sony HDR-FX7, $3499
www.sonystyle.com/handycam

JVC GY-HD110U. $5600 / JVC GY-HD200U, $8995 / JVC GY-HD250, $10,000
pro.jvc.com/pro/attributes/HDTV/desc/prohd_camcorders.html

Focus Enhancements FireStore FS-C Portable DTE Recorder
www.focusinfo.com/solutions/catalog.asp?id=171

Originally published in Camcorder & Computer Video magazine, 23, 2, April 2007.