Manifest Technology Blog -- Site: | Articles | Galleries | Resources | DVI Tech | About | Site Map |
Galleries: | Video Editing Software | DVD Authoring Software | Cameras | Camcorders |
| Media Players - iPod / iPhone | Handheld Devices | Mobile Comm - Smartphone Apps |
| Portable Storage | Audio Accessories | Power Accessories | Peripherals |

---
Portable Storage Gallery -- OLD
Trends and Sample Products (older equipment)
by Douglas Dixon
---
See the Portable Storage Gallery
Flash storage: Memory cards, USB drives, Hard disk storage: USB pocket drives, USB transfer devices
The 2000s Mobile Digital Revolution:
Cell Phones to Smartphones, Walkman to Media Players, CD to Flash to Web Services
Historical perspective on some interesting technology and trends in digital home media.
They include some sample products illustrating these trends.
Information and pricing are summarized from public sources as of when they were added,
and may be incorrect or out of date.
---
See also:
---
Portable Storage Trends - Holiday 2009
---
Trends: Q1 2009
SSD To Mass Market
OEM to IT (faster replacement drive)
Larger capacity
Aggressive pricing: SanDisk
Next Jump in Memory Card Capacity
Sony / SanDisk: "Memory Stick Format for Extended / Expanded High Capacity" - to 2 TB
---
Trends: 2008
Storage outstrips Moore's Law, with continued re-doubling of capacity and shrinking size, with solid-state drives (SSD) starting to make sense for laptops. Yet sneakernet still lives, both for sharing, and for moving content within the home.
Flash: Capacity, performance
Tiny: mini/microSD adaptors
Capacity: SDHC - 4, 8 GB +
Security
Flash: Design
Compact, playful, fashion designs
Built-in displays
HD: Capacity
Portable: 1.3", 1.8", 2.5"
1.8" Hitachi Hard drive (=Mini) - Max Transfer: up to 9 MB/s
Perpendicular recording
Toshiba 2.5" notebook: 178.8 Gbps
Seagate demo: 421 Gb per sq in:
1.8" (iPod) - 275 GB; Notebook - 500 GB; Desktop - 2.5 TB
HD: Performance
Windows Vista ReadyBoost
Flash Solid State Disk (SSD)
SATA -- Serial ATA / eSATA -- External SATA
Universal Drive Adapter
---
SanDisk Ultra II SDHC
Card with MicroMate USB 2.0 Reader
3/08 - 15 MB/sec read and write (was 10 MB/sec read, 9 MB/sec write)
3/08 - 8 GB $99 (hinged), 16 GB $179; 4/08 - 32 GB $349
RIDATA SDHC 2.0 Card (1/07)
4 GB - SDHC Speed Class rating of Class 2 and Class 6
8 GB - Class 6 (6 MB/s)
1/07 - 4 GB ~ $180, 8GB ~ $360
---
---
LaCie PassKey - microSD USB Reader / Drive (3/09)



Recycle microSD cards - Use as USB flash key
microSD/SDHC, class 1 to 6
1/10 - $14.99 / 3/09 - $9.99 (Street $13)

Find the LaCie PassKey on Amazon.com
---
LaCie Data/Share: Dual USB Card Reader / Flash Drive (4/09)



4/09 - introduced - $9.90
Dual USB card reader / USB storage key
Two sides, separate USB drives, nest together for storage
Larger red side for SD cards, smaller white side for microSD cards
Can use for different types of data: personal and shared
Reliable push/push card connectors
Supports higher-capacity Class 1 to 6 SDHC or microSDHC cards
Includes USB extension cable, microSD to SD card converter
2.76 x 1.38 x .51 in.
PR 4/09 - introduced - www.lacie.com/us/company/news/news.htm?id=10481
---
SanDisk Cruzer / Ultra Titanium Plus - Online backup (3/08)
4 GB flash drive, automatically backs up your data online
Rugged, crush resistant metal case, Hardware AES encryption
Up to 15 MB/sec. read, 9 MB/sec, write
(3/08 - Files copied to the drive automatically backed up online,
next time there is an Internet connection
(Includes six months of free online backup service
Password-protected access, all files encrypted during transmission
Powered by BeInSync, storage provided by Amazon Web Services
Access backed-up files through any computer connected to the Internet
(Two years of free lost-and-found service from BoomerangIt
Put sticker on drive; owner typically pays shipping costs and small reward
6/09 - 4 GB $32 / 3/09 - 4 GB $26
Available 3/08 - 4 GB $59.99; Windows online backup service $29.99 per year
Press release - www.sandisk.com/Corporate/PressRoom/...

Find the SanDisk Ultra Titanium Plus on Amazon.com
---
SanDisk Extreme / Cruzer Contour - Sliding connector, 18/25 MBps (6/07)
Glossy black top and silver metallic body
Unique sliding USB connector with protective cover - no switch or cap
Slide back and then forward to extend connector from body
Slide forward and then back to retract into body
Write speed 18 MB/sec, double SanDisk's previous top-of-the-line retail model
Read speed 25 MB/sec, two-thirds faster
AES hardware encryption
Supports Microsoft Windows Vista ReadyBoost
Pre-installed U3 software for running applications directly from drive
Skype, SanDisk CruzerSync file synchronize, Protecteer SignupShield Passwords
Big Fish Games: Sudoku and Mahjong Towers Eternity
Password protection, with AES hardware encryption
6/09 - 4 GB $38, 8 GB $61, 16 GB $108
3/09 - 4 GB $33, 8 GB $52, 16 GB $93
~ 2/08 - 4 GB $42, 8 GB $74
6/07 - 4 GB $99, 8 GB $189

Find the SanDisk Cruzer Contour on Amazon.com
---
Kingston MobileLite 9-in-1 Reader (07)
Side A reads: SD, SDHC, MMC, MMCplus, RS-MMC, MMCmobile
Side B: slot for miniSD/SDHC, second slot for microSD, MMCmicro
(appears in Windows as three drive letters)
Slots have eject tabs to slide out media card
Includes 5" USB extension cable and carrying strap
Up to 9 MB/sec. read, 4 MB/sec. write
6/09 - Reader $12, Bundled with 2 GB SD card $20
5/07 - Reader $11, Bundled with 1 GB SD card $29, 2 GB
3.04 x 1.16 x 0.60 in. (77.3 x 29.5 x 15.3 mm), 0.046 lbs. (21 g)

Find the Kingston 9-in-1 Reader on Amazon.com
Kingston 15-in-1 Reader -- USB Adaptor (11/05)
Works with 15 different Flash card formats
CompactFlash (CF) I and II
Secure Digital (SD), Secure Digital High-Capacity (SDHC), miniSD, microSD (SD adapter included)
MultiMediaCard (MMC) Version 3.1, MMCmicro (MMC adapter required),
MMCmobile (DV RS-MMC), MMCplus (Version 4.0), RS-MMC (Version 3.1)
Microdrive (CF Types II), SmartMedia (with adapter)
Memory Stick, Memory Stick PRO, Memory Stick PRO Duo
3.46 x 2.19 x 0.63", 0.108 lbs.
$16

Find the Kingston 15-in-1 Reader on Amazon.com
---
Kingston USB microSD Reader (OLD 5/07)
Tiny adapter: Pull out USB connector, insert microSD card, reassemble
Reader 1.29" x 0.60" x 0.30"
6/09 - Bundled with 2 GB $27 / street $9 (red)
5/07 - Bundled with 1 GB microSD card $25 (black), 2 GB $41 (red)

Find the Kingston USB microSD Reader on Amazon.com
---
Kingston Mobility Kit (OLD 7/07)
Includes 1 / 2 GB microSD card, USB microSD card reader
Plus 2 adapters (miniSD and full-size SD)
USB connector slides into protective cover, with keyloop
Reader 1.29" x 0.60" x 0.30"
With microSD card: 1 GB (black) $27, 2 GB (red) -- soon

Find the Kingston Mobility Kit on Amazon.com
---
Kingston DataTraveler Reader - USB Flash drive and card reader (3/07)
Standard USB Flash drive with onboard expansion slot
Reads SD, SDHC, MMC, MMCplus
With adapter (not supplied) reads miniSD, microSD,
RS-MMC, MMCmobile, MMCmicro
1.16" x 2.66" x 0.445"
1 GB $24, 2 GB $54 list, 4GB (soon)

Find the Kingston DataTraveler Reader on Amazon.com
---
Kingston DataTraveler Mini with Migo (OLD - 1/07)



Capless: Sliding retractable USB connector
Tiny: 0.70 x 1.42 x 0.40 inches
Migo: Automatically synchronizes data, leaves no trace of personal data on other systems
~ 2/08 - 1 GB $12/$10 2 GB $20/$17, 4 GB $37/$32
1/07 - 512 $12, 1GB $15, 2 GB

Find the Kingston DataTraveler Mini with Migo on Amazon.com
---
Kingston DataTraveler Mini Fun (OLD - 8/06)
Kingston DataTraveler line
Colorful interlocking blocks, 1.5 x 0.75 inches
Preloaded with Big Fish Games' Atlantis and Magic Vines gaming software
~ 2/08 - 1 GB $12, 2 GB $20/$18, 4 GB $37/$24
8/06 - 256 MB $15, 512 MB $19, 1 GB $33

Find the Kingston DataTraveler Mini Fun on Amazon.com
---
Kingston DataTraveler 110 USB Flash Drive - Budget (OLD - 1/08)
Significant capacity in a lightweight, compact design; budget
Capless, retractable USB connector, ease-of-use and safe housing
1/08 - introduced - 1 GB $12 (purple), 2 GB $21 (blue), 4 GB $35 (red), 8 GB $104 (green)

Find the Kingston DataTraveler 110 on Amazon.com
---
Kingston DataTraveler HyperX USB Flash Drive - Fast (1/08)
Powerful, portable Flash storage, ultra-fast read/write speeds
30 MB/s read, 20 MB/sec.write
Enhanced for Windows ReadyBoost
3/09 - 8, 16 GB to 32 GB $185
1/08 - introduced - 2 GB $74, 4 GB $131, 8 GB $266
also - Kingston DataTraveler 400
3/09 - 4, 8, 16 GB, to 32 GB $167
up to 8 GB , 20 MB/sec. read, 10 MB/sec. write

Find the Kingston DataTraveler HyperX on Amazon.com
---
Kingston DataTraveler Style Flash Drive (OLD - 08)
Simple capless design with single-handed "thumb-action" slide
Retractable USB connector housed safely inside the casing
2.35" x 0.88" x 0.37"
1 GB $19, 2 GB $32, 4 GB $59, 8 GB $116 (MSRP)

Find the Kingston DataTraveler Style on Amazon.com
---
Kingston DataTraveler II Plus - Mingo Edition (7/07)
High speed: up to 19 MB/sec read and 13 MB/sec write (1 - 4 GB)
11 MB/sec read and 7 MB/sec write (8 GB)
Migo synchronization software
- Work on multiple PCs in different locations, leave no trace of personal data behind
- Keeps your own desktop's files, folders and icons, Outlook email contents,
Internet Explorer settings, favorites, cookies and history
- Automatically synchronizes your data when you return to your PC
SecureTraveler security software for Windows systems
2.67" x 0.829" x 0.355"
3/09 - 2, 4, 8 GB
1 GB $20, 2 GB $40, 4 GB $75, 8 GB $154 (MSRP)

Find the Kingston DataTraveler II on Amazon.com
---
Lexar JumpDrive 360 (OLD - 1/07)
Capless design with rotating metal jacket,
Rated at 15 MB/s read and 10 MB/s write
3/09 - 2, 4 GB $34
~ 2/08 - 1 GB $34, 2 GB $59
---
Memorex M-Flyer Pilot - High-Speed USB Flash Drive (7/07)
New models with higher capacity and splash of color
Capless design with spring-loaded, retractable USB connector
Push end to extend USB connector, press button to retract
Sleek, "aerodynamic" styling
Includes Portable Vault USB security software by Mingo (Windows only)
Password protection and 256-bit encryption
Windows Vista "Enhanced for ReadyBoost"
3/09 - 2 GB $54
7/07 - 2GB $49.99 (silver and blue), 4GB $79.99 (silver and red)

Find the Memorex M-Flyer on Amazon.com
---
Corsair Flash Padlock - Hardware lock (8/07)
Hardware-secured lock
Keypad with lock/unlock indicator lights
Auto-Locking - Self locking after removal from computer
Customizable PIN - Set own PIN
Easy to Use - Direct keypad access and indicator lights for locking/unlocking
Plug and Play - Hardware based security without installing or running software
3/09, 11/09 - 4 GB
~ 2/08 - 1 GB $33, 2 GB $38
Introduced 8/07 - 2 GB $29, 4 GB $39

Find the Corsair Flash Padlock on Amazon.com
---
SWISSMEMORY s.beat MP3 Digital Audio Player (OLD - 2006)
Victorinox Swiss Army Knife
Full knife with fold-out tools
Flight version w/o tools, remove MP3 player from knife body
Music player, FM radio and voice recorder
MP3, WMA, WAV or OGG Vorbis
1, 2, or 4 GB
---
Yoggie Security Systems - Gatekeeper USB Security
Full Security Mini-Computer, in USB key-sized device
Powerful USB key-size, Linux-based 520 MHz computer
Blocks Internet threats outside, before they reach your PC
Frees up computer processing and memory resources
Multi-level security with 12 built-in security applications
- Anti-Virus (Kaspersky), Anti-Spyware (Kaspersky)
- Anti-Spam (MailShell), Anti-Phishing (MailShell)
- Intrusion Detection System (Snort). Intrusion Prevention (Snort)
- Firewall (Stateful Inspection) - (Linux Netfilter/IPTables firewall)
- Content Filtering (SurfControl)
- Parental Control
- Transparent Email (POP3, SMTP) and Web Proxies (HTTP, FTP)
- Adaptive Security Policy, Multi-Layer Security Agent,
Layer-8 Security Engine
Include 1 year subscription for automatic security updates, upgrades
Product line - www.yoggie.com/comparison.shtml
Firestick Pico - USB Hardware Firewall
Portable USB mini-computer replaces software Firewall
Introduced 1/08 - $119
Gatekeeper Pico - USB Security
Multi-level security with 12 built-in security applications
Introduced 9/0 $179 - 6/08 $149 / $30 annual subscription
Gatekeeper Pico Pro - USB Security + VPN
Adds VPN Client, Remote Centralized Management
Introduced 9/07 - $199 / $40 annual subscription
Gatekeeper Card Pro - ExpressCard Security
Adds VPN Client, Remote Centralized Management
Introduced ~ 6/08 - $199 -> $159 / $40 annual subscription
Gatekeeper Pro - Personal Security Server
Hardware protection for corporate users -- Network connection via pass-through mode
Introduced 1/07 - $220 / $40 annual subscription
Gatekeeper SOHO - Office Security Server
Network protection for up to 5 computers
Introduced 3/07 - $249 / $69 annual subscription

Find the Yoggie Gatekeeper Picoon Amazon.com
---
Sony Micro Vault Classic -- to 8GB (1/07)
One piece design with retractable USB connector - no cap
Virtual Expander software, compresses to expand virtual capacity 3X\
11/09 - 2 B $19, Turbo 1 GB $19, 4 GB $34
3/09 - 2 GB $19, 4 GB $24
~ 2/08 - 1 GB $19, 2 GB $28, 8 GB $129/$68
1/07 - 256MB to 8GB, 8 GB $230

Find the Sony Micro Vault Classic on Amazon.com
---
USB Flash Drives - Kingston Technology - DataTraveler
Find Kingston articles on the Manifest Tech Blog
---
Kingston DataTraveler 100 USB Flash Drive - simplicity (7/07)

Simple capless design with single-handed "thumb-action" slide
Retractable USB connector housed safely inside the casing
2.35" x 0.88" x 0.37"
3/09 - 2, 4, 8, 16 GB, 32 GB $76 - $93
~2/08 - 1 GB $11, 2 GB $18/$13, 4 GB $30/$26, 8 GB $68/$56
~07 - 1 GB $19, 2 GB $32, 4 GB $59, 8 GB $116

Find the Kingston DataTraveler 100 on Amazon.com
---
Kingston DataTraveler 150 USB Flash Drive (08)
---
Lexar / Disney my*style USB and SD Card Products (08)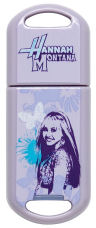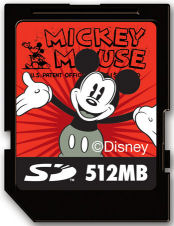 Based on popular Disney blockbusters: High School Musical, Pirates of the Caribbean, Hannah Montana
Products include USB flash drives, fashionable USB bracelets, and SD card multi-packs.
All come with preloaded content featuring popular characters, including buddy icons and wallpapers
---
Lexar JumpDrive Firefly -- Small (07)
Ultra small, ultra portable
Tethered cap for security, blue tail light LED blinks during data transfer
11/09 - 2, 4, 8 GB, 16 GB $79
3/09 - 1, 2, 4, 8 GB $44; 3/07 - 8 GB
~2/08 - 256 MB $14, 512 MB $19, 1 GB $36, 2 GB $49, 4 GB $99, 8 GB $149/$103

Find the Lexar JumpDrive Fireflyon Amazon.com
---
JumpDriveSecure II Plus - Meter (6/07)
security software and capacity meter
11/09 - 2, 4, 8 GB, 16 GB $89, 32 GB
3/09 - 1, 2, 4, 8 GB, 16 GB $89
~2/08 - 512 MB $24, to 8 GB $159
---
Lexar JumpDrive Mercury -- Meter (OLD - 1/06)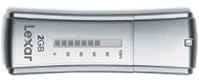 Capacity display meter, 10 bars, still works when disconnected from a computer
Secure II advanced security software
1/07 - add PowerToGo software to bring the Windows environment on your drive
(www.lexar.com/powertogo)
Windows Vista compatible / enhanced for Windows ReadyBoost
Minimum sustained speeds 15 MB/s read and 10 MB/s write
~ 2/08 - 1 GB $34/22, 2 GB $59/39
1/07 - 1 GB, 2 GB $59

Find the Lexar JumpDrive Mercuryon Amazon.com
---
Lexar JumpDrive Lightning (7/06)
Rated at 30 MB/s read and 21 MB/s write speed
11/09 - 2, 4, 8 GB $149
3/09 - 1, 2, 4, 8 GB $149
~ 2/08 - 1 GB $39, to 8 GB $179
1/07 - 4 GB, 3/07 - 8 GB
---
More Capacity, Still Highly Portable
(Now obsolete as flash drives expand capacity)
---
Flash Drives vs. 1" Hard Disk (OLD)
Mini HD pumps capacity beyond current flash memory drives
| | | | | | |
| --- | --- | --- | --- | --- | --- |
| 11/07 | 2 GB | 4 GB | 6 GB | 8 GB | 12 GB |
| Flash (above) | $29/79 | $49/134 | | $132/149 | |
| Mini HD | | $39 | $79/99 | $76 | $113/149 |
| | | | |
| --- | --- | --- | --- |
| 11/07 | $79 | $110 | $159 |
| Mini HD | 8 GB | ~ 12 GB | |
| Pocket HD | 80 GB | 160 GB | 250 GB |
| | | | |
| 1/07 | $99 | $129 | $179 |
| Mini HD | 4 - 6 GB | 8 GB | |
| Pocket HD | 80 GB | 120 GB | 160 GB |
---
Imation Micro Hard Drive (OLD)
Padlock design, 1.61in x .66in x 3.3in
12/05 - 2 GB $159, 4 GB $189
3/06 - 4 GB $119, 6 GB $119, 8 GB $149
---
Memorex Mega TravelDrive -- 12 GB (OLD - 1/07)
Less than two-inch square, 1.75" x 1.96" x .56"
Pivoting USB connector
Up to 7.9 MB/sec transfer
10/05 - 4 GB $149
3/06 - 4 GB $119, 6 GB $129, 8 GB $159
9/06 - 4 GB $119, 6 GB $119, 8 GB $149
1/07 - 4 GB $119, 6 GB $99, 8 GB $129, 12 GB $149
11/07 - 4 GB $39, 6 GB $79/99, 12 GB $149

Find the Memorex Mega TravelDrive on Amazon.com
---
Seagate Pocket Drive (OLD - 07)
2-MB cache
Secure Zone software for simple password protection
Built-in retractable cable
1/07 - 2.5 GB, 5 GB, 6 GB $87, 8 GB

Find the Seagate Pocket Drive on Amazon.com
---
Verbatim Store'n' Go USB HD Drive -- 12 GB (OLD - 1/07)
3/06 - 4 GB $129, 8 GB $199
9/06 - 8 GB $149
1/07 - 8 GB $135, 12 GB $179
11/07 - 8 GB $76, 12 GB $113

Find the Verbatim Store'n' Go on Amazon.com
---
LaCie USB Key (Carte Orange) -- Credit card - 3.3", 2.1 oz (OLD - 06)
Very thin design: 2.2 x 3.3 x 0.23 inches, 2.1 oz.
3600 rpm or greater, up to 9 MB/sec sustained transfer
3/06 - 4 GB $99, 6 GB, 8 GB $149 (11/05)
9/06 - 4 GB $99, 8 GB $139
1/07 - 4 GB $69, 8 GB $99

Find the LaCie Carte Orange on Amazon.com
---
LaCie USB Key Max - 30 / 40 GB - Credit card - 1.3" disk, 3.34", 2.1 oz. (OLD - 1/08)
Hi-Speed USB 2.0, with integrated USB cable
1.3-inch disk, Rotational Speed 3600 rpm
Interface Transfer Rate up to 480 Mbits/s, Sustained to 15 MB/s
Synchronization & Encryption Software (Windows)
Backup Software (Windows/Mac)
2.16 x 3.34 x 0.23 in (55 x 85 x 6 mm), 2.1 oz (60 g)
3/08 - 30 GB $119 (Orange), 40 GB $149 (Black)
4/08 - 30 GB $109 (Orange), 40 GB $139 (Black)
10/08 - 40 GB $139 (Black)
PR 1/08 - 1.3" disk w/ Samsung - www.lacie.com/company/news/news.htm?id=10371

Find the LaCie USB Key Max on Amazon.com
---
---
Verbatim InSight Portable USB Hard Drive - Always On Display (8/09)
Portable drive with durable enclosure, piano black finish
Always On LCD cholesteric display, 32 x 128
Shows drive name and available free space, even powered off
Personalize drive name
2.5" drive, 5400 rpm spindle speed, 8MB of cache memory
USB 2.0, bus-powered, transfer up to 480 MB/sec.
Includes Nero BackItUp Essentials, automatic backup and restore
scheduled backups, encryption with password
~ 6 x 3.4 x 0.63 in. (153 x 87 x 16 mm), under 6 oz. (164 g)
5-year limited warranty
10/10 - 500 GB $193
8/09 - 320 GB $119, 500 GB $149 ($116)

Find the Verbatim InSight Portable Drive on Amazon.com
---
LaCie Skwarim Mobile Hard Drive - 60 GB - 3.3", 3.5 oz. (2/06+)
Designed by Karim Rashid (Umbra, Prada, Miyake, Method), 3.3 inch square
Hi-Speed USB 2.0, with integrated USB cable
Rotational Speed 4200 rpm, Cache 2 MB or greater
Interface Transfer up to 480 Mbits/s, Max Sustained Transfer up to 20 MB/s
Windows & Mac Backup Software
3.3 x 3.3 x .5 in. (85 x 85 x 13 mm), 3.5 oz. (99 g)
3/09, 10/10 - 60 GB $99 (Pink/Blue)
4/08 - 60 GB $139 (Pink/Blue)
1/06 - 30 GB $149, 60 GB $199; 08 - 60 GB $149

Find the LaCie Skwarim Hard Drive on Amazon.com
---
OLD - LaCie Little Disk (08)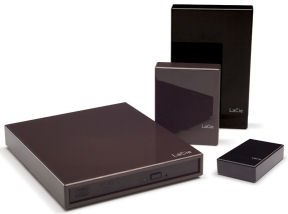 LaCie Little Disk, 30 / 40 GB - 1.3-inch disk - 2.64 x 0.67", 3 oz. (OLD - 2/08)
Rotational Speed 3600 rpm, Cache 2 MB
Interface Transfer Rate up to 480 Mbits/s, Burst Rate up to 28 - 30 MB/s
2.64 x 1.69 x .67 in. (67 x 43 x 17 mm), 3 oz. (85 g)
2/08 - 30 GB $129, 40 GB $159
4/08 - 30 GB $119, 40 GB $149
10/08 - 40 GB $149
LaCie Little Disk, compact - 1.8-inch disk - 3.15 x 0.71", 4.44 oz. (OLD - 9/07)
Rotational Speed 3600 rpm, Cache 2 MB
Interface Transfer Rate up to 480 Mbits/s, Burst Rate up to 32 MB/s
2.52 x 3.15 x .71 in. (64 x 80 x 18 mm), 4.44 oz.(126 g)
9/07 - 30 & 60 GB
4/08 - 60 GB $129 (2/08 $139)
10/08 - 120 GB $199
1/09 - 120 GB $149

Find the LaCie Little Disk 60 GBon Amazon.com
LaCie Little Disk - 2.5-inch disk - 5.08 x 0.71", 6.88 oz. (9/07, 1/08)
Rotational Speed 5400 rpm or greater, Cache 8 MB or greater
Interface Transfer Rate up to 480 Mbits/s, Burst Transfer up to 30 - 35 MB/s
3.19 x 5.08 x .71 in. (81 x 129 x 18 mm), / 6.88 oz (195 g)
3/08 - 80 GB $79, 120 GB $89, 160 GB $109, 250 GB $159 -- 3/08 - 320 GB $189
4/08 - 80 GB $79, 120 GB $89, 160 GB $99, 250 GB $139, 320 GB $159
10/08 - 120 GB, 160 GB, 250 GB $139, 320 GB $189
3/09 - 250 GB $89, 320 GB $99, 250 GB $129
LaCie Little Disk - 2.5-inch disk - Firewire & USB - 5.08 x 0.71", 6.88 oz. (9/07, 1/08)
2 FireWire 400 ports; 1 Hi-Speed USB 2.0 port (USB 1.1 compatible)
Rotational Speed 5400 rpm or greater, Cache 8 MB or greater
Interface Transfer Rate: FireWire up to 400 Mbits/s; USB up to 480 Mbits/s
Burst Transfer Rate: FireWire up to 41 MB/s; USB up to 34 MB/s
3.19 x 5.08 x .71 in. (81 x 129 x 18 mm), 6.88 oz (195 g)
9/07 - 120 GB $129, 160 GB $159, 250 GB $249 ($180); 1/08 - 320 GB $1259
10/08 - 250 GB $109, 320 GB $129, 500 GB $199
3/09 - 250 GB $109, 320 GB $149, 250 GB $169
---
LaCie Mobile Hard Drive - 40 - 160 GB - .4 oz (OLD)
Design by F.A. Porsche
USB 2.0 (optionally FireWire)
4200 / 5400 RPM, 8 MB cache
0.65 x 3 x 5 in., 6.35 oz
1/07 - 40 GB $79, 60 GB $89, 80 GB $99, 100 GB $119, 120 GB $129, 160 GB $179
3/08 - 250 GB $139

Find the LaCie Mobile Hard Driveon Amazon.com
---
WD Passport (Old)
Thin, lightweight, piano-black finish
9/07 - Also available in red, white, green
USB powered, no external power adapter needed
Optional cable available for the few computers that limit bus power
Single light indicated good connection, otherwise blinks
Includes WD Sync software, synchronizes files and Microsoft Outlook data on a PC
Data protected with 128-bit encryption
Includes Google software: Desktop search, Picasa photo management, Toolbar
5400 RPM, 2 MB cache
0.590 x 5.110 x 3.14 inches, 0.23 pounds
Q1/07 - 60, 80, 120 GB $179,160 GB $199
8/07 - 60 $79, 80 $99, 120 GB $119,160 GB $139, 250 GB $199
8/07 - 60 $102, 80 $79, 120 GB $84,160 GB $105, 250 GB $159
---
Faster boot & application launch, Rugged, Lower power
---
Apple MacBook Air - HDD or SSD (1/08)
13" LED backlit widescreen display, 1280 x 800 resolution
Full-size illuminated keyboard, Multi-Touch gesture trackpad
Compact Intel Core 2 Duo processor, 2GB memory
Built-in 802.11n Wi-Fi and Bluetooth 2.1 + EDR wireless
0.16 to 0.76 inch thin, 3.0 pounds
1.6 GHz processor, 80 GB hard drive, 4200-rpm PATA , $1799
1.8 GHz processor, 64 GB solid-state drive, $3098
---
RIDATA Solid State Disk (SSD) Flash Memory - SATA and IDE
Hard disk replacement, non-volatile storage
vs HDD: almost twice as fast, uses half the power, smaller, ultra lightweight
Fast boot and access times, lower temperatures, no mechanically moving parts
60 MB/s maximum sequential read, 48 MB/s for maximum sequential write
Inherently resistant to vibration, shock and temperature extremes.
Temperature (0 to 70C) and humidity resistance
Produces virtually no noise, no heat generation, and no vibration,
Data integrity supported by dynamic wearing leveling and a built-in ECC
More than 4,000,000 hours Mean Time Between Failures (MTBF)
Write endurance cycle (P/E) of more than 2,000,000 times
10/07 - Introduce 32 GB SATA SSD
09 - Consumer: SATA Ultra-S Plus 32, 64, 128 GB,
eSATA & mini PCI-e 32 & 64 GB
---
---
Other World Computing (OWC) "Quad Interface" external (2/07)
Mercury Elite-AL Pro "Quad Interface" FireWire 800/400 + USB 2.0 + eSATA external storage
Two FireWire 800 ports, one FireWire 400 port, one USB 2.0 port, one eSATA port
16MB Data Buffer
vertical or horizontal, 9" x 2.1" x 5.8"
2/07 - 250 GB $179, 320 GB $219, 400 GB $339, 500 GB $289, 750GB $479
---
NewerTech USB 2.0 / 3.0 Universal Drive Adapter (1/07)
Move data from old hard drives via USB Plug-N-Play
USB adapter cable connects drive to any computer
Optical drives (standard IDE/ATA/ATAPI 40 pin or Serial-ATA)
or Hard drives (2.5", 3.5", 5.25")
Works with eSATA single drive using any standard SATA to eSATA cable
Mac OS 9.2 or higher, Linux 2.4.X, or Windows 2000 or higher
No software required for Mac with OS 8.6 or higher (including OS X)
Drivers required with Windows systems
1/07 - $24.95 (introductory pricing)
Newer Technology, www.newertech.com
---
Memorex TravelSync - USB devices - OLD
Transfer files between two USB devices without using a computer
LCD to select folders and files
Powered by 3 AAA batteries, need external power for hard disk
USB 1.1 - USB mass storage and Picture Transfer Protocol (PTP) -- not iPods
~ 2/08 $26, 1/07 $49

Find the Memorex TravelSyncon Amazon.com
---
Memorex TravelLink - Flash cards - OLD
Transfer files between two USB devices -- and/or two Flash cards
Adds two memory card slots: CF I, CF II, SD, SM, MMC, MS, MS Pro, MS Duo
Connect to computer as 8-in-1 card reader
USB 1.1
~ 2/08 $36, 1/07 $69

Find the Memorex TravelLinkon Amazon.com
---
Buffalo MiniStation HD Portable - 6.7 oz (OLD - 06)
Tough armored case, shock absorbent inner floating structure
5 x 3.26 x .83 in., 6.7 oz.
06 - 40 GB $119, 80 GB $155
1/07 - 80 GB $129, 120 GB $159, 160 GB $239

Find the Buffalo MiniStation HD Portable on Amazon.com
---
Memorex Ultra TravelDrive - 80 - 160 GB - 6.4 oz (6/07)
Compact, 2.5-inch portable hard drive, up to 160 GB
Light, portable, Ergonomic design fits in the palm of hand
Personalize / color-code with two interchangeable color faceplates
Rugged and portable, no-slip rubberized design
Powered through USB connection, No external power required (in typical use)
Includes second USB cable for additional power when needed
Speed indicator light indicates USB 1.1 or 2.0 speeds
Includes back-up and synchronization software, Quick Backup button
5400 RPM, 8 MB buffer, 480 MBps max with USB 2.0
~ 5 1/4 x 3 1/2 x 3/4", 0.4 lbs.
3/09 - 80 GB $49, 120 GB $59, 160 GB $89, 250 GB $139, 320 GB $179, 320 GB $299
6/07 - 80 GB $99.99, 120 GB $119.99, 160 GB $149.99

Find the Memorex Ultra TravelDrive on Amazon.com
---
SanDisk Vaulter Disk - PC Accelerator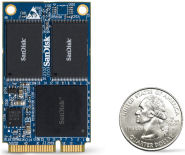 Flash-based, standard-sized mini PCIe module (PCI Express)
Works with the PC's hard drive to optimize data transfer to the host
Store and launch the operating system and software applications
Vaulter Disk handles small read files (most system file transfers)
HDD handles application files and user data
OEM: 8 to 16 GB
---
Seagate "Dave" wireless mobile hard drive (~ 2/07)
Demo 07 (2/07)preview - 10GB or 20GB
connect via Bluetooth or Wi-Fi, or USB cable
---
Seagate FreeAgent Data Movers (1/07)
include software to automatically synchronize content
access to Seagate Internet Drive, online service, post, access, share files over Web
FreeAgent Pro data movers (320GB, 500GB, 750GB)
FreeAgent Go (80GB, 120GB, 160GB) data movers, USB 2.0
FreeAgent Go Small (12GB) ultra-compact size
FreeAgent Desktop data movers (250GB, 320GB, 500GB) add-on storage