Manifest Technology Blog -- Site: | Articles | Galleries | Resources | DVI Tech | About | Site Map |
Galleries: | Video Editing Software | DVD Authoring Software | Cameras | Camcorders |
| Media Players - iPod / iPhone | Handheld Devices | Mobile Comm - Smartphone Apps |
| Portable Storage | Audio Accessories | Power Accessories | Peripherals |

---
Home Media: | Home Media Articles | Home Networked Media Gallery |

---
Consumer HDTV Gallery - OLD
High-Definition TV / Video Projectors (older equipment)
See the Home Networked Media Gallery
by Douglas Dixon
---
The 2000s Mobile Digital Revolution:
Cell Phones to Smartphones, Walkman to Media Players, CD to Flash to Web Services
Historical perspective on some interesting technology and trends in digital home media.
They include some sample products illustrating these trends.
Information and pricing are summarized from public sources as of when they were added,
and may be incorrect or out of date.
Digital TV Trends
CES 2010 - 3D TV, Internet TV
Digital TV / Analog Sunset - Feb. 17, 2009
Style, thin, "Full HD," enhancement, connectivity
Digital TV Technology
Display Issues - Viewing distance, resolution, scaling, cables - HDMI
Display Technologies
3D TV - Technology and Product Deployment
Display Interfaces - HDMI
Sample HDTV Products
Yahoo Connected TV - TV Widgets
Video Projectors - Handheld

See also:
Home Networked Media Gallery
High-Def DVD Gallery

Find related Television articles in the Manifest Tech Blog
---
---
Trends - CES 2010 - 3D TV, Internet TV
3D TV
Big push at CES 2010 - LG, Panasonic, Samsung, Sony, Toshiba
CEA projects 3D TV will be over a quarter of TV sets sold by 2013

3D popular: Over 27% of U.S. adults saw 3D movie or event in 2009

3D TV products in 2010 - 3D TV (with glasses), "3D ready"
Content will be driven by Blu-ray and cable boxes, not broadcast (yet)
Requires glasses - Focused, not casual viewing
Event-driven, but not 10's of glasses for large party
But : Consumer upgrade fatigue: Digital transition / HDTV

Blu-ray / high-def DVD "format war" collateral damage

Industry sees ramped adaption like HDTV and DVD

Not mass-market push like Blu-ray
Hopefully not like enthusiast niche like DVD-Audio and SACD

Sony booth at CES 2010
Internet TV
Display connects directly online
Pop up information like news and weather,
Directly access streaming video and audio services

Netflix movies, YouTube videos, Pandora radio, Skype phone calls

Battle to become home media hub

Store, access, sell content and connected services
TV, Blu-ray player, cable box, game system (Sony PS3, Microsoft Xbox 360)
---
HDTV / Display Trends - Holiday 2009
Brighter, contrast: LED backlight
Thin, Emphasis on design: Invisible speakers
Full HD: 1080p (full 1920 x 1080 progressive)

Fast motion: Frame doubling 120 Hz, motion interpolation

Connected TVs: Web, widgets; Play from networked devices; PC on TV - - Yahoo Widgets
Soon: OLED LED (Organic Light Emitting Diode)
Futures: 3D TV
Handheld projectors - Pico / mobile - 3M MPro120 Pocket Projector
---
Trends - Q1 2009
Analog sunset February 18, 2009, stop analog broadcasting
Big-screen, widescreen TVs (40 inch and above)
Connected Internet and Home Entertainment - Yahoo Connected TV - TV Widgets, BD-Live, DLNA
Thinner TVs - Hang like frames -
JVC future ultra-slim TV, 7mm thick, 5 kg (11 lps), hang from magnetic plate
Backlight: Sony Wide color gamut cold cathode fluorescent backlight (WCG-CCFL)
240Hz motion - Sony Motionflow
Crisp and detailed fast motion sports and movie action scenes
Quadruples frame rate of conventional LCD televisions, interpolates three new frames
Green TVs (Sony) -Reduce power consumption more than 40%, Exceed Energy Star 3.0 requirements
3D HDTV
Wireless video - DisplayLink
Unified remotes - Logitech, Audiovox
Flat antenna for digital / HDTV - Audiovox
Home Theatre in a Box (HTIB) - 2.1, sound bars, wireless sub
See also:
Digital Holiday Trends 2007: Digital TV -- High-Def and the Analog Sunset
---
Digital TV / "Analog Sunset" - Feb. 17, 2009
Over-the-air analog television broadcasts will be turned off on February 17, 2009
Only changes for over-the-air broadcasts received with an antenna, not cable or satellite TV
Receiving digital TV broadcasts will require a recent TV set with a DTV-ready tuner,
or an external DTV converter box connected to an older analog TV set
All television equipment sold after May 25, 2007 should contain a digital tuner (or be labeled correctly)
Federal government issuing up to two $40 coupons to each household for converter boxes

---
Digital TV Trends - 2008
Flat-screen TVs are hot with consumers, and have finally reached "Full HD" resolution.
But there's still major improvements coming in size, design, picture quality, and connectivity -- as well as the new OLED displays.
Or is the future actually in mobile TV on smaller screens?
Philips 7600
Display: LCD / plasma, Projection
Size: Panasonic 150"
Emphasis on design: Thin, invisible speakers, wireless HD
Narrow bezel - Toshiba REGZA XF550 - 0.9"
< 1", Philips "Art of seduction", Samsung Touch of Color
Full HD: 1080p (full 1920 x 1080 progressive)
Limited content sources
LCD fast motion
Frame doubling 120 Hz, motion interpolation (JVC, Samsung)
Scan LED backlight (Samsung)
Picture enhancement: Brightness, contrast, detail, color -- contrast ratio
Pioneer KURO pure black
Connected TVs: Play from networked devices, PC on TV
Samsung IPTV / RSS feeds in windows
OLED LED (Organic Light Emitting Diode)
Sony 11" TV, 27" prototype
External Interfaces
Memory card / USB slots: Media host for photo slide shows, music
Network interfaces: Display content from other devices in the home
Cable integration: OCAP (open cable application platform)
multistream CableCARD, interactive
Multiple HDMI inputs: More HD sources
LG Simple Link: Control additional components over HDMI
Integrated DVR: LG 50PY2DR -- 50" Plasma, $4699 (1/07)
Sales -- 11/08
11/08 - DisplaySearch / NPD - Preliminary Q3'08 North America TV Results Show Growth
North America flat panel TV shipments (plasma and LCD) growth slowing, only 21% Y/Y
growth in previous six quarters was at least 41% Y/Y, most over 50%
Unit shipments from manufacturers to retailers more than 10M units, grew 6% Q/Q, almost 12% Y/Y
LCD and plasma TV shipments grew 21% and 20% Y/Y, rear projection declined more than 50% Y/Y
CRT TVs not falling as rapidly as expected
very price conscious consumers looking for a new digital TV ahead of end to analog TV broadcasts
LCD TV shipments almost 8M units, up 21% Y/Y, 6% Q/Q
32" LCD TV again most popular size, pricing below $500, 2.4M units, up15% Q/Q
Smaller sizes <40" up 7% Q/Q, 40"+ up 3%
Plasma TV shipments over 1M units, up 20% Y/Y
Re-introduction of 32" sizes, sub-$1000 for 42" HD, 50" HD approached $1000
11/08 - Leading flat-panel TV manufacturers
Combined Flat-panel TV: Samsung 19.4%, Sony 12.3%, Sharp 9.0%, Vizio 9.0%, LGE 8.0%
Samsung #1 overall, #1 in LCD (19%) and rear projection TV, #2 in plasma (24%), #3 in CRT TV
Sony and Sharp sell only LCD TVs for consumers
LCD TV: Samsung 18.8%, Sony 13.9%, Sharp 10.2%, Funai 8.5%, Vizio 8.4%
Plasma TV: Panasonic 31.2%, Samsung 24.2%, Vizio 25.1%, LGE 10.7%, Sanyo 3.2%
Pricing -- 1/07
15/20" LCD $300 - SD, not HD
26" LCD, 720p HD, $800 - $1000
32" LCD $1000
37" LCD $1000 - $2000
40/42"" LCD $1500 - $3800. from 1080i to 1080p, HDMI
42" Plasma $1500 - $2800
50/58" Plasma $2200 - $5000
Holiday 2006: Philips 47" 1080p LCD $2,999, 63" plasma $5,999
---
---
Display Issues
---
Room Size - Viewing distance
Need larger space for viewing distance to appreciate large displays
Not so close as to see the dots on the screen
Not so far back to lose immersion experience from picture filling the field of view
Viewing distance should be three times the height of the screen
- 40" screen around 5 to 10 feet
- 60" screen around 7 to 15 feet
For normal TV viewing distances (8-10 feet)
- Need ~ 42" screen to see improved quality of 720p (beyond 480)
- Need ~ 60" screen to see improved quality of 1080p
Resolution
Not all digital televisions are high-definition
Not all flat-panel displays are high-definition
HDTV is broadcast in two main resolutions:
- 720p (1280 x 720, progressive)
- 1080i (1920 x 1080, interlaced)
HDTV is 16:9 widescreen aspect ratio
Smaller LCD displays may be SD (standard definition), at much lower 640 x 480 resolution (old PC VGA)
or EDTV (extended definition), at 1024 x 768 (small even for today's laptops)
Scaling
Multiple digital TV formats, need scaling to match source to physical display
Resolution, frame rate, and interlaced / progressive
Scale the input picture format to native resolution of display, actual pixels
Convert between interlaced and progressive formats -- fields and frames
Convert 24 fps film material (inverse telecine),
30 fps progressive, 60 fps interlaced (deinterlace)
May squish or stretch the signal, frame in black to keep the correct aspect ratio
High-end theater systems use separate scaling units
Cabling
Actual display (flat panel) is being decoupled from TV tuner and speakers
Signals arrive through alternative paths -- off-air, cable, satellite, fiber, DVD, Internet.
Each path may require a separate box (with its own digital video recorder), provide different kinds of signal
High-quality video and surround-sound audio can require dedicated cabling for each component
---
Display Technologies
---
LCD -- Liquid Crystal Displays
Lower prices from mass production for both computer and TV displays,
Choice for smaller display sizes -- up to around 40 - 50 inches
Thinner and lighter
Improved black level and viewing angle
Improving fast motion:
Good for bright room
Sharp: 65" LCD, CES 05 -- Sharp: 108" LCD, CES 07
LG: 100" LCD, CES 07
Plasma Screens
Dominant for larger screen sizes -- beyond 40 inches to 50 to 60 inches
Accurate color reproduction
Wide contrast range, 3000:1 contrast ratio
Deep black level, movies (Pioneer CES 07)
Minimal blurring of motion, sports, rivals CRT
Wide viewing angle, family, approaching 160 degrees
Old burn-in problems resolved
Panasonic: 103" plasma, CES 06
Plasma Display Coalition: Hitachi, LG Electronics, Panasonic, Pioneer, Samsung
www.plasmadisplaycoalition.org
Rear-Projection Displays
Getting flatter, less bulky
DLP, LCD, and LCOS technology instead of CRTs
Front Projection Displays
Developing option for large screen home theater
Smaller, brighter projectors
Better, more reflective screens
---
3D TV - Technology and Product Deployment
---
See article: 3D - The Next Dimension
Part 1 - Seeing 3D: Market, Technology, Formats
Part 2 - Using 3D: Products, Shooting, Editing
---
Sony BRAVIA 3D HDTVs - Holiday 2010
BRAVIA 3D HDTV - 40, 46, 52, 55, 60 in. displays

40" BRAVIA HX800 Series 3D HDTV

Full HD 1080p with 3D (3D ready)
Dynamic Edge LED backlight, Motionflow PRO 240Hz refresh
BRAVIA Internet Video, DLNA Certified
37 1/2 x 24 1/4 x 9 7/8 in. (952 x 613 x 250 mm),
36.2 lbs. (16.4kg) with pedestal
11/10 - $2099 -> reduced - $1349 (Model KDL-40HX800)

60" BRAVIA LX900 Series 3D HDTV

Full HD 1080p with 3D built-in (active glasses included)
Edge LED backlit, Motionflow PRO 240Hz refresh
BRAVIA Internet Video/Widgets, built-in Wi-Fi
56 3/4 x 37 x 15 in. (1440 x 938 x 380 mm),
109.7 lbs. (49.8kg) with pedestal
11/10 - $4999 -> reduced $4499 (Model XBR-60LX900)

Sony 3D Accessories

3D Active Glasses [Standard and Small Sizes] - $149

Adjustable frames for customized fit
Block out distracting room light
Battery up to 100 hours (TDG-BR100/B)

3D Sync Transmitter - $49

Delivers strong 3D signal for wider viewing and minimized interference (TMR-BR100)

3D Deluxe Starter Kit - $399

Two pairs of 3D active glasses, 3D sync transmitter
Disney Alice in Wonderland 3D Blu-ray Disc, 6'4" HDMI cable
$ 399 (3DBNDL/ALICE)
Find the Sony 40" BRAVIA HX800 3D HDTV and
Sony 3D Deluxe Starter Kit on Amazon.com
---
---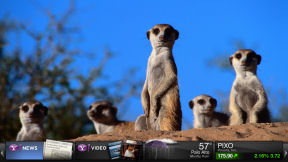 Brings popular Internet services, information, community and online media to television viewers
Cinematic Internet - combining the Internet's choice, community, and personalization with the power of television
TV Widgets - Interactive applications over the Internet built in to consumer electronic devices
Powered by Yahoo! Widget Engine
Interact with Internet content that complement your TV viewing
Track sports, watch financials, read blogs, share photos, go shopping, play games, view movies or web videos
Internet-connected TV sets from Samsung, Sony, LG Electronics, VIZIO available as early as spring 2009
Partners AT&T, Apple, TiVo, Intel
News, traffic, weather updates
Content from Yahoo! News, Yahoo! Weather, Yahoo! Video, Yahoo! Finance, Flickr
eBay, MySpace, CBS, The New York Times, Netflix, Amazon, Blockbuster, Showtime, USA TODAY, Twitter
Widget Channel joint initiative from Yahoo! and Intel to foster innovation in the connected TV space (8/09)
Released Widget Development Kit (WDK) 1/09
Industry standard tools, including JAVASCRIPT(R), XML and HTML
Based on Konfabulator widget platform for PC, re-engineered for CE devices
http://connectedtv.yahoo.com/developer and www.intelconsumerelectronics.com
---
Panasonic
---
Plasma display panels (PDPs)
Panasonic Plasma Concierge toll-free information service, HD plasma owners
Panasonic 150-inch plasma prototype (CES 1/08)
8.84 million pixel resolution (2,160 x 4,096)
more than four times 1080p HD specification (1,080 x 1,920)
screen size equivalent to nine 50-inch PDPs
effective viewing area of 11 ft (3.31 m) (W) x 6 1/4 ft (1.87 m) (H).
same brightness as 103-inch PDP
Panasonic 50-inch thin plasma prototype (CES 1/08)
super-thin 50-inch Plasma TV, 24.7mm (less than one inch)
one-fourth as thin as previous plasma TVs
weighs 22 kg, half the weight of previous models
"Wireless HD"
---
Philips
---
Philips Design Collection (CES 1/08)
Philips 7600
Holistic and iconic design across complete home entertainment range
In the past, home entertainment solutions were boxes and devices providing consumers with an entertainment experience. What used to be a consumer electronic device is now a signature piece of furniture that helps define personal style and space.

At the core of the Philips Design Collection are the innovative and state-of-the art designs taking once-familiar objects and giving them a new sense of intimacy. The design language has moved away from a 'masculine technology box' to a smoother, more feminine approach that integrates seamlessly into the home environment.
"With this Design Collection, being minimalist, emotional and recognizable, we've created a solution that focuses on the consumer's needs to deliver simple and meaningful fulfillment. We have brought a new sense of elegance, innovation and sophistication to consumer products not yet seen in the consumer electronics sector."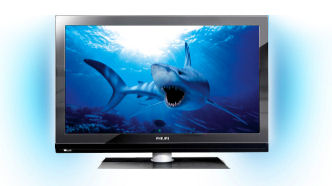 Philips Ambilight Flat-Panel TVs
Soft light glow that creates a unique ambiance in the room, can promote more relaxed TV viewing
Flat-panel TVs use multicolor lights behind the edges of the display
Cast color around the display, change with the picture to duplicate the colors being displayed on-screen
---
JVC
---
JVC Ultra-Slim Demo (CES 1/09)
JVC future ultra-slim TV, 7mm thick, 5 kg (11 lps), hang from magnetic plate
JVC super-slim Full HD TVs
Thinnest LCD TVs with built-in tuners, thinner bezel
Weigh less and consume less power than conventional LCD TVs
Cabinet that across most of width measures 1.5" deep (39 mm)
Maximum depth 2.9" (74mm) at panel's center
New slim LCD panel backlight unit is 0.79 inches (20mm) deep and 0.51 inches (13mm) wide
40% smaller in depth and bezel width compared to a conventional LCD backlight
Weighs only 26.4 lbs (12kg), consumes a mere 145W.
42" LT-42SL89 and 46" LT-46SL89, both 1920 x 1080p, available early summer 2008
JVC LCD TVs with a built-in iPod dock (CES 1/08)
TeleDock flip-down iPod dock at the base of the set
Direct connection for playback through the TV
---
LG Electronics
---
42-inch Plasma HDTV w/ OCAP (42PC1DN)
LG 50PY2DR -- 50" Plasma Integrated HDTV / Built-in DVR : $4699
LG - Calibration (CES 1/08)
LG LCD HDTVs - Intelligent Sensor, automatically adjusts picture based on room lighting conditions
Senses brightness and color characteristics of light, adjusts several picture settings
Content specific A/V Modes to adjust picture and audio quality
Three pre-set modes, cinema, game and sports
LG Expert Mode to perform detailed calibrations
Professional-grade Image Science Foundation customized calibration configuration (ISFccc)
On all 1080p LCD and plasma HDTVs
PG60 series plasma HDTVs received THX Display Certification
---
Pioneer
Project KURO - Extreme contrast (CES 1/08)
First plasma that can achieve absolute black with no measurable light emitting from the display
Project KURO - Advanced design concept (CES 1/08)
9 mm thick - the world's thinnest in 50-inch class
Extremely light weight of 18.6 kg / 41 lbs
---
Samsung
---
Samsung Series 7 - Touch Of Color (CES 1/08)
Elegant new TOC design (Touch Of Color)
New molding technology, clean, smooth finish infused with a hint of color
Available April 2008: 50, 58, 63 inches
Samsung Series 7 LCD TVs with GalleryPlayer (CES 1/08)
HD Lifestyle Imagery - rights-protected, high definition imagery
45 content partners, Metropolitan Museum of Art, National Geographic, Getty Images, The New York Times
Samsung Series 4 plasma HDTV - 3D-ready (CES 1/08)
Series 4 flat-panel plasma HDTV - first 3D-ready, flat-panel HDTV
---
Sharp
---
Sharp Prototype LCD TVs (CES 1/08)
52" screen size, 2 cm thickness (main display section; 2.9 cm at the thickest part)
contrast ratio 3,000:1, power consumption half today's LCD TVs
Sharp AQUOS Net (CES 1/08)
Internet content and remote diagnostics for AQUOS LCD TVs
Customized Web-based content
Configure "widgets" - full screen or split-screen
WeatherBug, NASDAQ stocks, uclick comic strip, GalleryPlayer, Traffic.com
Real-time customer support - advisors connect remotely to TV to adjust settings and optimize picture quality
Access information - FAQs on HDMI , HDTV, user manual, What's New
PLC (Powerline Communication) adapters utilizing existing electrical wiring
---
Sony
---
Sony (CES 1/09)
BRAVIA Internet Widgets - BRAVIA LCD HDTVs
Rich Internet applications, on-screen, Enabled by Yahoo! Widget Engine
Real-time information, including weather, stock updates, financial news
Streaming video via BRAVIA Internet Video Link, Yahoo! video, Flickr images
Sony BRAVIA Internet Video Link
Large selections of free and premium movies, TV shows, sports, music
Partners include Amazon Video on Demand, YouTube, Yahoo!, Slacker
New Models
Sony XBR9 and Z-series TVs - DLNA (Digital Living Network Alliance) compatible with Ethernet connection
Directly access Sony BRAVIA Internet Video Link
Sony KDL Full HD 1920 x 1080 progressive (1080p) TVs
52-inch KDL-52XBR9, 46-inch KDL-46XBR9, 40-inch KDL-40XBR9 TVs
Wide color gamut cold cathode fluorescent backlight (WCG-CCFL)
For broader color palette, more natural or "life-like" colors
Sony XBR9 - Motionflow 240Hz technology
Crisp and detailed images, for fast motion sports and movie action scenes
Quadruples frame rate of conventional LCD televisions, interpolates three new frames
First green line of Eco BRAVIA televisions in U.S., VE5-series (models KDL-52VE5, KDL-46VE5 and KDL-40VE5)
Reduce power consumption more than 40% compared to Sony's other LCD TVs
Exceed Energy Star 3.0 requirements
---
Westinghouse Digital
---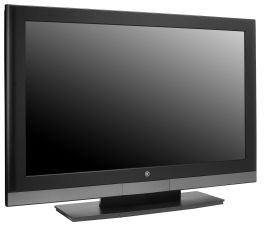 Westinghouse Digital - TX Full 1080p (11/07)
end 07 - Westinghouse Digital TX Series -- full 1080p LCD HDTVs
Connectors include four HDMI, two Component, plus Composite, S-Video, and VGA.
42 inch - 42.2 x 27.0 inches square, 5.5 inches thick, 61.1 pounds (without base)
From 42 inch (estimated retail $1,399) to 52 inch for $2,499
Also TV/DVD combo models with an integrated HDTV tuner and front slot-load DVD/CD player
---
Sony
---
Sony XEL-1 11" OLED TV (CES 1/08)
11" XEL-1, about 3 millimeters thin
First Organic Light Emitting Diode (OLED) TV in U.S.
OLED technology turns light emitted from the organic materials layer on/off when electric current applied
Rapid response times for smooth motion
Light-emitting structure prevents light emission when reproducing shades of black
very deep blacks, contrast ratio over 1,000,000:1
No backlight or separate light source - extremely low power levels
up to 40% more efficient per panel inch compared with aconventional 20-inch LCD panel
Introduced 1/08 - $2500
---
---
Optoma - Pico Pocket Projectors -- DLP
PK-101
Compact projector - based on the DLP Pico chipset
View video and images from personal media players (including iPod),
mobile phones, PDAs, cameras and gaming devices
Optoma - PK-102 Pico Pocket Projector (09)
Resolution: Native HVGA (480 x 320)
Contrast Ratio 2000:1
Throw Ratio 1.9:1 (Distance/Width)
Projection Distance to 8 1/2 feet - 10" to 102" (0.25 to 2.6m), Image Size (Diagonal) 6" to 60" (0.15 to 1.5m)
4 GB internal memory – store 6000 pictures or 8 hours of video.
Video format: XVid (converted Using Optoma Pico Video Encoder), Image formats: JPEG, BMP
4.17 x 2 x 0.67 in. (51 x 17 x 106 mm), 4.4 oz (124g) with battery
~ 11/09 - list $249

Find the Optoma PK-102 Pico Pocket Projector on Amazon.com
Optoma - PK-101 Pico Pocket Projector (~ 12/08)
DLP, LED Light, Estimated 20,000 Hours, Contrast Ratio 1000:1
AV Input: 2.5mm jack, AV Input (Composite Video and Stereo Audio-In); PAL\NTSC (576i\480)
Proj Distance: 10 to 102 in. (0.25 to 2.6m), Image Size 6 to 60 in. (0.15 to 1.5m)
Throw Ratio 1.9:1 (Distance/Width), manual focus
Audio: One 0.5-watt speaker
Tripod adaptor for standard tripod mount
Li-ion rechargeable battery (3.7V, 1100 mAh), Up to 1.5 -> 2 hours
Recharge battery via Mini USB or included AC power adaptor
Standard Accessories: Power adaptor, USB Cable, Tripod adaptor, (2) Batteries,
Standard A/V cable (RCA to Mini-Jack), iPod Kit with Dock connector (US only), Bag
Optional Accessories: 2.5 to 3.5mm Cable for Nokia Phones
4.06 x 1.97 x 0.59 in. (50 x 15 x 103 mm), 4 oz (114g) with battery
PR 6/08 - Optoma Introduces Pico Projector - www.optomausa.com/PressRelease_Detail.asp?Press_id=67
~ 11/09 - list $229; Due 12/08, $399

Find the Optoma PK-101 Pico Pocket Projector on Amazon.com
---
3M - MPro110 Micro Projector (10/08)

Mobile digital projector - The size of a handheld digital camera
Display from laptop computer, DVD or MP3 player, handheld video game
Projects up to 6 feet, 50-inch image, still or video with VGA resolution
10/08 - $359 SRP
Imager: 640 x 480 (3:4), LCOS (liquid crystal on silicon) electronic imager, proprietary 3M optics
LED light source, 10,000 hours, quiet, no need for fan or replacement bulbs
3M engine brightness 10 lumens, 7 to 9 lumens when integrated into MPro110
No speckle, high-fill factor allows for great image quality
Input: Video in (RCA cable included and adapter), and VGA (cable included)
NTSC, PAL; VGA, SVGA, XGA [WXGA (1280 x 768)?]
Projects 12 to 71 in. (1 - 6 ft.) - manual focus wheel
Image size: 6 - 50 in. diagonal (6.4 to 38.4 in. wide)
Lithium Ion battery (40-60 minute battery life) or AC adapter
4 1/2 x 1 31/32 x 7/8 in., 5.6 oz.

Find the 3M MPro110 MicroProjector on Amazon.com