Manifest Technology Blog -- Site: | Articles | Galleries | Resources | DVI Tech | About | Site Map |
Galleries: | Video Editing Software | DVD Authoring Software | Cameras | Camcorders |
| Media Players - iPod / iPhone | Handheld Devices | Mobile Comm - Smartphone Apps |
| Portable Storage | Audio Accessories | Power Accessories | Peripherals |

---
Consumer Digital Photo Cameras Gallery -- OLD
Trends and Sample Products (older equipment)
by Douglas Dixon
---
See the Digital Photo Cameras Gallery
Photos beyond megapixels, Accessories: Tripods, frames
The 2000s Mobile Digital Revolution:
Cell Phones to Smartphones, Walkman to Media Players, CD to Flash to Web Services
Historical perspective on some interesting technology and trends in digital home media.
They include some sample products illustrating these trends.
Information and pricing are summarized from public sources as of when they were added,
and may be incorrect or out of date.
---
Canon PowerShot TX1 - 7.1 MP, 10x optical zoom, 1.8" LCD (07)
ELPH-sized camera, 10x optical zoom
7.1 megapixel images and HD movies
vertical design, stainless steel, all-metal, built-in lens cap
SD / SDHC / MultiMedia / MMCplus memory cards
To ISO 1600, sharper photos in low light, ISO Auto Shift
Intelligent Orientation Sensor automatically detects
camera held vertically or horizontally
Wide-View 1.8-inch LCD, 115,000-pixel, swing-out Vari-Angle
Anti-glare, scratch / dust / fingerprint resistant,
15-level brightness adjust
HD movies (1280 x 720), widescreen (16:9) at 30 fps,
44 KHz (CD) stereo sound, 1080i component video
playback, with Face Detection
VGA (640 x 480) 30 fps, QVGA (320 x 240) 30 or 60 fps (4:3)
Capture high-resolution still images while recording movies
3.50 x 2.36 x 1.14 in.; 7.76 oz. (camera body)
$499.99, 3/07
9/07 - $419

Find the Canon TX1 camera on Amazon.com
Optical Image Stabilization shifts lens to compensate for unwanted motion
reduce camera shake / blurring effects for long zoom or long exposures, hand-held or low-light
DIGIC III Image Processor: faster start up, autofocus and shutter response times
improved image quality and more efficient power consumption
improved face detection, red-eye correction, more aggressive noise reduction
Auto ISO-Metrics can shoot ISO equivalent 80 to 1600 with more aggressive noise reduction
faster shutter speeds give additional stability
reduced camera shake and subject blur during hand held, low-light photography
Auto ISO Shift button, accurately increase ISO up to 800, further offsetting camera shake
Face Detection AF/AE/FE detects, locks on, and tracks multiple human faces in a scene
Automatically prioritizes and selects faces (Canon Intelligent Scene Analysis/iSAPS technology)
optimizes focus, exposure and flash for flattering portraits and group shots
Improvements: face detection for movies as well as stills,
detect faces further away or not aimed directly at camera, better control of flash exposure
Red-eye Correction: new, works with Face Detection
Detects and corrects red eye during playback, manually while viewing photos on LCD screen
---
Panasonic DMC-FX10 / FX12 - 6 / 7.3 MP, 3x optical zoom, 2.5" LCD (07)
Panasonic DMC-FX12
Simple, easy-to-use compact camera that automatically beats the blurs
Leica DC Vario-Elmarit lens, 7 elements in 6 groups
2.5 in. LCD, Power LCD function boosts LCD backlighting 40%, High Angle mode
27 MB, SDHC
Venus Engine III image processing engine, sensitivity to ISO 1250, shutter release time lag to 0.005 second
Composition Guide Lines, horizontal and vertical in viewfinder and LCD
Real-time Histogram graph of exposure and contrast on LCD monitor
Unlimited Consecutive Shooting up to capacity of SD memory card, for fast-moving objects in high resolution
MEGA Optical Image Stabilization: gyrosensor detects hand movement, shifts optical image stabilizer lens, range to four steps below shutter speed
Intelligent ISO detects if subject moving and raises ISO and shutter speed
Auto Bracketing takes multiple pictures with single shutter press, average, over and under exposed
AF Assist Lamp provides extra lighting as focusing aid for slightly dark situations
Extra Optical Zoom extends zoom ratio: change focal distance, telephotographs subject by trimming the operational area of the CCD, increasing the maximum magnifying power
20 scene modes for easy shooting: Baby, Pet motion, Soft Skin reduces minor blemishes and wrinkles, Food Mode for fresh and vivid colors
Up to 370 shots between battery charges
Early 07: $199.95 / $229.95
9/07 - $169
3.70 x 2.02 x 0.95 in., 0.28 lbs

Find the Panasonic DMC-FX12 camera on Amazon.com
---
Fujifilm FinePix A800 - 8MP (3/07)
2.5-inch LCD, anti-glare
Fujinon Lens: 3x optical zoom
up to ISO 800 at full resolution, shoots at higher light sensitivities with less noise
Single slot compatibility with both xD-Picture Card and SD media
Icon-based interface, display explanation when switch modes
2 shooting modes and 17 scene modes
3/07 - FinePix A610 6MP $129, FinePix A800 8MP $179
9/07 - A800 $129

Find the Fujifilm FinePix A800 camera on Amazon.com
---
Sony Cyber-shot DSC-T200 - 8.1 MP, 5x zoom, 3.5" touch LCD (OLD - 07)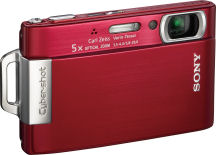 3.5-inch diagonal LCD display, touch-screen interface
8.1 megapixel resolution, 5X optical zoom, 31 MB internal memory
Lens folded into body, front cover slides down to expose lens, does not protrude from camera
Features optical image stabilization, exposure bracketing
modes to help when photographing people, and in difficult low-light situations
Macro extra close-up mode (closer than 3 1/2 inches)
VGA-res movies (640x480) with optical zoom available while shooting
Face detection to track up to 8 faces to maintain focus and exposure
Smile Shutter Mode shoots automatically when a selected subject laughs, smiles, or even grins
3.7 x 2.3 x 0.8 inches, 6.6 ounces
11/07 - $359

Find the Sony Cyber-shot DSC-T200 camera on Amazon.com
---
Sony Cyber-shot DSC-T100 - 8 MP, 5X zoom, 3" LCD (OLD - 07)
3-inch diagonal LCD
8 megapixels
5X optical zoom lens
Front cover slides down to expose the lens
Super SteadyShot image stabilization
High sensitivity (ISO 3200)
Face detection and red-eye reduction
Exposure bracketing (take three quick pictures with +/- exposure)
Extra close-up Macro mode (closer than 3 1/2 inches)
Image Size: 8 MP (3264x2448), 3:2, 5M, 3M, VGA (640x480), 16:9 HDTV (1920x1080)
Movie Image Size: Fine (640x480, 30 fps), Standard (17 fps), 320x240 at 8 fps
optical zoom while shooting movies
Memory Stick Duo media or Memory Stick PRO Duo
3.6 x 2.3 x 0.9 inches, 6.1 ounces (loaded with battery)
under $399 - 9/06 $340
See article: Sony Cyber-shot DSC-T100 Digital Camera

Find the Sony Cyber-shot DSC-T100 camera on Amazon.com
---
Samsung L73 - 7 MP, 3x optical zoom, 2.5" LCD (spring 07)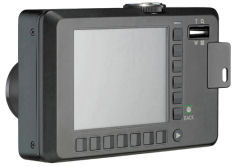 Sleek and pocket-sized digital point-and-shoot camera
20 MB, SD up to 4 GB
Sleek and pocket-sized digital point-and-shoot camera
Shutter speeds to effective 1/2000 sec and an ISO equivalent of 1600
Built-in microphone, 10-second voice memo with photo
Modes: Children (high shutter speed to freeze motion while avoiding blur),
Backlight (compensate for a rear-lit subject),
Portrait (bring the subject into strong focus while deemphasizing the background).
Movie mode, video from 320x240 to 800x600, up to 30 fps, AVI (MPEG-4) format
Smart Touch user interface, two sets of pressure-sensitive buttons
Intelligent LCD automatically adjusts LCD screen brightness based on ambient lighting
Motion detection halts exposure for 2 secs when detects movement in self timer mode
ASR image stabilization system (advanced shake reduction), reduce camera shake and image blur
Wise Shot takes two consecutive pictures in rapid succession
one increased ISO with ASR image stabilization, one with flash
review side by size with zoom, keep preferred version
Intelligent Face Recognition ,
detects subject's face, automatically adjusts focus and exposure
AF recognizes faces of up to 9 subjects and accurately focuses on all
GPS module accessory for L73 and L74 W - second 2007
constantly tracks longitude, latitude, elevation and time information
Carry on person (not on camera), at end of day plug in to charger port
automatically synchronize GPS info with images on camera by matching time codes
Explore images using Web-based services like Google Earth
clicking location icon to view images created associated precise location
built-in image editing - Trim (crop), Resize, Rotate
4.9 x 3.6 x 2.6 in., 17.8 oz.
$299.99, spring 07
9/07 - $149

Find the Samsung L73 camera on Amazon.com
Samsung L700 - 7 MP, 3x optical zoom, 2.5" LCD (spring 07)
Several advanced features in compact, stylish, metal body
Movie shooting functions:
Continuous video recording: pause and resume video recording, merge multiple video files into single file
Improved in-camera video editing
Use 3x optical zoom while recording
Movie stabilizer, reduce camera shake, automatic detection and correction of lateral and vertical vibrations
$199, spring 2007
9/07 - $155

Find the Samsung L700 camera on Amazon.com
Samsung NV11 - 10.1 MP, 5x optical zoom, 2.7" LCD (spring 07)
Advanced point & shoot digital cameras
$399, spring 2007, 9/07
9/07 - $299

Find the Samsung NV11 camera on Amazon.com
---
---
Lexar Shoot-n-Sync Wi-Fi Memory Card (9/08)
2 GB, Transfers photos to computer and online sites over home Wi-Fi network
Lexar memory card technology + Eye-Fi wireless technology
9/08 - $99 -> $79

Find the Lexar Shoot-n-Sync on Amazon.com
---
MyLife-MyArt Photo Paintings (08)
Print photos on canvas as digital paintings
Ssizes from 12" square to 40 x 60" (2 x 3 ratio) and 36 x 48" (3 x 4 ratio), or custom sizes
Framed, or "Gallery-Wrap" -- canvas stretched around sides of 2" frame
Prices from $69 for 12" print in Gallery-Wrap, or around $100 with frame
up to $479 for 40 x 60" print, or $575 to $625 for simple black to elegant/gold/maple frames
Standard turnaround two weeks.
Minor retouching at no additional cost -- red eye removal, blemishes, sepia.
Order alterations or $35 to $75 - restoring old photos, major retouching, deleting or adding people, changing backgrounds, creating collage
---
Nextar - Christmas Ornament Digital Photo Frames (OLD - 11/08)
Christmas ornament with digital photo display
Hang from tree, or stands alone on base
1.5" TFT color LCD screen
Holds up to 60 photos, JPEG and BMP
Manual or automatic slide show display, digital clock
Must use built-in software to transfer photos (PC and Mac)
USB 2.0 (cable included)
Powered with 2 AAA batteries (included)
3.34" diameter, 8.8 oz.
11/08 - $19.99 - Red (N1-517) and green (N1-519)
Also Snowman and Santa frames

Find Nextar Photo Frames on Amazon.com
---
Parrot - PHOTO VIEWER 7" - Bluetooth (07)
TFT LCD display, 720 x 480 pixels, 262,144 colors
Display 7" diagonal, 4 x 6"
Frames use natural materials, available in variety of leather and wood finishes
Receives photos via Bluetooth - from mobile phones, digital cameras, PCs
JPEG Photo and picture format:
Stores over 500 photos, JPEG image format
Automatically adapts the picture size to the screen
Brightness adjustment, Adjustable backlight (manual or automatic)
Used horizontally or vertically, Automatically rotates portrait/landscape
Bluetooth v2.0 + EDR, Max range 30 feet (10 metres)
FTP (File Transfer Profile), OPP (Object Push Profile), BIP (Basic Image Profile)
NO memory card / USB
Without external Frame: 7.6 x 5.8x 0.75 inches, 2.5 ounces
With external Frame: 8.75 x 7.0 x 1.0 inches, 17 ounces
Samsung 2412 Microprocessor processor
Memory: Flash = 64MB - SDRAM = 16MB
$239

Find the Parrot Bluetooth Photo Viewer 7" on Amazon.com

Parrot Bluetooth Photo Viewer 3.5" - variety of frames
Parrot Bluetooth Photo Viewer 3.5"
TFT LCD display, 320 x 234 pixels
32 MB internal memory for storing over 100 photos
Portrait or landscape position sensor
Brightness sensor switches off frame when light level drops
ARM 9 + 64 MB SDRAM, 32 MB NAND Flash
$149

Find the Parrot Photo Viewer 3.5"on Amazon.com