Pike Trail - Pocket Blanket
Here's a simple product that just makes sense -- the Pike Trail Pocket Blanket.
The Pike Trail is an outdoor picnic / beach mat that's big enough for 2 to 4 people (60 x 56 in.), but is also thin and light and portable -- folding down into its pocket-size pouch (~ 5 x 4 1/2 x 2 in.).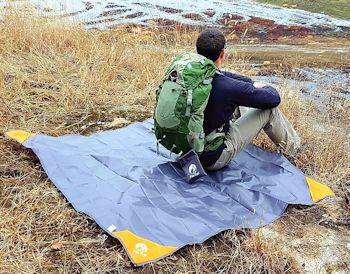 It's durable, made from reinforced rip stop nylon that is puncture resistant to sticks and rocks. And it's waterproof and easy to clean, since it does not absorb water.
You can use it for a ground cover, for a shelter, or even to build a solar still. You also can anchor it in windy conditions with the sand pockets and stake loops at each corner.
Even better, it's inexpensive -- around $19 -- and available in two color combinations, gray/orange or yellow/blue.
We even play tested the Pike Trail Pocket Blanket with kids, wrapping up and rolling on the ground and flying in the wind, and it stood up well, was easy to wipe clean, and then packed up easily by folding and stuffing back into the pouch. It's a nice holiday stocking stuffer.

Find the Pike Trail Pocket Blanket on Amazon.com