I've covered the Fitbit line of fitness trackers back to at least 2012. And I've carried a Fitbit tracker for that long as well.
However, Fitbit has been struggling recently, since it focused (like many others) on the exciting potential of the "wearables" market (see, for example, CNN).
Apparently there is a limit to the number of people who want to strap sometimes-clunky smart watches and sensors on their wrists. Plus there is still plenty of competition, including big names like Apple and Samsung and potentially Google, although others like Microsoft and Pebble have come and gone.
But meanwhile the basic idea of tracking your movement throughout the day still makes a lot of sense, simply to help encourage you to keep on moving.
And while Fitbit has a large and evolving line of sexy wearable wristbands and watches, it also has two other simpler "pocket trackers" -- the Fitbit One (shown here) and the Fitbit Zip.
You can clip these on, or just carry them in your pocket, and then record the basics with no fuss -- including steps taken, miles walked, calories burned, minutes active, stairs climbed and and even sleep quality.
I carried the Fitbit Zip ($59) for years, and recently upgraded to the Fitbit One ($99), which adds tracking for stairs climbed and sleep quality.
These are tiny -- the One is only 1.89 x 0.76 x 0.38 inches -- and come with a silicon case with attached clip for more carrying options. The Zip uses a replacable battery, and the One needs to be recharged every week or so.
You can press a button on the device to cycle the display through the current readings for the day, including a built-in clock. Or you can sync wirelessly to the Fitbit App (iOS, Android, and Windows) to check your activity, history, and progress towards your personal goals.
Fitbit also has a social connection, so you can compare activity among a circle of friends, receive badges for achieving milestones (such as walking the equivalent of the length of New Zealand), and connect with others online.
But these perennial devices are most valuable for the basics -- They help keep you focused on making sure you keep moving, every day. And they help you measure and feel good about those especially good days when you took a long walk instead of driving, and climbed the stairs instead of taking an elevator. It's just about keeping track so you keep moving.
See my Holiday 2016 coverage for an overview of the Fitbit line and Fitbit app.

Find the Fitbit One and Fitbit Zip on Amazon.com

More on the Fitbit App ...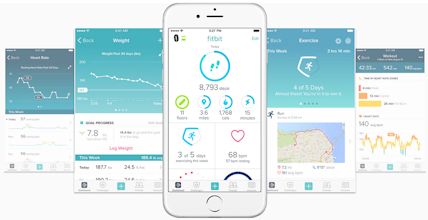 - App - Apple iOS, Google Android, Windows Store - also Desktop
- All-Day Activity - Progress towards daily goals, trends over time
- Track Exercise - View exercise stats, how performance is improving
- Exercise Calendar - Data & trends to make progress toward goal
- Sleep Goals & Tools - Create bedtime reminders and wake targets
- Notifications - Pop up on smartphone as gentle push to keep moving towards goal
- Earn Badges - Receive badges to keep motivated when hit milestone or goal
- Weight & Nutrition - Track weight, log food, measure hydration
- MobileTrack - Smartphone can record basic stats like steps, distance, calories burned
- Multi-Tracker Support - Connect multiple trackers to one account
- Stay Connected - Use Facebook and email to find and connect with Fitbit friends
- Exercise Sharing - Share a view or selfie on social sites, or through email and text
- Challenge Friends & Family - Climb leaderboard, compete in Fitbit Challenges