We're entering the era of digital personal assistants -- voice-controlled devices that provide information, keep notes and reminders, and even carry out actions for us.
Smartphone-based systems like Apple Siri, Google Assistant, and Microsoft Cortana can retrieve information, play music, provide travel assistance, and also control device actions, including making phone calls, reading and replying to text messages, and launching apps.
And then there's the Amazon Alexa digital personal assistant. While Amazon does not have a smartphone line, Alexa is available on its Fire tablets and on its Fire TV service, and, most visibly on its stand-alone Echo line of wireless speaker products.
The Amazon Echo speakers with Alexa voice commands are designed to be placed in your home to provide assistance whenever you want it, without even needing to pull out your phone.
Amazon has recently reduced the prices of the three Echo products -- The original Echo (now $139) is a cylindrical Bluetooth speaker with Alexa built in, and the Tap ($89) is a somewhat smaller speaker that you tap to speak.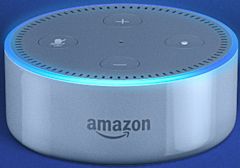 The new 2nd generation Amazon Echo Dot shrinks down the size to only 3.3 x 3.3 x 1.3 inches.
Since the Echo Dot is now priced at only $39, the idea is that you can have one in every room.
Just say "Alexa" as the wake word, and a ring around the top of the Echo Dot lights up as it starts listening to your request.
The voice isolation is very good -- the light ring indicates the direction from which it heard the voice, and it typically understands your request even with different voices, from across a room, and with music and other sounds in the background.
The Echo then sends a recording of the voice to Amazon's server for analysis, and sends the response back to you -- for example, by speaking the information you requested, starting music playback, or controlling a smart home device in your house.
The Echo Dot has a small built-in speaker to respond to your Alexa requests, plus the ability to connect to external headphones over Bluetooth or through a 3.5 mm audio cable to play music or to read books.
While the Echo products do not have local storage for your music and other media like smartphones, they do provide access to the Amazon online services and cloud storage.
You can play music from your personal Amazon library, play streaming music and radio from services including Spotify, Pandora, TuneIn, and iHeartRadio, and play selections from the Amazon Music service. With Alexa, you can ask for music in general ways, including by lyrics, era, and style.
You also can have Alexa play audiobooks from Audible and Kindle Unlimited, and read books out load from your Kindle Store purchases or borrowed from Kindle Unlimited.
Amazon is not surprisingly also focusing Alexa on providing shopping services, both from Amazon (i.e., reordering more paper towels) and via third-party plug-ins -- Over 3,000 add-on Alexa "Skills" are now available, so you can order pizza from Domino's, request a ride from Uber, track your fitness with Fitbit, order flowers from 1-800-Flowers, and find flight information with Kayak. And you can set a password to avoid having kids and visitors accidentally placing orders.
Alexa also provides strong integration with smart home products, for example to provide voice control for your lights and heating. This supports devices including Philips Hue, TP-Link, ecobee, Belkin WeMo, Samsung SmartThings, Insteon, Lutron, Nest, Wink, and Honeywell.
Alexa is focused on providing voice responses, but Amazon does have a companion smartphone app that you can use to review the results of Alexa requests, and provide training and feedback.
The Amazon Alexa service is quite useful, and the Echo Dot is a nice low-profile way to access it. It's particularly helpful in this season to settle disputes about holiday traditions, and to turn the Christmas lights on and off.
See my Holiday Tech 2016 coverage for more on digital assistants, and for more fun holiday ideas from the mobile digital revolution.

Find the Amazon Echo Dot on Amazon.com

More on Digital Assistants...
Virtual Digital Assistants
The idea with these digital assistants is that you can have your own personal virtual assistant available at any time so you can offload tasks by simply talking -- from looking up information, to reading and replying to texts, to turning up the heat in the home, to ordering in a pizza.
Competing digital assistant systems including Amazon Alexa, Apple Siri, Google Assistant, and Microsoft Cortana already provide an amazing range of capabilities, typically including:
- Retrieving information, including time, news briefs, weather forecasts, stock updates, and sports scores; performing general web searches including people, entertainment, and geography; performing calculations including unit conversions and tip percents; and helping with language, including spelling, word definitions and synonyms, and even translations.
- Accessing entertainment, including searching and playing music (on the device or streamed), reading books, and looking up local movie information.
- Providing travel assistance, including address lookups, finding nearby stores and hours, listing directions, and spoken door-to-door navigation.
- Keeping lists and reminders, including managing to-do lists and setting timers and alarms.
- Performing device actions (operating apps), including making phone and video calls, reading and replying to text and email, launching apps, and changing settings.
- Various miscellaneous and sometime idiosyncratic fun, including telling jokes ("knock knock"), trivia, making sounds ("bark like a dog"), repeating words ("Simon says"), and other system-specific goodies (search online for "Easter eggs").