DJI Mavic Pro Foldable Drone
The new DJI Mavic Pro drone is an amazing advance in both hardware engineering and vision software.
First, of course, it's foldable. The Mavic Pro's arms fold in to collapse to 3.26 x 3.26 x 7.79 inches -- about the height of a water bottle by the cross-section of a wallet. And it's light, at 1.64 pounds.
But it still carries five cameras and eight additional sensors to track and control its movement, and even with the smaller size the battery has enough juice for it to fly for up to 27 minutes.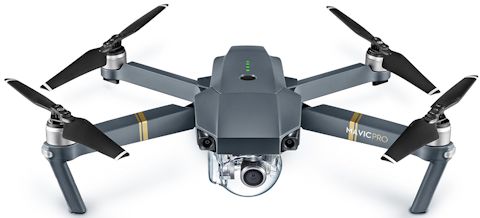 Plus, the Mavic Pro is a further advance in automated flying, to make it quite reasonable for a single person to use:
It can take off by itself, and hover in in winds up to 24 mph.
It can fly itself to a destination that you tap on the screen -- while automatically avoiding obstacles in its path.
It can automatically follow a target that you select on the controller display, and then stay in position behind, in front, to the side, or orbiting in a circle -- or even keep the camera locked on target as you fly it around.
It can maintain a fixed distance over ground, even as you navigate changing terrain.
When you are done (or the batteries are running low), it can automatically return home (again avoiding obstacles).
Additional new features include a Tripod mode that slows the movement for more precise positioning and framing (especially useful indoors), and a Gesture mode to control the drone directly with simple arm and hand gestures.

And, the Mavic Pro records video up to Cinema 4K resolution, 4096×2160 at 24p, and streams the live video back to your controller at up to 1080p -- from a distance of over four miles away.
The Mavic Pro will begin shipping October 15. It's priced at $999 with the remote controller, or $749 without.
See full article at Videomaker.com.

Find the DJI Mavic Pro Drone on Amazon.com