Corel VideoStudio X8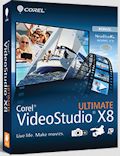 Corel VideoStudio Pro X8 is targeted as a fast and easy consumer-grade video editor, priced at only $79.99.
But this is not dumbed-down editing -- VideoStudio supports 64-bit editing in a traditional timeline, with HD to 4K resolution, Dolby 5.1 audio, 50-some editing tracks, keyframed effects and filters, and mobile and web output.
Instead, the simplification in VideoStudio comes from a design based on built-in presets with simple controls to avoid the complication and confusion of a plethora of overwhelming options.
The new VideoStudio X8 offers stronger support for working with larger projects, with the ability to import organized media folders into the Library and to import entire projects. You also can save customized filters or transitions as favorites.
X8 also includes important technology upgrades, especially for editing Ultra HD video, with hardware acceleration for 4K video, support for 4K XAVC S format, and expanded export to H.264 MOV format.
Bottom line: VideoStudio is a powerful and effective consumer video editing tool. Plus it provides plenty of headroom to experiment and grow, with support for formats up to 4K and HTML5, customizable effects, and other interesting capabilities from stop motion to motion tracking. The full VideoStudio Ultimate X8 edition for $99.99 (street $85) also adds an impressive collection of additional effects and tools.
See full review article for Videomaker magazine.

Find Corel VideoStudio X8 on Amazon.com