Typing on a tablet screen is OK in short spurts, especially if you're a fan of typing with one or two fingers -- while you carefully watch to target the key shapes on the flat screen.
Adding a wireless Bluetooth keyboard lets you type more naturally for longer sessions, as long as you carry the keyboard along with your tablet.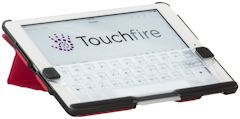 And then there's another clever approach -- the Touchfire screen-top keyboard. This is a thin silicone overlay embossed with the key positions that lays across the bottom of the screen, over the displayed keyboard.
The keyboard is transparent, so you can see the keys (letters or special characters). And the Touchfire keys are tactile -- they have enough structure that you can rest your fingers on the home row without triggering the touchscreen, so you can get back to touch typing.
The keyboard weighs 3/8 ounce, and is as thin as two credit cards. It can be folded and streched, and is waterproof for easy cleaning.
Touchfire started as a Kickstarter project in 2011 to develop the original keyboard overlay for the early iPads, with magnetic edges and clips to attach to your keyboard cover when not in use.
More recently, Touchfire has designed a line of cases for the various iPad models that better integrate the keyboard. When you open the case, you can hold down a tab to keep the keyboard on the screen, or let the keyboard stay magnetically attached to the cover and fold up out of the way.
The case itself is snap-in, with a magnetic cover that turns the iPad on and off. The cover folds into different positions for low or high typing and viewing angles. The case itself is made of a grippy and durable silicone rubber.
As a bonus, the magnetic case lets you stick your iPad on a refrigerator or other metal surface. And there's a speaker redirector scoop that boosts the iPad's volume to the front by some 50%.
The Touchfire keyboard is a clever idea that may make sense if you do a lot of typing over a day, and yet don't want to carry around a separate keyboard.
The Touchfire case is available for $69 for the iPad Air 2, the iPad Air, the iPad 2,3,4, and the iPad Mini, in blue, red, black, or light gray.
The original Touchfire Keyboard for the iPad 2,3,4 also is available for $39.

Find the Touchfire keyboard and case on Amazon.com