More power! We have all these wonderful electronic gadgets, but they keep needing to be recharged. So we end up with an ugly profusion of adapters hanging from outlets all around the house -- in the kitchen, den, living room, and even the bedroom.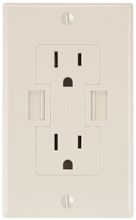 A better answer is to get rid of all those adapters, and integrate USB power into your existing AC outlets -- with the NewerTech Power2U AC/USB Wall Outlets.
These are dual-socket AC wall outlets that fit into a standard 16 cubic inch electrical/wall box.
Plus they have two integrated USB ports to power and charge your devices.
The USB ports are protected by spring-loaded safety shutters that turn power off when the cable is removed, and have smart circuitry that only outputs the charging power required by the attached device.
NewerTech Power2U Wall Outlets are available for 15A (typical residental) or 20A circuits (office, kitchen/garage) for $17 and $20 respectively, in white, black, ivory, and light almond.

Find the NewerTech Power2U AC/USB Wall Outlets
on Amazon.com