Ventev Battery Chargers
Ventev has powered up its collection of battery chargers for your portable devices (see earlier post). These are clean and smart designs, featuring a slate gray look with signature orange accents.
For full power when traveling, the Ventev Powercell 6000+ Combination Charger is a 6000mAh battery that provides up to 25 hours of additional talk time for your mobile phone. It's around 4 1/2 x 2 3/4 x 7/8 inches.
It has two USB outlets, so you can charge two devices at once, with one port providing 2.1A for rapid charge and tablets. And it's a wall charger, with integrated folding AC prongs, so you can recharge it at any convenient wall outlet.
It's particularly handy on longer trips -- you can carry it along during the day as a power reserve that can be shared by a group, and then plug it in to the wall at night to directly power (and recharge) multiple devices as you use them.
The Powercell 6000+ Charger is available for around $67.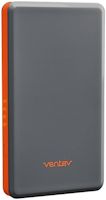 For day trips, the Ventev Powercell 3015 Battery Charger is an impressively thin and light design.
At around 3 7/8 x 2 1/8 x 3/8 inches it's barely noticeable in a bag, but its 3000mAh battery still provides an extra 12.5 hours of talk time.
It has one 1.5A USB port for charging phones, and a mini-USB port for recharging.
The Powercell 3015 Charger is available for around $35.


And for your car, the Ventev Dashport r2240 Dual USB Car Charger delivers two 2.4A USB ports, to even charge two tablets simultaneously.
The compact design has one USB port on the end, and another on the side. And the ports are LED-illuminated so you can find them in low light.
The Dashport r2240 Dual Car Charger is available for around $29.



I'm also a big fan of Ventev ChargeSync Cables for charging and syncing from USB to your devices.
They're flat and tangle-resistant, and colorful so they're easier to identify when you need the right Apple, Lightning, or microUSB connection.
The ChargeSync cables are available in a variety of colors and 6 or 3.3 feet (1 meter) lengths for around $15 to $25.



Find the Ventev Powercell 6000+ and Powercell 3015 chargers, plus the Dashport r2240 Car Charger and ChargeSync cables on Amazon.com