Bell'O Digital BDH806 Compact Headphones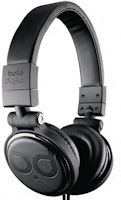 I'd have to say that the Bell'O Digital BDH806 on-ear headphones are an excellent balance of compact and lightweight design, clean looks, solid audio, and affordable pricing.
But who is Bell'O? The parent company, Bell'O International, is an industry-leading provider of high-style home theater and audio/video furniture that's been around since 1988 and is based in New Jersey.
But our interest here is in portable media, and the Bell'O Digital division, which has developed a line of accessories over the past few years including headphones, A/V cables, surge protectors, and wall mounts.
Bell'O Digital has done a nice job of developing interesting products that stand out with their clean, straightforward designs, solid performance, and very reasonable pricing.
The BDH806 on-ear headphones carry on this approach with a compact (but still full-size) design, with a simple and sleek look built around on-ear earcups that isolate the sound without getting oversize and a padded headband that's not overlarge or flashy.
Even better, these pack up in two different ways for storage: you can twist the ear cups flat for minimal thickness, or fold them up inside the headband for minimal space.
The headphones include tradmark Bell'O Digital featueres for durability and clear sound, including 99% oxygen free copper wire, 24K gold-plated plug, and a fabric reinforced flat cable with strain relief that is lightweight, durable, and tangle resistant.
The wire includes a multifunction controller with integrated microphone for phone calls. The controller has a function button (but not volume controls) for phone, playback, and voice control that works with most Apple, Blackberry, Android phones and portable media players.
The Bell'O Digital BDH806 is availalbe for around $22 to $33, in 5 colors with silver accents: black, white, blue, pink, and red.
These are great for travel, delivering full-size audio in a compact and lightweight design, and for a very affordable price.

Find the Bell'O Digital BDH806 Headphones on Amazon.com