It's clear that LaCie cannot stop producing intriguing and striking designs, even for products as prosaic as storage devices -- from the PetiteKey USB drive that fits on your keyring (see earlier post) to the XtremKey drive in a rugged metal casing (see post).
And there's no shortage of other fun and even silly designs for USB drives-- my collection includes action figures, to movable cars, to, yes, USB bottle openers.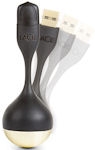 But leave it to LaCie to step up with a whimsical yet refined concept for the LaCie Culbuto, created by French designer Constance Guisset.
This allows me to step up the sophistication of this blog by noting that "culbuto" is a French word for tumbler, or more generally for self-righting toys -- like Weebles or other roly-poly figurines with a face on a round weighted base (see Wikipedia, or en français).
And that's the LaCie Culbuto, the roly-poly USB drive that adds whimsy to your desktop, with the temptation to fiddle and make it move.
If needed, you also can pretend that you really only thought of it as a functional design, since the cap on the stem has a clip to use it as a card or photo holder, and the weighted base then is needed to hold it securely upright.
Technically, the Culbuto supports USB 3.0 for high-speed transfer, and is available with 16 GB of storage for $49.99, or 32 GB for $79.99. LaCie also includes its automatic backup and Private-Public file encryption software, for both PC and Mac.
So think Culbuto -- It could be a life lesson, about how you should keep getting up even after you get knocked down. Or it could just be about looking for whimsy in your life.

Find the LaCie Culbuto USB Drive on Amazon.com