LaCie continues its innovation in portable storage (see earlier post) with two smart new designs for USB keys (aka thumb drives).
LaCie PetiteKey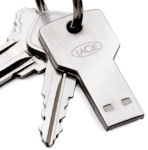 The PetiteKey provides big storage in a compact size that fits right on your keychain.
It's actually shorter than most keys (1.61 x 0.83 x 0.14 in.), and rugged enough to ride in your pocket, with a scratch-resistant connector and waterproof to 100 meters.
The PetiteKey is available with 8 GB of storage for around $14, 16 GB around $19, and 32 GB around $34.
LaCie RuggedKey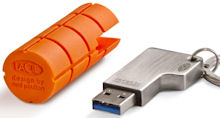 The RuggedKey is a faster USB 3.0 key with more capacity, and stored in a rubber casing for additional bulk and security.
It's drop-resistant to 100 meters, heat and cold resistant, and IP-54 certified for resistance to dust and water.
The RuggedKey is a bit bigger (2.09 x 1.06 x 0.83 in.), and is available with 16 GB of storage for around $34, 32 GB around $61, and 64 GB around $99.
LaCie includes its Wuala Secure Cloud Storage with these keys -- one year of service of the same capacity as the key. You can back up, sync, and share files online, using both desktop software and mobile apps.
Plus LaCie includes its Private-Public software for setting up password-protected areas on the drive, using AES 256-bit encryption.
See my Holiday Gadgets and Wireless Accessories 2013 coverage for more on portable devices.

Find the LaCie PetiteKey and LaCie RuggedKey
on Amazon.com