Strotter Hands-Free iPad Cases
The iPad is wonderfully convenient for pulling out and working on while you are sitting, with the tablet comfortably resting in your lap or tilted up on a table.
But it's still clumsy for trying to use when standing or on the go -- A bit too large to juggle with a bag, and heavy enough that it's difficult to hold securely with one hand while you're tapping with the other hand.
So if you are a mobile user, check out the ingenious Strotter line of hands-free iPad cases that convert into a mobile desk so you work while standing up, with both hands free for typing.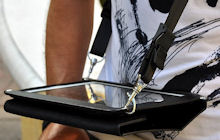 The Strotter Across is a wearable iPad case with shoulder strap. You slide the iPad into the back section of the case, flip over the magnetic smart cover, and secure with a velcro flap -- all lined with protective microfiber suede.
On the ground, the cover folds back as a tilted stand for reading, typing, or watching movies.
But the Across is more about flexibility on the go. The case has strap eyes on all four corners, so you can snap in and adjust the strap's length with a quick-adjust sliding buckle, to wear as a shoulder bag or even as a sling-type mini-backpack.
Even better, with the strap around your neck you can flip the case open and use your iPad comfortably and securely as it rests on your waist. You even can adjust the straps to position the screen in landscape or portrait orientation.
The Strotter Across fits the iPad 2, 3, and 4. It's available in two versions -- The Across GL made from water resistant full grain cowhide / leather for $99, and the Across SL made from synthetic leather for $55.
The Strotter Platforma extends this idea to a convertible vertical messenger bag. At approximately 12 x 9 x 2.75 inches, it fits the iPad, other tablets, and small notebooks (MacBook Air 11").
It's designed for flexible use like the Across, with quick adjust strap that can snap on the four corners to carry as a shoulder bag or backpack.
The trick is that you first snap the tablet into a polycarbonate hard case with neodymium magnets. Then to use the Platforma as a mobile desk, pull out the tablet and snap it securely on the back of the case. (You also can mount it on a refrigerator door.)
The bag is made of full grain leather and high-density nylon shell, with a bright red soft nylon lining and magnetic flap. It has two interior pockets and four outside wall pockets with water-resistant zippers.
Strotter Platforma is available in multiple versions, and with magnetic hard covers for various tablets, including the iPad, iPad Mini, Samsung Galaxy Note 10.1 and Galaxy Tab 10.1, starting at $140.
See my Holiday Gadgets & Portable Accessories 2013 coverage for more on portable devices.

Find the Strotter Across and Strotter Platforma
on Amazon.com