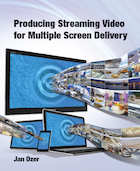 Jan Ozer's new book, Producing Streaming Video for Multiple Screen Delivery (see earlier post), is now available from the Apple iBookstore for savoring on your iPad.
Just search for Ozer in the iBooks app on your iPad, or check it out on the web in iTunes Preview. It's half the price of the paper edition at $19.99.
This is a great way to have the key information on streaming, formats, and coding always at hand -- for your reference, or to help explain to customers by using the expert. In particular, Ozer authored the book so that the illustrations zoom up to full-page for a closer look.
Unfortunately, there's no video since it would have significantly enlarged the size, and re-encoding for the iBook format would have prevented making comparisons between different formats.
You can check it out by downloading the sample chapter on Technology Fundamentals, with sections explaining constant vs. variable-rate encoding and I/P/B frames.
See more on the book at Ozer's StreamingLearingCenter.com, including detailed table of contents