The International Consumer Electronics Show (CES) returns to Las Vegas this week, with the exhibition running from Tuesday, January 8 through Friday, January 11, 2012.
The show is produced by the Consumer Electronics Association (CEA), which reports that CES continues to be the world's largest consumer technology tradeshow, and the largest tradeshow of any kind in North America.
Last year's CES expanded to over 156,000 attendees, with over 35,000 international visitors from over 150 countries.
This year the show floor has grown slightly to more than 1.87 million net square feet, with some 3,000 exhibitors expected to launch some 20,000 new products.
Specific focus areas and Tech Zones include eight automakers, more than 300 exhibitors in the iLounge Pavilion with Apple and other mobile accessories and software, some 140 startups exhibiting in the Eureka Park, and more than 220 companies exhibiting digital health and fitness products.
Other major product trends mentioned by the CEA include cloud-based services, gesture and sensing technologies, connected vehicles, the latest smartphone and tablet innovations and Ultra HDTV.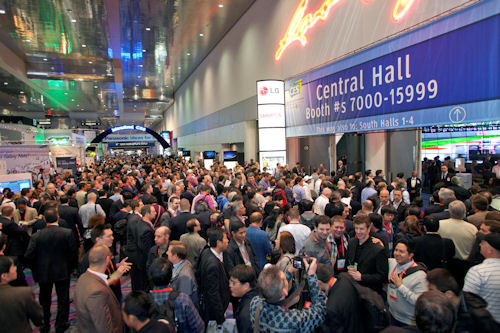 CES 2012: Attendees in the hallway outside the Central Hall of the Las Vegas Convention Center (CEA)
As in previous years, the gadget blogs and tech publications will be out in force at CES, with teams live blogging the new announcements for hot-off-the-press coverage. I'll update my annual summary document with links to these sources and other coverage of the show.
See my 2013 International CES Summary article for information on the show, facilities, Las Vegas, exhibits, conference program, and press events -- plus evolving links to more information and press / blog coverage.