Lifeproof has updated its line of tough cases with new models for the iPhone 5 and the iPad (see earlier post). These cover your entire device, including controls and jacks, so you can use it with confidence even in unpleasant winter weather -- making it waterproof (to 2 meters), dustproof, snowproof, and shockproof (up to a 2 meter drop).
The Lifeproof iPhone 5 frē case is even more low profile than the iPhone 4/4S case, adding only 1.5 mm to each edge and weighing less than an ounce (28 g). It also adds a user-requested window on the back side to showcase the Apple logo ($79.99).
The Lifeproof iPad 2/3/4 nüüd case uses a different design which does not cover the iPad screen. Instead, the case covers the back and sides, and seals around the front frame, leaving the screen uncovered for better clarity and responsiveness ($99.99).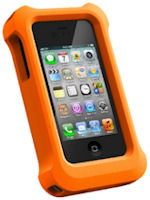 For use around water, there's also the Lifejacket foam cradle for your case so you can use it securely around water -- since it will float if you drop it. The Lifejacket also adds additional drop protection, provides an enhanced grip when wet, and is hard to lose with its high-visibility orange coloring (iPad $59.99, iPhone 4/4S $39.99).
There are also Lifeproof cases for the iPhone 4/4S and iPod touch 4G, plus accessories for securely mounting and wearing your device when on the go, including armbands, hand/shoulder straps, and bike mounts.
See my Holiday Gadgets 2012 coverage of Portable Accessories for more on cases and other useful and fun ideas.

Find the Lifeproof Case for iPhone 5 and iPhone 4/4S on Amazon.com